At 120 years of continuous production this year, Royal Enfield has firmly established itself as the oldest operational motorcycle brand in the world. Having been around that long, it had been taken top pretty much every corner of the globe by someone or the other. Except one — Antarctica, or more precisely, the South Pole. So, in an effort to do something special to celebrate its 120th, that's where it decided to go. Thus was born 90° SOUTH, the expedition. The Himalayan was the ride of choice as it is the bike with the best off-road cred in the RE line-up. Two RE staffers, Chennai-based Santhosh Vijay Kumar and Dean Coxson form RE UK Technology Centre would ride to the pole.
Preparations started a couple of years ago in the UK Tech Centre and the bikes were tested in Iceland once in September 2020 and again in July 2021. And finally, the six-member team headed to Antarctica in November 2021. The riders would reach South Pole on December 16, notching up a handful of firsts. Excerpts from a chat with Santhosh Vijay Kumar.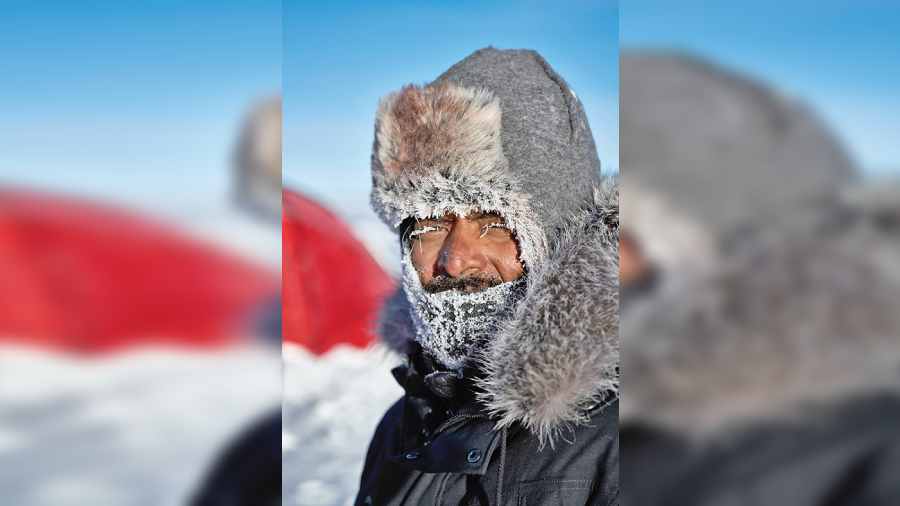 Santhosh Vijay Kumar in Antarctica
So this ride was a last frontier kind of thing…
Yeah, it was the last frontier for us at least in terms of continent, but I also think it is the beginning of a series of epic rides that could be starting from here.
What was the reason for choosing the Himalayan as your ride?
The Himalayan is our most capable motorcycle for all terrains; this was the most perfectly suited motorcycle for pulling this off. The bike is built to do off-roading although this is not the kind of off-roading that the motorcycle was intended for, it was very easily adaptable to do something like this and is a very friendly and easy motorcycle to ride in tough conditions. So the Himalayan was a natural fit for us.
Can you tell us a bit about the modifications that you made for this ride?
The modifications were kept to a minimum. The motorcycle is more or less stock (unmodified). The only modifications were we put a smaller sprocket so that we could get better torque at lower rpms (engine speeds), we used the studded tubeless tyres because we were running low tyre pressures, we removed the centre stand because we did not need it, and we removed the oil cooler — normally it is needed to keep the engine at the right temperature for regular riding, but because in Antarctica it was going to be cold, we did not need that. So, apart from that the motorcycle was pretty much a stock motorcycle.
So you didn't get much of the compacted snow…
We didn't get much of that. Actually when we landed and saw the track initially it looked compacted, but that was for a short distance. After that everything went haywire. So we got about 40 per cent good surface and 60 per cent bad surface.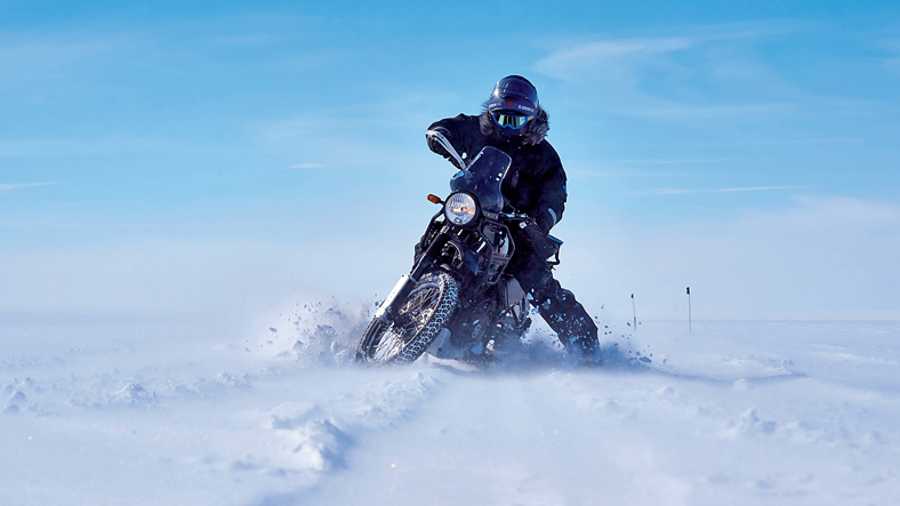 Dean Coxson succumbs to the temptation of dicing the Himalayan on ice in the middle of nowhere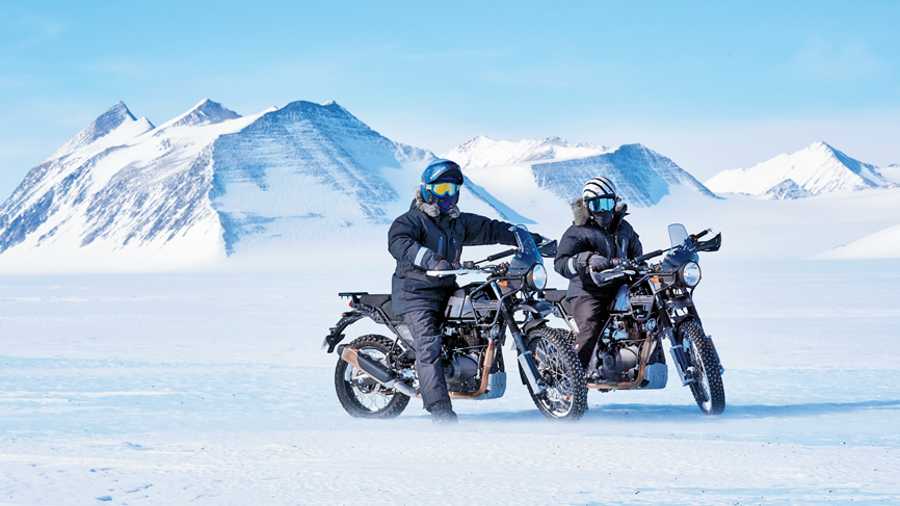 Dean Coxson (left) and Santhosh Vijay Kumar with the Ellsworth Mountains in the background
Did you have any thin air issues there? You sort of climb up to the South Pole, right?
When you land at Novo, you land at more or less sea level, it's 17m above. From then you start climbing to the plateau. The highest point we reached was 3,700m, that's the plateau, that's when you've left the mountains behind. Then it again falls back to 2,800m, but that takes about 1,000km to fall, so there is no major gradient. The altitude at the South Pole is 2,800m and the thickness of ice is about 2,500m, the ground is only about 300m above sea level.
Personally for you, was this your first extreme ride or have you done stuff like this before?
I have been working for RE since 2009 and we've ridden to various places including Everest Base Camp.
But in terms of sheer physical strain, I think this one was the most extreme. The original idea was to do 400 miles, but then, after everything went bad we couldn't even reach the coast because of a complete white-out. There was bad weather on the entire peninsula and a lot of expeditions were called off. Our idea was to go from 90°S to 84°S, which is the edge of the continent, and then start riding back to 90°S. But the visibility was completely gone. So we started off from 87°S and did it non-stop as we didn't want to take the risk and did a straight 30-hour ride (about 311km).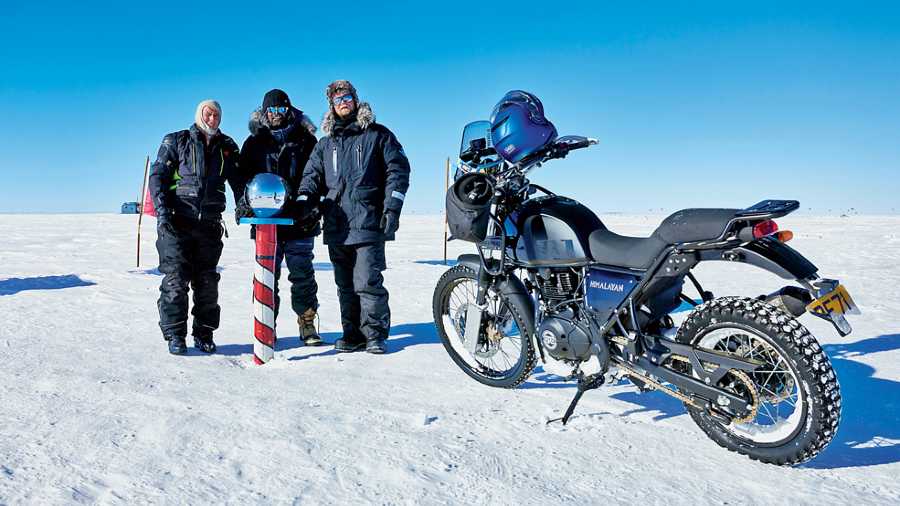 The riders with their ride at the end of the journey
So what was the actual ride like for you?
So this was the first attempt ever on this South Pole Traverse [on a motorcycle], because of which there were a lot of unknowns. This had only been done earlier on snowcats or the specially modified trucks that the Iceland company uses. In fact, the trucks are the only wheeled vehicles that have done this before Royal Enfield. Now it's the second wheeled vehicle and the first two-wheeler to do the South Pole Traverse.
Because you are in the middle of a vast white flat area and the sun is moving around you and you cannot use it to guide you, how did you maintain direction?
We used GPS. Without a GPS, traveling on the continent is suicidal.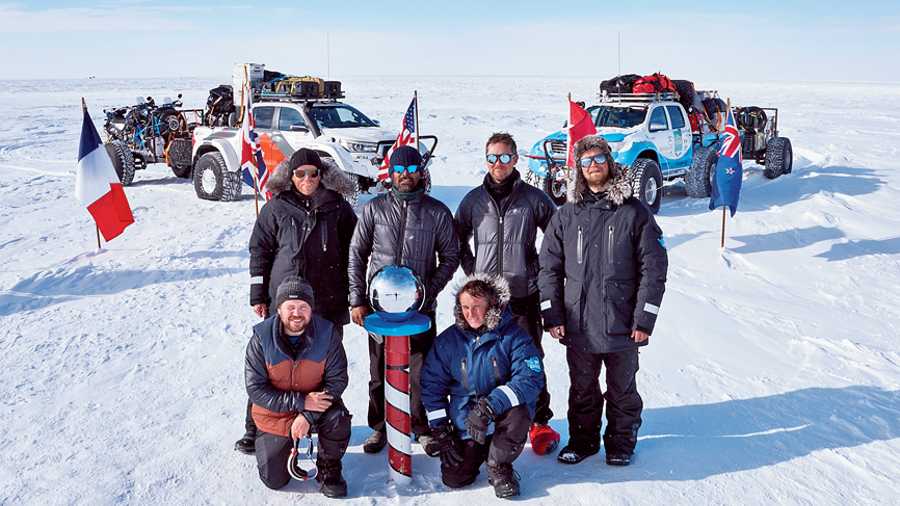 The six-member 90°South team at the pole marked by a red and white post
What about your team, were Dean and you on your own, or did you have a back-up team?
There were six of us in all. There were two people to shoot the content, two of us from Royal Enfield, and two guys from Arctic Trucks, who are the polar experts, they were our logistics partner. Also, because you cannot ride for more than 30-40 minutes at minus 35, you need a backup rider. So we rode the motorcycle as a relay. So there was Dean and when he got a little tired we also had one of the Icelandic guys, who rides snowmobiles, he also pitched in for about 40-50km. So we took turns on the same bike. It was always meant to be like a relay. Even with the best of gear you get really really cold and both of us have frostnip. I have a lot of frostnip on my nose, on my face, and my fingers. I still don't have full sensation in my fingers... [It has been a month now.]
How was the ride experience for you at a personal level?
I think for me it was the greatest experience that a person can have, to live 40 days with a bunch of people almost like our ancient ancestors who crossed the lands from Europe to the Americas. There isn't any kind of borders and it's just six people and it's a very enriching experience. I like solitude and there were days when I wouldn't sleep and I would just be sitting outside and the wind would have died down and there is no noise because there is nothing living there and like you could hear your own heartbeat and like I said, it was as if I was on a different planet, this is possibly the closest experience you can have of that.
You were there during the Summer Solstice in the southern hemisphere...
Yes, it was on December 21 and we also saw the solar eclipse, which was visible only from Antarctica on December 4. The sun was up for 24 hours a day throughout at about a height that the sun gains say around 10 o'clock in the morning and all it does is go around in a circle around you. So there is no sunrise or sunset. And you see this brilliant solar halo, a huge ring. But after a point of time it gets to you because it gets very bright and you need to be wearing sunglasses all the time and really good ones at that. Even when you are sleeping the tent is completely lit and even though the tents are red in colour because they trap the heat, when you go in it's like sleeping in a room that's lit with red light. And your biological clock goes for a toss. Within four days we couldn't figure out whether it was morning, noon or night, whether you should have breakfast, lunch or dinner. And when we were doing the 30-hour stint we lost track of which day it was. So you won't feel sleepy for a long time and suddenly you do and would be crashing for 12 hours.
What were your most memorable points in this journey?
One was this camp at a place called Thiels, which is a fuel dump. So we had to keep picking up fuel as we were travelling, the aeroplanes drop the fuel there and go. It's 600km each from the South Pole and Union Glacier and a proper toilet has been built there and all the people going across Antarctica make use of it. It felt very surreal because we were travelling for five days and hadn't seen any human beings and suddenly we saw one structure there that reminded you of civilisation.
Another day when there was a blizzard, the truck broke down and we tried to fix it but then we decided that we will fix it the next day and we were trying to put up a tent but the wind was so strong that it almost blew away and there was ice on my beard and hair, but we were still laughing and having a great time drinking some whisky and we had bonded very well and are friends for life now.
Then at Novo, when I first took the motorcycle on the ice and snow and I got hard ice and saw how the motorcycle was behaving that felt very special, that was the first time someone had ridden a bike on the continent and then some Russians came from their station and one of them wanted to ride the motorcycle and he was like 'this was my dream'. There were lots of great moments.
Pictures: Royal Enfield