Four years ago critics called it a "project". Then a novelty. Followed by the title outlier. And now, the Samsung Galaxy Z Fold4 is Mr Congeniality — a fun device to own and a practical device to use. After years on the workshop table, Samsung seems to have got its folding game spot on, ensuring the conversation around "the future is foldable" remains valid and other brands wake up to a new form factor. You have heard this before and here it is again — Samsung didn't give up on its foldable phone project and the results are stunning. We had an opportunity to play around with The Galaxy Z Fold4 and the Galaxy Z Flip4, besides the new Galaxy Watch 5/ 5 Pro and Galaxy Buds2 Pro and they look stunning. Of course, we are yet to dive into the software aspect, which is coming up in the next few days.
No jiggle-jiggle, it folds cleanly
After a brief hands-on session with the Galaxy Z Fold4, last year's device seems so far away. Samsung has managed to throw in a lot of important tweaks to the hardware while the software sounds promising enough to lend the Fold an all-rounder moniker.
You want to hear that it's now as inexpensive as a premium monolith smartphone. It's not. Rather, the new Fold is the best version of itself. The easily noticeable changes are in way of camera, which is now closer to the Galaxy S22 and S22+… that says a lot because these two phones have been among the best to appear this year, beating rival claims by a mile.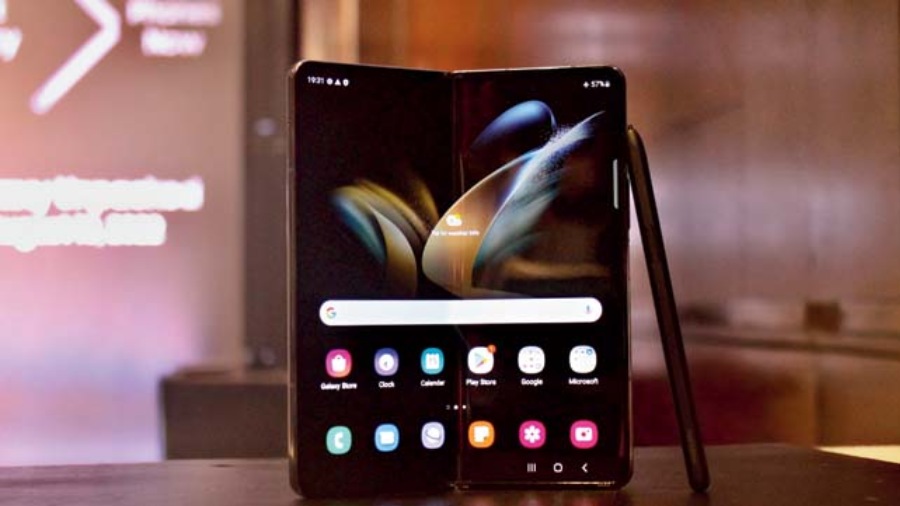 On the Samsung Galaxy Z Fold4, the crease is shallow and doesn't hamper one's experience with the device
The main 50MP camera is up from last year's 12MP, complete with 30x Space zoom and 3x optical zoom. The output should be on similar lines with the latest Galaxy S phones. Also, Samsung promises better low-light performance because of larger pixels while stabilisation is quite strong. There is the inside under-display camera but we haven't had a chance to use it in a video call. Nightography, the Samsung technology to achieve vivid shots under tricky lighting conditions, is on board and that should make it an interesting feature to weigh in on while drawing up your shopping list.
Right, the big question — what about the crease? It's (very) shallow this time around. Last year we said that after using the phone over a couple of days, the crease wasn't something that the eye focussed on, like the notch on the iPhone. This year, the crease issue has been managed well. In fact, the biggest achievement appears to be the entire feel of the phone. It feels great in the hand, weighs only 263g (you read that right) and unfolding/folding the phone appears far more natural than before. It does justice to what you can get done with the device that comes with Snapdragon 8+ Gen 1 processor, the fastest you can get on Android. The phone has been built to last for years.
S Pen is still supported but there is no holder on the phone to store it. On the battery front, better power management has been promised. As for software, there is an all-new taskbar to make the phone function more like using Windows on the laptop. Getting work done under sunshine shouldn't be hard because of 1,300 nits of brightness while the screen supports one to 120Hz refresh rate.
The Fold is on track to give a practical alternative to big, boring slabs, and it wouldn't be surprising to find the new device fly off shelves globally, even at a time when recession is on the horizon.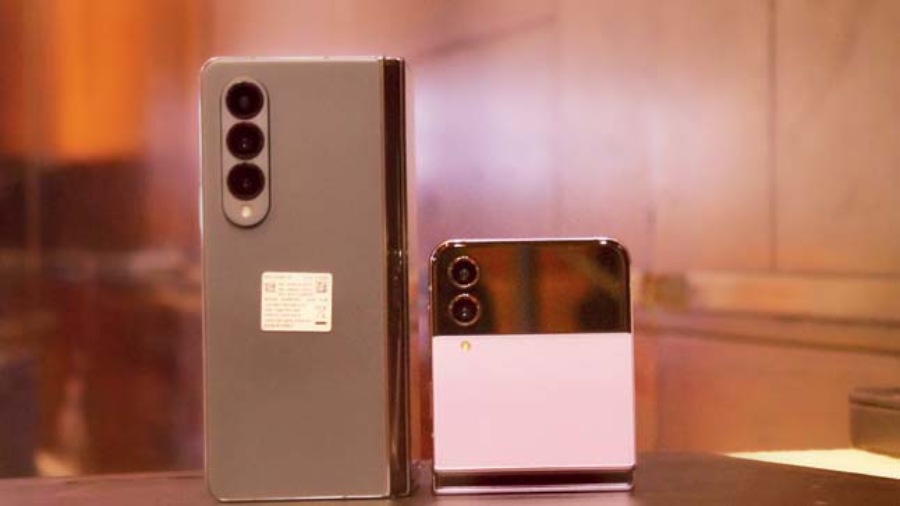 Galaxy Z Fold4 and Galaxy Z Flip4 come with Nightography, a feature that helps take better photographs under uneven lighting
In case you're looking for a lifestyle product
The Galaxy Z Flip4 is the phone you would love — and not just like — to have if you want to be a conversation starter. Unlike the Fold, which unfolds like a book, the Flip opens up vertically, like clamshell friends of yore. Out of your pocket or purse, do the one hand flip. The phone doesn't make any big sacrifices, so all the features of "conventional" smartphones are there but in an eye-catching form factor.
We won't get into the specs without using the phone over a longish period but the camera performance appears top-notch while Nightography finds a place here, offering 65 per cent brighter images. The outer screen looks cute and allows all the basic things you do with the phone — notifications, control media or even take portrait shots. The hinge appears sturdy and slimmer than before. All eyes are on battery performance because a phone needs to see one through an entire day of work. Drop test shows a substantial improvement of 12 per cent.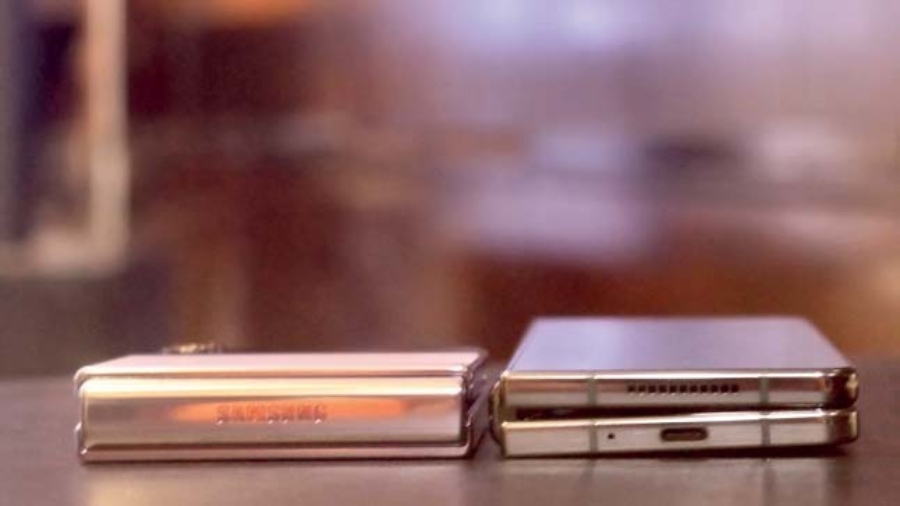 The hinges on both Fold and Flip phones are sturdy and the company promises years of usage
Wrist action
Samsung's collaboration with Google is paying off and the company's smartwatch business is looking up. There are two variants of the smartwatch — Galaxy Watch 5 and Galaxy Watch 5 Pro, both don't come with a rotating bezel but the overall feel is worthy enough of comparisons to the Apple Watch.
The feature that Samsung is diving deep into is sleep, which is emerging as an area of concern after Covid. There are advanced sleep coaching options while sleep monitoring includes personalised coaching programmes. To unlock the full potential of the sleep function, wear the Galaxy Watch to bed for seven continuous days to help get better recommendations. The Pro variant is more for those who spend time outdoors and offers better tracking of fitness metrics.
To make runs, jogging, trekking and biking better, there is now the option to import GPX files, so you will have turn-by-turn readings. With a 590mAh battery on board, getting through the day — with GPS on most of the time — shouldn't be a problem.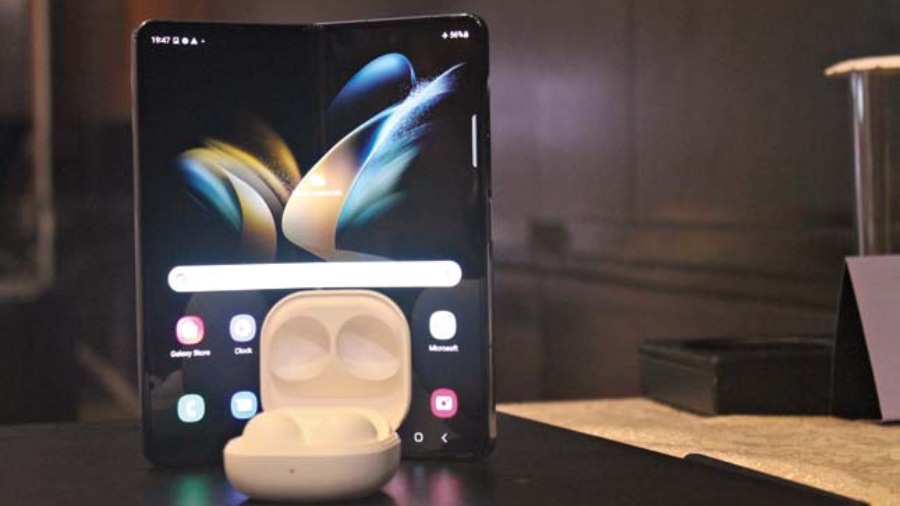 The Galaxy Buds2 Pro offers hi-fi sound and has improved active noise cancellation
Music for the ears
Samsung keeps playing around with the design of its truly wireless earbuds and each year brings about a substantial difference. This time the sound cans (Galaxy Buds2 Pro) look more like miniature eggs and they seem to fit the ears well. More interesting is what you get on the device — hi-fi sound and 360 Audio. Samsung has a number of in-house audio technology, which is at play here. And it can receive 24-bit input as well as offer 24-bit hi-fi sound quality. Better experience comes in the form of Dolby Atmos support and active noise cancellation is 1.4x better and by that we are assuming that loud environmental noises will be taken care of.
Pictures: The Telegraph
(Pricing and availability of the new range of Samsung products were unavailable when this edition went to print)
At a glance
Samsung Galaxy Z Fold4: 7.6-inch QXGA+ main screen with dynamic AMOLED 2X, one to 120Hz adaptive refresh rate, 6.2-inch HD+ dynamic AMOLED 2x outer screen, 50MP main camera with 12MP ultra-wide and 10MP telephoto, 4MP under display camera and 10MP selfie snapper, 4,400mAh dual battery, 12GB RAM (256GB/ 512GB/ 1TB storage options), IPX8 water resistance
Samsung Galaxy Z Flip4: 6.7-inch FHD+ dynamic AMOLED 2x display with 120Hz adaptive refresh rate (one to 120Hz), 1.9-inch super AMOLED cover screen, 12MP main camera and 12MP ultra-wide camera, 10MP selfie shooter, 8GB RAM (128GB/ 256GB/ 512GB storage options), 3,700 mAh dual battery
Galaxy Buds2 Pro: 24-bit hi-fi, 360 Audio with direct multi-channel, ANC, 61 mAh battery on the earbuds and 515 mAh  in the charging case, 18 hours of play time with ANC on and 29 hours with ANC off, IPX7 water resistance