Samsung has long been the only real competitor to Apple. Sure the rest of the Android brands may come up with worthy gadgets now and then, but when it comes to flagship phones, these are the two options people are willing to splurge on, thanks to the level of consistency. The latest from the South Korean company is like having a camera that's also a phone.
Picking up the Samsung Galaxy S23 Ultra, the most capable Android phone, one may look for design changes. There aren't too many of these over last year's device but what you get are extreme camera capabilities — it's not an incremental change; it's an overhaul.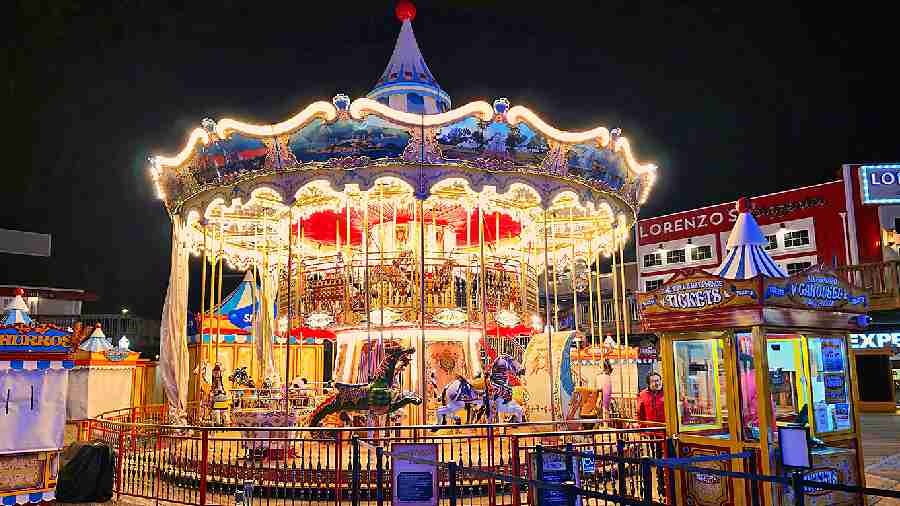 In this picture, there is too much lighting on the carousel but the Samsung Galaxy S23 Ultra brought out all the details that otherwise could have been blown up in the glare
We had a chance to play with the Galaxy S23 Ultra in San Francisco and now back home. Here are the things that rock on the camera front, especially at night or what Samsung calls Nightography.
Low-light magic
The elephant in the room or should we say inside the camera module is Samsung's new 200MP sensor. To appreciate what the camera does, there are some technical details to remember. You can take full 200MP photos from a tiny camera but the file sizes will be huge, like 40-50MB. Generally speaking, you will be shooting at around 12MP, so you get smaller file sizes. The phone uses something called pixel binning which combines 16 pixels into one.
What's pixel binning? It's the idea of individual, smaller, noisier pixels getting grouped together. They pack information into fewer, larger, cleaner pixels. On the previous Galaxy S22 Ultra, the main camera came with a 108MB sensor. So Samsung was clumping pixels into three-by-three grids, which means your end photos have a ninth of the total pixel count — around 12MP or or 12 million really clean pixels because each is made with the information from nine smaller pixels.
This time it's 200MP. So you are still sticking to a 12MP output but it will now be an even cleaner 12MP output because instead of each pixel being made from nine smaller pixels, each will now be made of 16 smaller pixels. There is also the option to divide your 200 million pixels into four or a high 50MP resolution output.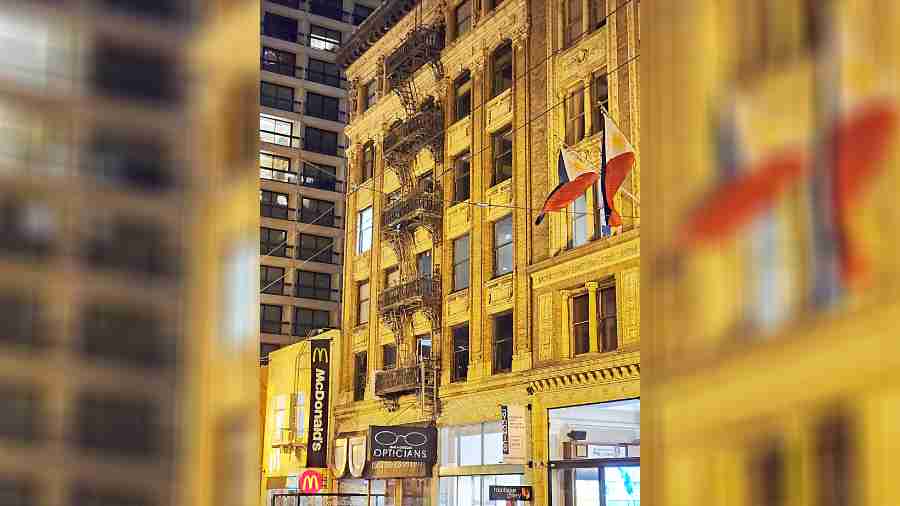 This picture was taken around 11pm and the yellow shade on the building doesn't overpower the frame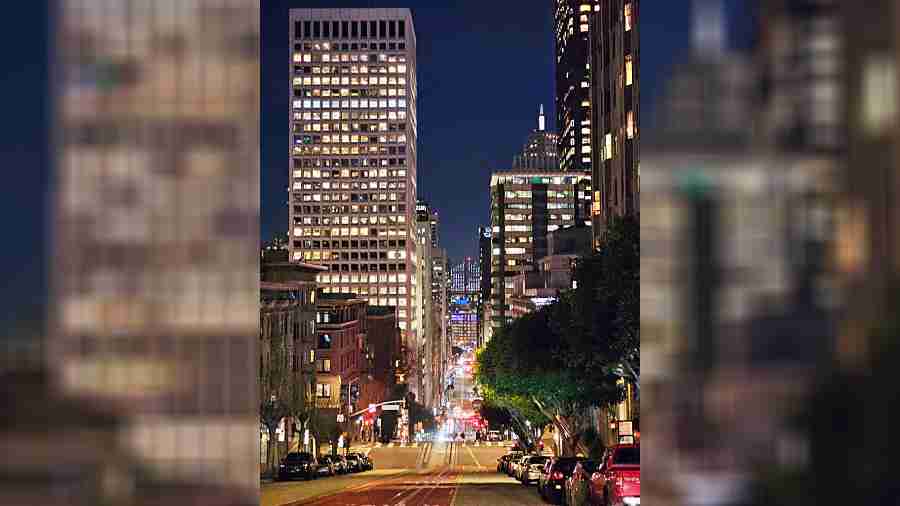 There are all kinds of lighting and adding to the difficulty are street lights. We dived into the 200MP mode and came away with a natural-looking shot
With the change, low-light photography on the Galaxy S23 Ultra versus the iPhone 14 Pro Max is going toe to toe. Previously, the problem with lowlight performance was high capture time. Now the camera is capturing and processing way quicker than its predecessor. The lower the light, lower the quality of information that each individual pixel can pick up. There is a benefit from multiple pixels being grouped together. There is definitely more texture and better control over super-bright spots.
When it comes to the ultra-wide camera, the S23 Ultra has a better dynamic range than any Android phone in the market. Now you get better shadow details; you will get sharper overall details.
Perhaps one of the bigger updates this year is how Samsung has also worked with Snapchat, Facebook, Instagram and TikTok to integrate the updated night mode and the different zoom cameras into those apps. Usually, these companies come up with two versions of their camera apps — one for iOS and the other for Android. That means, when you take photos using the camera, say, on Instagram using an iPhone, you are getting pictures that take advantage of the hardware. On Android, there are several brands, so you get apps that usually offer one-size-fits-all solutions and not always individual camera hardware is taken advantage of. Samsung continues to work closely with social media companies and important app developers. When you're zooming in using a social media app, you won't just be using digital zoom like you used to. It's far better. Now the camera on these apps benefits from real-time noise reduction technology.
Another area where night photography has improved drastically is on the selfie camera, which now offers better skin tones and gorgeous low-light pictures.
Zippity zoom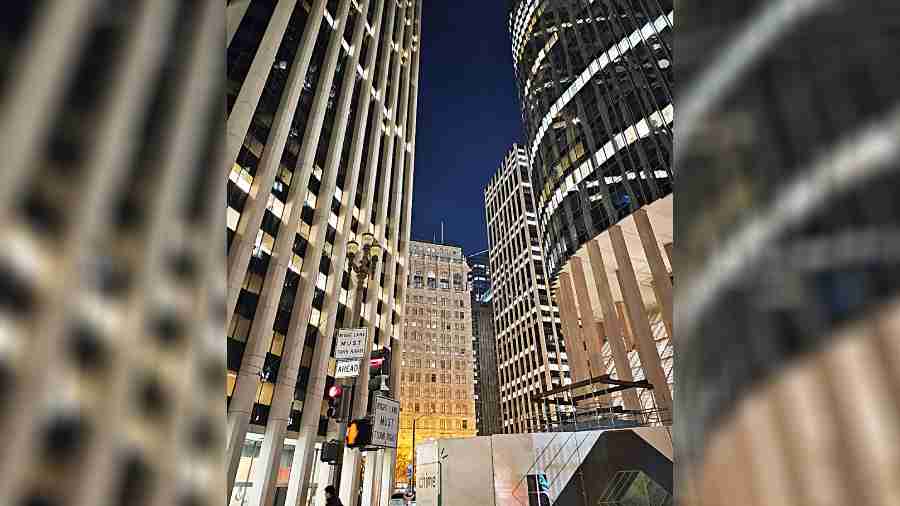 Every house has different degrees of lighting but the details have been retained. The picture was taken from a moving vehicle
All this brings us to zoom, one of the key elements of the phone. Optical zooming always results in better photos. Usually, flagship phones come with an optical zoom of a maximum 3x. The S23 Ultra, like in the past, offers two of these — one maxes out at 3x while the other kicks in at only 10x, which uses periscope zoom tech. One may contend that dual optical zoom options have been seen in the past. Yes, it has been but we are talking about a brand that most people will use.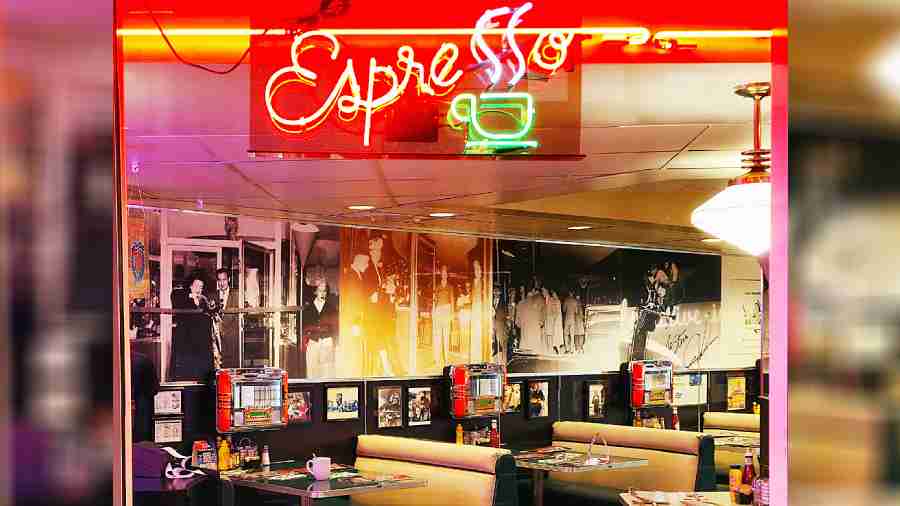 A typical cafe in San Francisco. Using pro mode, we managed to capture the feel of the place
The phone worth comparing the 3x optical zoom with is the iPhone 14 Pro. It's interesting to see how the technology is implemented. If we are at 3x, the first thingyou'll notice is that there is a difference in focal length even though both are technically 3x. That's because the S23 Ultra has around 70mm for the 3x optical zoom lens and the iPhone has around 77mm.
Going beyond 3x kicks is a highly acceptable digital zoom system but once you reach 10x, periscope zoom comes into play and it does a world of a difference. The quality of image is mindboggling for a phone camera. Be it people at 10x or objects, pictures have enough sharpness. Beyond 10x, again you are in digital zoom territory but going up to 30x is acceptable. Picture quality slowly drops off after that but on hitting 100x, it's enough to capture the moon with all the marks visible. I wouldn't buy any phone to access a camera to see the moon; get a telescope. But I've been capturing cityscape using the 10x zoom, and it's brilliant if you are into documenting life around you.
How does the 3x work in low-light conditions? The output is almost similar to that on the iPhone 14 Pro but the latter has an edge because of the technology that is used. The iPhone 14 Pro uses LiDAR scanner, an expensive but important element. The science behind it is simple: The LiDAR scanner bounces light waves at surfaces and then measures the reaction time to determine the distance and shape of objects, resulting in perfect 3D modelling of objects in any type of environment and even the entire surrounding. It allows better lowlight focus in low-light conditions. The S23 Ultra does an excellent job with 3x at night but having something along the lines of LiDAR can improve things.
Future-Proofing Videos
Leaving still photography aside, we turn to videos. And this year, Samsung has upped its game. When you're shooting 4K@30 frames per second things look excellent under adequate lighting. You've got excellent dynamic range and there is HDR10 across all the cameras. Under tricky lighting, S23 Ultra doesn't get as noisy as last year's S22 Ultra. The improvement is there for all to see.
More importantly, there is better stablisation. Samsung has had a super steadymode for a few years now and it didn't see a lot of improvement in the past. Once Apple introduced Action Mode on the iPhone 14 Pro, Samsung increased the resolution on super steady mode. In standard 4K videos, both phones offer great stabilisation. Samsung is also looking at future video recording options carefully. The company has had 8K video on its flagship devices for quite some time now, however, it would crop in quite heavily. An update has been made. Frankly, 8K video is now actually really good and you get a lot of details. But remember, 8K videos take up a lot of space.
Overall, dramatic improvements on the video front and if something like LiDAR is introduced, there can be further big changes.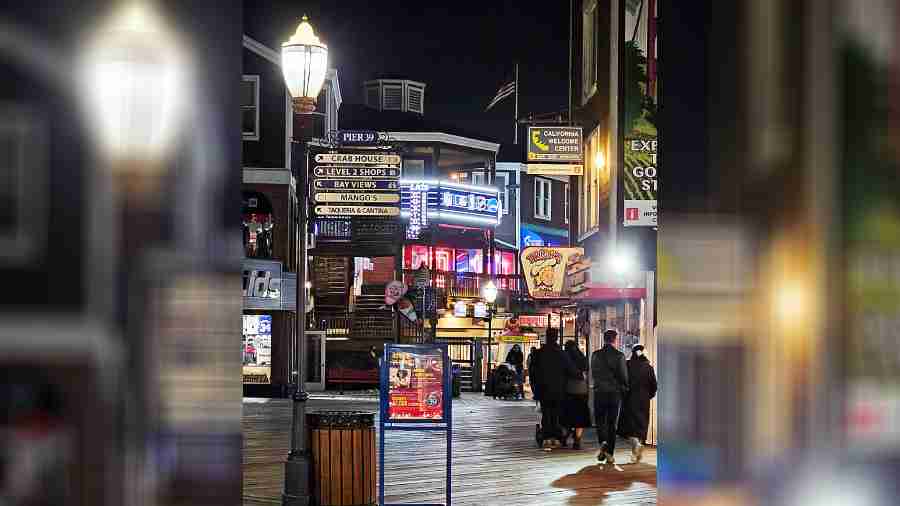 A random street scene with a range of texture and lighting
Look beyond the design
There are two things that companies want to continuously change about their phones — the chip and cameras. Samsung has gone with Snapdragon 8 Gen 2, which has become one of the best in the market for CPU and GPU performances, besides offering great battery life. What the new Galaxy S23 offers is this chip but modified for Galaxy or a customised version of the chip. Only optimisation and customisation can make phone brands survive. You get higher max clock speed on the performance core and better clock speed on the GPU. It always helps to have extra headroom for a flagship phone and it will ensure that you get to work with the camera for years to come. Even after using the phone for recording a lot of videos and turning up the brightness, I am easily getting a day of battery life, which, once again, makes the phone go head-on with the iPhone 14 Pro.
When it comes specifically to the camera, optical image stablisation has been doubled, allowing you to hold the camera stable for much longer. There are new sensors across the board and you can shoot 200MP photos that capture plenty of details. Across the board, there are significant differences on the camera front, reaching a point where it can become a photographer's phone.
Despite all the lighting in the background, the texture on the walls of the church has been captured flawlessly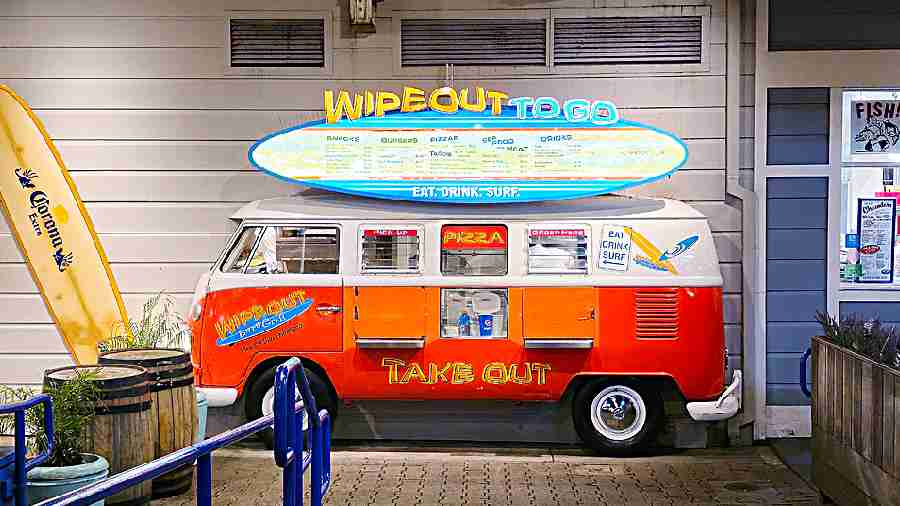 The picture was taken around 9pm under uneven lighting, yet the camera managed to collect enough details.
At a glance
On the Galaxy S23 Ultra, the main camera supports 200MP resolution
Device: Samsung Galaxy S23 Ultra
Price: Upwards of Rs 124,999 (256GB + 12GB), without offers
HIGH NOTES
Full 200MP output allows more details
Has the best night photography on Android devices
Better optical stablisation than before
Skin tone is almost perfect on the selfie front
8K recording has improved drastically
Excellent 10x telephoto lens
MUFFLED NOTE
Expert RAW should be made a part of the camera app rather than being standalone