In case you are looking for an inexpensive Windows laptop, chances are you will find one that will last a couple of years. When I say inexpensive, these are machines that can handle basic web browsing, light applications, and media consumption. Once three-four programmes load simultaneously, chances are the machine will buckle. You would rather get a good tablet around 40K and pack in a keyboard. But if you can swing it, go for a faster computer that lasts longer, something like the new Samsung Galaxy Book2.
What Samsung has managed in the last few years on the laptop front (though new in India) is quite impressive. The members in the Book2 line-up has something in common — no matter what you choose, you will come away with a machine that feels like a Pro. Sure, there is the Pro model in the series but the plain, simple Book2 punches above its weight. It's a machine that's recommended for anyone looking to get office work done or for work-from-home scenarios. You can do video and photo editing but if there are plenty of layers involved, we would recommend the Pro model.
The machine we had for review comes with 12th Gen Intel Core i7-1255U processor and iRIS Xe graphics. For most use cases this is a worthy processor to have. In case your workflow involves plenty of documents (Word to Powerpoint to Excel), heavy browsing (like having 15-20 tabs open on Chrome), using Slack, website maintenance, video conferencing… all these are easily handled by the machine.
For example, I have a blog on Wordpress.com for which there are simple videos which require the usage of Adobe Premiere Pro, then I use Photoshop to add some dazzle to the photographs, Audacity helps with everything to do with audio recording and then there is Canva. Not once did I feel the need for more speed. If you ask the same question while editing a longish 4K@60fps video then sure, you should opt for the Pro edition. When there is time, I did play some games like Asphalt 9: Legends and things went smoothly.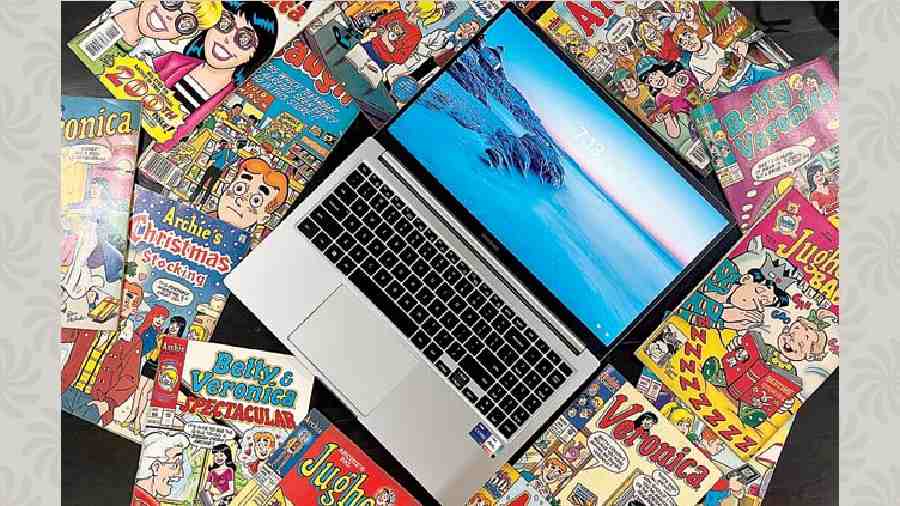 The screen can be pushed back 180 degrees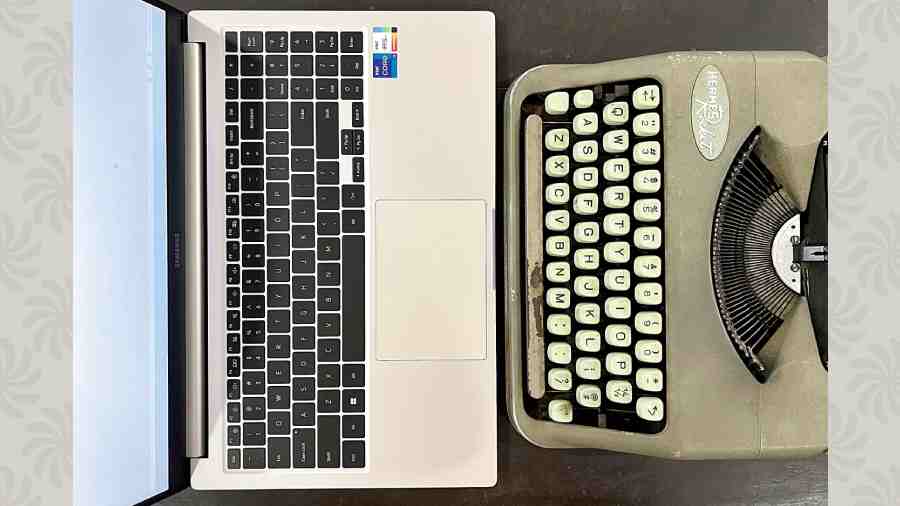 The full-size keyboard has zero flex and is comfortable to type on
A display for all occasions
Since this is more of a laptop for office usage, a good keyboard is required and that's what you get. It's quite large and there is a fingerprint scanner on the power button. There is no flex on the keyboard or the largish trackpad while the palm rest is substantial. The keyboard backlighting is sufficient and so is key travel. The only quibble I have is having the power button right at the upper right-hand corner because each time I want to use the 'del' key, my finger inches towards the power button. It's something that would require a few days to adjust to. Otherwise, the screen can go back up to 180 degrees, which helps if you tend to balance the machine on your lap while lying down. Equally splendid are the hinges, which appear sturdy even after a few days of rough usage.
Making the workflow smooth on the eyes is a 15.6-inch FHD LED display (1920 x 1080) with anti-glare. Even though this is LED, it's a superior panel and has good viewing angles. No matter what the angle of the screen, you will notice all the details.
And there is the entire Dolby Atmos experience. There are two 2W stereo speakers and vocals have enough clarity while volume is loud enough for most use cases. There is an option to work around with the equalizer, which brings out the best in the speakers. Another quibble: It's a 720p HD webcam, which could have been 1080p.
Should you buy it?
The best part of the laptop is it uses USB-C charging and you can use pretty much any of your charging bricks to juice this one up. Samsung has also included a charging unit in the box. The device comes with a 54Wh battery or enough to get around eight-nine hours of on-screen time. But it's difficult to offer an exact figure because workloads vary greatly. And that's where USB-C charging helps.
Perhaps the biggest advantage you will feel is if you are already using Samsung phones or tablets. There is the option to connect your Galaxy Book2 with a Galaxy Tab wirelessly to add a second screen. You can duplicate or extend, and instantly work across both devices with Samsung Multi Control. The Quick Share feature helps wirelessly send files across Samsung Galaxy devices while the Your Phone app has been optimised for Galaxy users with Link to Windows. It's hassle-free usage across Galaxy devices; there are enough features — big and small — that add up to give an uncomplicated experience.
At a glance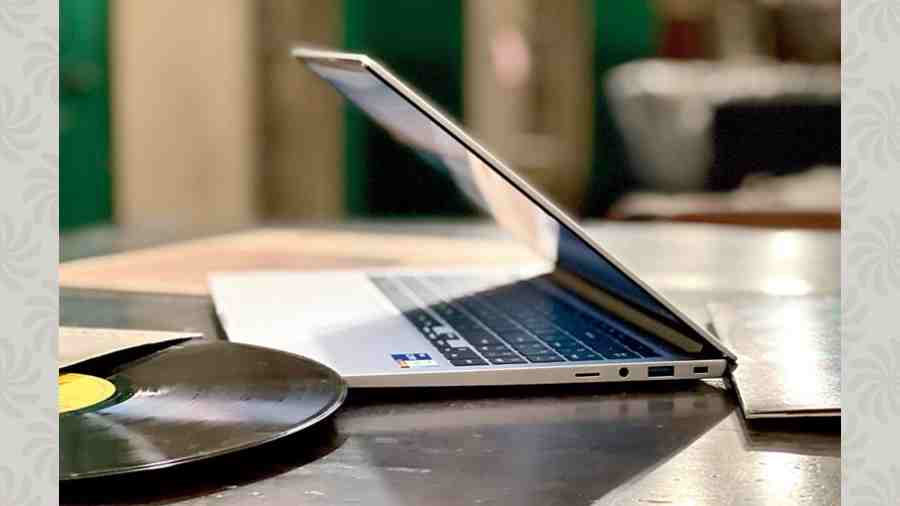 Weighing only 1.57kg, the laptop can be carried around with ease
Device: Samsung Galaxy Book2
Price: Upwards of Rs 65,990
Ports: One HDMI, two USB Type-C, two USB3.2, microSD multimedia card reader, headphone out/mic-in combo
High notes
• Seamless experience across Galaxy devices
• USB-C charging and powerful battery
• Good typing experience
• Sufficient battery life
Muffled notes
• 720p webcam