The seemingly impossible is no longer, well, impossible. We are talking about the Samsung Galaxy Tab S8 Ultra, which is big, bold and brawny. It's a whole lotta tablet but in ultra-slim factor. It wouldn't be a hyperbole to say that this is the best tablet you can buy on Android; competition is miles behind. Comparisons with the iPad are inevitable but comparing Google Play Store with App Store support is unfair. Also unfair is using this tablet to only browse the web or send emails.
What the Ultra is trying to showcase is the interest in huge tablets to the point that one may end up choosing between a laptop and a tablet. Here's a fact: Nobody needs three expensive, top-of-the-line devices — smartphone, tablet and desktop. It's always about getting two powerful options and the third turns out to be the connecting factor. Try visualising a very powerful phone working in tandem with a caviar-standard laptop. Or, a powerful tablet and desktop but a phone that's enough for calls and messaging.
Having used Samsung tablets for quite a few years, I appreciate where they have taken the machine even though it's in the Android space. If the iPad has any challenger, it's the Galaxy Tab S series. So, let's look at some of the ways this tablet can be used. Where it fits your workflow instead of a rundown of specs.
Workflow: Streaming
Having a 14.6-inch AMOLED display automatically qualifies this for multimedia. There are few things to remember. On the best iPad Pro there are tonnes of local dimming zones but this one is a full AMOLED display and that too laptop-sized. Every individual pixel lights itself, giving you inky blacks and incredible contrast. Also, we are looking at a 16:10 aspect ratio with 2960x1848 resolution. This aspect ration ensures that there are no thick black bars while streaming films and things are pleasing to the eye. Though it checks out at 240ppi, I wouldn't be two centimetres away from the screen checking out pixels.
Workflow: Engineering
For engineering students, engineers and architects there are several applications that are too powerful for many laptops, so they have to visit the campus or office anyway. This is the crowd who can spend more money on a smartphone and a tablet because they can use these two together to take pictures, edit, work on diagrams and do other productive tasks. These are people who like to take notes but for custom apps, a more powerful machine is needed.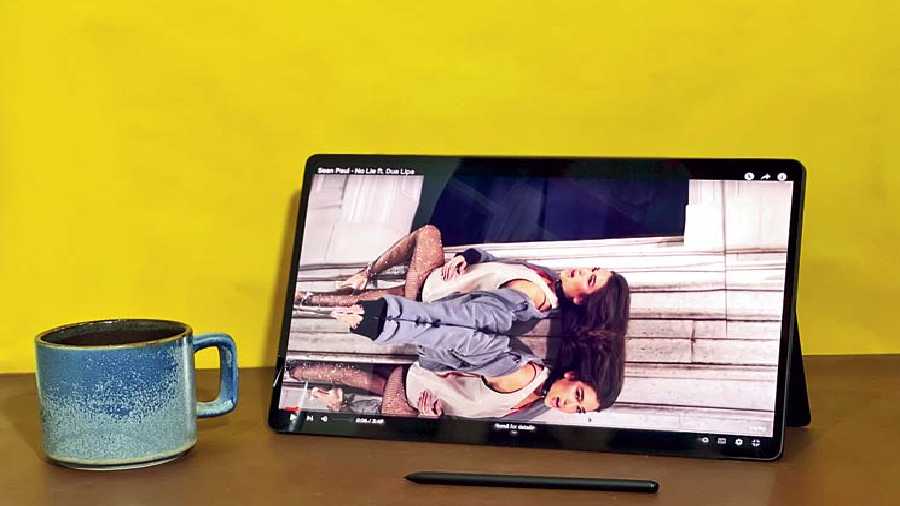 The tablet has a laptop-size screen with quad-speaker set up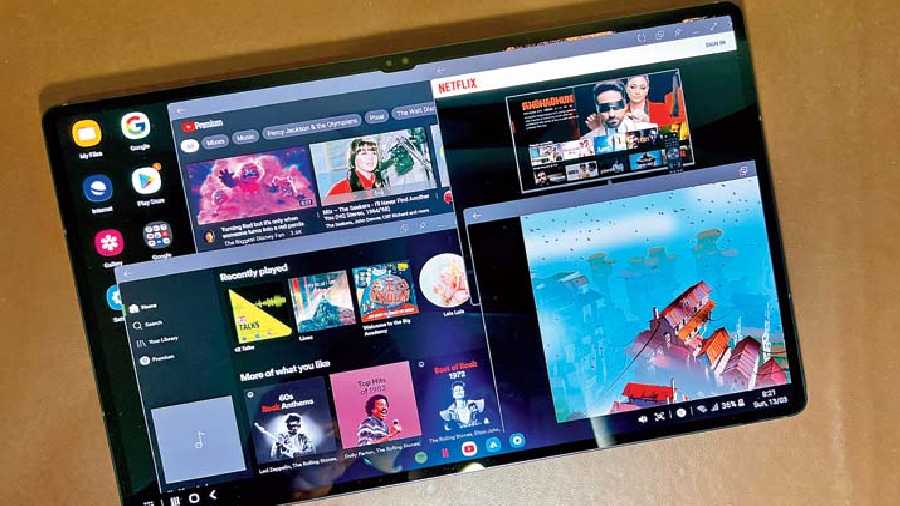 Use multiple windows without having to worry about performance
The S Pen comes free in the box and it has almost zero latency
Workflow: Artists
There is obviously support for the S Pen, the name of the Samsung stylus. First, it comes free and in the box. Second, it's among the best stylus you can have, with extremely low latency. Third, you don't need to charge this all the time.
Artists often use tablets to draw life around them while enjoying tea by the roadside or at a café's outdoor seating arrangement. They don't care about Air gestures or tricks featured on the S Pen; to use these features Bluetooth connection needs to be enabled and the stylus charged. For an artist, it's just about drawing, which he or she can do by simply picking up the stylus. To make life easy, the stylus can be attached to the top of a long bezel where magnets make it stay put. In case charging is needed, it has to be attached on the glass patch on the back of the tablet. A quibble: The S Pen needs to be attached to the glass in a certain direction to enable charging.
Palm rejection is spot on and there are enough apps to see you through — Clip Studio, Sketchbook, ArtFlow, Sketches, Concepts…. Our advice: Turn off Show Air Command Icon and Open Air Command with Pen Button while sketching.
Workflow: Learn the piano
During the pandemic many woke up to the benefits of several apps that are there to teach musical instruments. Many of the apps have been popular on the iPad but now even Android has them. Given that this is a big, massive, giant screen, learning the piano should be easy.
Workflow: Office work
In case you are able to mirror your office computer, you can use the DeX feature supported on the tablet. DeX is Samsung's desktop UI that's built into a lot of devices. So if you are to plug a keyboard and a monitor to the tablet, it becomes a desktop that has the feel of a Chromebook. A super-helpful feature to have and it works very well. You can also get a Samsung folio keyboard to turn the tablet into a laptop.
Workflow: Videoconferencing
It's a top-notch tablet for another reason — the small notch that comes in the centre of the long bezel, houses two 12MP cameras, one regular and one ultra-wide. It's 4K. The notch is really small and has been very well implemented. The tablet we have at hand is meant to be used horizontally, so the webcams are on the long bezel. I don't think there will be any need for a webcam update beyond what Samsung has given us with the Ultra. Helping with the sound is a quad-speaker set-up, which easily fills a room, be it videoconferencing or watching films.
Workflow: Photo and video editing
Look at it this way: Those buying an iPhone end up buying, say, an iPad because connectivity is seamless. Same here: Samsung Galaxy S22 Ultra goes extremely well with Galaxy Tab S8 Ultra. You take pictures on your phone and export the RAW files to the tablet where you use Photoshop and Lightroom to edit. There is the Snapdragon 8 Gen 1 chip which makes things fast. LumaFusion, the video editing software iPad users swear by, is coming to the Tab S8 Ultra.
Workflow: You
While looking at devices, users should stop finding ways to make their workflow suit a device. It should be the other way around and that is what Samsung has done not just with the tablet but with the new Galaxy S22 series of phones. You matter. Your work matters. And that's what these devices are taking care of. Sure, there's no charging brick in the box but you must be having quite a few lying around the house to juice up the 11,200mAh battery on this tablet. Or better still, invest in a 45W super-fast charger for all your devices. And you get four generations of Android upgrade. What more can you ask for? Powerful, stable, reliable, speedy, and long-lived. It's full steam ahead with the Samsung Galaxy Tab S8 Ultra.
At a glance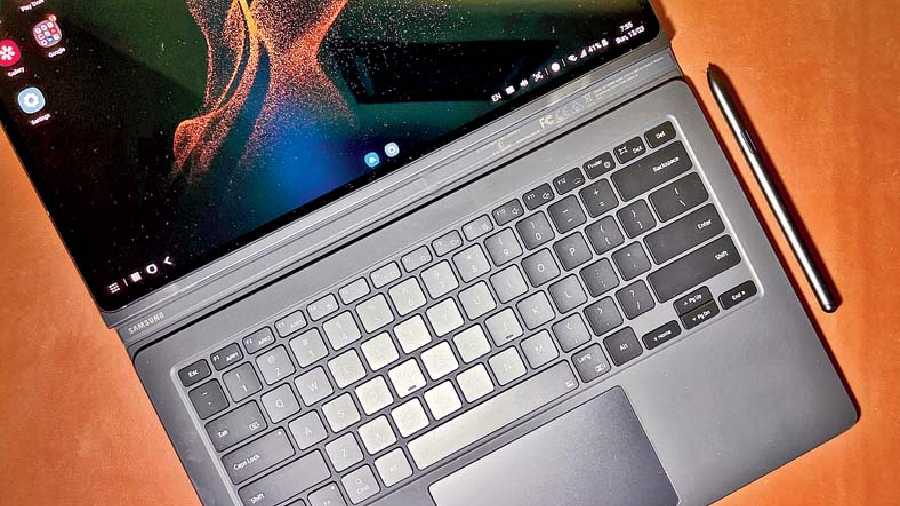 The keyboard folio has to be purchased seperately
Device: Samsung Galaxy Tab S8 Ultra
Price: Rs 108,999 (256GB, Wi-Fi version; keyboard folio needs to be bought separately)
High notes
• Light, big, bright and speedy
• Takes care of almost all types of workflow
• Android upgrade for four generations
• Excellent audio
• S Pen is free in the box
Muffled notes
• S Pen needs to be attached in a certain direction on the glass strip for charging