Buying a new TV is always a big deal, a conversation starter for weeks at the dinner table. It's the centrepiece around which evenings revolve. And thanks to a brand like Redmi, TV technology has become inexpensive but not a compromised purchase. We have been using the Redmi Smart TV X43 for a few weeks and as the name gives away, 43 inches is a comfortable size for most living rooms. Not that it's a perfect piece of technology — no device is — but it definitely offers something that money can't buy — pure joy each time the TV is turned on to watch a film.
Before deciding on a television set, ask yourself what's important — better TV performance than what the average budget TV delivers, affordability over performance, image quality regardless of price, a good TV for a smallish apartment, or a TV for serious gamers. I would say, this particular model is definitely better than any average option in the market, offers surprisingly good picture quality for its price and it has definitely among the most navigable interfaces.
Details are in plenty and at times reviews get stuck decoding figures. While experiencing the X43, the emphasis was on the quality of the built-in streaming platform because you don't want to go through the hassle of having to add an external source. Second, HDR10+, Dolby Audio and Dolby Vision, which takes viewing experience a few notches higher. Third, the interface because a smart TV on which you can't find what you are looking for is like non-alcoholic whisky — meaningless. Fourth, sound.
Easy set up
It's the most fun and scary part at least for me and not because of this particular Redmi TV. Though you can get an engineer to help you with it, setting up the TV hardly takes 15 minutes. Place the box on a flat surface like a bed. Pull it out, screw on the two plastic stands. Voila. The scary part involves removing the plastic covering on the screen. I have had a bad experience quite some time ago; memories linger. But it taught me to be gentle with the screen. No matter the noises you hear while removing the plastic covering, keep at it but slowly.
Once the TV is on the table, obviously it needs to be powered on. First quibble: The power switch is difficult to find for someone who doesn't like to read the manual. It's at the centre, below the bezel where the remote control sensor is. There are plenty of connectors (see info box for details) at the back with the important ones — HDMI and USB — being on the left side, so it's easy to plug in new devices even if the TV is mounted on the wall. There are more connectors below. There is plenty of future-proofing when it comes to connectors and you will not get a chance to complain.
Once the TV is running, you will be greeted with the standard Android OS interface, which is clean, good and boring. One of the main reasons for buying a Redmi TV is PatchWall software; it's the interface that actually makes this a very smart TV. As always, I have had zero issues with PatchWall because of the quality of recommendations it offers. You can search by categories like Dolby Vision, HDR10+, 4K, Top Rentals, Movies by Actors and even IMDb rating because it's something many viewers rely on. PatchWall has from the very start set a new standard in smart TV viewing, something other brands are trying hard to mimic with varying degrees of success. Interfaces on most rival brands make it so difficult to watch TV that one may eventually turn to the smartphone to watch Reels for hours.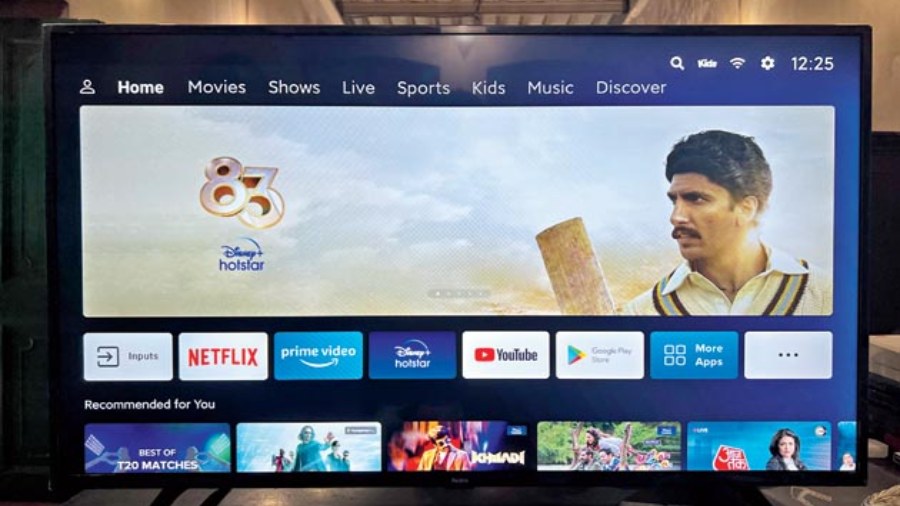 PatchWall is one of the best TV interfaces at the moment
Viewing experience
Double D experience but here 'D' stands for Dolby. Given its price, the TV punches remarkably well above its weight. You are greeted to Dolby Vision and Dolby Audio, both of which added a lot of pleasure when I watched Questlove's jaw-dropping music film Summer of Soul, Jane Campion's The Power of the Dog featuring Benedict Cumberbatch and the movie that I have probably seen 50 times, The Good, the Bad and the Ugly (Blu-ray edition).
Things you get here are 4K HDR, 3840x2160 resolution, Dolby Vision, HDR10+, HDR 10 and HLG. HDR10+ uses dynamic metadata to enhance HDR images in each scene or shot, allowing viewers to get the most out of every movie or TV show. Dolby Vision ensures content is portrayed as accurately as possible with significant improvement in terms of brightness, contrast and colour performance. It's not a cheap technology to offer.
This is 4K LED display, which is of very good quality and if you really want to get a good experience at a reasonable price, this TV does a very good job. Sure the panel has a 60Hz refresh rate but I am not complaining.
Audio is where I am a little mixed up. Two things here. First, you get a two-speaker 30W set up, which is better than most 20-25W speakers. But I have an old house, so the rooms are biggish with high ceiling. For a home like mine, all TVs need a soundbar. Otherwise, the audio is powerful enough to fill the room and there is good vocal and music separation while dialogues come through perfectly.
Coming to the remote control, there are dedicated buttons for Netflix, Prime Video, Disney+ Hotstar and so on. It's a great design and there are even batteries in the box (I know it's a small thing but Redmi has thought it through). What I don't like: There is no exclusive mute button; you have to press the lower volume button twice to mute the TV.
Should you buy it?
If not for anything, go for PatchWall; it's reason enough to make you buy a Redmi TV. PatchWall separates men from the boys. Otherwise, there is good upscaling, good picture quality and good audio output. Nothing fancy but everything works well. And that's what we want — affordability without cutting too many corners. Like always, Redmi is a heavy hitter without breaking the bank and Smart TV X43 is no exception.
At a glance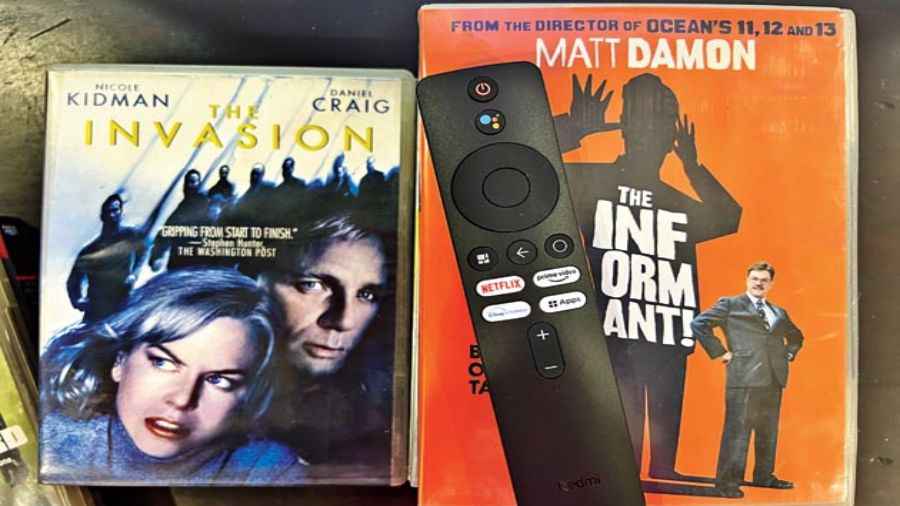 The remote control doesn't have an exclusive button to mute the TV
Device: Redmi Smart TV X43
Price: Rs 28,999
High notes
• Dolby Audio and Dolby Vision
• Speaker is loud enough to fill most rooms
• PatchWall offers an exceptional experience
• Easy to set up
Muffled notes
• Power button is difficult to find on the TV
• There is no exclusive mute button on the remote control
Ports
• HDMI 2.1x3, USBx2, ethernet, AV, optical, 3.5mm