Battle rap is considered the rawest and most unfiltered portrayal of rap and hip-hop music. Rapper Anant Mohanka, aka 1AM, recently performed in Manchester, England for Premier Battles, one of the world's largest battle rap leagues. Currently based in Bengaluru, the rapper, who has spent most of his life in Calcutta, made his debut in Premier Battles against LSDean, a seasoned battle rap artist from the UK. The Telegraph caught up with 1AM and spoke to him about Premier Battles, his music, his future as a rapper and more. Excerpts.
Tell us something about your recent performance in Premier Battles. How did you prepare for it?
It's a league based in Manchester, and it has events all over the UK. It would be comparable to a boxing or UFC event where you have five to seven one-on-one match-ups which people come to watch. The format is quite compact though people think it's all freestyle. We have several weeks to write and prepare in advance, which allows more intricacies and complexities in writing. The additional material in the form of rebuttals is obviously improvised on stage, but mainly we follow a pre-written format. Finally, it's left up to the fans to see who performs better between the two competitors.
Who are some of your biggest influences?
Eminem, Kendrick Lamar and Yelawolf if I have to name the top three. Scottish battle rapper Soul has also been a big influence on me.
How did you decide to become a rapper?
I think my feelings inspired me to a point where not only did I relate to the content and writing of rap songs but it made me feel that I wanted to express my stories in a similar manner.
Are there any recurring themes or favourite topics that you explore through your music?
I haven't written much music in a while as I have mainly devoted my time to battle rap in the last few years. In terms of content, battle rap is like a debate, which is centred on ad hominem because unlike most debates what I say is mainly directed against my opponent. I use double entendre and humour to attack my opponent rather than against what they have said. So that's what the topic usually is but I usually take a few lines to talk on mental health issues because, apart from targeting my opponent, I think it's important to let people know that it's okay to have these issues.
Which has been the best moment in your career so far?
Oh, definitely this one. The 2016 nationwide Rap Wars which I won and which got me on Rolling Stones was probably a bigger deal on paper. But this was something I worked hard for and was chosen as the Battle of the Night, so that was special. Also, getting recognition in a foreign country and on social media was great and finally, it was really, really well-received by the live audience. So definitely this one tops my list of achievements.
Tell us something about your upcoming projects. What can rap music fans expect from you in 2023?
I am trying to put together one battle in India, and Premier Battles is going to have me back. So that's something to look forward to. Also, I am working to transition into stand-up comedy in the near future and I hope that goes well.
What do you think is the future of rap music?
The future looks good. The more we have rappers coming forward with their own backgrounds and stories the more diversity and perspective it adds to the rap scene. Right now the 'gully' perspective is prominent and it is important that we come up with different perspectives to reflect other walks of life and be relatable to a wider base of listeners.
Your thoughts on diversity and inclusion in the rap music industry…
Rap is becoming diverse now because although initially it wasn't, rap is now becoming more acceptable as music. It's now in a fairly good place. Right now you have rappers from all parts of the world. You have women rappers too and we have people coming out as gay and bisexual who are sharing their stories as more and more people are getting to be more comfortable with this form. I think the future is going to be even better but I think we have reached a good place already.
Share with us any causes or hobbies outside music that interest you.
I love good writing and I am very fond of books. I am also very much into hip-hop and stand-up comedy. I also try to make my own writing deep and multilayered. In my Premier Battles performance, I referred to Churchill and how he had a huge hand in the Great Bengal Famine. That's one change I want to bring about in rap music. Many people think it's very juvenile and shallow but I believe battle rap can be one of the ways in which we can show people that there is a lot of room here for discussions on deep and meaningful issues.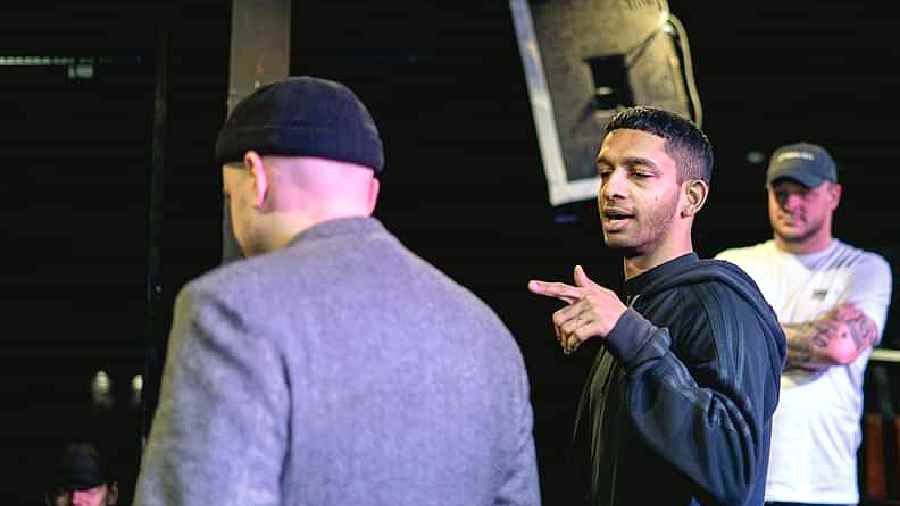 A moment from 1AM's performance against LSDean in Premier Battles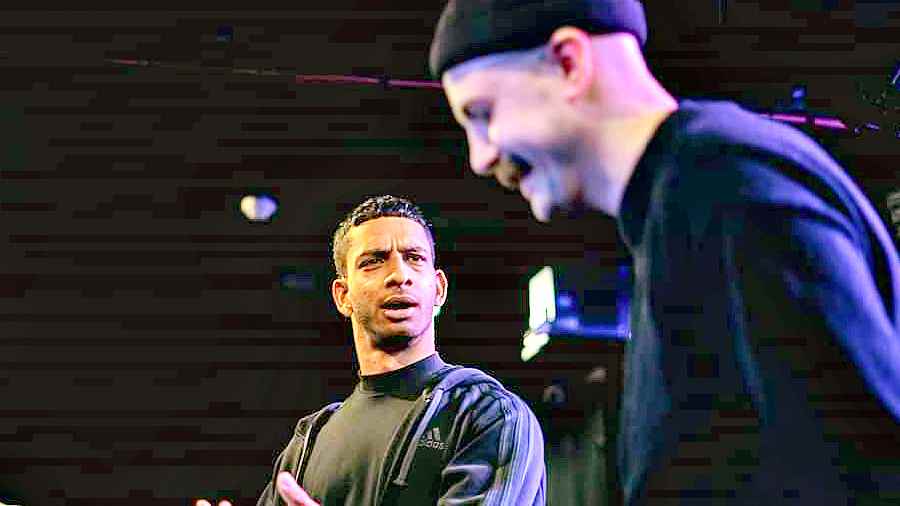 1AM (left) made his debut against LSDean in Premier Battles, one of the world's largest battle rap leagues.