Sustainable clothing store Twine Tales at Hindustan Park showcased a fun summer collection, Printed Poppins, with Dora by Phoenix, the brainchild of Kakali Biswas. Held over two days, May 19 and 20, Kakoli's first solo edit in the city enchanted sari lovers with light organic fabric and pop prints.
Born out of Kakali's love for quirky prints, citrus fruits, comics and journeys, the collection is one soaked in the nostalgia of hot summer afternoons and cool terrace nights. Giving the traditional choice of whites and pastels a summery spin, Kakali brought in bright and cheerful watermelons, coconuts, Tom and Jerry prints and more in bright colours to make sari-wearing fun.Speaking of the collaboration, Kakali said, "I am extremely happy to share this milestone event with Twine Tales. The idea behind the collection was to make saris more fun and zesty. I have used prints of watermelons, coconuts, Tom and Jerry, travel themes, owls and giraffes among others to make 'Printed Popppins' perfect for your summer vacation vibe." Founded in 2019, Dora by Phoenix is Kakali's homage to her late mother Dora, from whom she inherited her love for six yards.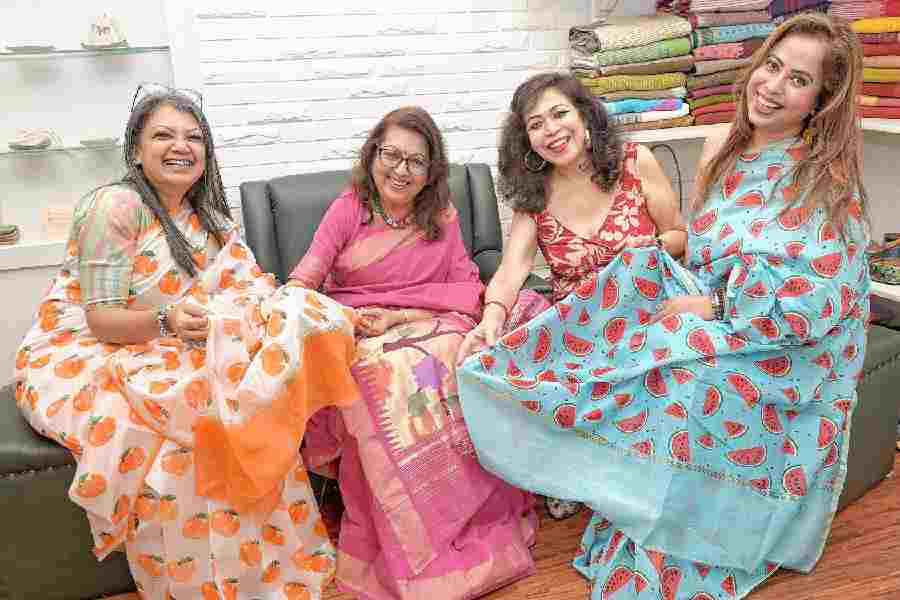 From left: Kakali Biswas, Rita Bhimani, Nilanjana Chakraborty and Sanhita Moulik
Sanhita Moulik, owner and curator of Twine Tales, said, "The collection 'Printed Poppins' reflects the spirit of the modern woman, who effortlessly blends contemporary style with comfort and tradition. This experience is a must for all fashion enthusiasts from the city of Calcutta and the prints will be extremely popular with both young adults as well as the older generation."Both Sanhita and Kakali primarily focus on West Bengal craftsmen and work with weaving clusters from across the state.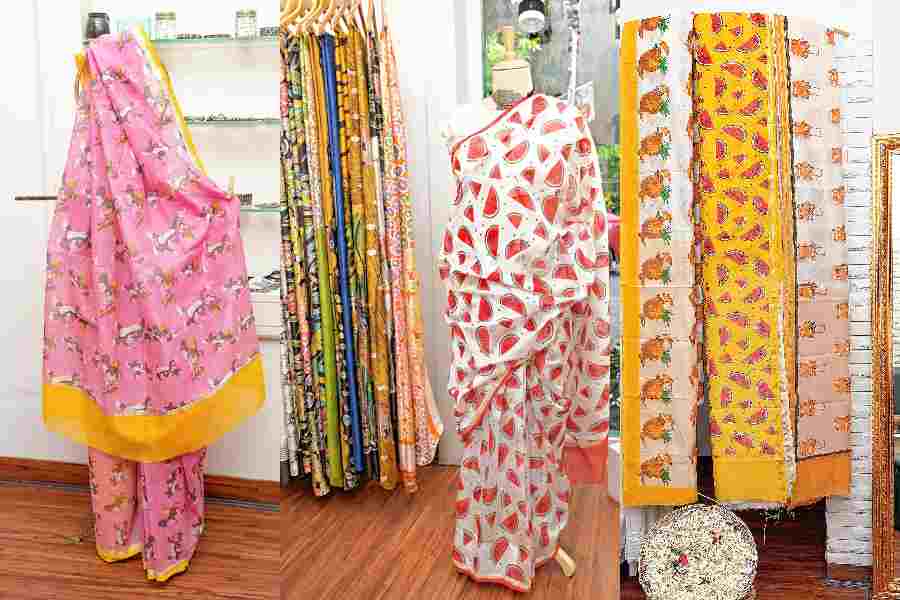 (l-r) A Tom and Jerry printed sari in pink with yellow border at Twine Tales, A sari with watermelon print, A glimpse of Printed Poppins on display