Pride Month always calls for a celebration, and what better way to celebrate than to gift your friends and yourself some adorable LGBTQ+ friendly merch that can be flaunted unabashedly and proudly! With the rainbow flag being the centre point of representation for the community, there are a number of amazing goodies and Pride-special collections for you to shop from.
Here are a few must-have #Pride goodies for your shopping haul…
Rainbow Socks
What's not to like about bright rainbow-coloured socks? If you're someone who loves to sport a vibrant pair of socks, you will love this set. It is versatile and can be paired with everything under the sun. Add some colour to your wardrobe and get your hands on these socks here.
Pride Enamel Pins
This Singapore-based brand creates subtle LGBTQ+ accessories that are cute as a button. They ship internationally and their enamel pins are truly unique! Pick from their wide range of designs, which include pronoun pins, Ally of Pride pin and Love pins to name a few. They are quirky and chic, making sure you can flaunt them with every outfit! Shop here.
Tonoto's Pride Collection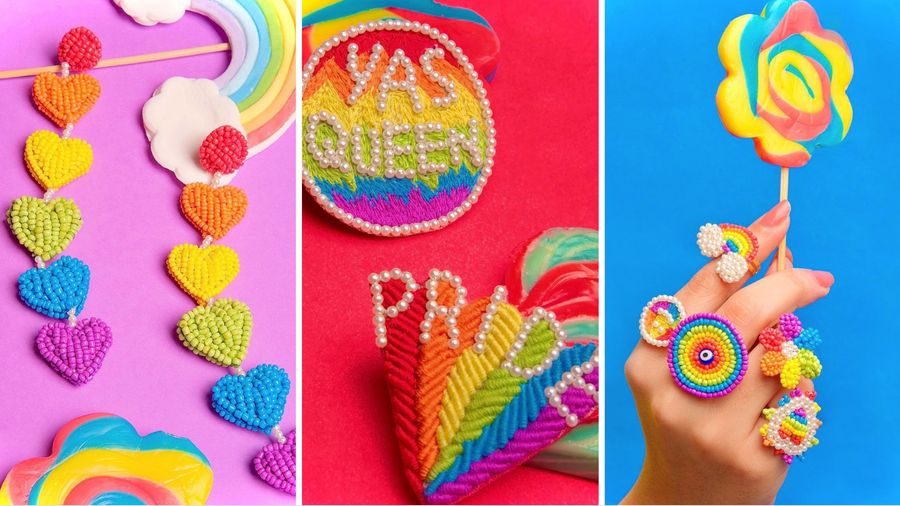 @tonoto.in/Instagram
Tonoto's new collection brings together gorgeous handmade designs that are one-of-a-kind. Keeping vibrant colours as the central point of their collection, they have created brooches, earrings, rings, necklaces and so much more. These pieces are a celebration of Pride Month and are perfect to wear to pride parties! Shop here.
Suta's Pride Without Prejudice Collection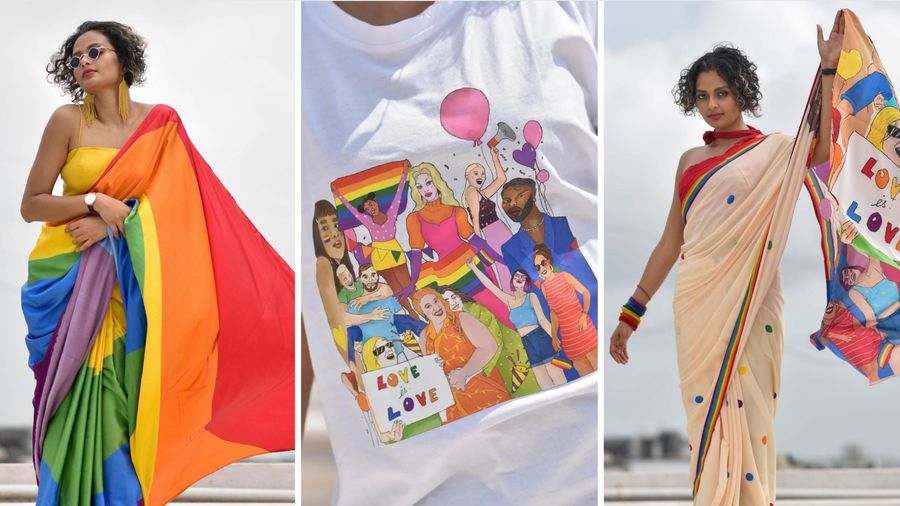 @suta_bombay/Instagram
Suta's latest collection, Pride Without Prejudice, is a riot of colours and all about #loveislove. The pieces are striking, have inclusive illustrations and bright colours that celebrate pride in style. The collection's saris are rare pieces that are definitely collectables, while the blouses and t-shirts are quirky pieces to add to your closet. Shop here.
Heads Up for Tails' Colors of Love Collection
If you're getting all dressed up to celebrate Pride Month, why should your pet buddies be left behind? This pet brand's pride collection will be the cutest thing you see today. From rainbow bowties to neck scarves, collars to chew toys, they have it all and are all totally adorable! 
Coach Pride Collection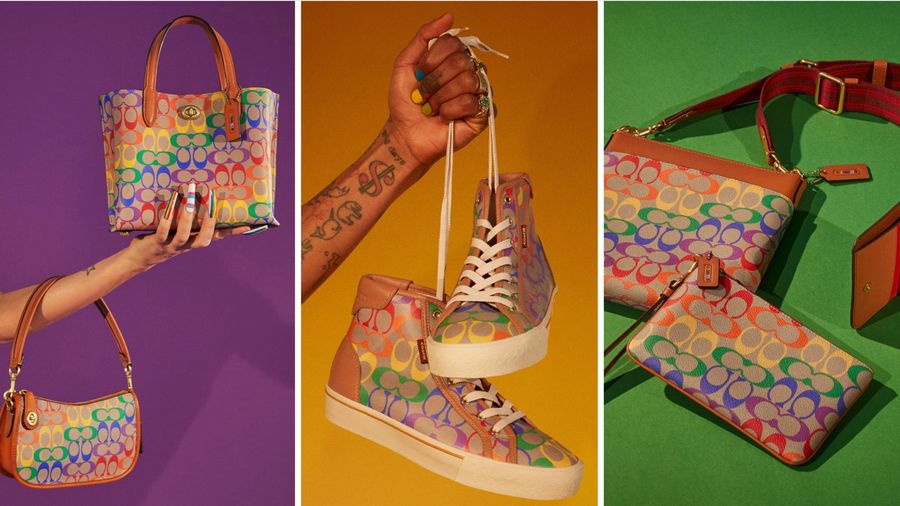 @coach/Instagram
Luxury brand Coach has created their very own pride collection to cater to the LGBTQ+ community. Their uber luxe collection features high top sneakers, wallets, bags and even slippers, among other things. Keeping the classic Coach print and aesthetic, but with rainbow colours. This is the collection for you if you're looking to splurge.
Roastery Coffee House's Pride Mugs
What is the best goodie to get from a coffee house? Why, coffee mugs of course! These handmade ceramic mugs are available in the colours of the Pride, Lesbian, Pansexual and Transgender flags. They are adorable limited edition crockery that you must add to your kitchen ASAP. 
Butt Chique's Pride Edit
Who said boob tape is only for bodies with breasts? With this brand's rainbow coloured body tapes, anyone can use them to add colour and flair to their outfits. The rainbow colours are vivid and eye-catching, making sure you stand out in the crowd. 
Bobo Calcutta's Colour Collection
This Kolkata-based luxury fashion brand's new collection, Colour, celebrates queer identities & folklore through their quirky prints and vivid use of hues. The prints are abstract and unlike anything you've seen before, and that is what Bobo Calcutta does best!