She was supposed to play Satyabati in a Byomkesh film years ago. However, that film finally got shelved. But life has come full circle for Paoli Dam as she is now an integral part of a Byomkesh Bakshi film, which releases on August 11. Paoli plays Sulochona.
Set against the backdrop of the Naxalite uprising of 1971, Byomkesh Hotyamancha (directed by Arindam Sil) follows Byomkesh Bakshi, who gets involved in a story of vengeance when he decides to attend a play at a theatre and becomes witness to a crime unfolding on the stage. The Telegraph chat with Paoli.
This is your first Byomkesh film. How was your last day of shoot?
When Arindamda announced that it was a wrap for me, I started crying. There are certain characters that I really get attached to, and Sulochona is one of them. In fact, I took six months to come out of the headspace of Madhabilata from Kaalbela. I kind of became like her. In the last few years I have gone through the process of attachment and detachment after the shoot gets over.
Did you take a conscious decision to do more Hindi projects in the last two years?
In the early days of the pandemic, film shoots were not happening. My last film release in 2020 was Love Aaj Kal Porshu. Then the lockdown happened. After that I did a film called Chhad. During that time I started getting a lot of offers in Hindi for OTT, and I went on acting in them back to back. 
This year I worked with Kaushik Ganguly for Palan, and then I did a Hindi film. And then I shot for Byomkesh Hotyamancha. This is my first film with Arindamda. I want to work in good Bengali films now.
Interestingly, you worked with both Kaushik Ganguly and Arindam Sil for the first time this year....
We were in talks before this... Arindamda had wanted to cast me for his first film but I was doing a Hindi film at that point of time. I had a great time working with both.
You have become selective about the films or shows you sign on now...
You reach a point where you have to be selective about the work you do.  And OTT has given that space to women through films or shows that revolve around women. There's a huge range of characters for women on the web. Of course, I have done many women-centric Bengali films as well in the past.
What kind of feedback are you getting from the trade circuit in Bombay?
It's really good. And I want to balance out the work, in the theatres and on the web. There has to be a balance between the two.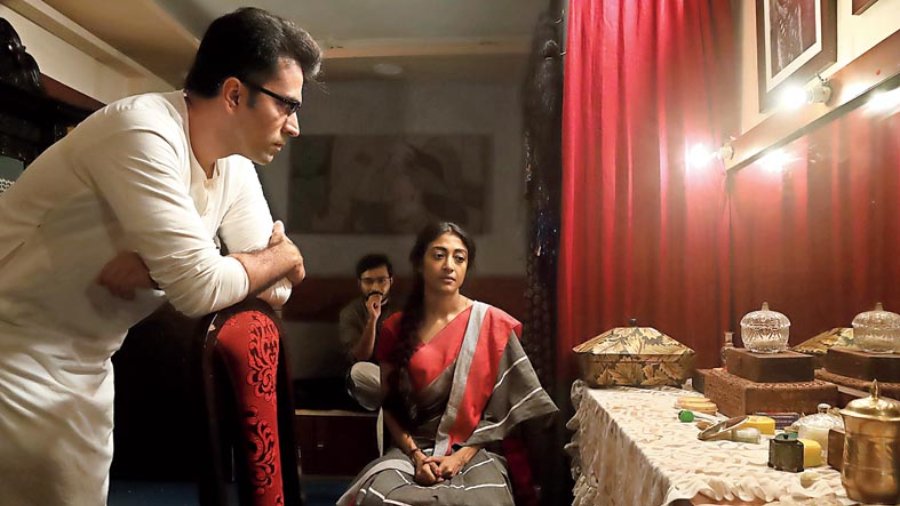 Abir and Paoli in Byomkesh Hotyamancha, which releases on August 11
How was it like working with Arindam Sil?
I loved working with Arindamda. Byomkesh is a hit franchise and this is his fourth Byomkesh. Among his many strengths as a director is the way he presents a character. His instincts and his improvisations are spot on. He understands the strengths of an actor and pushes them. I had a fantastic shooting experience. The film is looking so nice visually. Sulochona wears red, which is a colour of passion and mystery. From make-up details to hair texture, everything was sketched out. But we were very flexible on the set.
Abir Chatterjee and you have worked in television before...
Yes. Abir is a friend, a colleague, and we go back a long way. This is the third film that we are doing after Bedroom and Tritiya Adhyay. We had started our journey together and the way he has evolved as a person and artiste... he is doing a lot of good work. I feel so proud of him.
Growing up, were you a big fan of Byomkesh stories?
We have all grown up on Byomkesh and Feluda stories... since this was an unfinished story, it was within Arindamda's purview to flesh out the character I play.
Did you ever think that you would become a part of a new Byomkesh Bakshi film?
Let me tell you that Rituparno Ghosh had planned a Byomkesh Bakshi film, and he had announced the cast in The Telegraph. Bumbada (Prosenjit) was supposed to play Byomkesh and I was supposed to play Satyabati. But finally it didn't happen. So I had this Byomkesh connection. When Arindamda called, I knew he would do justice to my character.
Tell us about your character?
She is a theatre actor and over time she becomes a big personality in theatre. She is emotional, vulnerable, and I found her to be very humane. There are conflicts within her because of the choices she has made. But she doesn't have any regrets.
What are the major point of differences between working in Bengali and Hindi films and web shows?
There is no difference. The budget is the only factor. Otherwise everything is the same. I have learnt everything from here. We are very good content-wise. Let the budget grow.
Do you feel you need to have a base in Bombay now?
I don't think it is required anymore. You can be anywhere and they'll reach out to you for work. Of course I love staying in Bombay. I love the vibe of the city. And I love staying in Kolkata too.
Picture: B. Halder