Expert kitchens have been at the heart of the burgeoning delivery culture; it was only a matter of time before biryani-dedicated platforms came up in Kolkata. Biryani Story is the new Behala-based cloud kitchen that was founded this June by Pooja Kumar and Depender Sidhu and offers 28 different kinds of biryanis. Yes, you read that right — Biryani Story offers 14 vegetarian and 14 non-vegetarian biryanis. 
"There are so many brands serving non-vegetarian biryanis, but when it comes to vegetarian options, we only get paneer or mixed vegetables. So we figured we needed to do something about this!" shared the founder duo. 
Their vegetarian biryanis are distinct, yet familiar. The Hara Matar and Kumbh Ki Handi Biryani uses cardamom, nutmeg, mace and is cooked with soft peas and julienned ginger. The sweet green peas blend magnificently with the zing of ginger and create a great mouthfeel.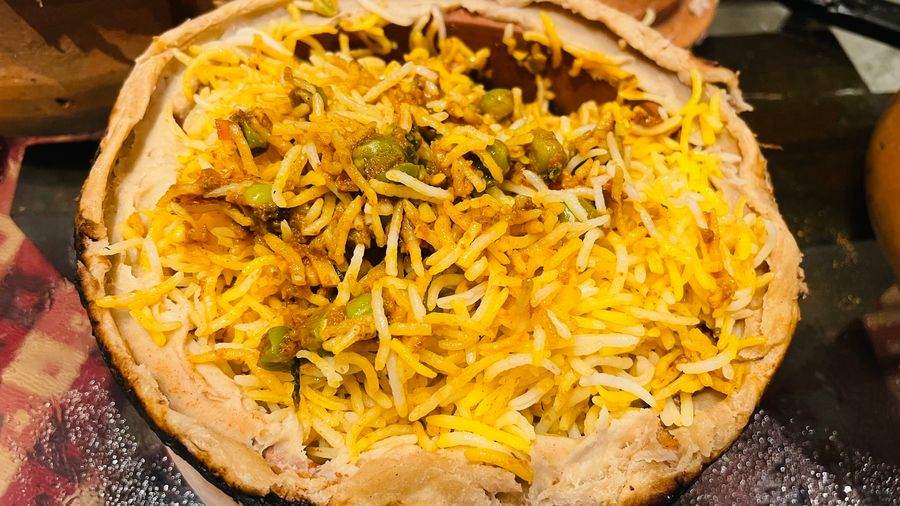 Hara Matar and Kumbh Ki Handi Biryani
Aatreyee Mohanta
The Masala Dar Soya Chunk Handi Biryani is also a winner and boasts a subtle flavour. The rice is light and fragrant while the soya chunks are the perfect vehicle to soak up the spices that burst in your mouth when you bite into it.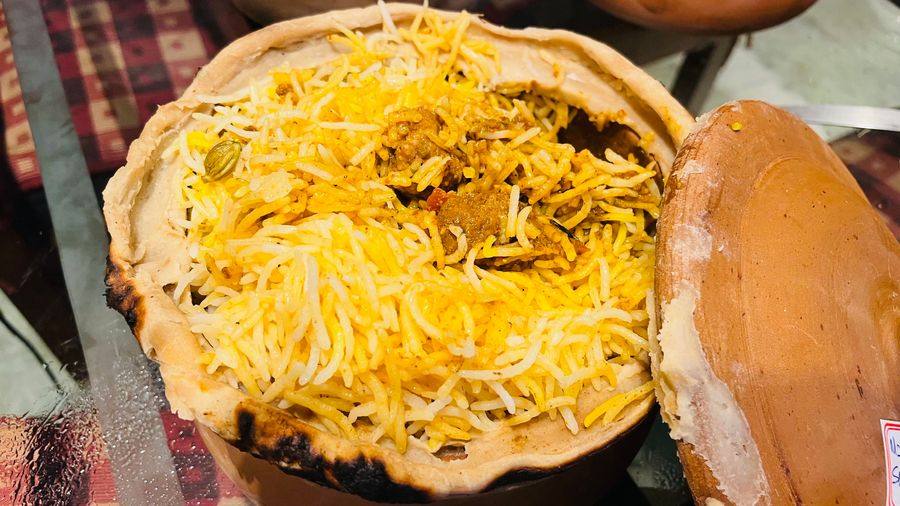 Masala Dar Soya Chunk Handi Biryani
Aatreyee Mohanta
Biryani Story also offers Hyderabadi Paneer Dum Handi Biryani, Special Raan Handi Biryani and Hyderabadi Lazeez Bhuna murgh Dum Handi Biryani.
The cloud kitchen goes the extra mile with their packaging as their biryanis are delivered in big, dough-sealed earthen pots (unsealing a pot of biryani that has been sealed fresh off the flame elevates the whole experience).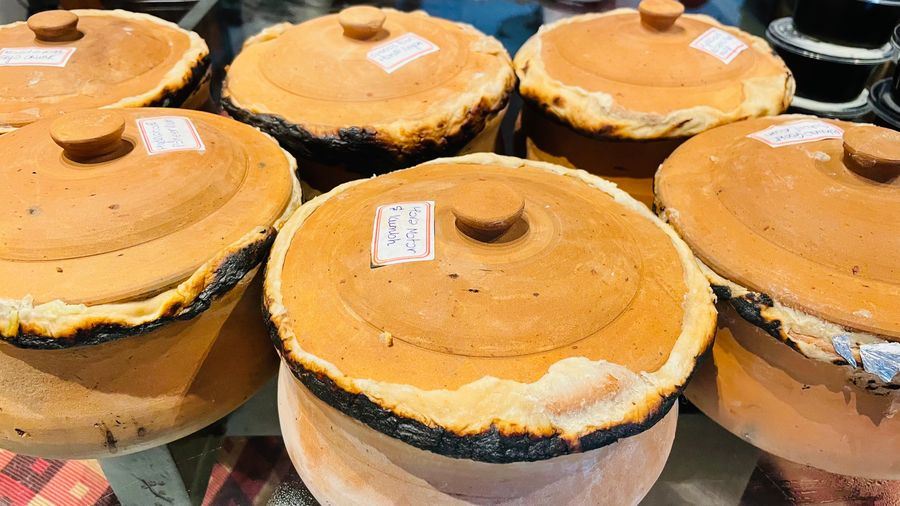 Handis sealed with dough
Aatreyee Mohanta
"We had always wanted to serve the biryani in handis. By cooking and serving in a handi, we can achieve both—the right temperature and the aroma. When we cook in a mud pot, the clay absorbs the excess water and as a result, you end up with fluffier rice grains, while serving in it keeps the freshness and aroma intact till it reaches the customer," explained Kumar and Sidhu. 
Their lavish mutton biryanis deserve special mention, especially their Bhuna Gosht Bahari Dum Handi Biryani.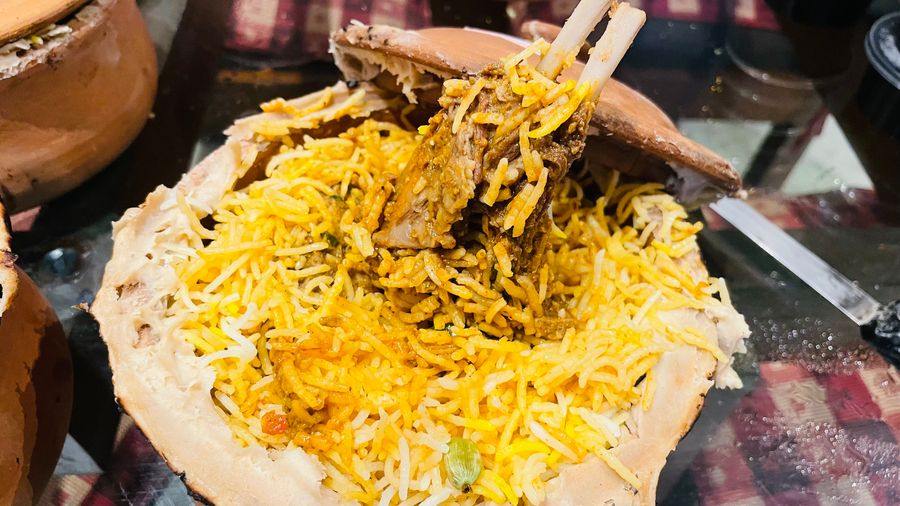 Bhuna Gosht Bahari Dum Handi Biryani
Aatreyee Mohanta
With succulent fall-off-the-bone meat, the Bhuna Gosht Bahari Dum Handi Biryani is packed with spices and flavours. The minute you open the handi you see a towering heap of golden rice while the real treasure is situated at the bottom of the bowl—the well-seasoned chunk of meat. Since this biryani is modelled on a Hyderabadi recipe, you won't find the potato and egg. However, they also have a Calcutta special biryani to serve that purpose.
That's not all, every handi of biryani is accompanied by a mini bowl of spiced raita and a gulab jamun!
Place your order on Swiggy and Zomato to try their piping-hot biryanis.