Bangkok is a fascinating place for anybody looking for a watch. From a fake Rolex or a Patek Philippe, you can buy anything for a few bucks compared to the originals that cost thousands of dollars. These are cheap mass-produced knock-offs that look stunningly close to the original. Something similar is happening in the smartphone market. More and more under-Rs 30,000 phones come with looks that punch above their weight.
We are going through a phase where judging a phone by its rear panel is a way of life. Look at almost any new release from the past one year. The phones are not too heavy, design is as good as on an iPhone or a Samsung Galaxy S series phone. Companies are not stopping there. There is good haptics, IP rating, display, which is the easiest of areas to compromise, is being kept bright and fluid with 120Hz refresh rate. There is even a super-fast charging brick in the box. We are getting so caught up with looks that we forget what we are buying.
Maximum profit can be squeezed out of customers at flagship level, so brands that started out pocket-friendly are coming up with more expensive devices, even to the point of Rs 60,000 but that means they have to force people to upgrade and not stick with cheap devices. Phone companies want you to spend more for a better experience.
The problem at hand
We are at a time when only a few companies — Apple, Samsung and Pixel — are able to bring revolutionary jumps in smartphones and that too in the upper tier. Otherwise, we are seeing less revolutionary features. The current trends are "microscope" lens and extreme charging speeds, like juicing up in 20 minutes. Who cares if a phone can go from zero to 100 in 20 minutes in the small hours of the night when we are asleep? Who cares if the "microscope" lens can give a close-up of a strand of hair stuck to the pillow? These are gimmicks that won't change your life.
Smartphones are going through the same growth curve that we have seen with cars. Cars still have four wheels and offer a certain mileage to a litre of petrol while the engine is in the front and trunk is at the back. Where innovation is coming in is in the form of electric cars and what that means for performance.
Similarly, when phones first launched, there were big leaps. Plus, hardware features enabled smartphone photography, video chat, real-time multiplayer gaming. Now big changes are coming in way of computational photography with incredible HDR, real-time previews, combining multiple frames to form an image and, of course, the foldable phone. But not all brands are focussing on this.
Besides Apple and Samsung, a company which has the potential to change the equation is Nothing, founded by Carl Pei, who is the former co-founder of OnePlus. Recently, while announcing the arrival of Nothing Phone 1 sometime this summer, he told Wired: "Today, everyone is so passionless about technology. On the consumer hardware side it's basically more and more of the same, in terms of products. Less and less differentiation, and consumers are not as excited anymore. People don't really want to watch the launch events for new products." He has a point. Though we are not sure about the features on his phone but the man has some clever ideas, which he showcased with Nothing Ear 1 wireless earbuds.
When buying a phone we spend a substantial part of our savings. Frankly, Rs 20,000 is not a joke. But most phones in this price segment have a problem — the camera. All the focus is on the main camera while the others are afterthoughts. The ultra-wide camera offers an extremely different colour science than the main camera while the macro lens is a joke. Under low light, these cameras are demolished. Worse, most of the phones allow you to shoot 1080p video, which is fooling customers in 2022.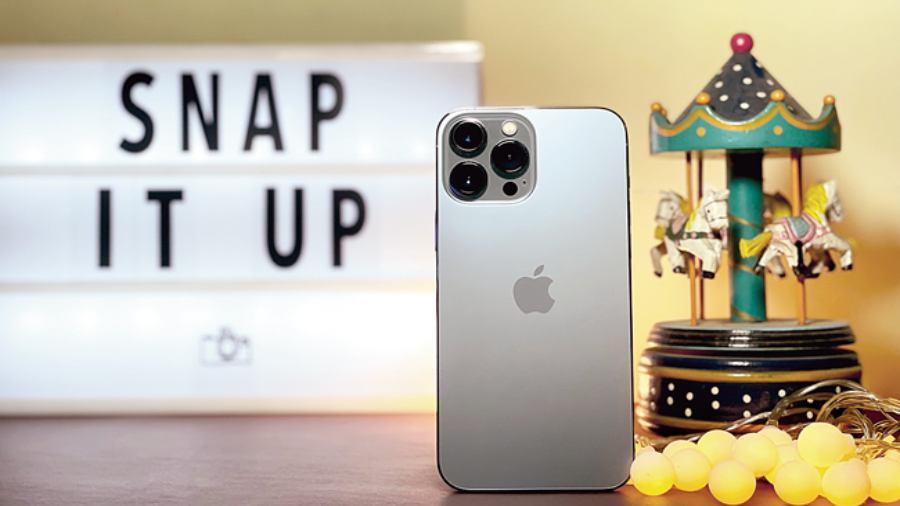 The iPhone continues to bring revolutionary upgrades to the camera and processor.
Picture: The Telegraph
The other issue is software. Unlike the iPhone where new software versions are simultaneously sent out to phones that have come out in the past many years (the latest iOS 15.4 works even on the iPhone 6s, which released in 2015), the latest Android is offered on select devices. We are still getting new phones that come with Android 11 while the latest version is Android 12 while the next version is around the corner. Making things worse are updates — many phones don't even see more than one big software upgrade, forcing you to buy a new phone. Plus, most inexpensive Android phones are packed with bloatware, we are talking about 10-30 unnecessary apps that come preloaded (besides advertisements), so manufacturers can keep device prices low.
The road ahead
In case you are planning to buy a phone, don't think of going with the cheapest because experience matters and you don't want to be caught with a phone that won't get enough software upgrades. Second, don't fall for the megapixel trick — higher megapixels don't matter because most of the images are sharp in the centre and as you move out, things are blurry. Third, get a phone with an acceptable charging speed over a device which powers up in just 20 minutes. And, don't fall for the 5G trick. Most under-25K phones don't last beyond 1.5-2 years. If 5G is rolled out later this year, the entire country won't get it. Next year, there will be more pockets of 5G all over India but again, not everywhere. By then most current 5G devices will be up for an upgrade.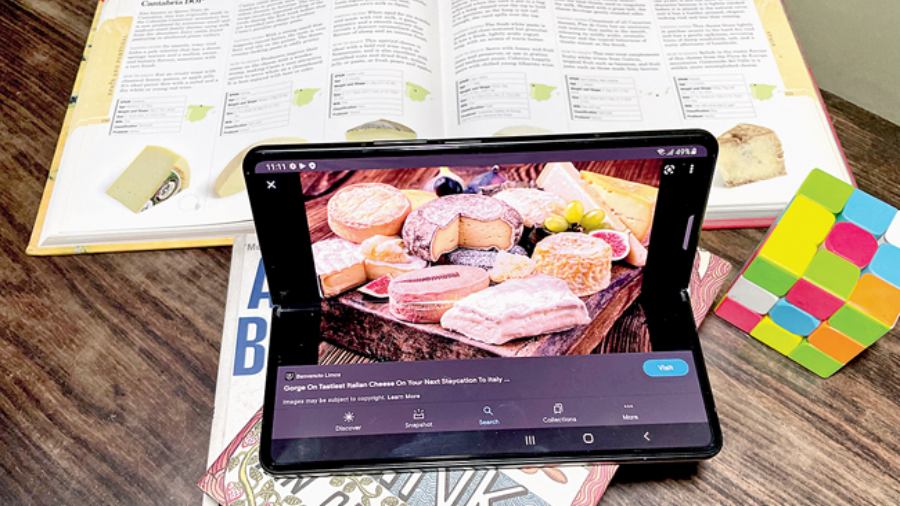 Samsung is changing the smartphone game with folding devices.
Picture: The Telegraph
What is changing the game for smartphones is the foldable phone. Yes, it's going to take time for these devices to become affordable. At the moment the category has fixed niggling issues, like IP rating, sturdiness and battery life. But they are still costlier than flagship phones. Samsung is miles ahead in the folding phone game while Oppo has big plans, especially with its rollable display.
Sure, phones have become boring black slabs but that doesn't mean innovation is not happening. Look at how Apple continues to change the photography game. What we now need is a new brand to shake things up for manufacturers who believe in rolling out predictable, samey-specc-ed devices. We are looking at you Nothing, don't disappoint us.