The entrepreneur scene in India is grabbing spotlight thanks to shows like Shark Tank India. Taking the conversation forward in the heart of the city was Techno India Group with their Startup Carnival 4.0 at Offbeat CCU. The carnival, held a few weeks ago, saw a host of informative panel discussions and activities hosted by eminent start-ups and mentors.
'Confluence of the physical and the digital world'
The first panel discussion of the day was around one of the most trending buzzwords in the world today, the "metaverse". Titled 'What is the Metaverse? Here's Why it Matters', the panel discussion was curated by Starshot Ventures. Moderated by Skannd Tyagi, founder, Starshot Ventures, it included Fahd Hussein, co-founder and creative director, OnSeed Artist Collective; Manish Madhyan, NFT artist and enthusiast; Arpan Das, director, economic strategy Humankinds.org; and Ajoy Das, CEO and founder, Meta Misfits. The discussion started with Tyagi quoting Arthur Clarke's third law, "Any sufficiently advanced technology is indistinguishable from magic." And truly, the metaverse and its associated components, especially NFTs, which are currently growing popular by the day, seem like magic to unsuspecting spectators. However, the panelists here laid it all bare through their discussions.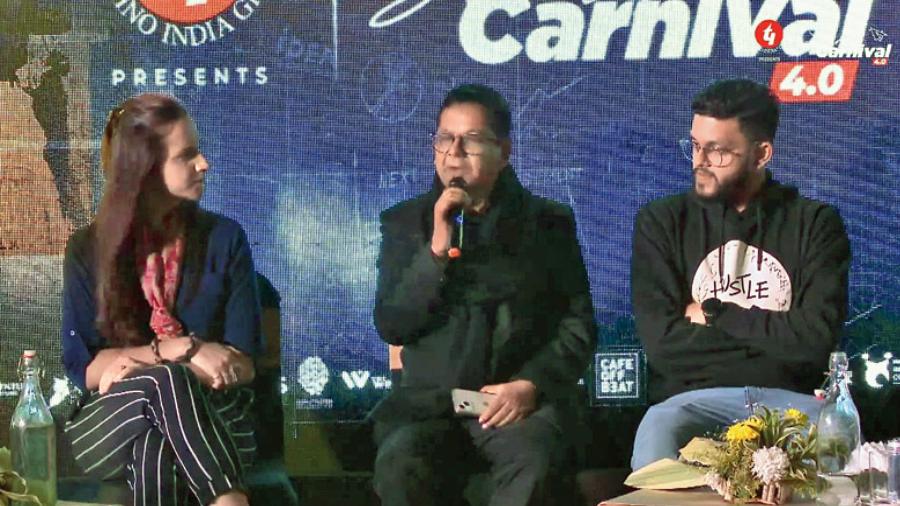 (L-R) Pauline Laravoire, Debashis Sen and Meghdut Roy Chowdhury
Madhyan described the metaverse as a "confluence of the physical and the digital world", and how the access to tools like AR and VR and cryptocurrencies has led to the increase of interest and conversation around the metaverse. Hussein moved on to the deeper recesses with his explanation of how open and closed metaverses work. Like email is not a replacement for the post office, the metaverse is not a simple replacement, but it rather opens a world of simultaneous possibilities, according to him. Das talked about how many events are now held on the metaverse, including horse-racing! He provided valuable advice in saying that one must follow institute investors and what they are doing and do one's own research instead of following the hype.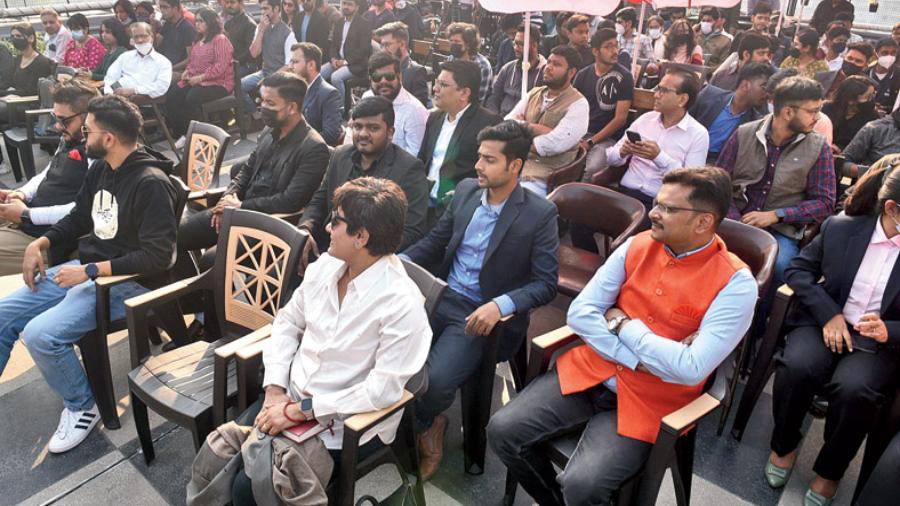 The audience sat through all the discussions
Conversations around entrepreneurship
Shark Tank India has made many names familiar in Indian households including some of the city's best growing entrepreneurs. Rightly titled 'From Eden Garden to Shark Tank', curated by Offbeat CCU, this discussion had the following panelists: Ranodeep Saha, founder, Rare Planet; Shamik Guha, co-founder, Altor; Devang Singhania, founder, Beyond Water; and Aishwarya Biswas, founder, Auli, with moderator Meghdut Roy Chowdhury, chief innovation officer, Techno India Group.
Biswas started the conversation with how she had first ventured into her business. Although it is still a "man's world" here, she said she now has a say in what she wants to do. Singhania had started with an aim to mitigate people's fears about packaged drinks and has since "diluted" his company to the Sharks. Although he has had to face many questions regarding this decision, he says it is because the Sharks have a lot more experience and will considerably reduce the learning curve through their mentorship, which is ultimately beneficial according to him.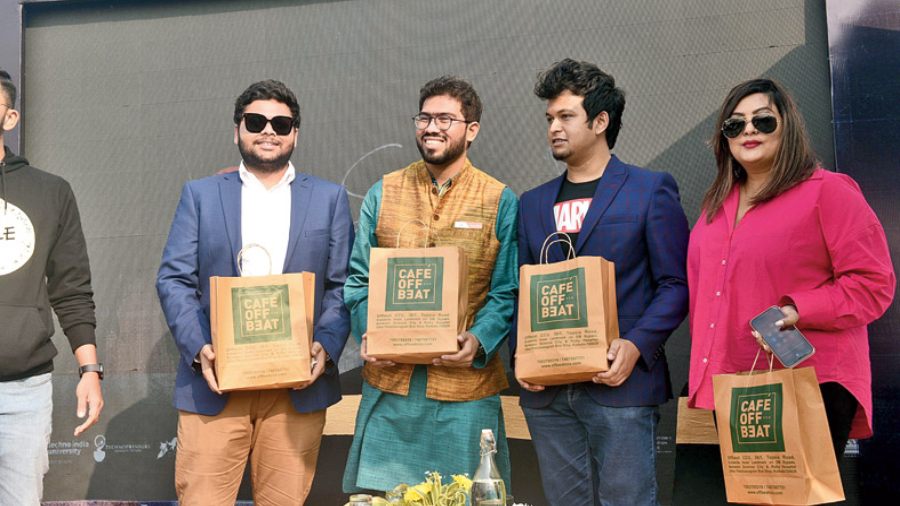 (L-R) Devang Singhania, Ranodeep Saha, Shamik Guha and Aishwarya Biswas
Saha took over the mic in Bengali and spoke of the change that shows like Shark Tank have made in India, especially to establish conversations around entrepreneurship becoming more mainstream. Guha added to this, emphasising how parents are now not as discouraging as they were before, when they hear that their kids would be going into business. The session ended with an interesting exercise where the panelists were asked to make elevator-style pitches, to send a message to their younger selves, back to when they were first starting out.
Encouraging start-ups and budding entrepreneurs
Besides the many more interactive and greatly interesting panels, the Techno India group also launched their 'Star-Up Hunt'. "The core motive of this event is bringing together all the entrepreneurs, traditional business houses, start-ups and enthusiasts under a single roof. The idea behind launching our Start-Up Hunt is to encourage start-ups and budding entrepreneurs who are at the basic level at this point to join in. We would be scouting them and helping them with funding, mentoring and other various aspects" said Sayan Chakraborty, organising committee member, Techno India Group.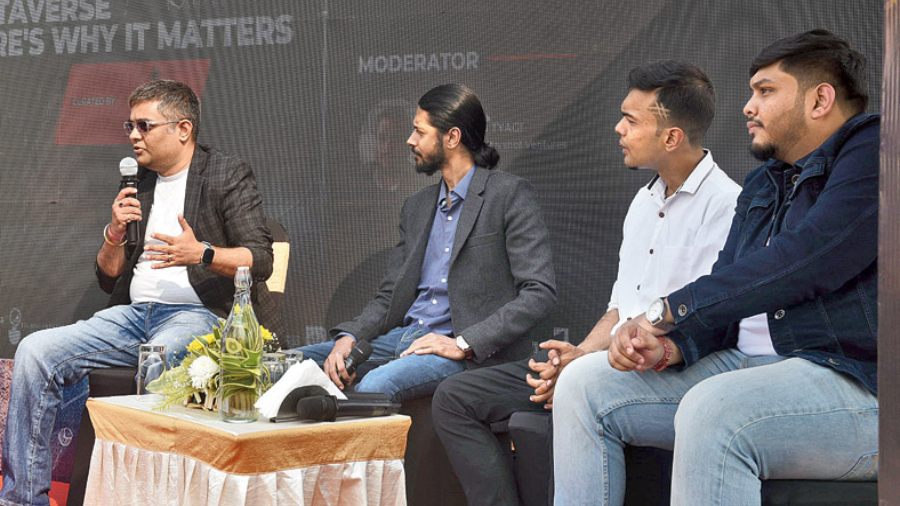 (L-R) Manish Madhyan, Fahd Hussein, Arpan Das and Ajoy Das
Techno India University launched a one-of-a-kind Masters programme on electronic vehicles — M.Tech in Electronic Vehicle Technology — to provide more opportunities to the interested youth. It is a full-time inter-disciplinary course developed by the departments of electrical engineering, electronics and communication engineering and mechanical engineering of Techno India University.
The chief guest and guest of honor for the day was Debashis Sen, managing director, Hidco. He went to praise the various initiatives that had been seen at the Carnival and emphasised how public sector funds can help start-ups, ending with, "The fourth year of the Start-Up Carnival is finally here, where we all want to hear good stories, success stories. I am happy to hear that a lot of start-up money has also been given, which is also very encouraging. I will only invite you to think about the huge possibilities in the public service domain."
Pictures: Rashbehari Das