Sunday, November 15, 2020, 1.38pm. I was in the middle of making notes for a feature on Suman Ghosh's films with Soumitra Chatterjee, watching Dwando, being mesmerised by the veteran actor's masterclass in the film's final half-hour when Somnath Kundu's message popped up on my mobile: SOUMITRA BABU NO MORE, DADA. Though he had been ailing for months, with Covid and its attendant complications, there had been signs of recovery and for a while it had seemed like a million and more prayers and wishes would be answered. It took me a while to register the information — how could it be … here he was, right in front of my eyes, Dr Mukherjee, putting across the agony of the memory of holding a still-born child in his arms in the film's most affecting sequence … how could it be that he was no more? I messaged Suman Ghosh: 'He is no more. Was watching Dwando when I received the news. Felt deeply for you.'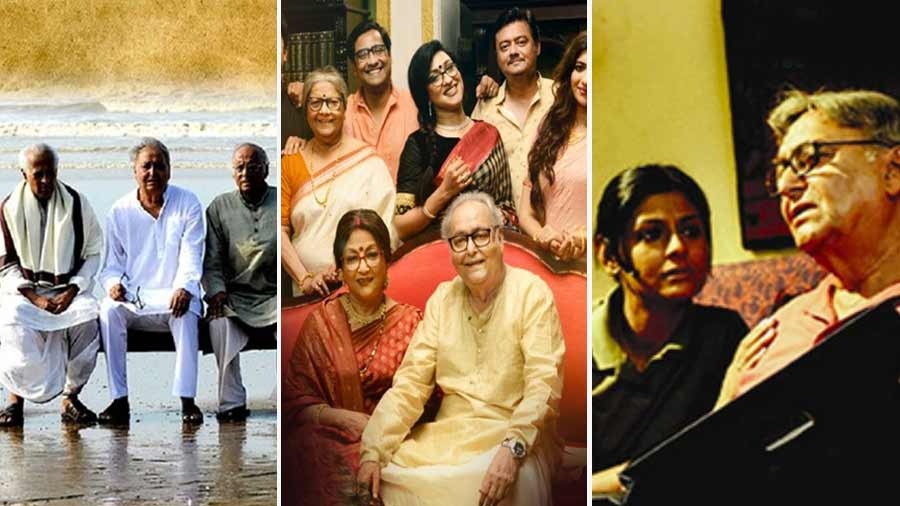 Soumitra Chatterjee in Suman Ghosh's films (left) 'Peace Haven', (centre) 'Basu Poribar' and 'Podokkhep'
I couldn't begin to imagine what Suman would be going through. His was after all arguably the finest collaboration with the legendary actor in the last phase of his career. Over 15 years and five films — Podokkhep, Dwando, Nobel Chor (a guest appearance), Peace Haven and Basu Poribar — the relationship between them evolved from a professional one, to one that was deeply intimate and personal, with Suman regarding Soumitra Chatterjee as not only the last of the 'Renaissance Men' of Bengal, but also acknowledging his role as a friend, philosopher and guide, 'a father figure'.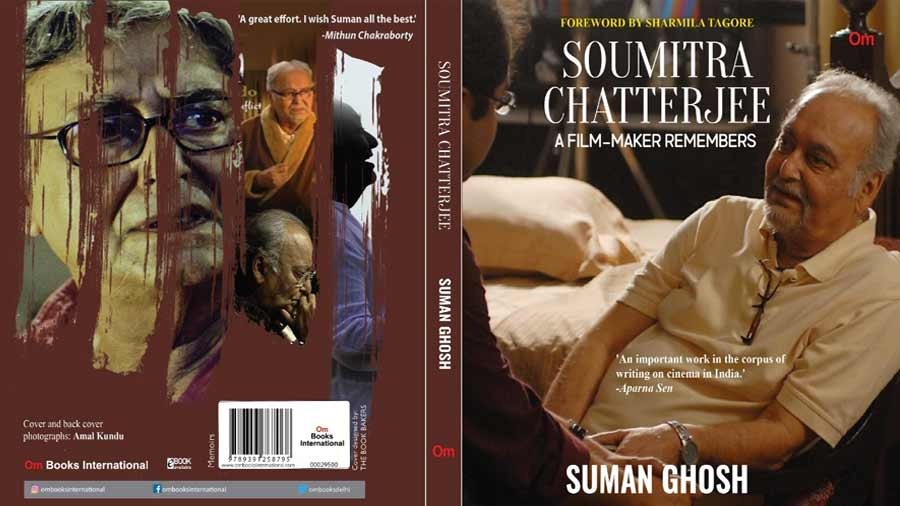 The book's cover, designed by The Book Bakers
A year on, out of this irreparable loss has emerged Suman's tribute to the actor, Soumitra Chatterjee: A Film-Maker Remembers, published by Om Books International, and scheduled for release on the actor's birthday, January 19, 2022. And as a mark of respect for this great actor on his first death anniversary, Suman is ready with the book's cover, designed by The Book Bakers. 
What makes Suman's tribute an important work is the fact that not many — I wonder if any — film-makers in India have penned their memoirs, their experiences of working with an actor. Soumitra Chatterjee himself held Suman in high regard and considered him among the finest of the new crop of film-makers in Bengal. The Indian film industry is notorious for its inability to give an actor worthwhile roles to sink their teeth into after they are deemed past their prime. Compounded with abysmal writing it means that elderly actors rarely have the opportunity to showcase their wares beyond a point, relegated largely to ineffectual 'father' and character roles. 
'Apur Sansar' to 'Ahalya'
Though this was true even of Soumitra Chatterjee to an extent, his exceptional abilities enabled him to buck the trend and come up with remarkable performances in the last 20 years of his life, from Goutam Ghose's Dekha to Atanu Ghosh's Mayurakshi, to Nandita Roy and Shiboprosad Mukherjee's Belaseshe, whose huge box-office success revitalised a tottering industry, to Anik Dutta's Borunbabur Bondhu to Sujoy Ghosh's Ahalya, which broke all viewership records for a short film. It says something about an actor who ignited the viewer's imagination in his 20s in his first film, Apur Sansar, that at the age of 80 he was making it count in the short-film format too while delivering the industry's biggest box-office hit the same year.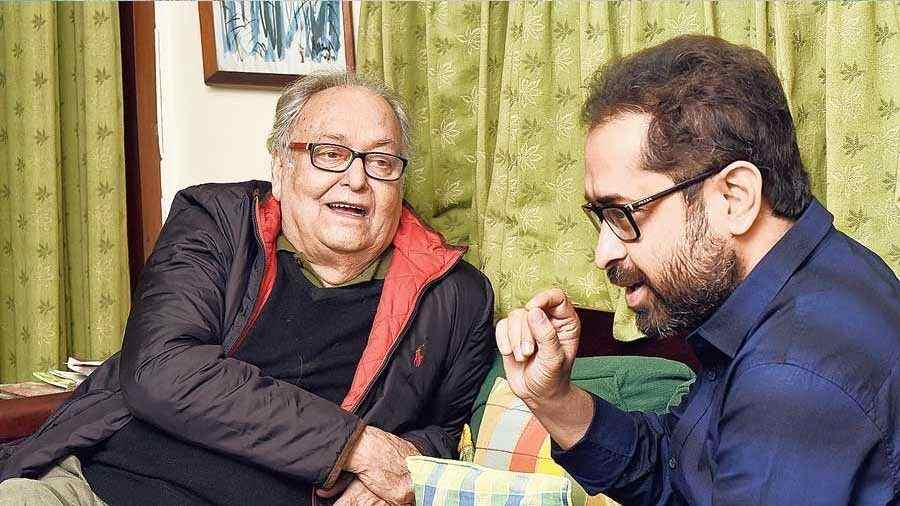 Soumitra Chatterjee with Suman Ghosh
TT archive
It is thanks to film-makers like those mentioned above that a new generation of viewers were acquainted with the works of Soumitra Chatterjee. Of all these film-makers, it is probably Suman Ghosh who has had the most sustained of relationships with the actor. Their five films together constitute the best of not only the actor's latter-day phase but also his entire glittering oeuvre. 
Actor-director dynamics and the addas
This is what makes the forthcoming book well worth the wait with its fascinating insights into the dynamics of an actor-director relationship, not to mention glimpses of their many addas and other interactions which provide a unique insight into an actor's method and an individual's world-view. With a foreword by Sharmila Tagore and glowing endorsements from Aparna Sen, Mithun Chakraborty and Nandita Das, among many other luminaries, Soumitra Chatterjee: A Film-Maker Remembers is truly expected to be a collector's edition.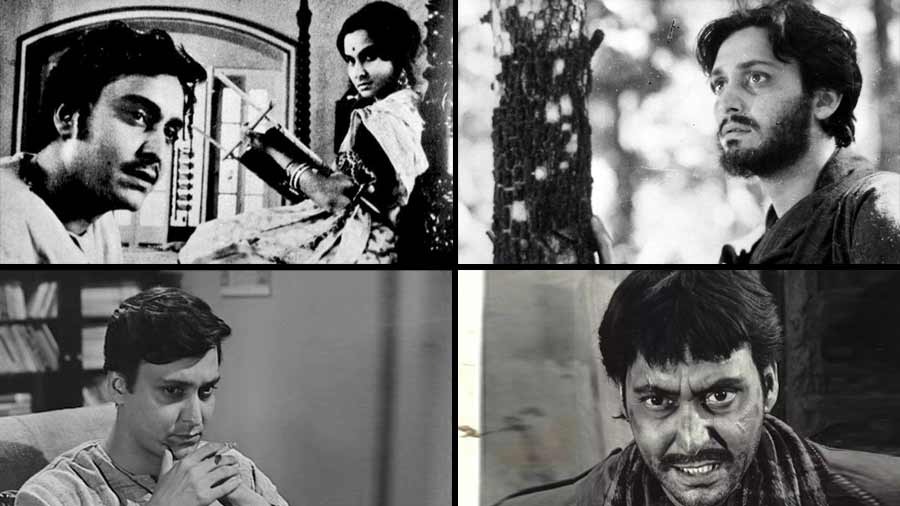 (Clockwise from top left) Soumitra Chatterjee as Amal in 'Charulata', as Apu in 'Apur Sansar', as Aghor in 'Sansar Simante' and as Feluda in 'Sonar Kella'
Reflecting on the moment I first heard of his passing while watching him put across one of his most telling sequences in cinema, I realise that someone like Soumitra Chatterjee never dies. He will live on as Apu (Apur Sansar) and Mayurbahon (Jhinder Bandi), Amal (Charulata) and Ajay (Akash Kusum), Feluda (Sonar Kella) and Debu Pandit (Ganadevata), Aghor (Sansar Simante) and Khit-da (Kony)… in the characters Suman Ghosh created for the legend – Shashanka (Podokkhep), Dr Mukherjee (Dwando), Sukumar (Peace Haven) and Pranabendu (Basu Poribar) – and now in his book, Soumitra Chatterjee: A Film-Maker Remembers.  
Shantanu Ray Chaudhuri is a publisher, editor and critic. He has worked with leading Indian authors and books commissioned by him have won the National Award for Best Book on Cinema and the MAMI award for best writing on cinema. An avid film buff, he loves poetry and music.