For Sumalya Sarkar, the food is as important as the story behind it and that has taken him to the remotest of areas around every hotel that he has worked at before. After gaining experience for over 15 years, most of which was spent at hotels under the IHCL brand, Sumalya is back on home turf to stir up some magic. In a chat with The Telegraph, he says more:
Tell us about your journey
I was studying at Jaipuria College (Seth Anandram Jaipuria College), doing my Bachelors in Commerce when I wanted to become a chef during my second year. I finally joined the Bengal Institute of Technology and Management under Vishva Bharati university to do my BBA in Hospitality and Tourism Management, with a specialisation in gastronomy. My first job was as a supervisor in a catering company and then I joined the Viceroy group in Hyderabad. My dream was to work at a Taj hotel and I had applied through their website. One day I got a call from the then Taj Garden Retreat Chikmagalur (now Gateway Chikmagalur — IHCL SeleQtions) where I got a job in 2006 and it was a great opportunity to learn the basics.
I was offered to move to Taj Ganges, Varanasi, as as chef de partie in 2008, when they were just starting Taj Nadesar Palace. Initially, my specialisation was in Indian food because I always wanted to promote the home-cooking style and the regional cuisines. I was working for both the Varanasi properties and was promoted to sous chef and learnt a lot about their local food that was a mix of Bihar and Lucknow flavours. Nadesar Palace was a very niche property with a very high-end clientele so it was challenging to upgrade myself to that level. I introduced six-seven different menus there and a lot of Indian street food with a storytelling concept.
After five years, I moved to The Gateway Resort Damdama Lake Gurgaon as executive chef and part of their opening team. I had opened a food court there with burgers, wraps and fries for a different kind of experience. Then I got the chance to either move to Varanasi as executive chef of both the properties or to Taj Bengal as executive sous chef in 2018. I chose the latter because I always wanted to work in Taj Bengal and it was my dream-come-true after 14 years. It was wonderful and helped me to learn new things. We did the Chinoiserie relaunch menu, and changed the menu at Souk and Cal27. At Taj Bengal, I also got to meet some very good and famous chefs during events and pop-ups. It built my confidence and helped me sharpen the dishes.
Then I moved to Vivanta Guwahati as their executive chef. The property was five years old and was looking for some rapid changes. I introduced new menus for their coffee shop, bar and the Asian restaurant. We also brought in a lot of fresh ingredients and gluten-free options to keep up with the demands of the time. We did a lot of live, interactive counters and introduced a lot of local ingredients. We even did a promotional with the tribes in Assam. I was there for two-and-a-half months before coming to Vivanta Kolkata EM Bypass, two months ago.
What are your plans for this hotel?
I have come here with my experience of having worked in the South, North and the Northeast. Here, I have started working on the coffee shop menu and a little bit of the changes have already been done. I like the concept of "glocal", which is a global cuisine with local ingredients. I had come across local black rice in Manipur, which I combined with salmon and some black rice risotto and an orange sauce and I have also done a Spatchcockchicken already.
At this hotel, guests tend to like popular Bengali cuisine that stretches from north Bengal to south Bengal and that will remain the USP of this hotel still, but we are trying to do a lot more with hidden recipes.
My personal taste buds are influenced by both sides of Bengal. Nowadays, some of the Bengali cuisine is commercialised and my intention is to get the recipes from my grandmother's kitchen. From the mountains to the sea, we want to offer all the variety available locally in Bengal, along with the western favourites from the menu. We have already done three brunches and the response has been great. I want to do a lot of live stations as they allow fresher preparations and the chance for customisation. Bengal has great diversity starting with the comfort food of the hills to the Muslim influence of places like Murshidabad, the tribes of Bengal and even the local dishes of the villages. Bengali food is not just Kosha Mangsho, Machher Jhol and Ilish. There is so much more and I am trying to incorporate as much as I can.
What would you say have been your biggest learnings during your career?
My dream was never to just become an executive chef but to also travel and learn about local cultures, wherever I am. I travel a lot and go to the local villages and interact with the farmers. In Varanasi, I used to go to the weaver's villages and cook with the housewives there on their chullahs that were fired by cow dung cakes. In Gurgaon too, I would go to the villages.
I have never taken cooking as a profession as it is my passion. Many times, I have created dishes while I have been away from the kitchen and have come back and made those things, which have turned out very well. Food is not just food — it is about heritage and culture too. Every dish has a story and I try to say that. You have to have a lot of love and passion for it, which will reflect in the food you serve. I like to keep my food simple with good ingredients.
RAPID FIRE
Favourite ingredients: Thyme and ginger
Favourite dish to cook: Mangsher Jhol for my family and salmon otherwise
A dish that is most difficult to cook: Jain biryani (laughs)
Favourite dessert to cook: Brulee
Kitchen equipment you use the most: Whisk
Favourite cuisine to cook: European
One dish from the Mynt menu that everyone should try: Pan-seared Salmon with Black Rice Risotto, Olive Tomato Salsa & Orange Beurre Blanc
Healthiest food trend you like: Avoiding oily puris and parathas for breakfast and having some yoghurt instead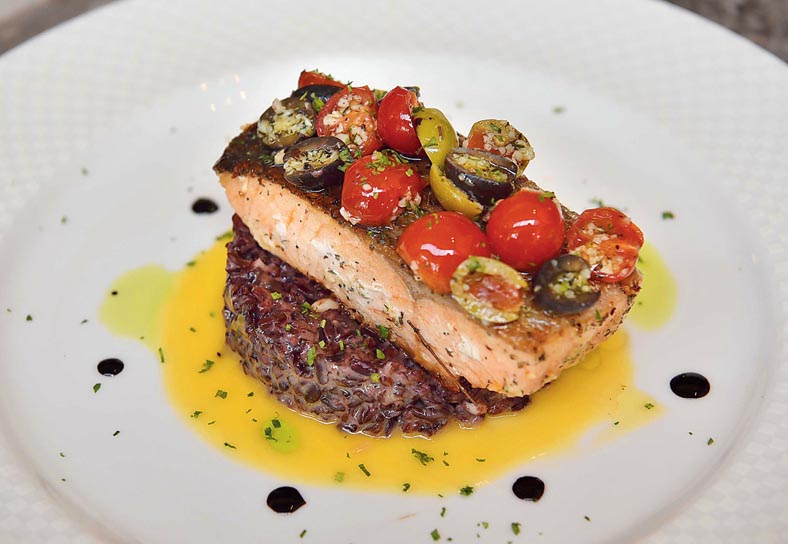 Pan-seared Salmon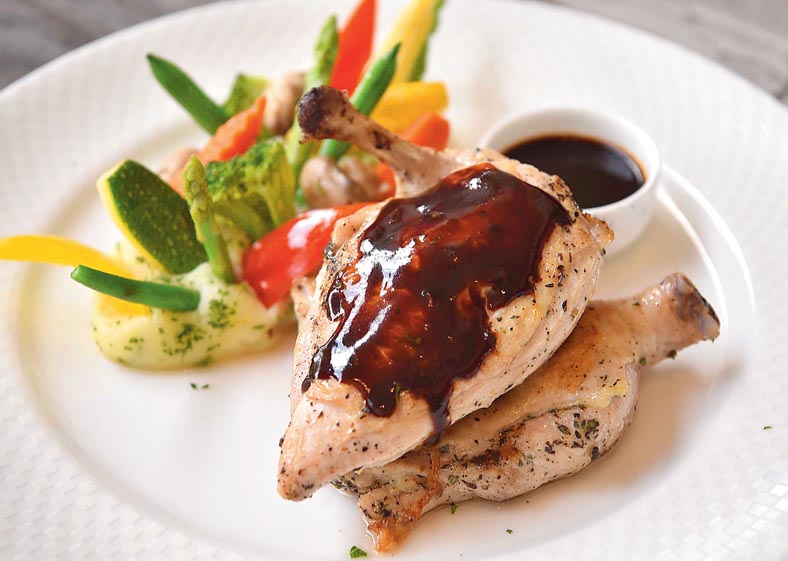 Spatchcockchicken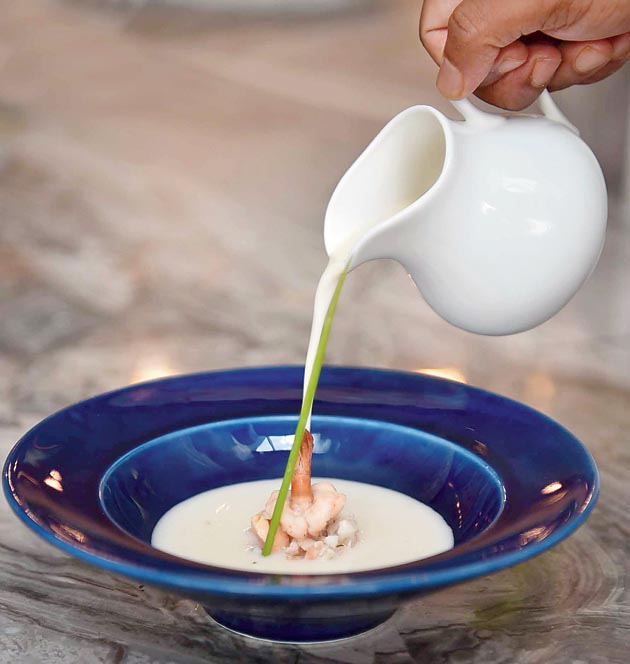 New Orleans Seafood Chowder