When Apple released the Watch Series 8 a few months ago, all eyes were on a temperature sensor that has many uses for women's health and family planning. This and other sensors on the wearable have made many rethink one's relationship with the body. International Women's Day is just around the corner and the sale of the device continues to push up.
"We're laser-focused on having an impact on the individual's health and empowering people to live a healthier life. I think we're excited about the impact we can have," said Dr Sumbul Desai, MD, who serves as vice-president of Health at Apple, a few days ago. She oversees health initiatives including clinical product development, medical research, and innovative clinical partnerships.
Let's take a look at some of the functions that may help women.
TEMPERATURE SENSING AND ADVANCED CYCLE TRACKING
What you get on the Apple Watch Series 8 is a two-sensor design (one temperature sensor on the back crystal and another just under the display; both work together), which can track the temperature while you sleep so you can see changes from your baseline. Cycle Tracking uses this data to provide a retrospective estimate of when you likely ovulated, which can be helpful for family planning. Overnight, the watch samples your wrist temperature every five seconds, and each sensor can detect changes as small as 0.1 degree Celsius. It's said that nighttime wrist temperature can be a good indicator of overall body temperature because while you sleep, your blood vessels dilate, increasing blood flow to your limbs. After wearing the Watch for five nights with Sleep Focus and Sleep Tracking enabled, you'll be able to see nightly shifts from your baseline temperature in the Health app on iPhone.
RETROSPECTIVE OVULATION ESTIMATES
In case the user is ovulating, tracking temperature changes offers deeper insights into the menstrual cycle. The most common way to track the biphasic shift is by manually charting basal body temperature using a thermometer and journal. Apple Watch Series 8 makes this easier by providing retrospective ovulation estimates using wrist temperature data. Knowing if and when you likely ovulated can be incredibly useful for family planning and for having more informed conversations with your healthcare provider, because it helps you see whether your sexual activity and fertile window lined up in previous cycles.
CYCLE DEVIATIONS
All Cycle Tracking users can now receive notifications of common cycle deviations based on their logged cycle data. These include irregular periods, infrequent periods, prolonged periods, or persistent spotting. Cycle deviations can be quite common but can also indicate underlying health conditions.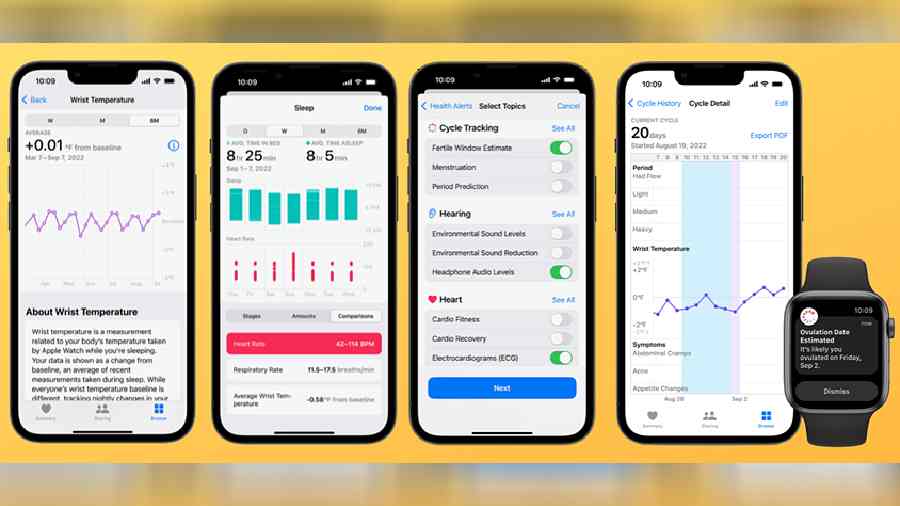 Snapshots from the Health app
LET'S TALK ABOUT PRIVACY
Apple prides itself in privacy-related issues. Cycle Tracking data is encrypted on your device and only accessible with your passcode, Touch ID, or Face ID. The company does not have the key to decrypt the data and therefore cannot read it. "It's the fabric of everything we do. It's such a part of how we think. Honestly, I don't know any other way. We take privacy so seriously that from the beginning, when we're designing, how we are going to build the science or the study to build the features that we do, we think about privacy from day one," Dr Desai told us.
ADDITIONAL FEATURES
Besides blood oxygen reading, there is an important app called ECG. Many Apple Watch models can generate an electrocardiogram, or ECG, at any time right from your wrist. An ECG records the timing and strength of the electrical signals that make your heart beat and is used by doctors to help diagnose heart conditions like atrial fibrillation.
Another feature that's helping people around the world is Fall Detection. Apple Watch uses custom algorithms that analyse the data from the accelerometer and gyroscope to detect if you've taken a fall. If it detects a hard fall, an alert is delivered to Apple Watch, and you can initiate a call to emergency services or dismiss the alert.
In case there is an emergency, you can get help by simply pressing and holding the side button. Emergency SOS calls local emergencyservices, notifies your emergency contacts, sends your current location, and displays your Medical ID badge on the screen for emergency personnel.