The July 15 film Kuler Achaar, starring Madhumita Sarcar, Vikram Chatterjee, Indrani Haldar and Neel Mukherjee, revolves around Mithi who wants to keep her maiden surname after marriage. Her husband is supportive and liberal. But her in-laws have a problem with it till the time Mithi goes on a quest, finding herself a comrade in the cause. A chat with Madhumita.
What's your headspace before the release of a film?
I have already done my job... now it's up to the audience. During dubbing, I get to see parts of the film... and I get feedback. For a film release, it feels like I have given my exams and I'm waiting for my results. Before release, we try to reach out to as many people as possible about the film through promotions; we try to create an awareness about the film. I try to do it very organically.
Do you call up people on a Friday or Saturday to know the feedback?
No, I don't call anyone... news comes to me. If I see that no one is calling me on the first two days, then it's not great news. I get tense but I don't show.
You're more worked up on the first day of shoot or before that, right?
Yes... from getting the script to planning... I focus completely on script reading... maybe I would call up the director and wake him up from sleep at night and ask him about various details and nuances of the script. I get anxious before shoot begins.
Post-pandemic, how have things changed, in terms of the audience going to the theatres and watching a film?
People are looking for entertainment in films. At the same time they value their time and would like to watch a film that has a whole bunch of takeaways. The challenge for Bengali cinema is that on a Friday, they are competing with a Hindi film or a Telugu or Tamil film. Of course, that challenge also inspires us to better our craft and raise the bar. I'm getting a lot of different kinds of scripts now.
What's your criterion for choosing a script now?
I never play safe. I try to pick a script where I feel that I'd be able to learn a lot of things from the film. I see many playing it safe and picking a script that they feel will work at the box office. But then there are people who are also getting bored playing the safe game. I try to pick subjects that I have never done before. I should be happy watching the film as an audience member.
You have been in the industry for almost 11 years now. What were your dreams and aspirations when you had started? Have you been able to fulfill them now?
The level of excitement is still the same. I feel there is a lot to learn... maybe the only change is that I'm making more smart decisions now regarding my career.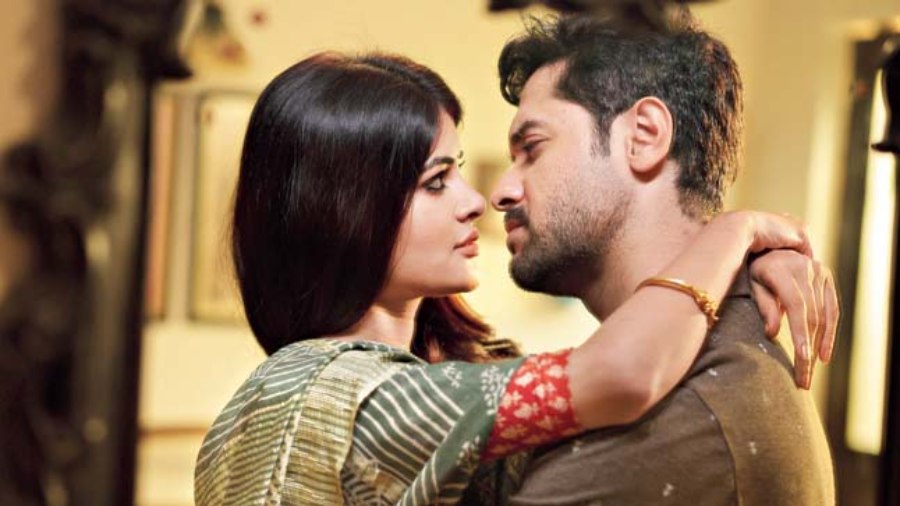 Madhumita and Vikram in Kuler Achaar, releasing on July 15
Are you satisfied?
Not at all. I'm always looking out to do new things.
What are the three things you have learnt in the last 11 years?
That line... 'Picture abhi baki haye mere dost!' Patience should be your best friend. And never get into that comfort zone. Also, it is possible to have friends in the industry but do not expect too much from anybody. At the end of the day, we are all professionals and we are all working here.
With so many new people coming into the industry, how do you view competition? Are you bothered by the competition?
Not at all. I'm here on my own journey... I have my own plans. I'll be myself. It's almost like I'm in the multiverse. When I'm shooting for a film, I am immersed in that world. When I'm doing a fashion shoot, I enter that world. There are demands in every sphere of life and work.
You are a private person but we are in an age when one has to create content constantly, on different platforms. How do you strike that balance?
With time, people have come to know me... how I respond to a certain situation. When I'm shooting throughout the day, I stay away from my phone. After pack up, I ask around for my phone. I don't have the phone in my hand for those 12-15 hours. When I reach home after work, I enter a different world. Either I'm watching something or reading an article. People call up my mother if they have to convey a message.
What happens when you have to make reels?
I only focus on that then! I do one thing at a time.
Do you ever think of returning to television?
No, I have graduated, why should I sit for my Class X exams again?! I have learnt a lot from television... now I have to apply it here, and do different kinds of characters in films... I am open to new work and new kinds of content where I can challenge myself. 
How do you deal with gossip or link-ups that are carried on social media?
I am not at all bothered by it. It does not affect me at all. There is no iota of truth in those rumours. I have a good laugh over it. People spreading gossip have an interest in our lives and they mix it up with their own imagination. I understand that.
Why say yes to Kuler Achaar?
It is an inspirational film. It gives out a strong message and provides women a voice to air their views and take a stand. The story has been told in a simple way... it's an entertaining film. My biggest takeaway was the message which comes through the woman.
What's your take on the issue... of women keeping their surname after marriage?
I had changed my surname when I got married. But in general, I feel that women should have the final word on changing surnames or not when they get married. The surname is your identity. If one can change their surname and keep their identity intact, you can do it. But you should not be saying yes to something which you cannot agree to from the bottom of your heart. Women should have that final choice. It should not be forced on the woman.
Are you working with Vikram for the first time?
Yes, but there was a time when we were shooting for different serials in the same studio. I was shooting for Kusumdola and he was shooting for Ichchenodi. Vikram is a friendly person and a professional, so we had a nice time shooting for this film.
Picture: Rashbehari Das