Paul (McCartney) is like: 'I don't want to be stuck in a museum; I don't want to be under a glass case. I want people to discover things; I want people to listen. I want people to explore.' The Beatles never wanted to be a band on some mount… don't touch it... it wasn't something like that," says Grammy Award-winning producer Giles Martin with a laugh.
The son of legendary Beatles producer George Martin is always busy and lately a lot of work has been around the Beatles. He has produced a new mix of the popular Beatles compilation, 1, which was first released in 2000, containing number-one singles the group had recorded.
But something was amiss — it released before music streaming took off and long before Apple Music introduced Spatial Audio with Dolby Atmos. The game-changing technology arrived only in June last year. What Spatial Audio does is gives artistes an opportunity to create immersive audio with true multidimensional sound and clarity. It takes music way beyond the two-channel approach.
Once you listen to A Hard Day's Night or Eleanor Rigby in spatial audio, you may find it tough to go back to the old set-up. Billed as a successor to stereo, the growth of Spatial Audio can be seen in Apple Music's charts. Further, with every other music streaming service offering more or less the same catalogue of music, such technology easily add to the experience factor.
Over 45 minutes Martin discussed Beatles and Spatial Audio while Apple Music's Zane Lowe kept the conversation going and joining them were journalists from around the globe with questions.
The 'magic and grandiose of Abbey Road'
Anything that ever came out of Abbey Road Studios has been important musically. And one man who had known this iconic studio in London inside out is producer George Martin. It was the first "purpose-built" studio. "In those days of (Sir Edward) Elgar to Glenn Miller and then eventually the Beatles and Pink Floyd, it's been this amazing place," says Giles. "My dad was sent over to Capitol Studios out in LA because the Brits didn't know how the Americans could be so loud on record. So he attended the Come Fly With Me (Frank Sinatra) session and sat in on the session. People didn't know who he was and he just saw how they did it."
Where a musician records is important. Abbey Road Studios obviously has a certain flavour to offer, which has only intensified over time. It's like what Zane Lowe says: If you're barbecuing, you want to clean the grill but also make sure you don't get rid of all the flavours. You have gotta keep the flavour building over time."
"(Abbey Road) Studio Two is where Sgt. Pepper's Lonely Hearts Club Band got made and it is also where my dad recorded Ella Fitzgerald. The walls are soaked with sound. You walk into that room and you feel as though you're in a magical place and you can't design that; it just happens. The environment is so important. As a producer, when you get an artiste in the studio you want them to be the best they could possibly be on that day. The last thing you want from singers is for them to go home that evening and do a great vocal in the bath. The magic and grandiose of Abbey Road creates that performance space," says Giles.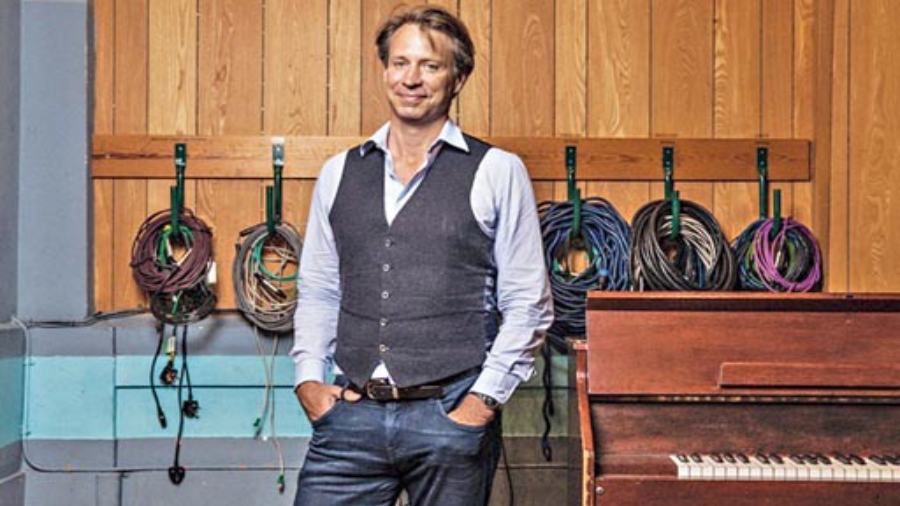 What happened was with the Beatles and my dad and other people around the world... Is that how do we create worlds that don't exist. Hence Sgt. Peppers. These aren't live records. These are things you can only imagine. That's the evolution of sound. It's not just technology; it's imagination as well, that's key — Giles Martin
With Spatial Audio boundaries have been pushed. For decades every other aspect of music has evolved greatly but not so much about how music is heard. Perhaps Spatial Audio is something that would have interested George Martin as much as it interests his son.
"My dad was a futurist and loved technology. When I was a kid, he built studios. He built some of the best studios in the world. (He opened AIR Montserrat.) It was one of the most successful recording places in the 1980s. Elton John, Police, Dire Strait … Earth, Wind & Fire to Paul McCartney… everyone went to that studio. He was always looking for ways to have great sounds. There's something I remember… When CDs came he got one of the first CD players and we were going around to his friend's house for Sunday lunch. He had three CDs, one was a Billy Joel record, there was a classical one, and a Japanese artiste. He went: 'This is the future of sound. The future is happening.' He brought the CD player and the CDs with him and he said these things are indestructible. He banged it against the table, and it broke in his hand. (Laughs)
"The point is: Going back to looking for new ways is key. The key thing with the Beatles is that when he first served Abbey Road, the golden orb was to search for ways to create a perfect facsimile of the recording. When you record, you sound like you are in a room. What happened was with the Beatles and my dad and other people around the world…. Is that how do we create worlds that don't exist. Hence Sgt. Peppers. These aren't live records. These are things you can only imagine.  That's the evolution of sound. It's not just technology; it's imagination as well, that's key," says the 52-year-old music producer."
'Records don't get old'
Sgt. Peppers was probably the first real experiment when it comes to mixing on Dolby Atmos.  But it still wasn't about technology that was easily accessible to consumers. "I've been working in surround for a long time. We did that Love show in Vegas. It was very successful but you couldn't hear it anywhere (else); it was niche. It took Apple time to work out how to make it a consumer experience on a grand scale. I can put people in a room that I can build and go: 'This is going to be an amazing experience.' But how do you then have it easily accessible for people. And in our case the Beatles. The thing about this is… it's a different sound field. If I can put you in the room, if I can put you in studio to feel the band playing something like I Feel Fine, an early record which they're playing live in the studios… or Paperback Writer…. If I can put you with the band, you can have more intimacy. It's going to touch you, and that's what music is about. It's not about the technology (per se). Kids who have never heard The Beatles, which means there are lots of them… and it doesn't have to be the Beatles; it can be anyone… as long as they feel something when they listen to it, that matters."
Reimagining tracks in Spatial Audio is not easy, especially considering how the tracks were recorded, even though it was the latest technology back then. "When I walk into a room in Abbey Road, I can get a four track. I can press play and I can hear it. How lucky I am and how many people would want to do this; how many people would want to be in that position. If you listen to Ticket to Ride. I Feel Fine, Day Tripper, Paperback Writer… they rock, they really rock. That's the thing you have to bear in mind the most; you have to make sure it doesn't sound too dissipated. You know you still need that sound stage in front of you, but with head tracking, you feel like: 'There's Ringo and he's playing there.' That's kind of cool."
Also available in Spatial Audio now is Strawberry Fields Forever in celebration of the song's 55th anniversary. It's a particularly difficult track to work with "I think it was my dad's proudest work as a producer" It has two different takes at two different speeds."
Listening to these tracks remains magical even after all these years for Giles. "Records don't get old, we get old. We get older, records stay the same age as it was on the day of recording." What Spatial Audio does is make tracks more accessible on the latest tech platforms. "You could be with the band with Dolby Atmos."  
Dive into Spatial Audio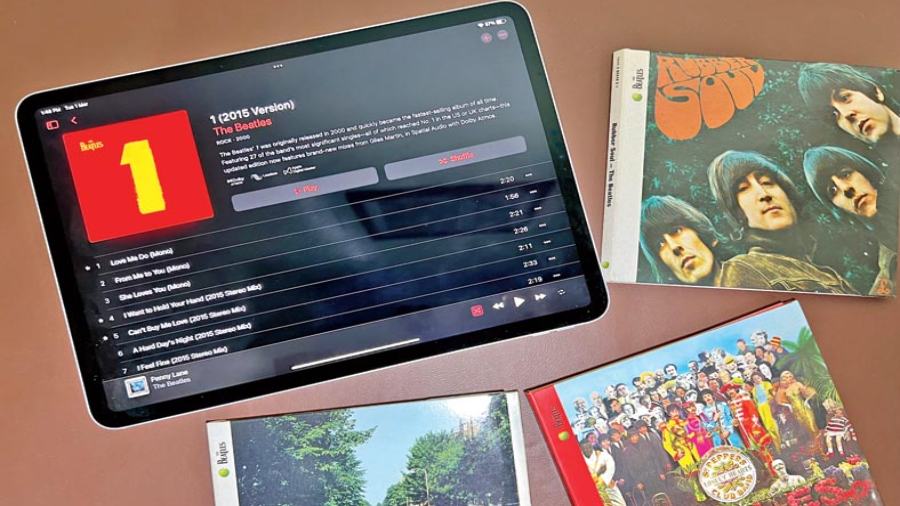 Access Spatial Audio via Apple Music
The Telegraph
Choose how to listen to Dolby Atmos on your iPhone or iPad
• Update your iPhone or iPad to the latest version of iOS or iPadOS.
• Go to Settings. Tap Music.
• Under Audio, tap Dolby Atmos. Choose Automatic, Always On, or turn Dolby Atmos off.
If you choose Automatic, here's what you need:
Supported songs automatically play in Dolby Atmos when you're listening with AirPods Pro, AirPods Max, AirPods (3rd generation), or Beats Fit Pro with spatial audio turned on. Go to Control Center, touch and hold the volume button, then tap Spatial Audio.The built-in speakers on an iPhone XS or later (except iPhone SE), iPad Pro 12.9-inch (3rd generation or later), iPad Pro 11-inch, or iPad Air (4th generation).