Messing around with something that's already perfect is obviously not a sensible move, so Lenovo sticks to the basics it gets right every year. Performance-per-dollar is critical for gamers, who push the hardware with demanding workloads, so Lenovo's focus is on better airflow and performance on the Lenovo Legion 5i, which is in for review.
It's one of the best options for gamers who may not want to spend on a Pro model, yet enjoy all the hardware chops. It comes in a beautiful finish throughout the chassis which gives it a premium feel and a very slick design, not to mention the build quality improvements, which are impressive. The top cover is made of aluminum, which feels solid. The hinge is rigid and smooth at the same time and there's almost zero wobble. You end up getting a simple and minimalistic design that blends with any environment, including boardroom meetings, in case you want to lug the machine around.
Away from gaming
The number of ports, the design and the weight makes this a fine laptop for placing anywhere in the house. Editing short videos and typing are crucial to my work life and both these tasks are handled well.
You get a full-size keyboard with a numpad along with a dedicated section for arrow keys. The keys are larger than on most keyboards and it yields better productivity experience, especially if you are working with Excel documents. One must remember that Lenovo has one of the best laptop keyboards in the world. Their TrueStrike system shares a similar DNA with the legendary ThinkPad series and they offer a good amount of travel distance and feedback. There's less key wobble, so users can abuse the keyboard when working for longer periods of time.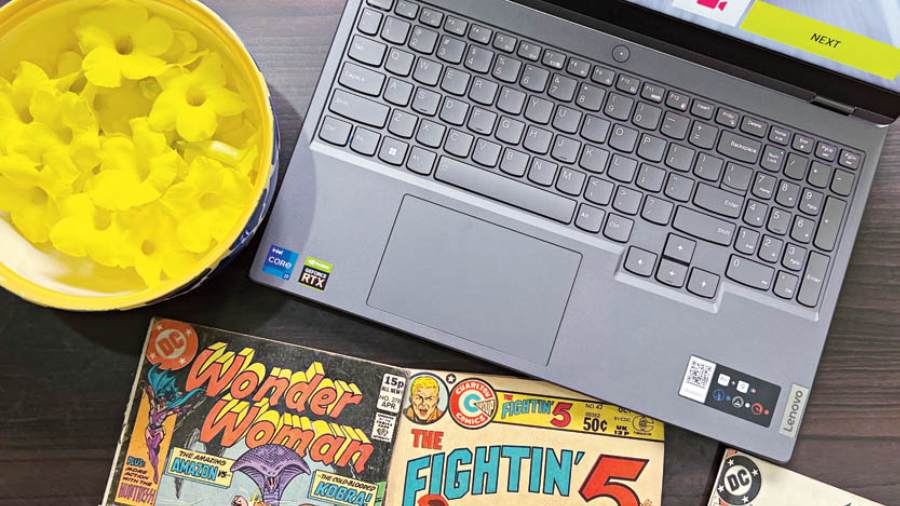 The laptop comes with one of the best keyboards in the market
The RGB backlighting can be controlled through the Vantage software on board. There is a four-zone RGB system with various effects with the personal favourite being 'Wave Left'. The trackpad works well and has zero flex.
Equally interesting is the display. There are many models available of the laptop. The base model comes with 60Hz refresh rate but if you are serious about gaming, go for the 144Hz option. And if you are looking for more, there is the 165Hz panel, which is what we have on the review device.
The 15.6-inch WQHD display is bright enough for gaming. In case you are interested in content creation or photo editing, the machine will hold you in good stead; the colour gamut covers 100 per cent sRGB. Basically, you can't go wrong with the screen.
Perhaps Lenovo should think about upgrading the webcam in future models. The 720p sensor works well but rival brands are offering 1080p webcams. Working in favour of Lenovo, there is an e-shutter switch which disables the webcam from a hardware standpoint, which, I am sure, will benefit those who value privacy.
Let's power up
It wouldn't surprise you when I say this is a very fast machine. The review unit is powered by 12th Gen Intel Core i7-12700H. As for other details, the retail version in India has 16GB RAM (2x 8GB SO-DIMM DDR5-4800) and 512GB SSD M.2 2280 PCIe 4.0x4 NVMe.
The drive speeds are ludicrously fast and Lenovo is known for running the processor at one of highest wattage levels (even when it's running on battery). After all, if you are running a gaming laptop you are not expected to spend too much time away from a plug point.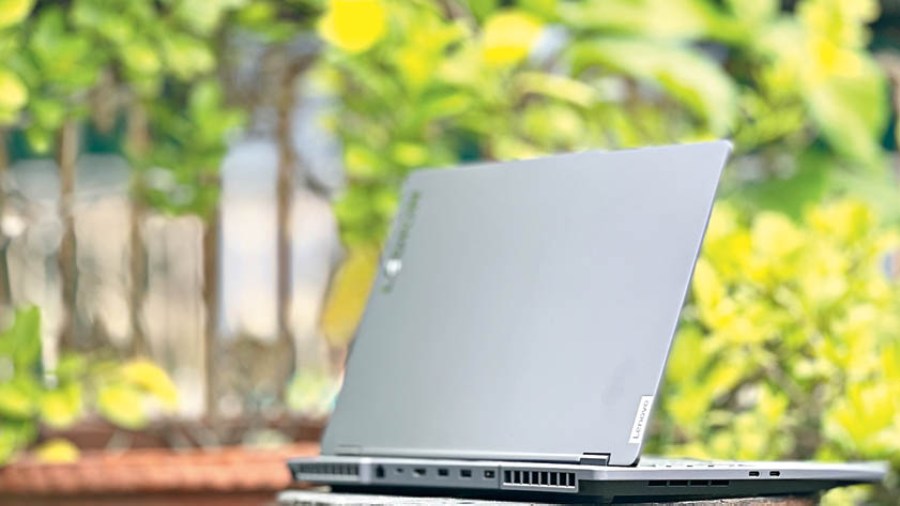 Most of the ports are on the back, which allows better wire management
Within each model of 12th-generation Intel CPU, there are E-cores (Efficiency) and P-cores (Performance). The P-cores are the best-performing cores Intel has ever built. Delivering higher IPC (instructions per cycle) and clock speed, they work alongside E-cores that handle background tasks and prevent slowdowns. All this means your gaming rig offers maximum FPS and minimum interruptions. Be it League of Legends or Hitman, you will get higher FPS.
The cooling system is good too. The laptop can be pushed quite a bit. There are three modes over which you have control — Performance, Balance and Quiet. If you are on performance mode, expect the machine to get slightly hot but heat management is spot on.
The other aspect is Lenovo's AI engine which works with the cooling system. It allocates the amount of power required for either the CPU or the GPU to perform various tasks. Let's say you are rendering a video. The AI engine provides more power to the CPU whereas if I switch over to gaming, it prioritises the GPU. This happens automatically, so the end-user experiences the best the hardware has to offer.
On a side note: As you change the performance profile, the visual indicator on the power button changes, which is a neat addition.
Should you buy it?
Legion is a trusted name among gamers. You get excellent price-to-performance ratio and there are enough ports (mostly on the back) to keep you going for years. I wouldn't get into battery life because it's something that depends on what you are working on. But what I would like to point out is the size of the power brick. It's a massive 230W charger and it's heavy. Carrying the charger around is a tough ask. But it is what it is.
There are few direct alternatives to this machine as Intel's 12th-gen CPUs are beginning to make their mark, which also means, it's giving Lenovo a chance to deliver one of the best gaming laptops in town. Lenovo Legion 5i is a versatile gaming as well as productivity workhorse that's meant to last years.
For a gaming laptop, Lenovo Legion 5i is compact
At a glance
Device: Lenovo Legion 5i
Price: Upwards of Rs 128,137
High notes
Intel's 12th-gen processor makes gaming a smooth experience
Excellent keyboard layout and key travel
Sturdy build
Cooling system is among the best
Muffled notes
720p webcam
Charging brick is heavy