A sports academy in the city has been pushing children to get outdoors and play. From training three kids of a family, Warming Up Kids (WUK) now conducts four classes a week for around 150 children aged three to 13.
The journey of Warming Up Kids (WUK) began with just one child in 2015. Founder Runa Kedia recounted her experience with her son Aryaman as being the driving factor behind it. 
"My husband Ashwini is really passionate about sports and has played competitive cricket. So, we would take our son to an open ground often. My son was just 18 months old and I was watching father and son play, when I noticed that he could kick a size-5 football with a lot of power for someone his age, because he was playing regularly. I realised that if all kids are given the right opportunity, they too could do this. We started working on this idea and found a great ground at Dalhousie Athletic Club, along with very accomplished coaches to start WUK," Kedia said.
The academy started off by offering three activities — football, karate and dance. "Unlike us, today's kids are mostly in the house. We wanted to inculcate fitness by taking them outside, just to feel the mud," Kedia said.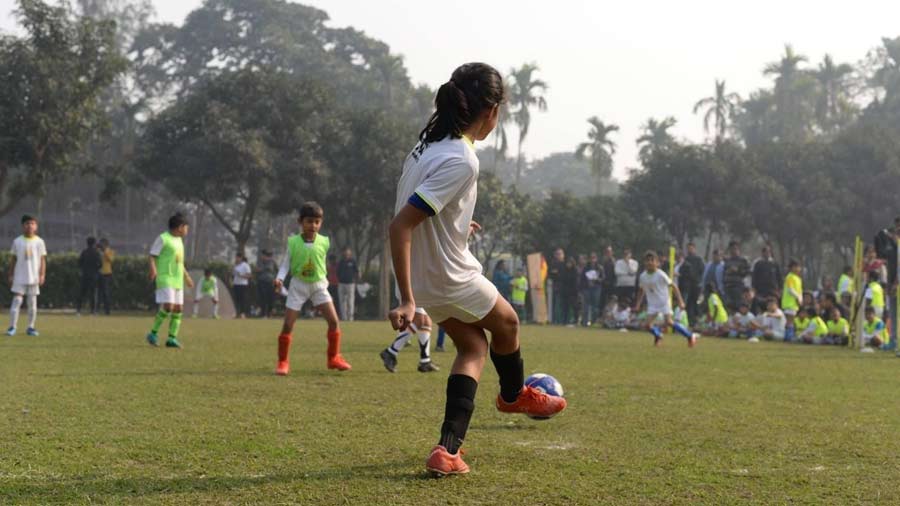 The students begin with a warm-up, followed by technicals, after which they play a 20-minute match, before ending with a cool-down
However, not everything was smooth. They started with three children who were from Kedia's family and only two external registrations. "We were only taking classes with these five kids, and after six months, I told my husband that it wasn't working out and I didn't know what to do. He replied that my motive should be to give the best to these five kids and that irrespective of the number I must train them in a way that they play the World Cup." Kedia recognises this moment as a turning point, which made her focus on the kids' performance rather than financial gain. Soon enough, the results followed. "A child's parents were moving to Dubai. His mother wrote a long appreciation post for us on Facebook, and we got a few admissions from there. Since then, we have been operating largely on word-of-mouth." 
Today, the academy holds its classes in the parks of Salt Lake. "We divide kids into batches of not more than 18 to ensure that everyone receives the right attention. The class duration also varies accordingly, with the Elite batch being on the field for two hours, the Muddy Middle for 90 minutes, and the Beginner batch for one hour." 
The students begin with a warm-up, followed by technicals, after which they play a 20-minute match, before ending with a cool-down. "We work on all fitness-related parameters, taking into account the height, weight and BMI of the student. There is an effort to not just teach them football skills like shooting, defending, dribbling and ball control, but also to work on functional areas like balance, flexibility, motor skills and running techniques. Beyond fitness, we feel sports also inculcates values like punctuality, discipline and teamwork," Kedia said.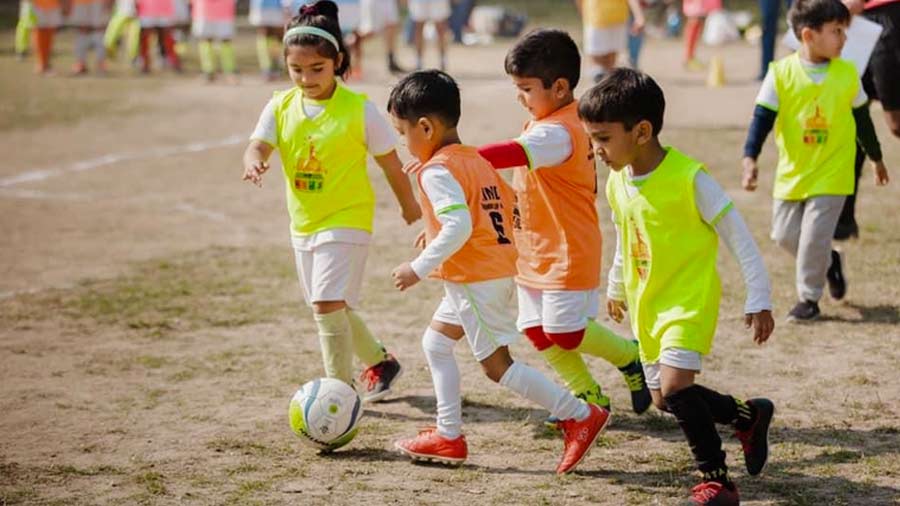 Class durations vary — with the Elite batch being on the field for two hours, the Muddy Middle for 90 minutes, and the Beginner batch for one hour
The emphasis is not just on creating good sportspersons, but good people. For this, each student's jersey has a special word written on it, like love, sportsmanship, respect or joy. "We teach kids the importance of these words in class and encourage them to imbibe their spirit. I believe that when they read these words every day, it registers on a deeper level." 
Backing Kedia's vision is a team of four head coaches and two assistant coaches, licensed and certified by FIFA and with extensive training at the grassroot level. After the students play a match, an audio-visual session is organised where the coaches analyse their gameplay, explain their mistakes, and help them understand how they can improve.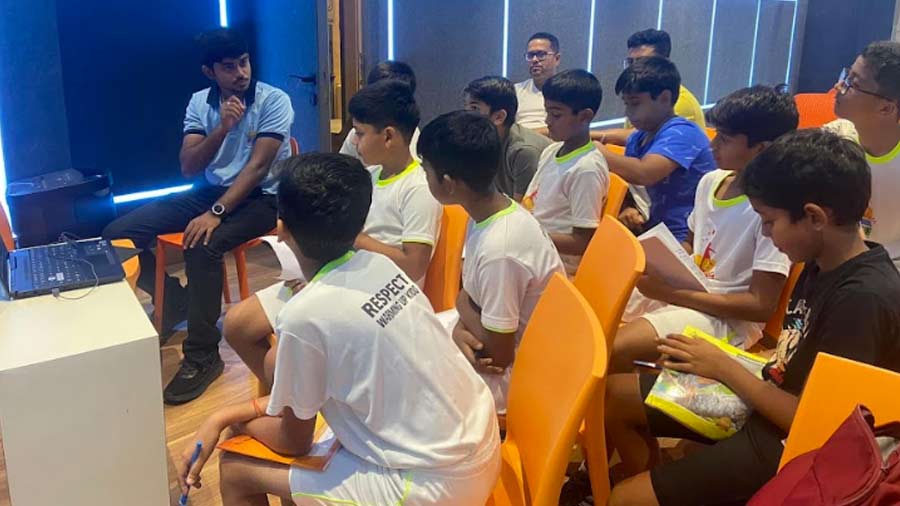 A post-match audio-visual analysis session
Kedia also points towards how the class is a melting pot of diversity, with boys and girls from all schools in the city, including La Martiniere, Calcutta International School, The Heritage School and Bharatiya Vidya Bhavan playing together on one ground. 
Before the pandemic, WUK also conducted classes at two NGOs. "We have several kids coming to our classes from underprivileged backgrounds, for whom we charge a nominal fee of Rs 100 so that parents feel accountable to send them to class. We never discriminate in our treatment of the kids, and the most heartening thing is to see children from across classes and communities playing together. In a world full of ego, I'm humbled when I see kids tying each other's shoelaces." 
The year-round training pays off during WUK's Annual Day, which is celebrated in January every year. Here, the students are divided into teams and play against each other, with special prizes in each age group. The students and parents also switch roles on Father's Day, when fathers form teams and play matches, while the children cheer from the sidelines. The results speak for themselves, with many children playing for their school football teams and a few even being picked up by local football clubs.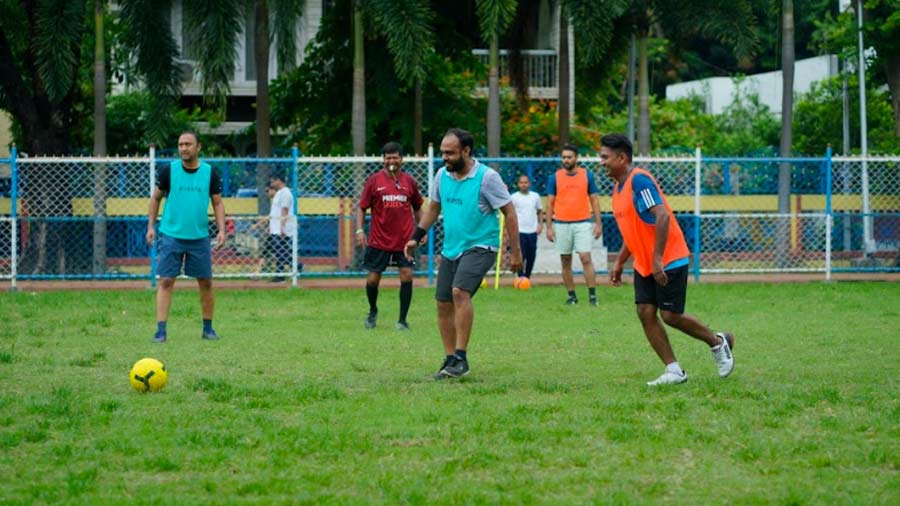 A Father's Day match
The pandemic has required them to adapt in multiple ways. While it brought the dance and karate classes to a halt, it took fitness to their homes as the trainers curated special exercise charts for the students that they could do in their homes. It also spawned a new fitness class, this time exclusively for mothers! 
"People would always tell me that I looked very fit, but whenever I would run or do any chores, I would realise that I wasn't fit internally. I saw a distinct difference between being thin and being fit, and decided to take a few fitness classes from one of our coaches. The difference it brought to my physical and mental health prompted me to start a separate fitness class, exclusively for moms of WUK!"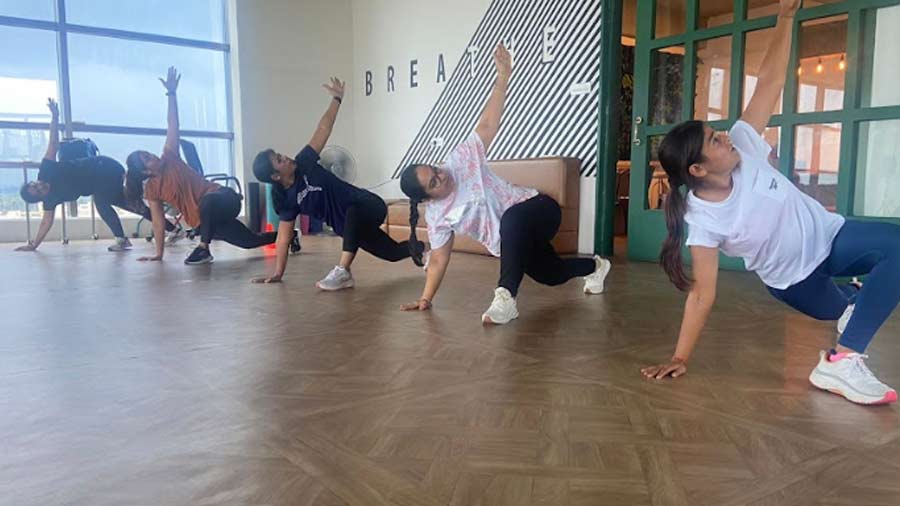 A fitness class for mothers
There's more in store for the kids, with another football class at Axis Mall's Turf Air Plaza 2.0 set to begin this month. Kedia said the trainers will observe the students' fitness levels and group them accordingly. "We also hope to start classes in central and south Kolkata in future, but for now, we want to take one step at a time."