Days after the viral word game Wordle was acquired by The New York Times, for a price 'in the low seven figures,' a Kolkata creative has co-founded a multiplayer word game that essentially marries Wordle and Words with Friends. Nayanika Mukherjee, a journalist who divides her time between Kolkata and Delhi, created the multiplayer game Wordle Cup, with her software engineer friend, Mehar Kaila.
Wordle Cup offers a tournament setup with timed rounds and a scoring system. It lets players compete with others in real-time, they can create matches to their liking and also set word length and number of rounds. The duration is fully customisable. Instead of a dictionary, Wordle Cup uses computer scientist Peter Norvig's list of the 25,000 most common English words. The game also offers private rooms (where players can invite friends with a link or play solo), as well as public rooms (where players can jump into matches with players from across the world).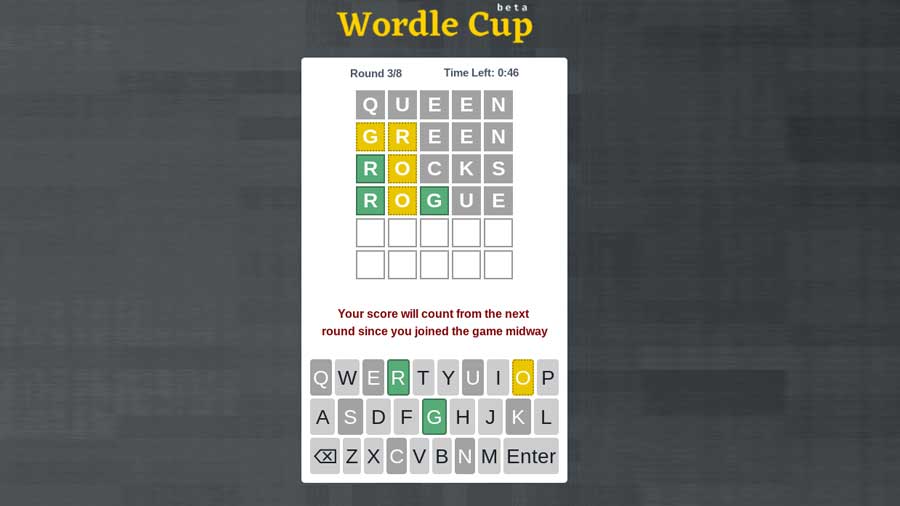 Players can play solo or with friends
"The timing was crucial. It was definitely challenging to get the game out as fast as possible. This meant ensuring the multiplayer aspect of WordleCup.io was polished and the user experience was smooth," says Mukherjee, who found herself wishing for a multiplayer competitive version of Wordle, after she and Kaila found themselves competing over who could guess the daily word in the least amount of tries.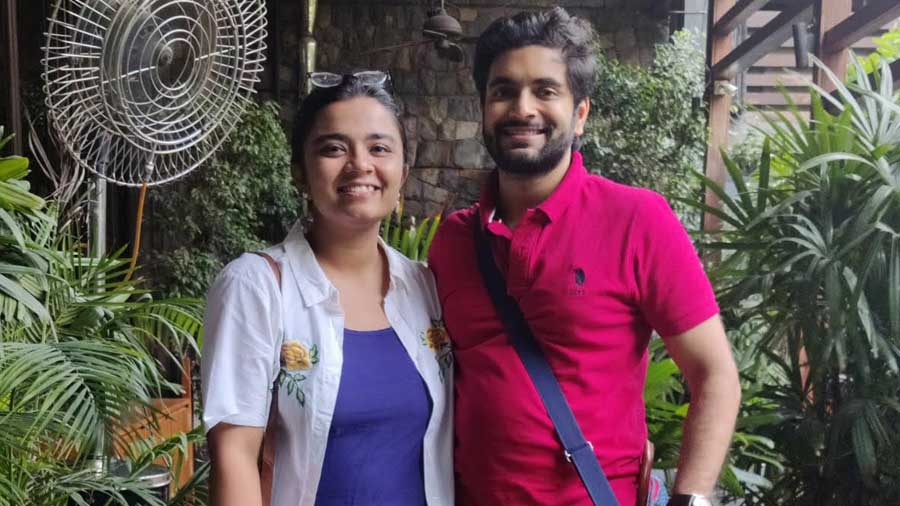 Mukherjee and Kaila developed the game within a week
"We conceived the idea in February. We discussed how the game should work. This included deciding the features, design and accounting for every scenario that a player may face in the game. We wrapped up work in about seven days and launched the website on February 11. It is playable on all PC and mobile browsers and so far, we've had 12,000 users and 43,000 site visits," Mukherjee shares.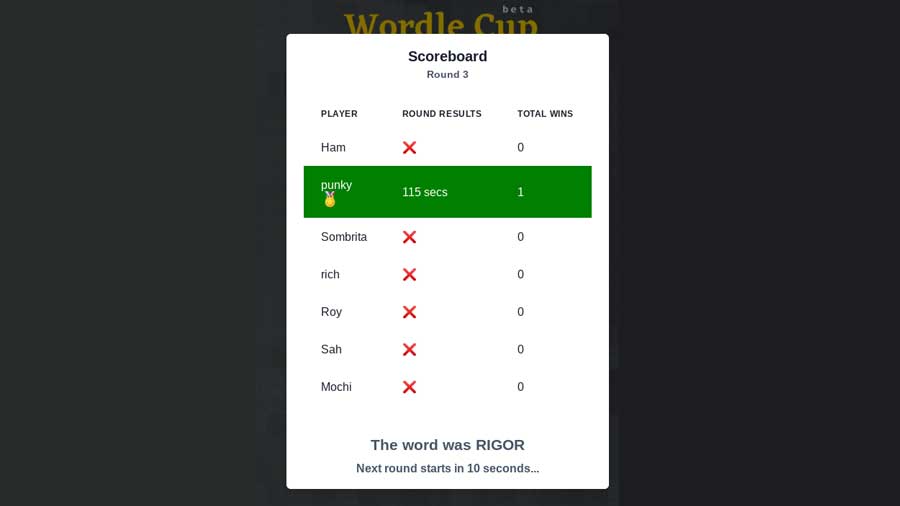 Wordle Cup has a scoreboard that shows total wins and timing
The speedrun or streaming aspect is perhaps the biggest USP for this game, since it offers Twitch, Discord and YouTube creators an opportunity to stream tournaments live and ultimately leverage online trends and create video content on it.
Entertaining unpredictability
"On Wordle, there wasn't a scope for collaboration or exciting stakes. But in a multiplayer setup, they can easily set up matches with other streamers, or even play solo against unknown gamers. The latter has entertaining unpredictability from a viewer's POV. You might be a pro at puzzles, but someone may destroy you in back-to-back games, and just disappear into the wind (true story!). It's both humbling and hilarious and makes you want to keep trying. Hopefully, this will make streamers want to explore the game. For players who want to show off their puzzle skills, we recommend trying a speedrun where you set the lowest round timer — 60 seconds — to guess a word. But the greatest challenge is if you set the word length to eight letters. I've only been able to solve an eight-letter word once!" Mukherjee reveals.
Mukherjee, who was introduced to word puzzles via The Telegraph's crosswords and word unscrambles at the age of 7, tells us there are some upgrades in development. "We're planning major upgrades — such as different game modes, better design, and user avatars. Our end goal is for WordleCup.io to become a game that you can play anytime, just like Scrabble. Maybe over a cup of coffee, as a party game, or even on your daily commute," she says.