Kolkata-based entrepreneurs Sukriti Agarwal and Kaushal Modi, founders of Outbox, had the opportunity of appearing on Shark Tank India on January 14. 
The reality show gives small-scale businesses a shot at the big leagues by bridging the gap between aspiring entrepreneurs and angel investors. Armed with the mission to take Outbox to the next level, the two founders pitched their business idea to the 'Sharks' – Ashneer Grover, co-founder of BharatPe, Anupam Mittal, founder of People Group, Aman Gupta, co-founder of boAt, Namita Thapar, director of Emcure Pharma and Peyush Bansal, founder of Lenskart.com – hoping for a game-changing investment. 
"Outbox is a luxury surprise planning company that offers customers specially curated private events to mark an occasion. Today, we have more than 100 niche options available on our website — from out-of-the-box marriage proposals to musicians for romantic dinner soirees and flamboyant anniversary surprises. We want to scale further and move into different geographies and Shark Tank India was the way forward," said Modi.
My Kolkata caught up with the enterprising duo on their Shark Tank India experience. Excerpts from the conversation…
My Kolkata: First things first, who are Sukriti Agarwal and Kaushal Modi?
Sukriti and Kaushal: Entrepreneurs! We are both 29 and graduated from St. Xavier's College, Kolkata, in 2015. It's been six years since we began our journey with Outbox and our business has grown exponentially over the years. We started this business with our own savings – the money we saved from our monthly pocket money – and to see it flourish now as a business is extremely satisfying. 
Do you follow the Shark Tank franchise?
Yes! It's very interesting and pretty entertaining too. The best thing about it is that it gives a big platform to small and medium entrepreneurs, which levels the playing field. Companies receive a lot of traction and mileage from the show. It even boosts the entrepreneurial spirit among youngsters. 
What was the Shark Tank India experience like?
Shark Tank India included a total of three rounds – a basic application stage, a video round and an in-person simulation interview. Some 68,000 entrepreneurs had applied and only 198 were finally chosen. The first round was held in June 2021 and included a simple pitch of your business idea and team. The second round required a video message, while the third round was an experience similar to the real thing. 
Honestly, it's so much harder than what we see on television. The producers inform the selected businesses only a week before the shooting, so there's not a lot of time to prepare. You need to have your business at your fingertips, numbers and everything.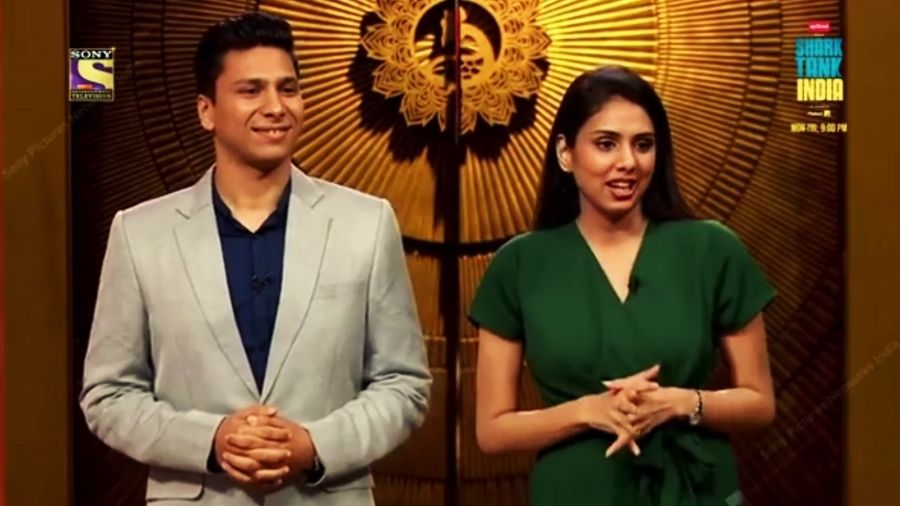 Kaushal and Sukriti on the show
@SharkTankIndia/Facebook
Why did you want a 'Shark' as an investor in Outbox? 
Primarily, so we can expand on a national scale. We have identified a niche market and wish to penetrate this market in multiple cities, not just Kolkata. Even though we do provide our services in multiple cities, a majority of our customers come from the east. There's a huge market for our service in the western, southern and northern regions of India and we want to disrupt it. 
What prep went into making sure your one shot at bagging a Shark was fruitful?
Each day of that one week was rigorous. We made sure to be fully prepared when we pitched to the Sharks. The pitch that we used in the first couple of rounds worked really well, so we mostly stuck to that with a few tweaks. We ran through our numbers and our books thoroughly because being well-versed with all figures is a must. 
Give us a glimpse into the conversation Outbox had with the Sharks?
Outbox wanted to raise Rs 50 lakh in exchange for a five per cent stake. Unfortunately, the Sharks felt that our current business model did not have the potential to scale to a national or global level. It was really good feedback. We plan to use this feedback to improve our business model and take it a step further. We always knew this at the back of our minds, but somehow didn't act upon it. But now it's a priority.
One positive thing did come out of the pitch — Anupam Mittal (owner of shaadi.com) asked us to carry on the conversation outside the tank and we have followed up on that. So, something good is definitely coming up!
Did you go into Shark Tank India hoping to get any particular Shark on board? 
We were leaning towards Anupam Mittal too. Our businesses are in line and our target audience overlaps. However, if we had received an offer from any of the other Sharks, we would have accepted it, since all these entrepreneurs are stalwarts in their respective fields. 
What was the most memorable moment for Outbox on Shark Tank India? 
When we saw our product and brand – something we've created from scratch and devoted so much time to – on national television and getting traction on a national scale. That was definitely the most memorable moment for us. 
And the most stressful moment?
The second before we entered the tank! 
What is the biggest lesson you learnt from your experience?
The biggest lesson we learnt is that in high-pressure situations like this, staying calm always helps. You have to be quick, have the ability to think on your feet and remain calm no matter what.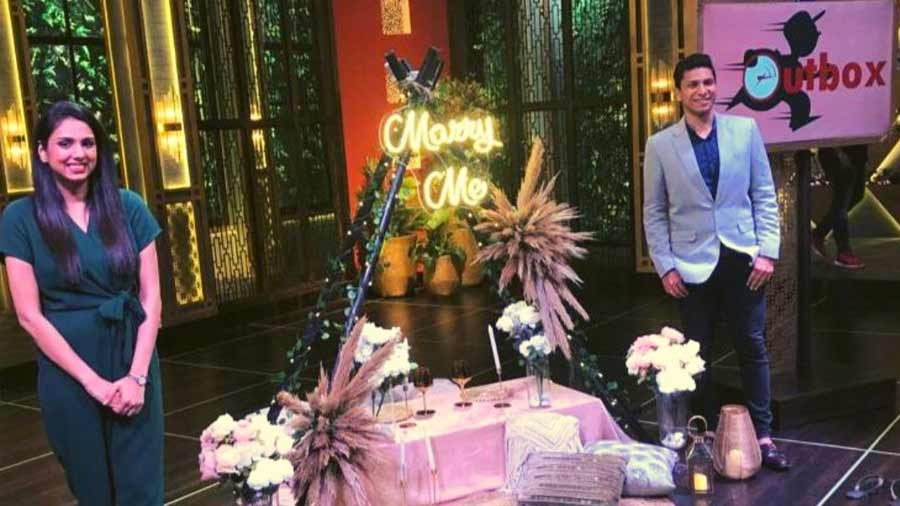 'Shark Tank India has been a great morale booster for our entire team,' said Sukriti and Kaushal
What is one vital piece of advice you can give young entrepreneurs about taking on an investor? 
While taking on an investor, think of it as an arranged marriage – there has to be some sort of synergy! At the end of the day, it's not always about the finances. It's about the person and their involvement in your operations. Money is one aspect of it, but there are definitely other factors that are equally important when it comes to bringing someone on board as an investor. 
Where do you see Outbox in one year?
Shark Tank India has been a great morale booster for our entire team. We are working harder than ever now! This trend will continue for sure. We're looking to start operations in multiple cities and using Valentine's Day as a right time to start. This occasion will be big for us this year and we want to use it as a pilot programme in other cities, penetrate the market and set up regular operations.