They come in looking all charged and geared to hit the weights at Offbeat Strength. With their upcoming film Karnasubarner Guptodhon set to release on September 30, Abir Chatterjee and Arjun Chakrabarty strike a brilliant camaraderie in the gym as well.
Speaking of the primary things to keep in mind if one wants to feel healthy, both of them agree on consistency and feeling positive about whatever one is doing being the determinant factors. "This is something I really believe in with all I have. If you are not consistent with what you initiated, it becomes futile after a point of time. If you are working out, going out on walks, maintaining a diet, and can't keep it up after a certain point, it falls apart," says Abir.
As the duo completes a set of body-warming drills and stretches, Arjun, looking settled in his zone, straps his gloves and talks about how hitting the gym keeps him going. "Core strength exercises and lifting weights. I am really fascinated and inspired by contact sports, but it's not possible for me to afford the time and resources, and thus hitting the weights drives me every day. I'm very passionate about this and personally, I love to hit the pad as early as I can, after I wake up. That helps me to get charged and face the day differently." Abir humbly accepts Arjun's place as the more invested into the drill of the two. "He really motivates me with the level of commitment he has. It's incredible. I am not much of a morning person when it comes to hitting the gym... 10am to noon would be the perfect time for me," adds Abir, who has always been heavily invested in outdoor sports. "Also, table tennis is one indoor sport which has helped me a lot. I pushed myself to do things which I didn't care a lot about, earlier. And I've been really feeling the difference."
Abir sweats it off with a set of shoulder press as Arjun hits the pec deck
Describing his journey, Abir continues, "Initially I wasn't a person who was very enthusiastic about joining the gym. I struggled with a persistent lower back pain. But now I can proudly state, with the help of my brilliant trainers, and concentrated exercises at Offbeat Strength, the pain has reduced. I started with brisk walking and having an athletic background from my school and college years, I was aware of my strengths and my structure."
Fitness has always been associated with inspiration. For Abir and Arjun, it is no different. Arjun says, "My family members inspire me a lot. Besides family, I think Cristiano Ronaldo's body works like a machine. It's unimaginable what he can do with his body at this age."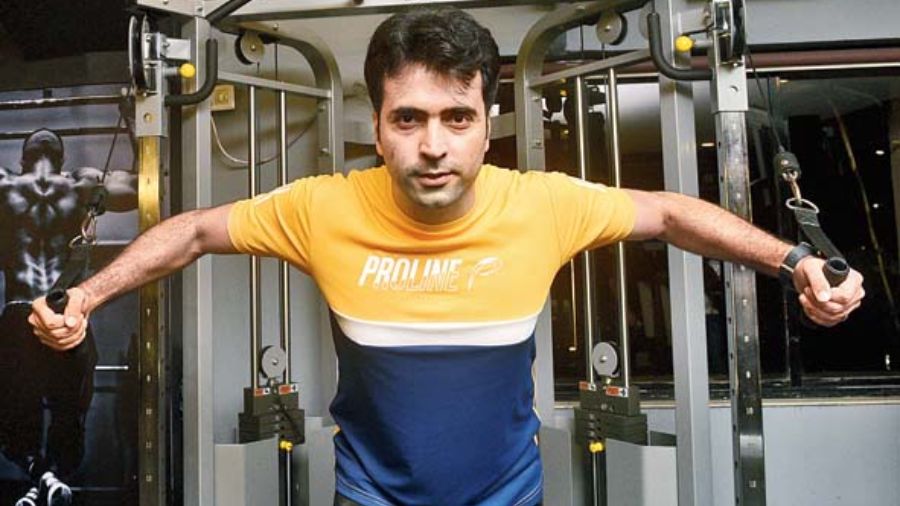 Abir working the high cable chest flyes
To add to that Abir quips, "My inspirations have always been people around me. My contemporaries and somebody like Arjun whose dedication really inspires me. But, when I see the kind of energy my father has, at this age, I keep watching in awe. The women in my house have inspired me immensely as well. The amount of things they manage to do on a diurnal basis with such tenacity and spirit is something I've always looked up to."
Remaining fit and grinding it at the gym also comes with some sacrifices and as Bengalis, it's often a tricky situation when it comes to sacrificing food we like. Abir settles down and says, "I have a sweet tooth, but that doesn't mean I'm having mishti always. But it's too dear a thing for me to completely let go. One thing, I stay clear off, is fried food. I miss my telebhajas (laughs). Arjun doesn't have a sweet tooth, though."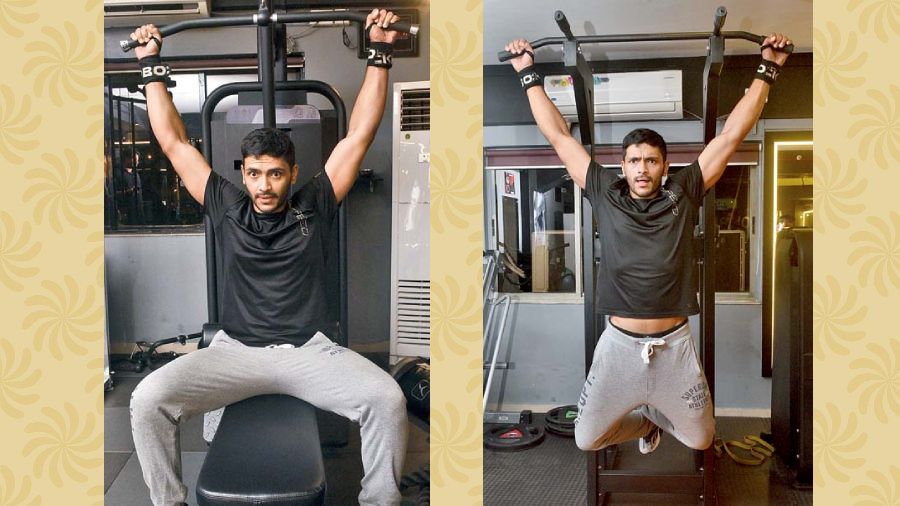 Arjun hitting a quick set of lat pulldowns; Arjun completes a set of pull-ups
Arjun agrees and says, "I stay true to proportions. If I feel like having mishti doi, I'll have it. It's always about the restraint you have set for yourself."
Before wrapping up, both agree on the most crucial element when it comes to remaining healthy. Proper sleep. "A solid six to eight hours of sleep is the most important part of my day. It keeps me fresh and allows me to take on things with an open mind. One cannot be healthy unless they have a fixed sleep schedule," says Abir.
Pictures: Rashbehari Das