A guy is injured in an attack. The love of his life dies in the same attack and he is left paralysed. He is given an artificial intelligence implant and is able to walk again and discovers that the chip, and the virtual assistant only he can hear, gives him superhuman abilities. He uses said abilities, which include surveillance and epic fighting skills, to seek revenge. No, I am not talking about Upgrade. Why would I be talking about a film released in 2018? I am talking about the John Abraham-starrer Attack Part 1 (cue epic eye roll… even Denis Villeneuve wasn't sure there would be a Dune Part II).
John McClane, oops, Abraham to the rescue!
No, no it is not a remake. This is an original story, credited to Abraham, where the person responsible for the hero's paralysis and the death of his lover is (conveniently) a terrorist who is threatening the safety of the nation (one stone, two birds). John McCLane… oops, I mean Abraham, then proceeds to defeat the terrorists and save the hostages inside Parliament House (see? Not a plaza or the White House!) single-handedly.
Arjun Shergill (Abraham), I have no idea what rank he is, is leading a special op somewhere in hostile territory to capture a terrorist kingpin. The mission is successful, after a well-shot action sequence of combat at close quarters, and Shergill, who is really a softie under all the brutal killing, lets a young boy go instead of capturing him. You know, because a teenager who is being groomed for terrorism could never really be a real threat in say 10 years or so (*insert eye roll here*).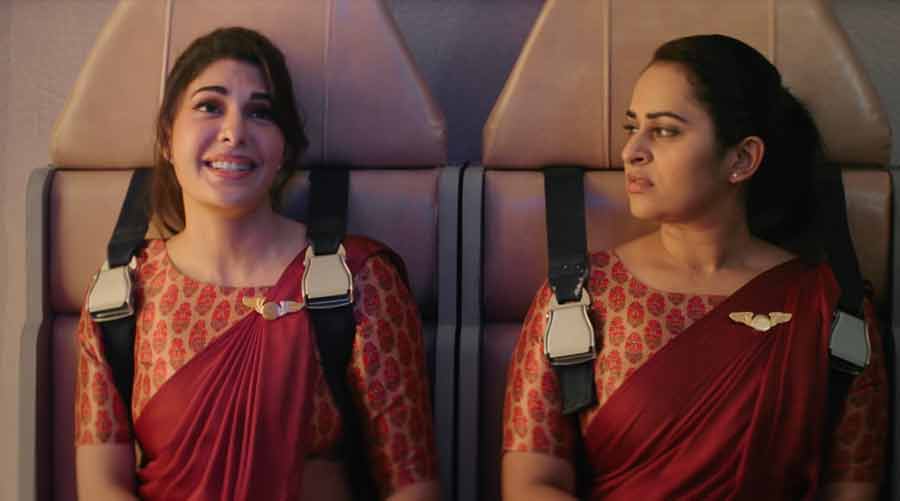 Jacqueline Fernandez cameos as John Abraham's lady love
Cut to 10 years later, Shergill saves an airhostess, Aisha (no last name, "like Madonna") from a tumble on the stairs by grabbing her and accidentally kissing her (what the…! Yes, eye roll here, too). He then proceeds to harass her into falling in love with him for one whole song before a terrorist attack at the airport kills her (can you guess who the lady love is? Bingo! It is Jacqueline Fernandez) and leaves him paralysed.
Abraham does his best acting in this section of the film because just a blank stare will suffice. Though, to give the film its due, this sequence is well thought out and tugs at your heartstrings because of Ratna Pathak Shah, who plays Shergill's mother, as she takes on the role of a care-giver (she disappears thereafter).
Rakul rolls out the ABC of AI
Shergill gets a new lease of life when V.K. Subramaniyam (Prakash Raj), head of who-knows-what, offers him up as a guinea pig for a revolutionary artificial intelligence programme to create super-soldiers. The head of this programme is Saba Qureshi (Rakul Preet Singh), a super-cool scientist (she knows the name of Elon Musk, and wears big-ass headphones while working in her lab) who helps Shergill understand the technology (albeit like he, and the audience, was a five-year-old child who needs to understand AI). And this super hi-tech surgery is undertaken to the tune of a bhajan (kill me now!).
IRA sounds like the Kolkata Metro voice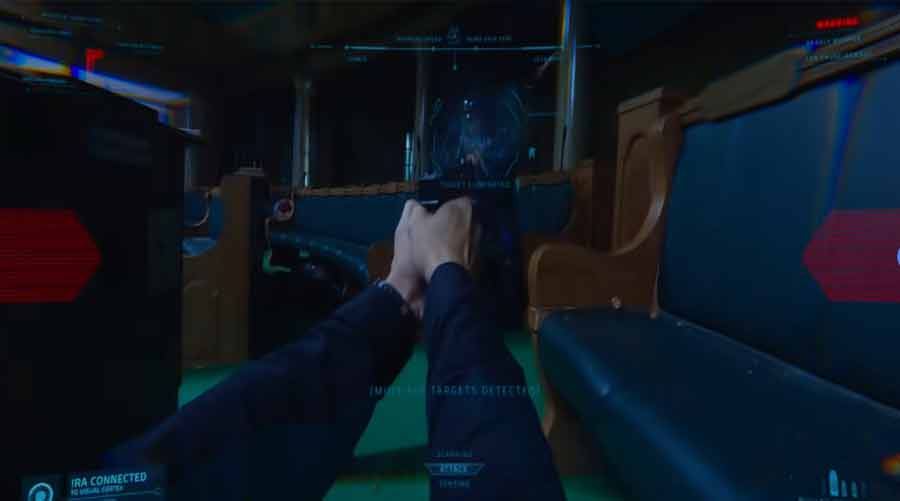 IRA provides real-time updates in a first-person shooter POV
Shergill's AI assistant is IRA (who is like Siri and Alexa we are told but sounds like the recordings that announce names of the platforms in the Kolkata Metro), just like Iron Man had F.R.I.D.A.Y and Spider-Man had EDITH. She helps him access all the data, including different kinds of fight modes, searching through files, CCTV footage, Google Map… and also downloads "screensavers" from his past memories (which is only of Aisha apparently) when she is forced to shut down.
Shergill takes himself out for a test-drive (his muscular form so soon after spending a year in a wheelchair is a miracle of AI, must be) by locating the goon who had robbed him and his mother when he was paralysed. The scene where he discovers that if given control IRA can give him insane fighting skills is very original. Not like Upgrade, at all. The test-drive is conveniently timed with a terrorist takeover of Parliament House with the Prime Minister stuck inside, and the leader of the group is the son of the kingpin Shergill had nabbed 10 years ago. You know the one he good-heartedly allowed to go? Go figure. What were the odds, really?!
His name? Hamid Gul (Elham Ehsas). No reincarnation of Hamid Gul (Jaaved Jafferi), from Bang Bang, the 2014 Hrithik Roshan film adapted (with acknowledgement) from Tom Cruise's Knight and Day.
One-man option to rescue over 300 hostages and defuse a chemical bomb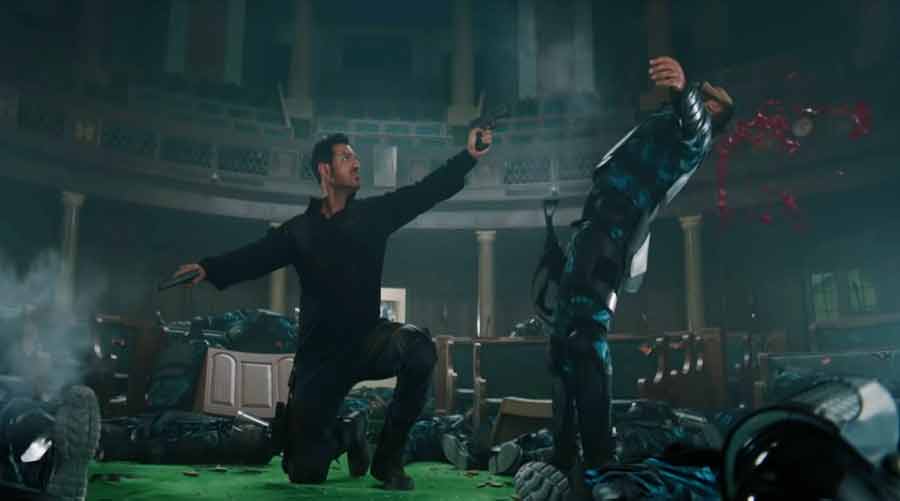 Slick action sequences are the film's saving grace
Anyway, to cut a tightly edited (this is an honest compliment) story short, Shergill is the one-man option left to rescue over 300 hostages (he manages that with the help of Saba Qureshi, who is conveniently inside the building) and also vroom on a bike to crash into a plane in order to stop Gul and defuse a chemical bomb. This time Shergill isn't so soft and throws Gul into the propeller blades of the plane. Oops.
Now, you may ask why I even went to watch a film that clearly had disaster written all over it. Well, having grown up on a diet of super-soldier movies like Robocop, the Universal Soldier franchise and Total Recall, and action flicks like Rambo and Die Hard, India's first super-soldier movie was a little hard to resist. As they say, hope springs eternal. And to be honest the film is pretty well edited. The fight sequences are top-notch even though the first-person shooter POV could have been used much earlier in the film to make it even slicker. Maybe if I was a super-soldier movie newb I would have enjoyed it more.
But if I am asked to watch Attack Part 2, which is already in development, I will die hard with a vengeance.