Do you still have a treasured Monopoly at home? Do you miss the days of playing board games with friends and family? Or are you just looking to jazz up your cafe-going experience? Then Kolkata's trendy new spot on Royd Street is your kind of haunt. At Pair A Dice Boardgames Cafe, there's all the cafe essentials like good food, good music and a good vibe, but most importantly, there are hundreds of tabletop games. Four years after launching in Mumbai, the trendy cafe opened its doors in Kolkata on November 1.
"Pair A Dice is a pun on the word 'paradise' as we hope to create a paradise for all board game lovers in Kolkata," said Garima Bagrecha, owner of the strain of tabletop game cafes. 
Re-igniting simple pleasures of the past, the cafe has over 150 board games that are suitable for ages four to 99. Classics like Monopoly, Cluedo and Settlers of Catan are hot-picks but the newer games in the market such as Panic Mansion, Las Vegas and Codenames are quite in demand as well.
 "We started with 150 games and we'll continue to add new and exciting games to our collection as the demand increases. Usually, as soon as we spot an interesting release, we add it to our library," said Garima.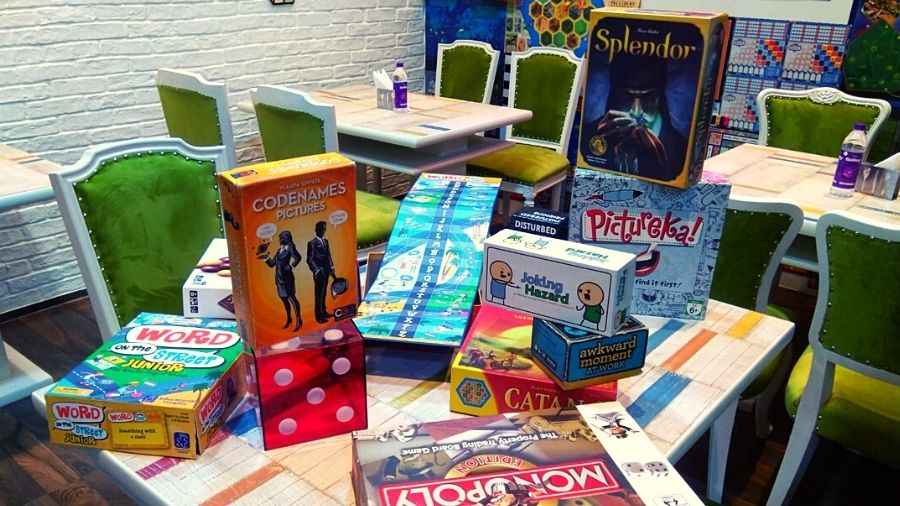 From Pictureka to Joking Hazard to Awkward Moments at Work, this haunt has a variety of games to choose from.
Lygeia Gomes
The cafe divides its board games into categories. There are three levels of strategy games (heavy, medium and light), team games, filler games, word-building games and a general category of fun couple games. The staff are happy to make a suggestion if you feel a little lost in board-game wonderland.
"If there are teens at the cafe, we'll suggest a fun strategy game like Wingspan or 7 Wonders. For a kitty party, we'll provide them with something exciting like Jungle Speed and Maki Stack. If we have a couple on a first date we'll suggest a quirky two-player game such as Abalone or Pylos to help break the ice," explained Gaurav Lunawat, who runs the day-to-day operations of the Kolkata outlet.
Once you've picked your tabletop enterprise, you can also ask someone from their trained staff to break down the rules of the game. "Learning a game by reading and understanding the rules from the rulebook becomes quite boring. So we appoint trained individuals to give customers a quick brief about the game, allowing them to easily try new games," said Garima.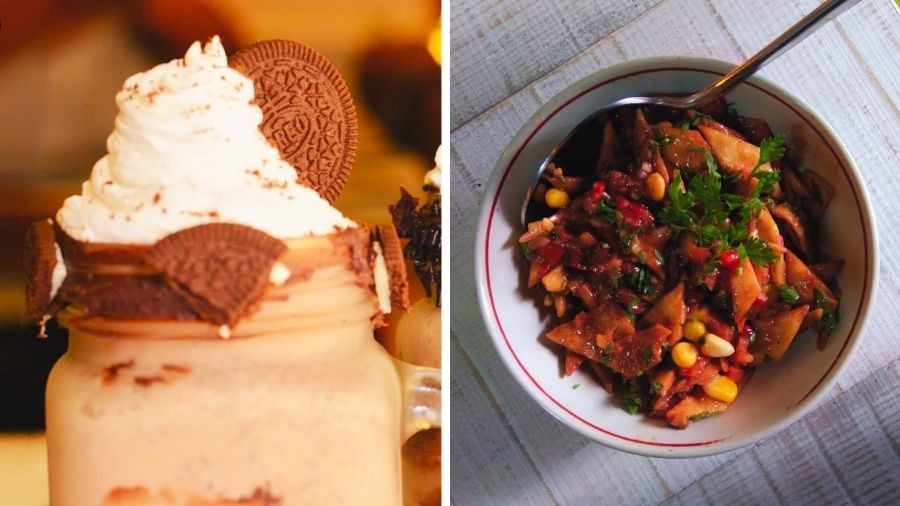 (L-R) Oreo Milkshake and Mexican Bhel, popular items on the cafe's extensive menu.
Lygeia Gomes
The board games might be reeling you in, but Pair A Dice also has a unique menu, with many vegetarian options. There are Mexican, Italian, Continental, Asian and Indian dishes with quirky board-game puns for names such as Battleline Ramens and Costa Rica Rice.
Particularly noteworthy is the Mexican Bhel, which is Mumbai bhel puri meets Kolkata jhal muri but with a twist — boiled rajma, tossed with nimki, tomatoes, sweet corn, pomegranate seeds, seasoned with spices and a dash of gondhoraj lebu. Its soft and crunchy, tart and spicy, and was one of the top six dishes chosen by chefs Ranveer Brar and Gary Mehigan at World on a Plate, India's biggest gourmet festival.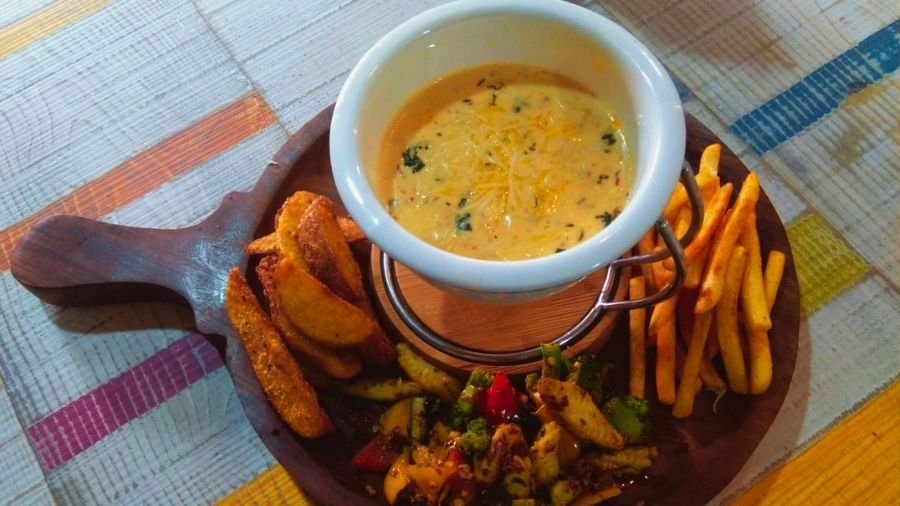 Fondue Platter with a couple of crispy sides.
Lygeia Gomes
If you're looking for shareable nibbles while battling it out over a fast-paced game of Dobble, try the Fondue Platter. It comes with crispy potato fries and wedges, lightly toasted bread cubes and buttery veggies. There are also nachos and paninis, and bigger meal options such as mac and cheese, pizzas and noodles, to choose from.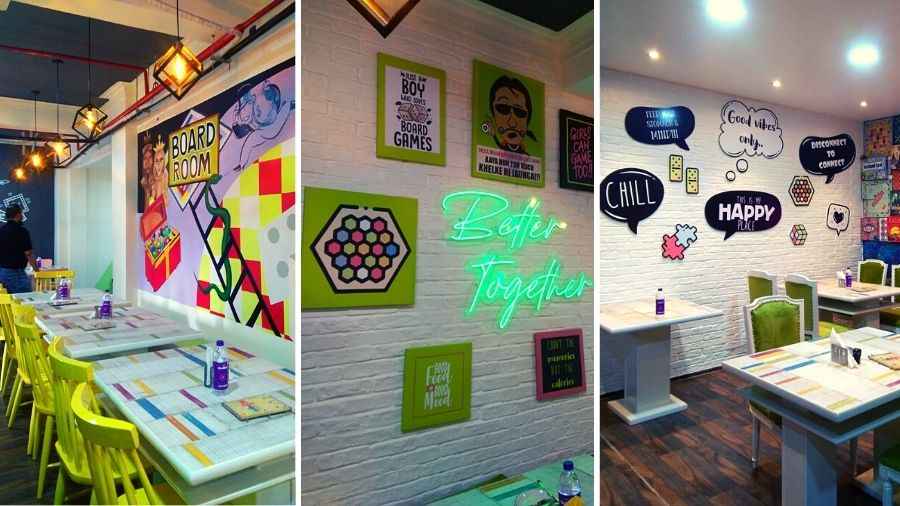 Go click-click at every spot!
Lygeia Gomes
In with Gen-Z, Pair A Dice sits firmly on the list of Instagram-worthy cafes in Kolkata. Lime green in accents and photo frames add a cherry pop of colour to the white exposed-brick and black chalkboard walls. With funky artwork and #cool slogans, there's a photo-op in every corner.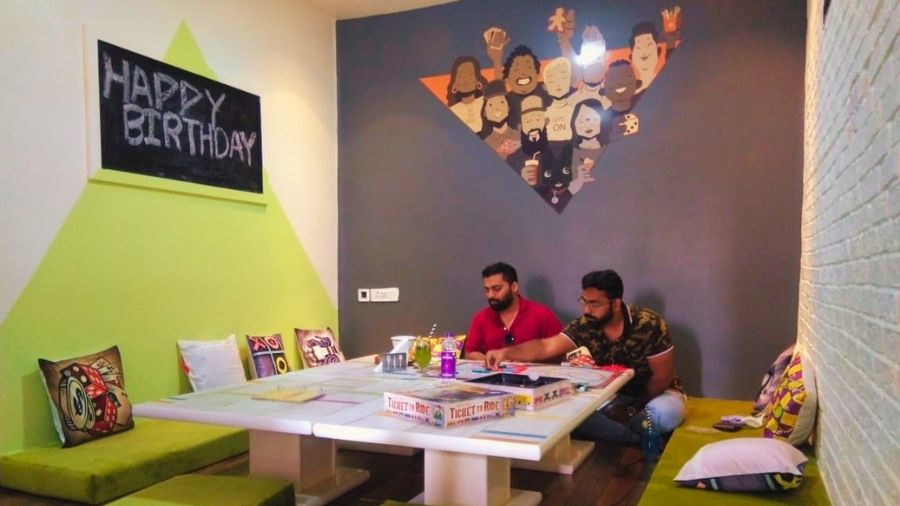 A cosy section that allows you to sit palki-style!
Lygeia Gomes
If you want to spend a nice, long afternoon with food, games and friends, we'd suggest making a beeline for the floor seating. Sit back palki-style while enjoying a good hour of gnarly competition. "This lower sitting place is made specifically so that customers can experience and play our board games exactly as they used to when they were children," said Garima.
"We thought this cafe was a pretty cool concept and it's great that we have something like this in Central Kolkata so we have something fun to do on weekends. We're going to come back soon with our family and play more board games because it's really fun," beamed brothers Almas and Armaan Aziz, who were visiting the cafe.
With the increased screen time that came with the pandemic pushing everyone indoors and pushing digitalisation even more, everyone seeks a break from the digital world. Hop on over to Pair A Dice for a digital detox, served with a guaranteed dose of fun!