Do you sigh out loud every time a throwback holiday image pops up on your social media? Do you feel the urge of blocking some people whose IG accounts are filled with vacay pictures from Goa or Maldives? If your answer is yes, you are not the only one. For someone who is an avid traveller, not getting to travel due to the pandemic can be frustrating. Especially when people have started going out on holidays, it's hard to control one's urge to venture out like a free bird but it also makes sense if you want to still take your time to take the flight because, let's not forget that the pandemic is still lurking around. So, instead of being too hard on oneself or getting frustrated, you can start going for weekend trips in and around the city and give yourself the much-needed break. After all, work from home, family responsibilities and pressure can really weigh on one's mental health. So, when I got an opportunity to experience a staycation at ITC Sonar on EM Bypass, I was happy to just step out. But having been to the hotel so many times for work, I wondered what would I do at a star property I have frequented so many times? I checked in with an open mind and with a sole purpose of letting go and honestly, I not only succeeded in doing so, I discovered facets of the luxury business resort that I had never delved deep into. From the flora and fauna to the thoughtful waterscaping — here's a list of reasons for you to check in at the star hotel that is presently running lucrative staycation deals.
At a glance
What: Staycation Package ITC Sonar
Includes: Buffet breakfast for two adults, 20 per cent savings on dining, laundry services and more
On till: November 15
Pocket pinch: Starting at Rs 4,500-plus.
Upgrade to next higher category (subject to availability)
Call: (033) 23454545 for reservations and more information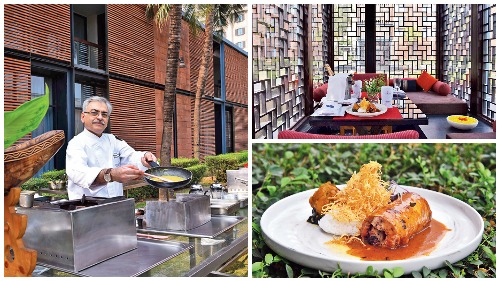 With intimate events and ceremonies gaining popularity, make your special day even more memorable by booking an Experience at The Tea Pavilions that offers bespoke experience. We indulged in a unique lunch by the Water Garden where chef Vijay Malhotra (cluster executive chef, ITC Royal Bengal & ITC Sonar) rustled up an unforgettable meal with local ingredients but if you wish you can choose a cuisine from Signature Cuisine of restaurants of ITC Royal Bengal and ITC Sonar that can be paired with premium beverages as per choice. A dedicated butler would be assigned to give shape to every wish of yours and The Tea Pavilions are also beautifully done up by the hotel keeping your occasion in mind.
With fish swimming by, birds chirping, lilies dancing — The Tea Pavilions forms an idyllic backdrop for an intimate celebration.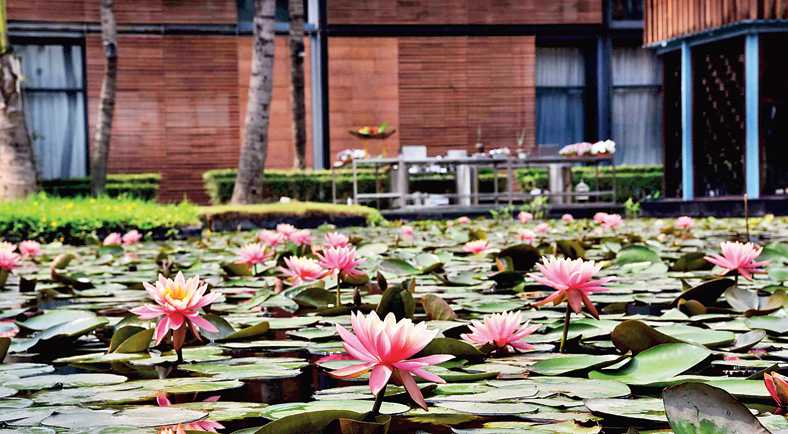 We were fascinated to know that the pink, yellow and white lillies bloom at the crack of dawn but soon their petals furl by afternoon, and their place is taken by tropical lilies  that bloom during the day and night. The garden and the flora in the property reflects the baganbari concept which has been an integral part of Bengal's culture.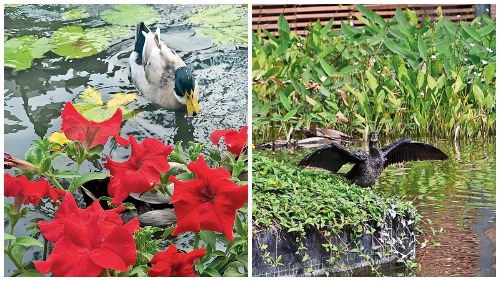 If you have stayed at ITC Sonar, you must have clicked and fed the goldfish. But did you know that the water also has Koi Carp and black mollies who help in keeping the water garden clean? If you are into bird-watching, this is a great place to spot kingfisher, heron, crane, black-headed oriole and ducks around the waterbody and inside the golden running bamboo trees that house nests of many kinds of birds.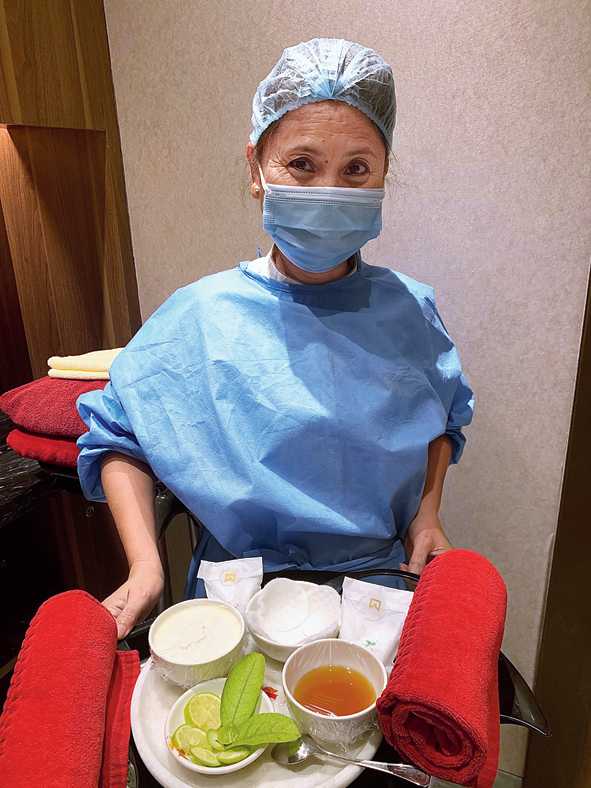 A trip to Kaya Kalp — the spa, is a must not only for the fabulous and safe therapies which the largest facility in the city offers but for the other things that come along with it like the swimming pool for elders and kids, the lush green jogging tracks for you to indulge in a session of yoga, a brisk run or if you want to wander through the grounds and enjoy the wealth of nature.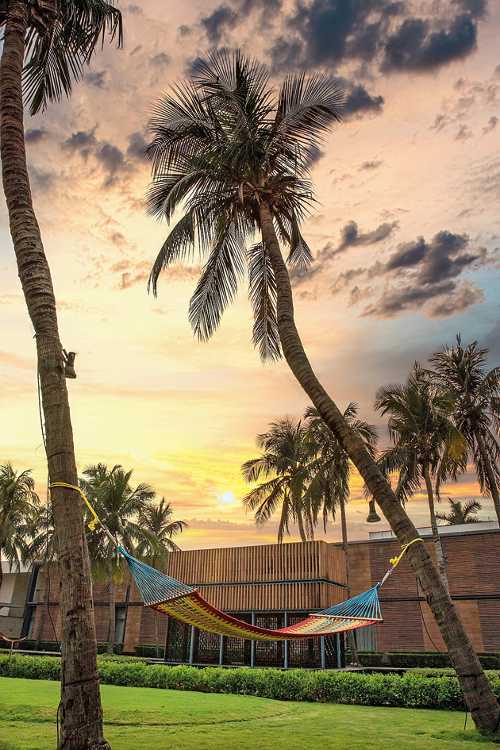 Coconut trees, the golden hour and a hammock might make you think this image is from a beachside resort but it's not so. ITC Sonar has introduced these cool hammocks for you to laze around and just watch the day pass by.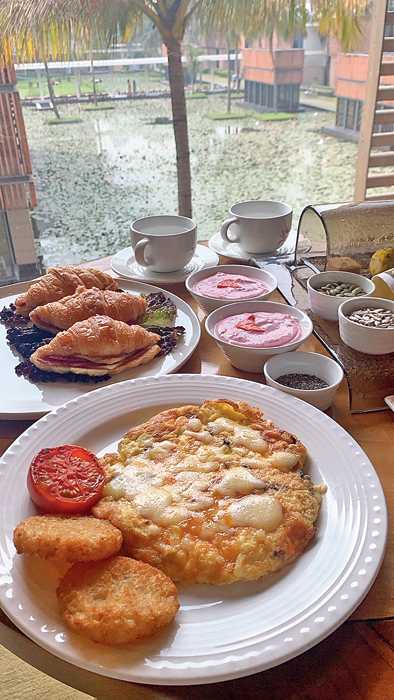 Breakfast is the most important meal of the day and when you get brekkie in bed on an overcast morning, there is nothing like it! We made the most of Knock N Drop service where one can inform in-room dining staff and get their desired breakfast dropped outside the door.  Not to forget, the purpose of social distancing and being away from the crowd is also taken care of.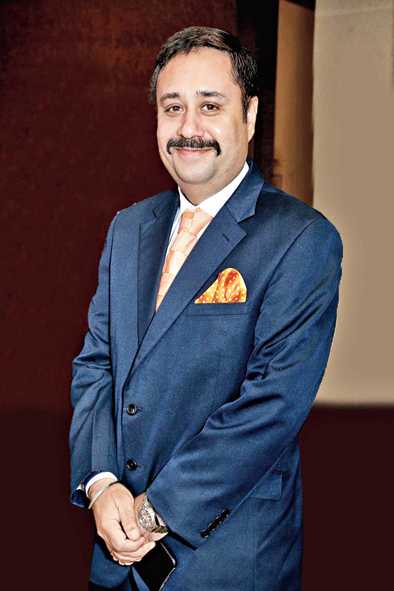 GM SPEAK: "Calcutta's Luxury Business Resort ITC Sonar offers a tranquil environment combined with the efficacy of a luxurious business hotel. Themed as a baganbari, its unparalleled natural splendour offers an oasis of calm in the heart of the city. Wander through the extensive flora and fauna, rich in nature's bounty. Or relax as you feed the Koi in the lily-laden Water Garden during your staycation in this unique destination," said Tejinder Singh, area manager East ITC Hotels & cluster general manager ITC Royal Bengal & ITC Sonar
Pictures: B. Halder and ITC Sonar