Indian artists Manu and Madhvi Parekh's works translated into large-scale hand-embroidered textile panels by the Mumbai-based Chanakya ateliers and Chanakya School of Craft, travelled to Paris last month and were unveiled at Dior Haute Couture Spring/Summer 2022 show as part of Paris Fashion Week. They were created by 320 master artisans who worked for more than three months, embroidering 340 square metres (3,600sq ft) of work entirely by hand. The Telegraph chatted with Karishma Swali, Chanakya's creative director, on the prestigious collaboration.
Congratulations! How long has this project been in the pipeline?
Thank you very much! The seeds of this collaboration were probably sown many years ago when I began to collect the artworks of Madhvi and Manu Parekh — two artists I admired greatly. What followed was a long series of conversations where we realised we share a deep and common love for our cultural and craft legacies. We decided to come together to collaborate on a collective creation of artistic installation where I interpreted their art through handcraft.
The collective vision for this collaboration along with Maria Grazia Chiuri, creative director of Dior women's collections, was to create an immersive experience that celebrates the culture of craftsmanship and the interconnection between us all. This collaboration with the artists aims to overcome the division between art and craft, invoking a shared language between the two. We have been working on these collective creations for almost a year.

Who proposed it? What was Dior's communication to you?
I proposed this to the artists. We wanted to celebrate our culture and our craft with the world. Maria Grazia and Dior have always been true champions of craft excellence, fostering and preserving indigenous craft communities through the world. When I introduced Maria Grazia to the two artists, Manu and Madhvi Parekh, we were all instantly drawn to the energies that their work evoked. The idea together was to offer an all-immersive experience in craft through art and allow them to seamlessly lend to one another. It was with this vision that we all came together to create an all-immersive experience in craft — one that celebrates culture, harmonies….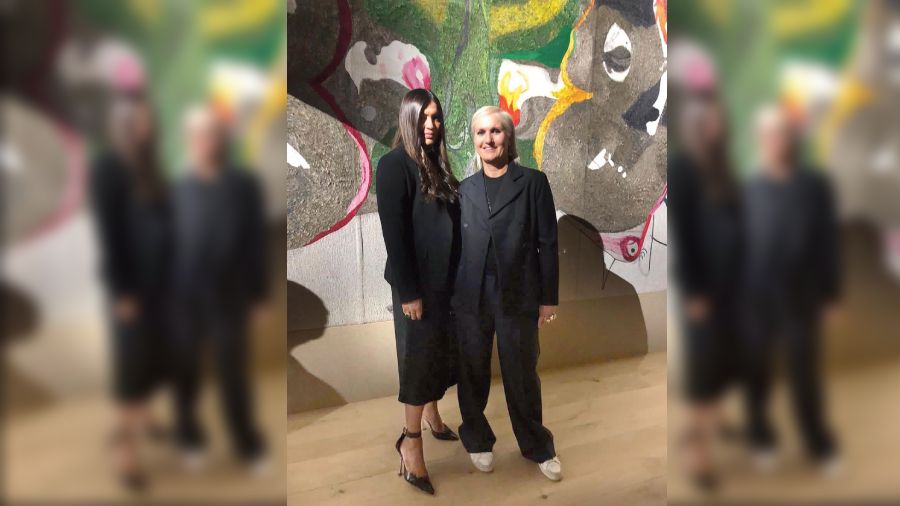 Karishma Swali and Maria Grazia Chiuri.
What was the reception like?
Overwhelming and humbling!
This is a huge moment of pride for Indian artisans.
I am truly honoured and humbled to be able to represent our country's incredible artisanal legacy and to share with the world the wonder of craft and our inspiring artisans.
Tell us about the process of selecting the artworks...
The selection process followed an idea of celebrating the male/female dichotomy, not as opposition, but as complementary. Madhvi Parekh's art is the confluence of modernism and traditional Indian craft patterns, and is steeped in folk traditions, her life growing up in her village in Gujarat's abundance of nature and Indian customs as diverse as the rangoli, embroidery and the Bhavai travelling theatre. To interpret her artwork through embroidery, at Chanakya we cultivated a folk vernacular by using dimensional techniques in repetition to form background textures that evoke a magical world of folktales and the pastoral idyll, populated by village deities, forests, animals, children, and amorphous forms.
Manu Parekh's art constantly invites the viewer to travel through mental landscapes and spiritual abstractions, with a relentless commitment that makes him one of the most singular voices in contemporary Indian art. Manu Parekh is among India's best-known modern artists and one of India's most inventive painters. His works feature beloved places like his iconic Benaras series, or the energies of interconnectedness that one can see in his series about the third eye. To interpret the art of Manu Parekh, meticulous attention was paid to creating layers revealing many hidden details that invite individual exploration.
What was Maria Grazia Chiuri like?
We have been collaborating with Maria Grazia Chiuri since 1995, with a common passion for excellence in handcraftsmanship, and preservation and innovation of indigenous craft communities. Working with her has been the most rewarding experience and I learn from her curiosity, compassion, and creative genius every day.
Since her arrival at Dior, Maria Grazia Chiuri has sought to collaborate with numerous women artists from around the world: dancers, choreographers, musicians, poets, photographers, film-makers, and visual artists.
This latest immersive collaboration, where we collectively sought to interpret the artists' paintings and render them in exquisite embroidery and textile techniques was aligned with the couture lineage of Dior in parallel with the rich heritage of Indian craftsmanship.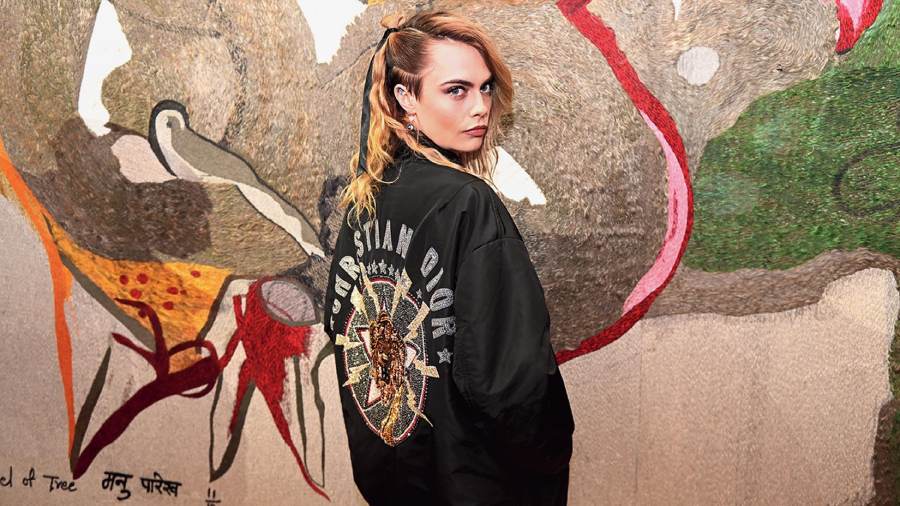 Cara Delevingne at the show, with one of Manu Parekh's translated canvases.
What did you take away from the show?
The Christian Dior Haute Couture spring-summer 2022 show was surreal and breathtaking with a celebration of the dimension of the atelier that Maria Grazia Chiuri wished to explore in which art and craft meet through a shared language. For me the biggest takeaway from the show was how truly path-breaking it was in its transparency and recognising the contribution of Indian culture and master craft to couture. It is, in fact, the most meaningful way to craft preservation.
Are more collaborations in the pipeline?
Yes, we are in the process of collaborating on a very special limited-edition series of multidisciplinary textile art installations with Madhvi and Manu Parekh, which will be unveiled in the latter half of 2022.
What are your plans for Chanakya?
Chanakya is inspired by timelessness and rarity. Our journey to showcase the age-old heritage of hand embroidery began in 1986 in Mumbai, India. At Chanakya, generations of art aficionados, preservers and advocates of this craftsmanship have worked toward a singular aim: to ensure that the magic of artisans lives forever. Collaborating with global fashion houses to extensively research, design and produce high-fashion garments and accessories, we seamlessly combine their signature style with our artisan's core, inherent and inborn talent.
Over the decades, Chanakya has been honed with the experience of made-in-Italy know-how, rapt attention to perfection and quality, and our own artistic sensibilities and craftsmanship. Our philosophy at Chanakya is to combine the finest material with impeccable craftsmanship to consistently deliver world-class surface ornamentation.
In 2016, Chanakya established a foundation and a non-profit school of craft dedicated to craft, culture, and women's empowerment. Today, the school has educated 470 women, giving them autonomy over their lives and their future.
Our plans for the future at Chanakya and at the Chanakya School of Craft (CSC) revolve around the preservation of exemplary Indian master crafts and hand embroidery and to invest in their reinvention and innovation.
At CSC, we combine design thinking tools with ancient Indian wisdom to empower women and to spark their creativity. We are passionate about creating a more inclusive tomorrow that consciously preserves communities, craft, and our environment.