The mini trunk is all the rage and it has all the room.
It has been the breakout star of the last runway season since compact, work-friendly carry-alls are gaining ground over slouchy totes or shoulder bags at the moment. Labels like Louis Vuitton, Chanel, Stella McCartney are also pushing the utility chic memo with adaptable trunk silhouettes for post-quarantine styling since packable, androgynous bags work for commute, grocery runs, after-dark dos and also fit into a business environment.
But there's more to it than that; the reinforced corners and sculptural edges that are found in both hard and soft-body trunks are big selling points for buyers. Organised interiors make the trunk bag a great everyday convenience bag since it's easier to compartmentalise your essentials and keep them de-cluttered, in a Marie Kondo fashion if you will.
Kolkata-based designer Rukmini Guha whose label Tan & Loom introduced a line of chic, vintage-inspired leather trunk slings this year believes minimal, pared-down versions of vintage silhouettes are trending big. The designer also insists that the need for utility is influencing most fashion buys.
"We've observed over the last year that people are okay with spending as long as they find products that are useful and versatile. Even if something is really well-made, buyers may not go for it if it doesn't serve them well. For our newest line, we've worked with vintage influences and created minimalist iterations of old-school silhouettes. For instance, we've re-imagined retro box-style bags that have been updated to be versatile so they can be styled like slings," shares Guha.
Tan & Loom's petite, hard-bodied trunk slings come in two different sizes, regular and mini and they are available in four warm neutral hues. They're sharp, structured, dressy but also really effortless (Tan & Loom's bags are made with vegetable tan leather which only uses natural tannins and is more environment-friendly than most animal leather variants).
For his debut collection, Louis Vuitton's creative director Nicolas Ghesquière explored the fashion house's 19th-century trunk-making origins to update the iconic Petite Malle trunk bag as a contemporary piece. The Parisian luxury powerhouse keeps re-equipping its erstwhile trunk silhouette every year, and it certainly has its takers.
"The Petite Malle is one of our biggest sellers this year. It helps that it's a statement piece, a party bag so it appeals to almost every demographic, especially the 20-25 age bracket. It also helps that it's available in two budgets; the soft-body version is priced at around Rs 2,12,000 while the harder version costs something around Rs 3 lakh," reveals Sugam Sadhna, a consultant at Louis Vuitton.
For the Fall-Winter 2020-21 line, Ghesquière updated the Petite Malle with a remarkable architectural print by Piero Fornasetti. Meanwhile, Virgil Abloh, artistic director of Louis Vuitton's menswear introduced the trunk to streetwear by adding colourways like taurillean orange and graphic blue to the classic boxy silhouette.
Recently, Anushka Sharma was spotted carrying Abloh's monogrammed mini trunk made of cowhide leather, which is incredibly body-friendly since it can be adjusted in length.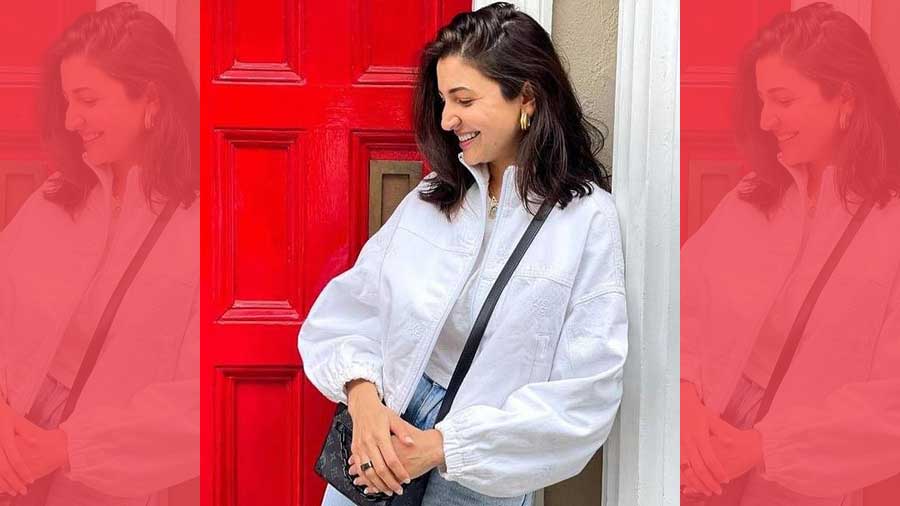 Anushka Sharma styles LV's soft-body trunk sling for an off-duty look in London
Instagram
In August this year, 200 creatives, including architect Sou Fujimoto and designer Samuel Ross reinterpreted the classic LV trunk to mark the bicentennial birthday of Louis Vuitton. "I found inspiration in the symbolic definition of a trunk that spans ages and eras – a material witness to immaterial events like all the secrets and all the essential things you bring with you on a trip," shared French artist Amande Haeghen who re-imagined the trunk as a minimal, sculptural statement.
The most famous trunk loyalist Carrie Bradshaw seems to have ditched hard-bodied carriers for totes and wicker satchels in the much-anticipated Sex and the City reboot. However, icons like Hailey Bieber, Sonam Kapoor, Lady Gaga, Meghan Markle are all for the trunk's chiselled silhouette, while homegrown labels like Jaypore, Ayushi Kanoi's Lovetobag and Kaabia and Sasha Grewal's luxury label Outhouse are opting for sculpted mini carriers that can serve as a cardholder on hookah nights or help you store your chapstick at Sunday brunches.