It has been a love-hate relationship with printers since I got my first one in 1993, a 24-pin dot matrix from Epson and it has been a downhill journey the last few years with inkjet printers sporting dubious cartridges. There have been spots of joy with the two laserjet printers that I have owned in the past — low price-per-page, fast printing and so on but each time the toner cartridge had to be replaced, somehow it felt like a hassle. Recently, a review unit arrived from HP. It offers a marked improvement over what I usually come across. Called HP LaserJet Tank MFP 1005W, it's a perfect purchase for small- and medium-sized businesses as well as for home office in case you need to print a lot of documents.
Setting it up
Getting the printer to work hardly takes five minutes but there are caveats when it comes to discussing "how long". First, the packaging ensures the printer is snug in the box but to take it out of the box a bit of effort has go in because of the way the styrofoam mesh is designed. It's manageable and nothing was broken.
The printer itself looks compact and well-designed. Connecting it to the network wasn't an issue. All the functions are accessible using the buttons that are on the top. A quick run through — there is a button for Wi-Fi on and off. The button below that lets you choose the number of copies you want (in case photocopy is on the mind) and doubles as the ink brightness/darkness button. The next option is a nifty one — allows ID card printing (you can print both sides of an ID card on the same side of the page). Moving on, there is the 'information' button, followed by resume, cancel and power on/off buttons.
This should give you a fair idea of what the printer does. The Wi-Fi option is of interest and final results are quite good. But setting up the Wi-Fi connection takes time and effort. First you need to get the password to connect to the Wi-Fi, which is accessible by pressing down on the 'resume' button for five seconds. Next connect the phone to the printer via the Wi-Fi section. Load the HP Smart app, which I must say is versatile and has a lot of features if you are into photo printing. The results are as expected but the path taken can be made simpler.
Flawless output
The biggest feature of this printer is the toner tank and how it gets refilled. There is none of that toner cartridge here, which often gives problem. Instead, you get mess-free self-reloadable Toner Reload Kit (TRK). Though the review unit came with enough toner to last a long time, TRK can be unspooled in 15 seconds. Yes, that's how long it takes.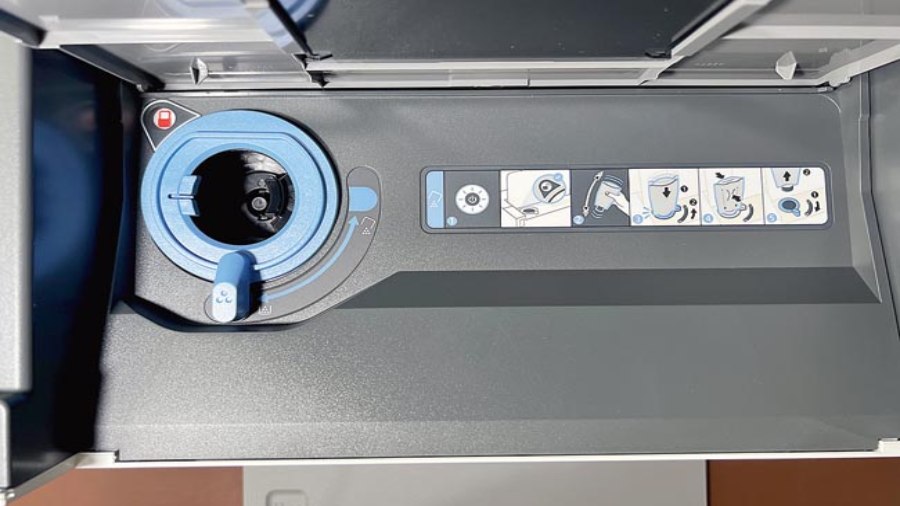 The entry point for the Toner Reload Kit
Getting a few thousand pages out of the toner is not an issue with cost being as low as 29p per page and you get 22 pages per minute (letter/A4). Cost per page depends on how dark/light you want prints to be. There are two options for TRK — one gives you 5,000 pages (Rs 1,464 on the HP online store) and the other is 2,500 pages (Rs 887 on the HP online store), which is reasonable as well as hassle free. You will get 5X more toner page yield compared to standard cartridges. During the review we were obviously not able to make the preinstalled toner run dry but so far the output has been steady. The company says you will be able to print up to 50,000 high-quality pages without drum replacement.
Besides printing quality, there is not much in way of maintenance and warm-up time is just a few seconds. The paper input tray can hold 150 sheets of A4/A5-size paper while the output tray is around 100 sheets. Needless to say, there is a scan-copy area.
Should you get it?
In case you are looking at a printer to get projects done for school, this will not be the perfect choice because the output is black and white but if you are into a profession that requires a lot of printing at home — like lawyers or chartered accountants — this makes for a great purchase. For that matter, it's also great for college-going students as well as teachers who need to keep everything documented. As for small- and medium-sized businesses, it's a perfect fit.
We found the HP LaserJet Tank MFP 1005W flawless and mess free to the point of easily setting a new benchmark for laser printers. To extend the life of the printer at homes with furry pets, keep the machine covered when not in use because you don't want hair getting into the printer. Given the size, it fits almost anywhere.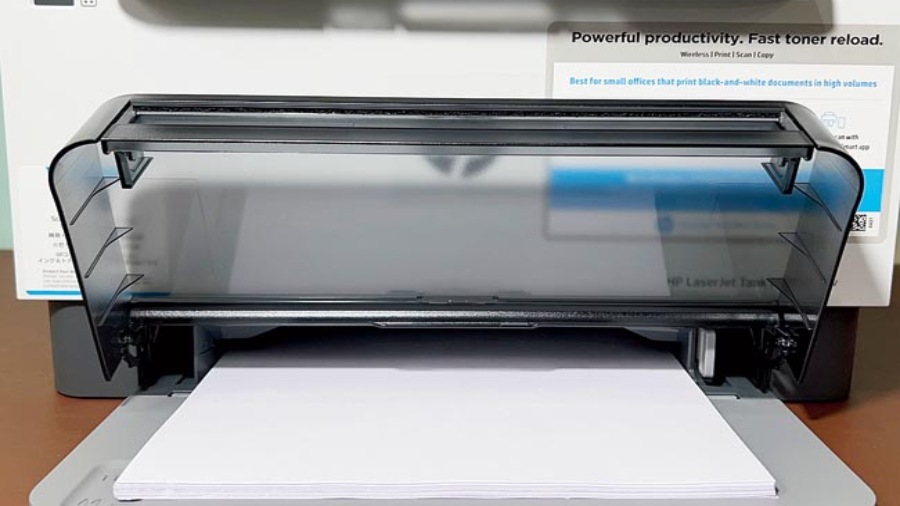 Paper input tray
At a glance
Device: HP LaserJet Tank MFP 1005W
Price: Rs 23,695
High notes
• Maintenance-free printer
• Self-reloadable Toner Reload Kit is cost effective as well as mess free
• Fast printing
• Low warm-up time
Muffled notes
• Wi-Fi set up can be made easier
• Styrofoam packaging can be made simpler for ease of installation