When Jane Fonda swore off shopping in 2019, Hollywood was flabbergasted. Though thrift buying has found its place in the luxury spectrum and pop culture (shows like Euphoria and the SATC reboot are relying on thrift pieces, over custom ones), Fonda's commitment to helping reduce fashion waste opened up a bigger discussion. Do we all need to stop buying new clothes?
"I grew up when consumerism wasn't ― didn't ― have such a stranglehold over us," the actor said at a climate action rally in Washington, where she wore a sweeping red coat.
"You see this coat? I needed something red and I went out and found this coat on sale. This is the last article of clothing that I will ever buy," she told the crowd. "The fossil fuel industry is doing more and more and more to harm us and our environment and our young people's futures."
It's no secret that fast fashion relies heavily on fossil fuels and according to a 2019 report, the fashion industry produces 10% of all annual global carbon emissions. It's also the second-largest consumer of the world's water supply. It's impossible for the consumer to know how exactly they're contributing to the toxic crop-to-consumer chain. Going for pre-loved, thrift and resale clothes instead of new ones is the surest way to reduce carbon footprint and keep landfills from filling up with textile waste.
"I think the pandemic made us all see how much we had to waste," says Mridula Pai, who owns south Kolkata's Mono Calcutta and started her thrifting label Love Me Twice in 2020. "People also started cleaning out their closets because they realised they had so many wonderful things that they're not using but it could appeal to someone else. That's how Love Me Twice began. Initially, we sourced pre-loved products for LMT from friends and family. Over the past few months, we've opened this up to anyone who would like to give a new lease of life to their clothes. The growing awareness of sustainable living has fuelled this growth.  I think this is happening all over India, not just in Kolkata," Pai adds.
Poshmark, a leading social marketplace for pre-loved clothing introduced its organised, social and sustainable shopping experience to India last year. Homegrown Instagram lines like Bombay Closet Cleanse and Lulu Thrift have managed to find a loyal buyer base. 
Designers too are confident about thrift's significance in ethical luxury. For her northeastern label Otsu Clothing Co, Asenla Jamir handpicks vintage and rescued fabrics and up-cycles them with Naga textiles. There's no denying that thrift culture has found takers in the country, but the stigma around buying pre-worn items hasn't disappeared. To ease buyers into second-hand shopping, Pai started a thrift rack at her south Kolkata studio. 
"When we launched Mono Calcutta two years ago, Karuna (Ezara Parikh) and I were sure that we wanted to have a thrift rack as part of our collective. It stemmed from us making conscious choices as individuals. We were really excited to introduce it to the city and to help 'normalise' it," Pai tells us.
It's easier to authenticate high-end products when it comes to second-hand shopping. But gently-used luxury handbags or coveted designer picks aren't changing hands that often. Every once in a while, you'll spot something rare or vintage in the thrift circuit that you'll want to snag. But the most viable pre-loved picks are those that have been designed to be durable, so they can go through 'multiple lives.' 
"We mostly purchase the pieces right off the people who want to contribute to LMT. We take the risk of buying it off them, though we have to deal with the unpredictability of how quickly those pieces will sell. The first thing we look for is, of course, quality. Most of our stock is in pristine condition. We also do an aesthetic check, of course," Pai explains.
LMT's line-up offers a diverse selection of workwear essentials, cocktail numbers, printed picks and some interesting options, like a pair of watermelon pink Juicy Couture pants with tags intact and a party number by popular British designer Karen Millen. Sarees are the easiest pre-loved things to buy and LMT offers an impressive collection, featuring Tussar, Matka silks and khadi numbers.
"We've had a fabulous response to our winter jackets and loungewear, our pre-loved sarees are popular too. Our bags tend to sell out pretty quickly, as do our vintage silk ties. Also, a lot of people ask for more of what has already been sold. Unfortunately (or fortunately) each piece is unique, so there's very little chance of scoring the same piece twice!" Pai tells us.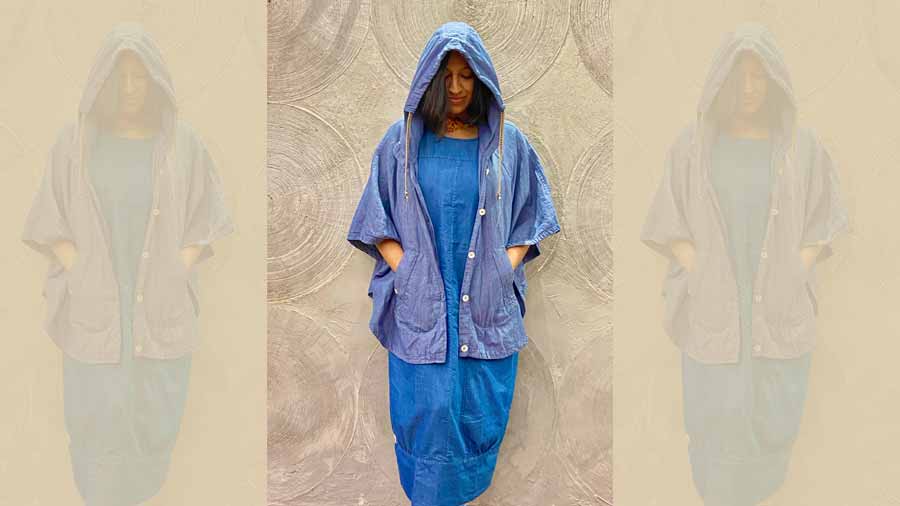 Pai sports a pre-loved denim hoodie from LMT's line-up
Pai started stocking up on pre-owned pieces during her travels, from countries where thrift culture has more visibility. "I have friends in Germany who never buy new clothes for kids because it doesn't make sense (as they grow out of them). It was during my travels that I began collecting thrift pieces, in places where it's more readily available. When we started a thrift rack at Mono, no other multi-brand store in India had thrift as part of their regular offering (not sure if any of them do even today). Kolkata had no dedicated thrift platforms, Bengaluru had maybe a couple and there were a few in cities like Mumbai, of course. But things are picking up now," Pai shares.
It's easy to scale up a focused thrift platform once it has garnered enough engagement. Pai, for instance, wants to expand LMT with targeted sections. "We've just launched our online store www.lovemetwice.in to reach thrifters across the country, and we hope to grow this platform. Coming up in the future are pre-loved celebrity closets, Love Me Twice Luxe, and a children's section as well, because it makes perfect sense to buy pre-loved clothing for kids, especially in the growing years!" Pai shares.
Are you a thrift newbie? Here are three ways to get started:
Curate a pre-owned capsule wardrobe: Quality essentials that are durable, repeatable and pairable such as denim shirts, black pants, monochromes and neutrals
Go for traceability: If you've zeroed in on a thrift store or a resale platform, try communicating with the curators to learn more about their sourcing process, which will tell you where their stock is from or how they buy their pieces
Start with shoes, bags or ties: They're easier to shop virtually and also come with fewer fitting anxieties. So, try bags or pre-owned shoes or belts if you're shopping second-hand for the first time