Historically, Diwali can be traced back to ancient India. There are various legends and origin stories about the festival of lights. In each legend, myth, or story of Deepawali lies the significance of the victory of good over evil. So, the very essence of Diwali is to celebrate new beginnings. And the best way to celebrate it is by letting go of the old and embracing the new. Thus the ritual behind cleaning our homes and doing something you have never done before. This can be anything — work on self, making a new dish for family, gifting eco-friendly, making Diwali decor, designing your own outfits, or celebrating with the less privileged. So, let's take a look at creating a few new vibes at our homes this Diwali:
Toran and Genda Phool
Did you know that the word "toran" in Sanskrit means to pass? We use one at our home entrance to welcome Goddess Lakshmi. The earliest torans were made with marigold flowers and mango leaves. Marigolds is also called "herbs of the sun". The fragrance helps in mood uplifting and also acts as a great insect repellent .The vibrant colours mark new beginnings and prosperity. The mango leaves absorb the polluted air and negativity. So let's get lots of fresh marigold garland from the local flower shop and give your home entrance a traditional vibe. Use your imagination and get creative.
Make your own Sweets
Diwali is, of course, incomplete without sweets and dry fruits. Most of us send sweets to friends and family. They mostly contain refined sugar, flour and unhealthy colours. This year, lets give it a healthy makeover.
Substitute powdered sugar with organic jaggery, date syrup, or coconut sugar.
Use almond flour or gluten-free flour instead of white flour.
Replace milk with soy, coconut, or almond milk. Alternatively, there are many vegan recipes available online too.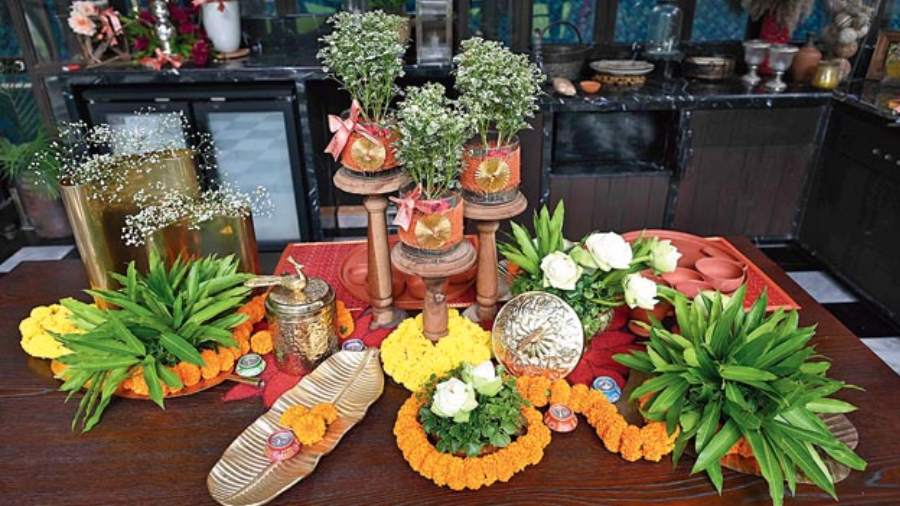 Traditions and themes
If you love being the host then add a theme. Your decor, dishes, and attire can revolve around it. Let's think out of the box and get creative. Let's add some excitement and have some fun .
Go South
Give yourself a new look by wearing your saris the South Indian way (remember Deepika Padukone in Chennai Express). From the decor to the food get imaginative and creative:
Make rangolis using rice powder. A South Indian design is a geometric figure made using strokes and dots.
Add some colour by using flower petals.
Decorate with marigolds, mogras, and banana leaves.
Place a urli with water, flowers, and floating candles.
Get brass lamps; if not, then paint earthen ones golden.
Serve dishes like Hyderabadi biryani, dry mango kuzhambu, vadas, rasam, coconut chutney, and paal payasam. Add banana leaves to your crockery/platters for some authenticity.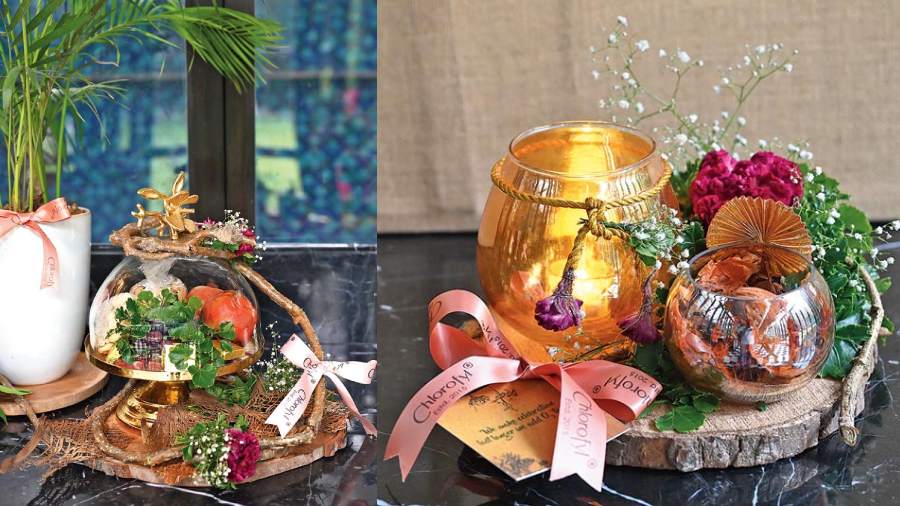 Casino Vibes
Add glamour and gold.
Light up rooms with rice lights, diyas and lamps.
Lets use red, white, and gold and a dash of black to get some casino vibes.
Fill up your vases with white lilies, red roses.
Use black and gold place mats or knick-knacks and place them around the room.
Spruce up various corners of your house with vases of baby's breath and miniature roses.
Your card table can have some money plant or jades with red stones.
Add some gold glitter to your diyas and candles.
Serve caramel cashews in shot glasses, seasoned crackers, and avocado dips, marshmallow pops, taco pinwheels.
Add O2 to your Celebration
This year, add natural elements to your gifts. And what can be better than a gift that grows? Yes, I'm referring to potted plants. Here's what your hamper can contain:
Indoor plants like jade, lucky bamboo, or money plants can be a good option, as they invite wealth and good luck to our home.
Keep a box of healthy sweets or a box of dry fruits.
Add painted diyas, lamps, candles, flowers.
When you combine in all the right elements, from decor, to greenery, to the beautiful floral additions and top it off with beautiful company, it's bound to be the best Diwali. Let's take this fortunate time to celebrate and spread smiles, and extend it even to the less fortunate ones.
So join me and let's make it a green Diwali. As I love to say: Yeh Diwali, Chlorofyl wali!
Monika Poddar is the owner of plant boutique Chlorofyl
Pictures: Pabitra Das