The art of storytelling is slowly getting lost. Some young people from the city, however, are not ready to give up as they have been trying to save the tradition of Urdu storytelling — Dastangoi — and reinvent it for contemporary audiences.
Kolkata-based East India Dastangos, a brainchild of Palash Chaturvedi and Zahid Hossain, has come forward to keep alive this tradition that was one of the key attractions of the Mughal court. 
Members of East India Dastangos enact a story to viewers through gesticulations and voice modulations. From folktales twisted to suit the modern taste to expressive facial expressions, they use everything in their repertoire to convey the joy of storytelling.
Renaissance of Dastangoi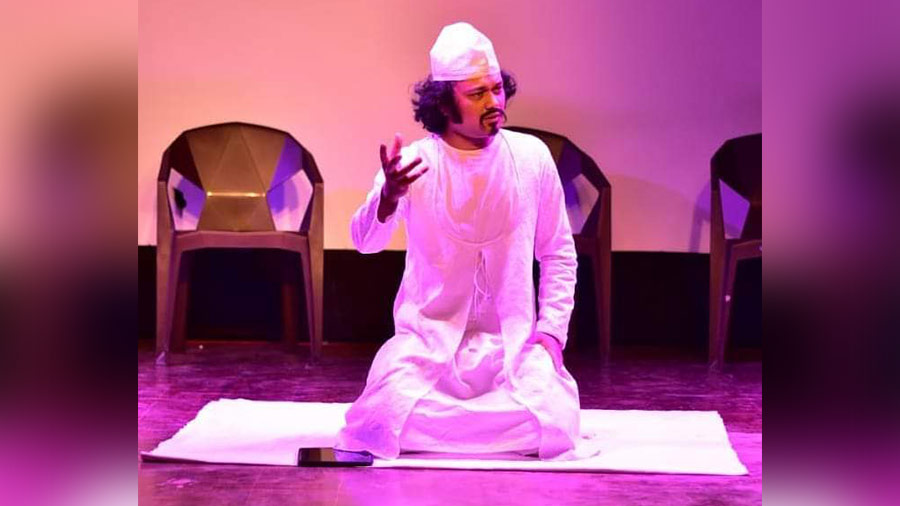 Zahid Hossain performs at a venue.
Palash Chaturvedi
The popular art of Dastangoi began to lose its lustre with the decline of the Mughal court after Sepoy Mutiny in 1857. 
''Munshi Naval Kishore compiled 46 volumes of traditional Dastans from Tilism-e-Hoshruba, a Persian fantasy tale. These volumes end with the death of Mir Baqar Ali, the last great Dastango, in 1928.  Poet Shamsur Rahman Faruqi and his nephew Mahmood Farooqi resurrected this form in 2005," said Palash Chaturvedi.
"A few performances were held in Kolkata around that time. But frequent shows by local people were needed to popularise this art form in the city. That's why we decided to form a group five years ago and are still performing in the city and elsewhere,'' he explained, tracing the origins of East India Dantangos.
How it all began and thereafter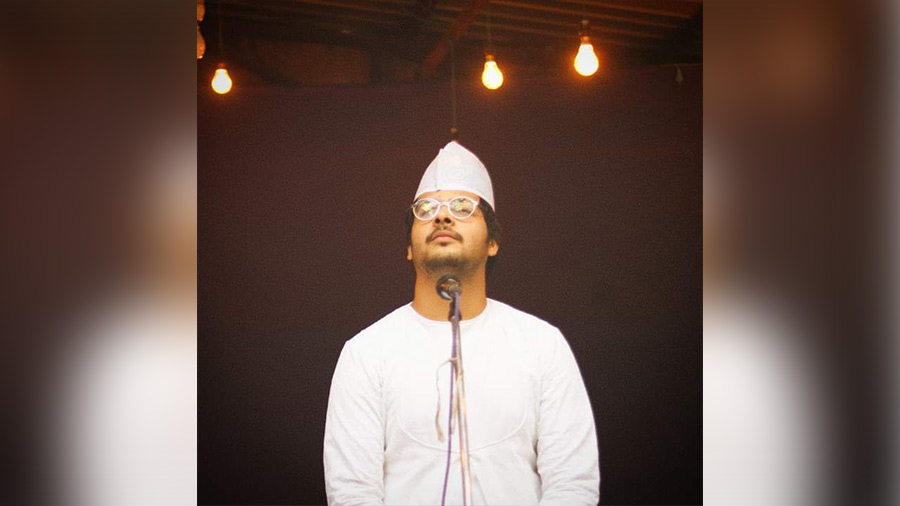 Palash Chaturvedi in performance.
Palash Chaturvedi
Right at the beginning of 2017, Chaturvedi and Hossain started rehearsing for a Daastaan on the Partition and had their debut performance later that year. "East India Dastangos had its first public show — Daastaan-e-Chauboli — on July 7, 2017. The name of our group is a nod to the cultural impact of our recent rulers who made Kolkata their first capital,'' said Chaturvedi.
Explaining how stories help people grow, Chaturvedi said they passed down culture and wisdom through generations. "The childlike glee on the faces of our audience, those pure smiles, the moment when the entire audience becomes one — this magic keeps inspiring us to perform despite a thousand hardships.'' 
Today, the East India Dastangos is a team of 10 people. They are: Anuja Kumar, Swati Sharma, Rahim Pirani, Gurmeet Singh, Shelly Desai, Zahid Hossain, Sukrit Sen, Palash Chaturvedi, Atif Ali Khan Saahab and an eight-year-old boy, Ishmeet Singh.
Scripting and performing Dastaans
What started in Kolkata has since then travelled to other parts of the country like Delhi, Andhra Pradesh, Banaras and Maharashtra. This form of storytelling in Hindustani khari boli is slowly carving a niche for itself in the map of India. 
''It takes immense skill and knowledge to actually write something close to a Daastaan. We have worked on the collection published by Mahmood Farooqui, Taqseem-e-Hind, Chauboli and Mantoiiyat. We have performed before idle sitters on park benches and family get-togethers,'' said Chaturvedi. 
Speaking more about the art form, the co-founder of East India Dastangos was adamant that Dastangoi had to be practised as a discipline. "It is more like a Jugalbandi between two storytellers. Initially, we read the script multiple times and mark the transitional phrases. Then we discuss different aspects of the story, work on pronunciations and study  references. Our understanding actually grows with every performance. We also try to incorporate new elements as this is a very interactive form involving the audience.''   
Pandemic blues and the road ahead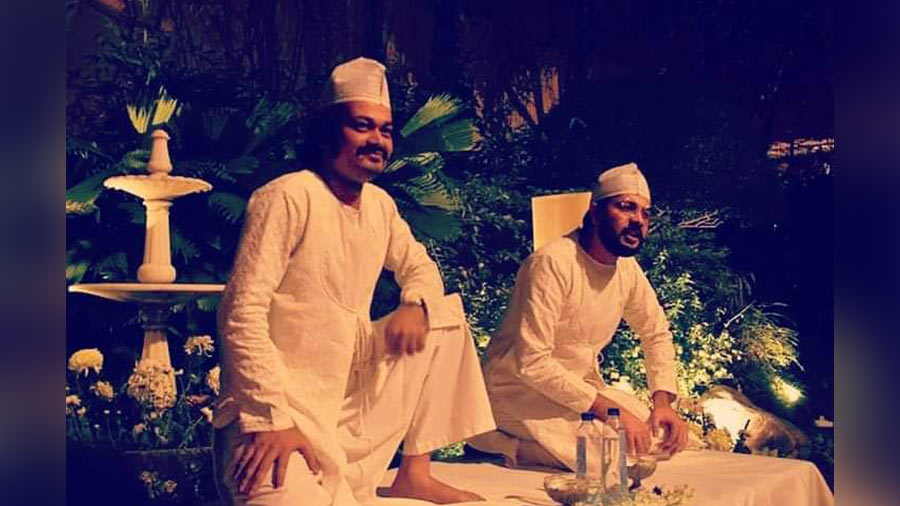 Members of East India Dastangos enact a story to viewers through gesticulations and voice modulations.
Palash Chaturvedi
Everything came to standstill due to the pandemic just when things had started to look up. "The year 2020 was disastrous. It took away some of the most revered gurus from us. But the show must go on as storytellers need to keep the flame alive," said Chaturvedi.
During the pandemic, the East India Dastangos experimented a lot with its content. Apart from opening its first musical on water conservation called Aab ka Khwaab with Living Waters Museum, the group is all set to announce its next Chalyugi musical called Aazaadi ki Zimmedari. "Our team is also working on Kaavad, another storytelling form that was prevalent in north India. We have also started experimenting with various classical dance forms.'' 
Stressing the importance of stories in modern society, Chaturvedi felt that storytelling sessions could help people connect to their roots. "From an economic perspective, Dastangoi is cost-effective, hassle-free and minimalistic. Hopefully, we will have many younger Dastangos in the city soon," he signed off.
Those interested to catch the next performance of East India Dastangos can keep an eye on Instagram @east_india_dastangos or check out their YouTube page for teasers.