It's her time to shine
Olivia Rodrigo deserved her moment under the sun. The 19-year-old has been the biggest musical discovery during the pandemic and finally she got the award she deserves. Almost after 15 months since her Drivers License took the Internet by storm, the singer proved she is much more than a "trend" on TikTok. Sort of reliving one's first teenage heartbreak, on a cinematic set of a dusty small town, Drivers License connects at many levels. She scooped up three gramophone trophies on Sunday evening — Pop Solo Performance, Best New Artiste and Best Pop Vocal Album for Sour. After she was presented the Best New Artiste trophy by Dua Lipa and Megan Thee Stallion, she said: "This is my biggest dream come true."
Dua Lipa (left) and Megan Thee Stallion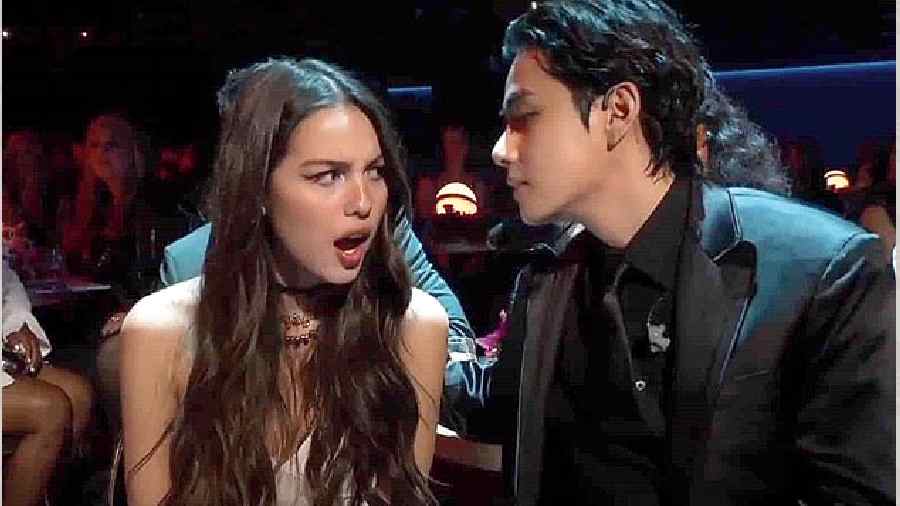 Olivia Rodrigo with V of BTS
Speaking of the presenters, Lipa and Stallion recreated the Whitney Houston and Mariah Carey moment from 1998 MTV Video Music Awards by appearing in matching outfits by Donatella Versace and the designer herself made a brief appearance.
We are not done. Olivia was again in the spotlight when BTS member V was caught on camera leaning in to Rodrigo's ears to whisper sweet nothings, shortly after her Drivers License performance. What did he say?!
Tribute to Ukraine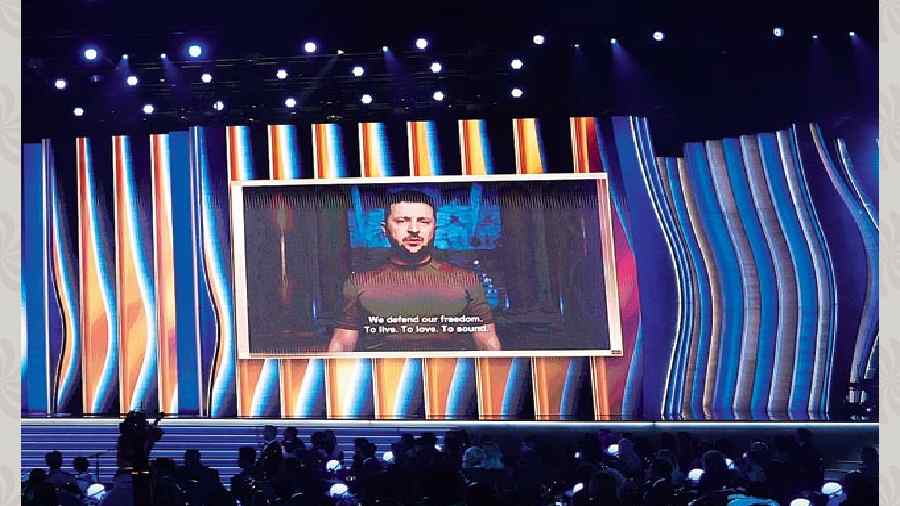 Ukraine president Volodymyr Zelensky appeared in a pre-recorded message
One of the highlights of the annual award ceremony was the appearance of Ukraine president Volodymyr Zelensky via a prerecorded video. "What is more opposite to music? The silence of ruined cities and killed people," he said.
This is in contrast to the Academy Awards last week when the president's aides lobbied for an appearance but the organisers did not commit to it. During his brief address, he spoke of the many musicians in his country who were fighting in the battle against the Russian invasion. "Our musicians wear body armor instead of tuxedos. They sing to the wounded in hospitals. Even to those who can't hear them. Support us in any way you can. Any, but not silence," he said.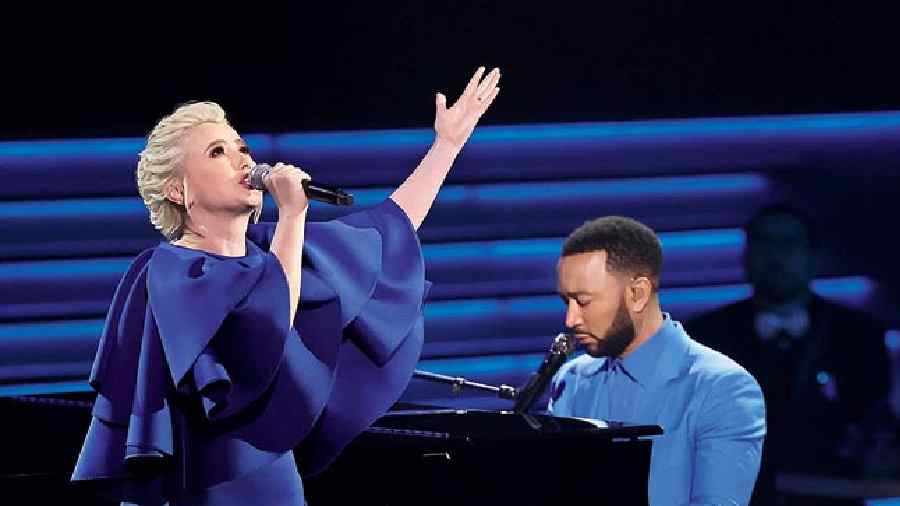 His speech was followed by one of the most powerful performances at the show — John Legend delivering his song Free, during which he was joined by Ukrainian singer, Mika Newton, and a poet, Lyuba Yakimchuk, who fled the country days ago. Also joining them was Denver-based musician Siuzanna Iglidan, originally from Odessa, Ukraine,
Some of the top musicians have shown their support for Ukraine by canceling shows and speaking out on social media. The list includes Bjork, Green Day, My Chemical Romance, the Killers and Iggy Pop. Meanwhile, three major music companies — Sony, Warner Music and Universal Music — have suspended operations in Russia in response to the war.
Two legends for Brandi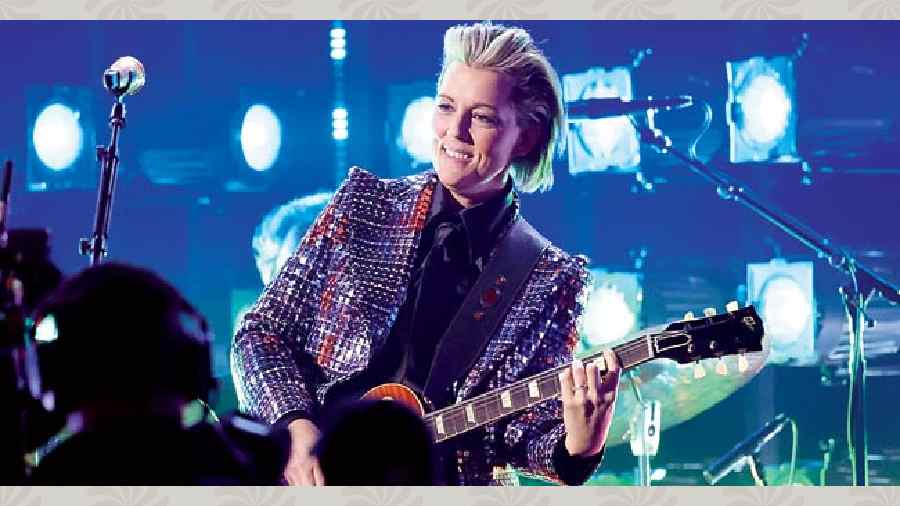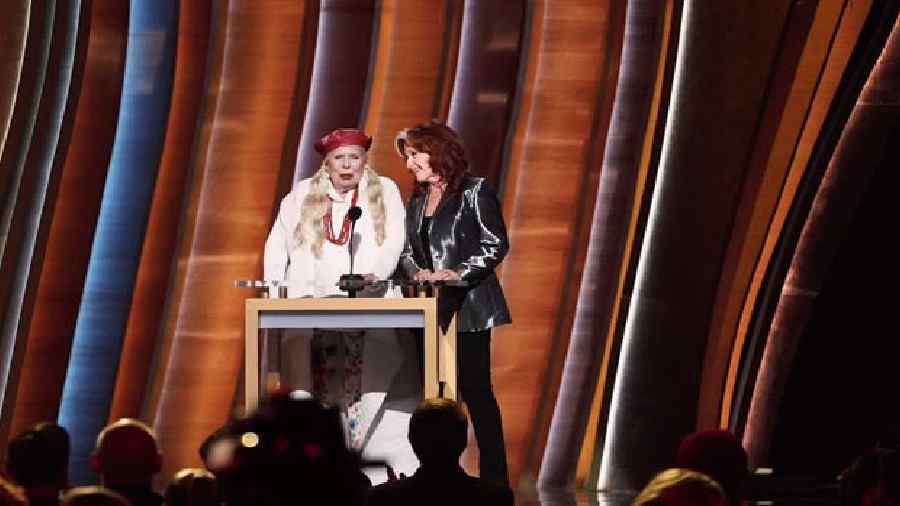 Joni Mitchell (left) and Bonnie Raitt
After a long time Joni Mitchell was seen on stage as she made an appearance at this year's Grammy Awards. Seven years ago, the 78-year-old suffered a brain aneurysm at her home in Los Angeles. At the ceremony, she was accompanied by Bonnie Raitt, who helped her read out a word from the telepromter. The two of them introduced Brandi Carlile, who delivered a soaring performance of her hit Right On Time from her album In These Silent Days. And what a performance it was. The
40-year-old singer started her gig seated alone at a piano. Once the intro was up, she picked up a Les Paul and joined her longtime musical collaborators the Hanseroth twins on an elevated platform. In the audience was her wife Catherine Shepherd.
From Bangalore to Vegas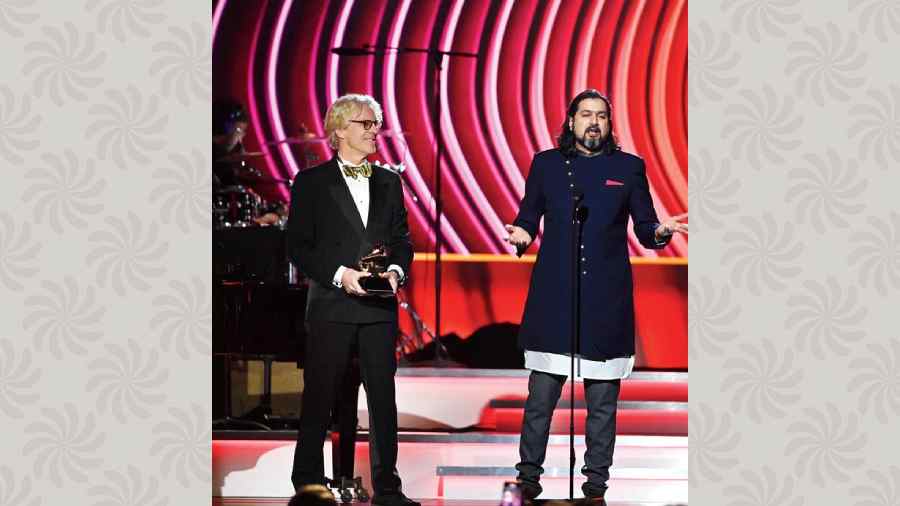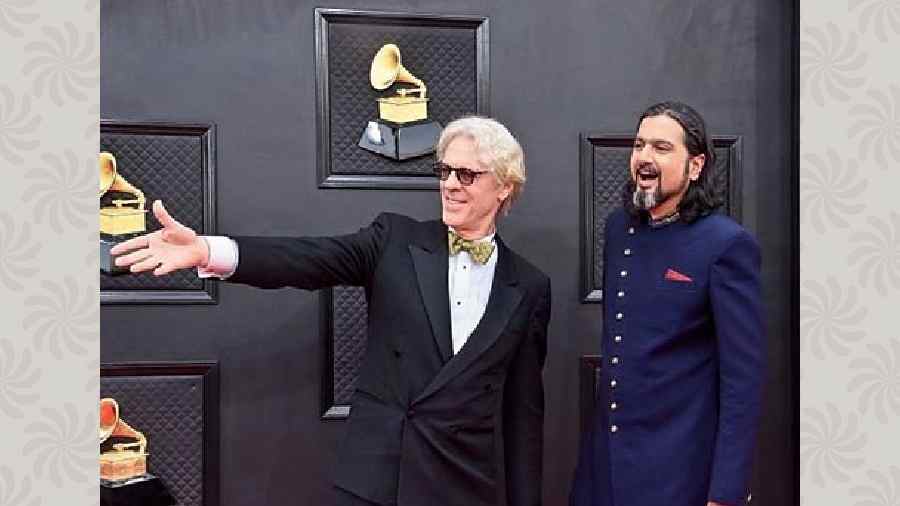 Ricky Kej and Stewart Copeland on the red carpet (left) and during the ceremony
Ricky Kej has been working steadily since his first Grammy win in 2015, resulting in his second trophy, this time for the album Divine Tides on which he has worked with Stewart Copeland. And he made quite an entrance with Copeland at the Grammy ceremony in Las Vegas.
The nine-track album Divine Tides is as diverse as the natural beauty that surrounds us, making it a celebration of the power of nature. Kej was born in the US but soon after moved to Bangalore. "I don't exactly know the reason but I guess they wanted to raise my brother and me in India…. If you're truly an Indian, it gets very difficult to live anywhere else. I guess my parents felt the same way," Kej had told us a few years ago.
Though he always wanted to be a musician but as a youngster he could reach his goal only after completing a deal he had made with his father. "Well, I never wanted to be a dentist; it was never my intention. My parents were very worried when I told them I wanted to make a career out of music. After a lot of arguments, I had to make a deal with my father that I would do my dental degree and once I get the degree, I could do whatever I wanted. I had to honour the commitment and as soon as I finished the degree, I got into music... full-time. I didn't practice for a single day," he had told t2.
The man has certainly chalked out a path of his own. He grew up listening to Michael Jackson and the first album he bought was Thriller. The music he makes is packed with improvisation and an amalgamation of influences from around the world.
One more for Tony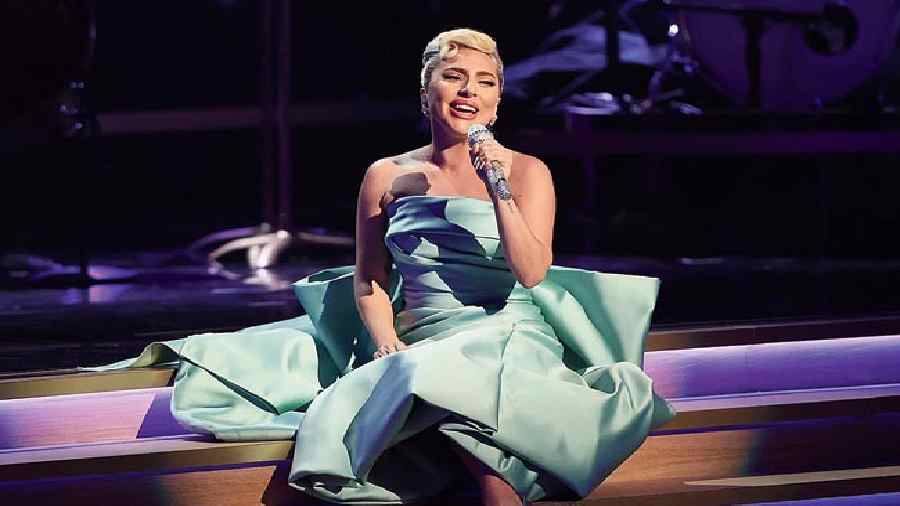 Jazz legend Tony Bennett recently said goodbye to performing live because of age. But his friend Lady Gaga was there to pay tribute to the music legend with a brilliant rendition of Love for Sale and Do I Love You. A short pre-taped video from Bennett introduced Gaga, who was soon on stage and was visibly emotional.
Vegas bling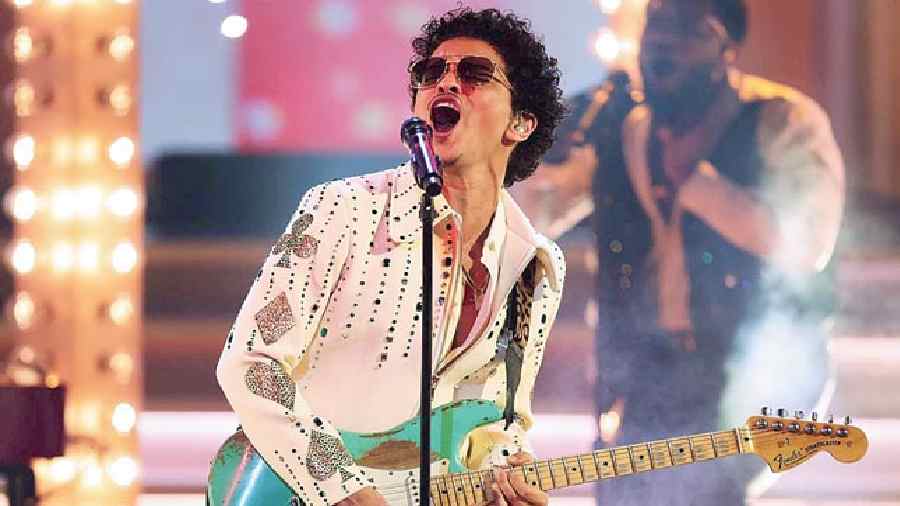 Bruno Mars of Silk Sonic
It's Vegas and the duo Silk Sonic knew what to give the audience. The duo of Bruno Mars and Anderson.Paak opened the show with an electrifying performance of 777. They even interpolated James Brown's Get On Up. The duo won Song Of The Year for Leave The Door Open.
Capturing the essence of the show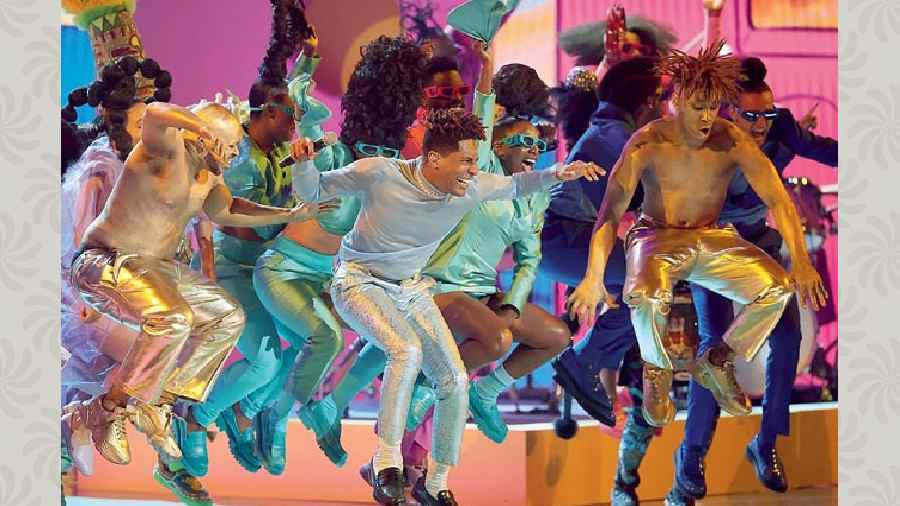 Jon Batiste had the most Grammy Award nominations and his five wins are much deserved. He is a jazz pianist who has received a lot of attention as late-night television bandleader of The Late Show With Stephen Colbert. Batiste captured the mood of this year's Grammy — a full display of music industry's might after Covid had put much of the concert industry on pause. "I believe this to my core," he said, taking album of the year. "There is no best musician, best artiste, best dancer, best actor. The creative arts are subjective and they reach people at a point in their lives when they need it most." His biggest win of the night was for Album of the Year (We Are) from which he performed Freedom. He appeared in a powder blue suit covered in a cape, but he ditched the vampire look after slaying a piano intro, and finishing the evening standing on top of Billie Eilish's table.
Smooth as Butter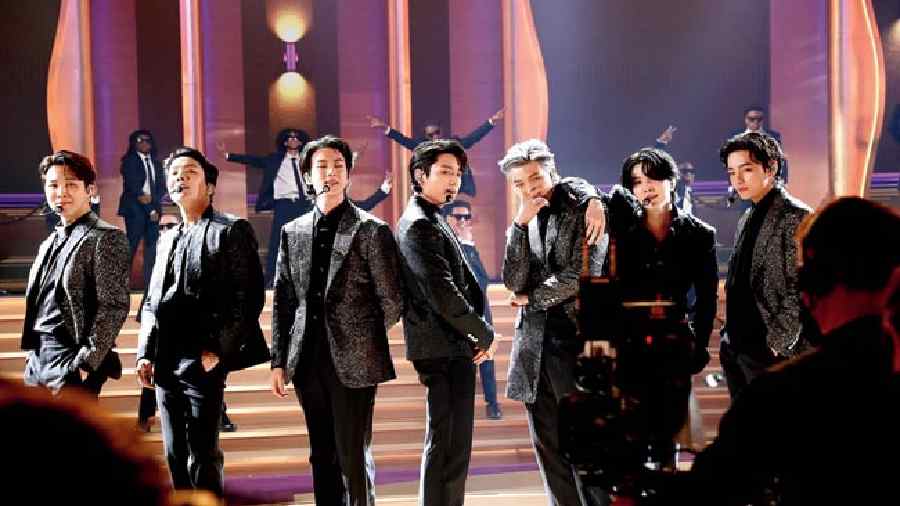 Grammy wouldn't have been fun had BTS not been around. The boys from South Korea were there to bring a lot of fun to everybody's life. They also brought their signature dance moves with a performance of their hit Butter. Jin, Suga, J-Hope, RM, Jimin, V and Jungkook had their performance appear like a heist and included a dramatic entrance from the ceiling and members hanging out in the audience before they all met on stage.
She was in the washroom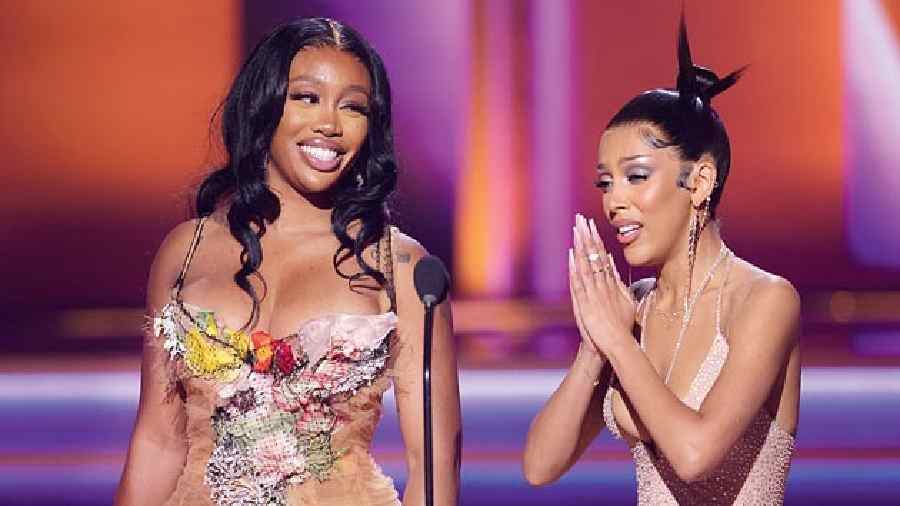 SZA was on her way to the stage to collect the Grammy for Best Pop Duo/Group Performance award for Kiss Me More. But where was Doja Cat? She was apparently in the bathroom but she made it to the stage on time: "I've never taken such a fast piss in my whole life," Doja said. Ultimately she delivered a very sweet speech which comes soon after all the talks of her deciding to quit music. "I like to downplay shit," she said.
No tribute for Lata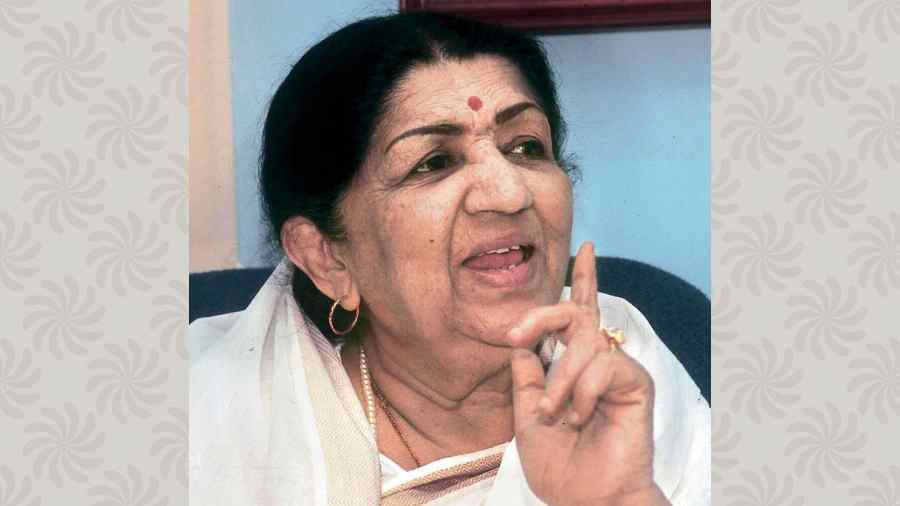 The Grammy Awards is a celebration of music from around the world and every year there is a segment called 'In Memoriam' to "reflect and salute the members of the music community". But Recording Academy failed to include Lata Mangeshkar on the list of musicians we lost. Also not included was Bappi Lahiri who had worked with several international musicians. The absence of a Mangeshkar tribute didn't go unnoticed in India as music enthusiasts took to social media to express their displeasure. In fact, Mangeshkar and Dilip Kumar were missing from the In Memoriam section at this year's Oscars too. Usually 40-odd names make it to the segment that's broadcast during the Oscars while a longer list is made available on the Academy's website. Mangeshkar was mentioned on the long list that was posted on the website but not Dilip Kumar.
Awkward moments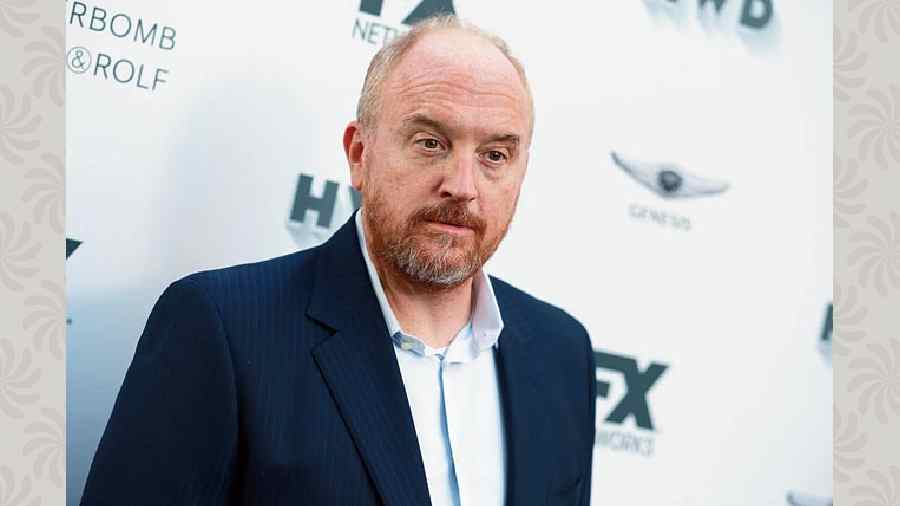 Award after infamy
Stand-up comedian Louis C.K., who admitted to sexual misconduct in 2017, has won a Grammy for Best Comedy Album (Sincerely Louis C.K.) for an effort in which he jokes about his misconduct and infamy.
Addressing Will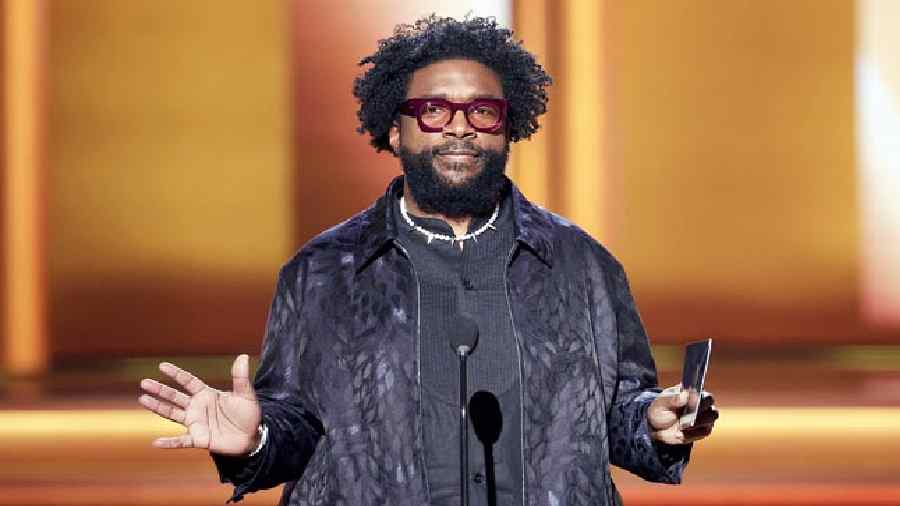 The world hasn't had enough of the Will Smith-Chris Rock moment from the Oscars. On stage to hand over the trophy for Song of the Year, Questlove playfully decided to address his experience at the Academy Awards. "I trust you people will stay 500ft away from me," said the producer who had an Oscar win for Best Documentary Feature for the film Summer of Soul.
Missing from action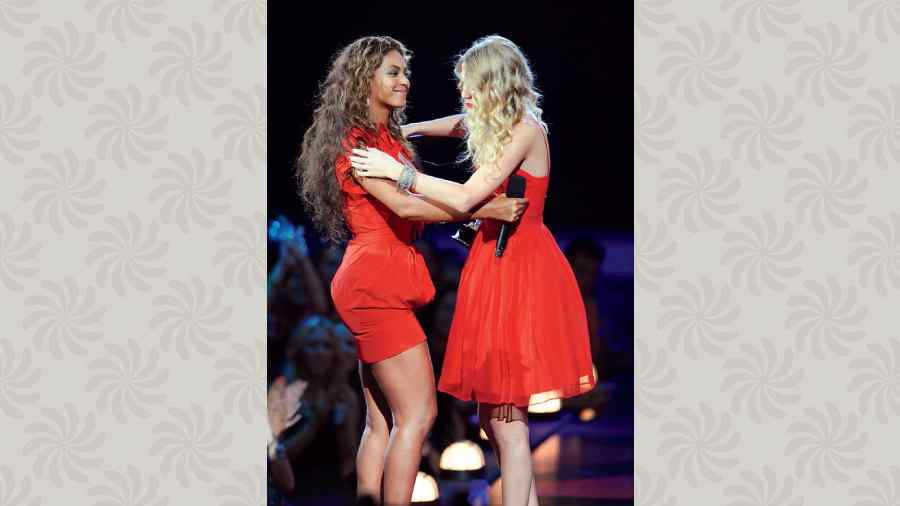 Many A-list nominees were missing at this year's Grammy Awards and the list includes Taylor Swift, Beyonce (file picture), Miley Cyrus and Ariana Grande.
Monotonous
Hosting duties were with Trevor Noah and his energy was enough to make an ice cream factory melt. Vegas is about glitzy vibes and Noah had none of that as he dashed through his punchlines. His best moment of the evening? Giving full credit for Silk Sonic's Song of the Year win to Anderson.Paak while explaining to his bandmate Bruno Mars: "We don't talk about Bruno." Yup, the song from Encanto.
Pictures: Getty Images