Kantha Utsav, in association with The Telegraph, is being hosted at The Kantha Store by Farah Khan and is showcasing a wide variety of fashion, accessories and home decor items featuring the intricate Indian traditional craft of kantha embroidery. This is the brand's second store after its first one in Fort William and is a one-stop kantha shop that opened recently. Keeping in mind the festivals of Diwali and Bhai Phonta that's around the corner, the exhibit has ample options and is also showcasing its new collection of wall-hangings, purses, gift items and jewellery. The brand's aim is to boost the economy and also the cultural heritage of Bengal through its showcase.
"The craft of kantha is beautiful but isn't very popular yet. My aim is to bring this beautiful art in front of people. I fell in love with Bengal, its people and the culture and have always felt that each and everything of Bengal is worth promoting, which definitely includes the craft of kantha. For me, the way to promote it was to first open a store and now the exhibitions that we are hosting are helping us to promote it further. I will keep promoting kantha until it reaches every corner of the world," said Farah Khan.
Glimpses from the opening day of the exhibition...
What: Kantha Utsav in association with The Telegraph
On till: October 31
Where: The Kantha Store by Farah Khan (7 Loudon Street)
Timings: 11am to 8pm
Price starts from: Rs 2,000 onwards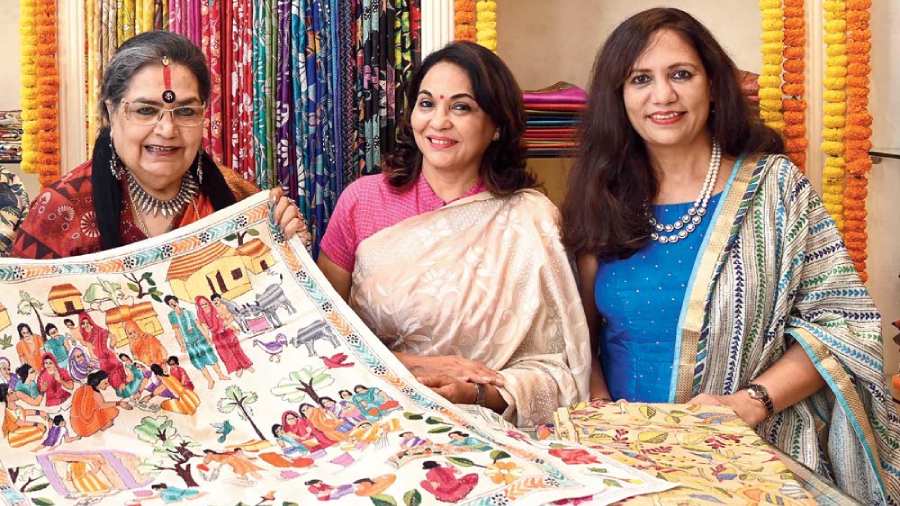 (L-R) Usha Uthup, Rotary club head Sheela Janakiram and Farah Khan on the opening day of the exhibition. Usha Uthup, who was the guest of honour on the opening day of the exhibition, said: "I've been following Kantha by Farah Khan for a long time. The kantha industry in Bengal is blooming yet again. I really want to congratulate Farah for contributing to this industry and bringing back the artisans of kantha. I loved her idea of using kantha in home decor because we usually see the use of kantha in saris and dupattas. I personally liked the wall hangings which will go best with the bedroom walls."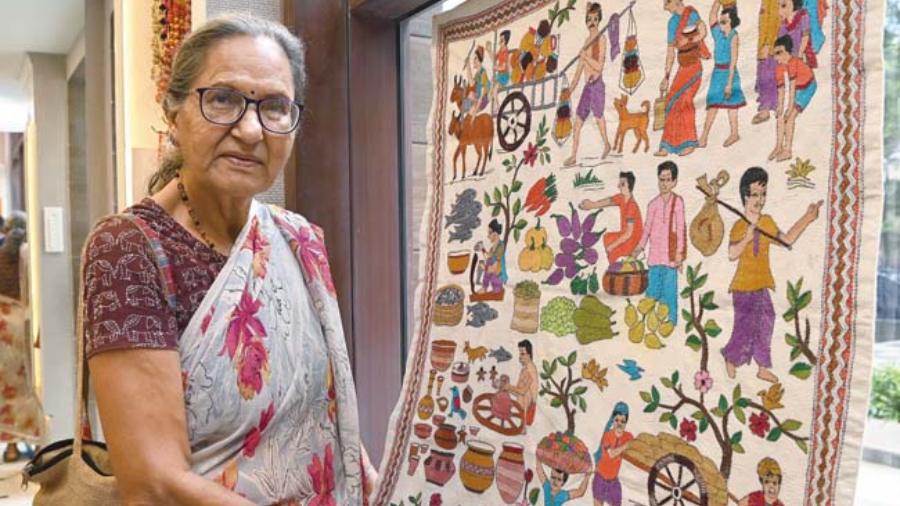 Lata Bajoria, head and owner of the Hooghly Jute Mills Company, dropped by. Her pick? A wall hanging from the special Diwali collection named the 'Haat Bazaar' denoting a busy market or haat of Bengal depicted with kantha embroidery.
The Telegraph Picks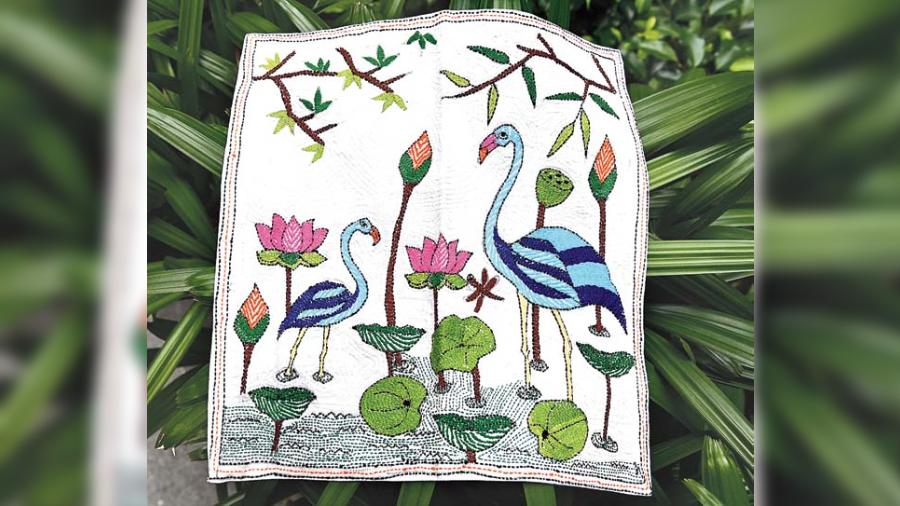 This intricately designed wall hanging denoting aquatic life, embroidered with kantha on white cotton, is perfect for gifting.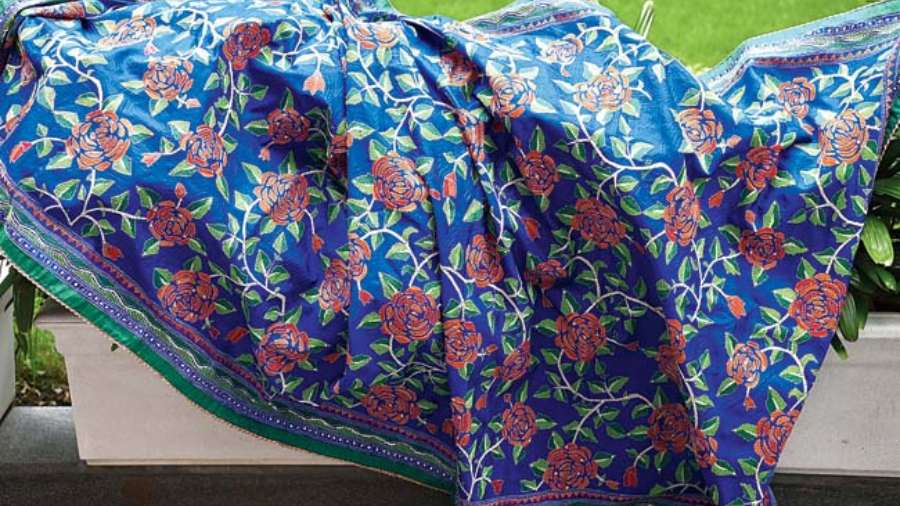 Add a regal touch to your Diwali evening look by pairing your simple cotton kurta with this royal blue kantha-embroidered dupatta with rose motifs.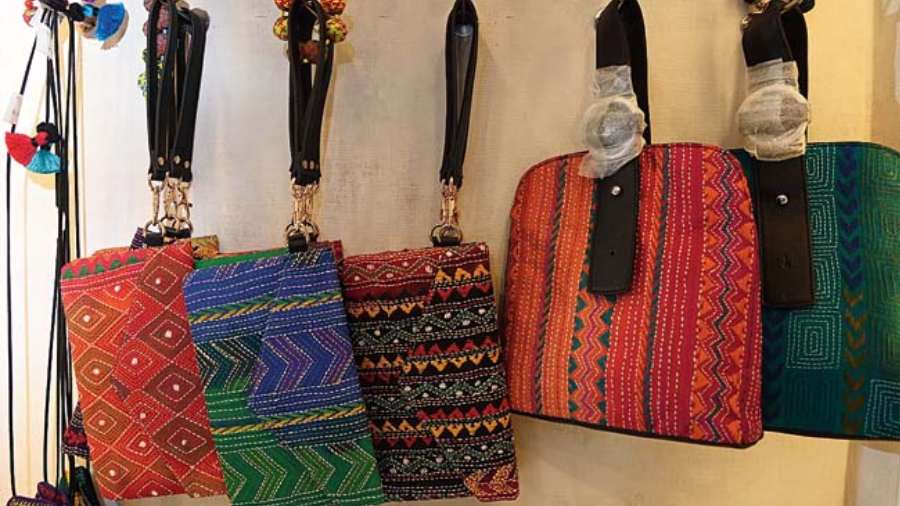 These kantha purses are versatile and can be paired with both Indian or fusion wear for a complete look.
Pictures: B. Halder