Kishore Kumar was a true allrounder — singer, composer, lyricist, director, scriptwriter and actor. It is, in fact, his acting prowess that added to his versatility as a singer.
Voice modulation was his forte and he was as much at ease singing for actors almost two decades older as for those more than three decades younger. Over his 40-year singing career, Kishore Kumar lent his voice to many actors from Ashok Kumar (18 years elder to him) to Govinda (34 years younger). Keeping in mind the actor he was singing for, Kishore Kumar had the unique ability to tweak his voice quality and tone — from a baritone to a soft voice.
His songs remain popular among the young and old alike, even 35 years after his death.
On Kishore Kumar's birthday, My Kolkata takes a look back at a few songs that demonstrate how Kishore Kumar adapted his voice to suit the actor.
'Neele neele ambar par' and 'Sara zamana haseeno ka deewana'
At 53, Kishore Kumar sang the melodious Neele neele ambar par for a 22-year- old Kunal Goswami, son of actor Manoj Kumar, in Kalaakaar (1983). The music was composed by Kalyanji Anandji, but this particular number took inspiration from a Tamil original composed by Ilaiyaraaja. Kishore softened his voice to match that of the young hero's. Kunal Goswami played a budding singer in the movie.
In stark contrast, Kishore Kumar matched Amitabh Bachchan's baritone in the superhit Sara zamana haseeno ka deewana from Yaarana (1981). As Bachchan, who played a singer, danced in his bulb-fitted clothes on stage, Kishore Kumar lent the perfect dynamism to this number composed by Rajesh Roshan.
'Aake seedhi lagi dil pe'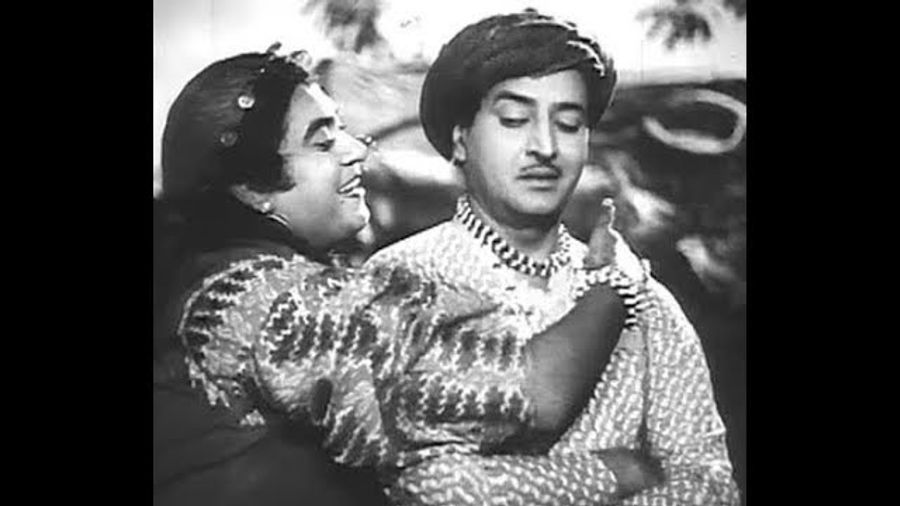 A shot from 'Aake seedhi lagi dil pe'
Kishore Kumar's eccentricity was epitomised in Aake seedhi lagi dil pe (Half Ticket, 1962), where he sang a duet with himself! Yes, both the male and female voices were Kishore Kumar's. Legendary actor Pran lip-synced to Kishore Kumar's male voice while the female voice was the playback for Kishore Kumar himself dressed as a woman. The Salil Chowdhury number is fun at its best. Kishore Kumar's yodeling talent — a skill he picked by following Jimmy Rodgers and Tex Morton — lent an added dimension to this song as many others.
'Phoolon ke rang se', 'Chingadi koi bhadke' and 'Muskurata hua'
Kishore Kumar sang many hit songs for Dev Anand and Rajesh Khanna. Phoolon ke rang se from Prem Pujari (1970) was special on several counts — the film marked the directorial debut of Dev Anand and was S.D. Burman's last composition for Navketan Films, Dev Anand's production company. The Bengali original (Barne gandhe, chhande, geetite), written by Mira Dev Burman and composed and sung by S.D. Burman, was a Durga Puja release in 1969. The lyrics for the Hindi version were written by Neeraj.
Chingadi koi bhadke from Amar Prem (1972), which Kishore Kumar sang for R.D. Burman, is one of Rajesh Khanna's most remembered songs. Both songs, beautifully and romantically sung by Kishore Kumar, had their own nuances.
For Muskurata hua gul khilata hua mera yaar composed by Bappi Lahiri for Lahu Ke Do Rang (1979), Kishore Kumar matched the mellow voice of Vinod Khanna as the actor serenaded Shabana Azmi.
'Khaike paan Banaras wala'
Any Kishore Kumar song list would probably remain incomplete without a mention of Khaike paan Banaras wala from Don (1979). It is said that Kalyanji Anandji had originally composed the song for Dev Anand's Banarasi Babu (1973) but was later used in Don. Actor Manoj Kumar is said to have recommended adding a song in the second half of the film, which was otherwise too action-packed, after watching the film. Legend goes that Kishore Kumar chewed paan to add authenticity to the mood of the song.
Dr Subhasis Ray is a management consultant and teacher. He can be reached at s_ray2013@hotmail.com