Got your Puja itinerary planned but still confused about how to ace your look during the festive days? Worry not! Whether you go for Indian or Western, you can try a few trendy options — from hakoba to organza, handmade jewellery to brooches — to complete your look. What's more, you can just browse online and get them delivered right at your doorstep before the festivities begin.
My Kolkata lets you in on some home-grown brands that offer the best of season's trends.
Mul Cottons from GOLPO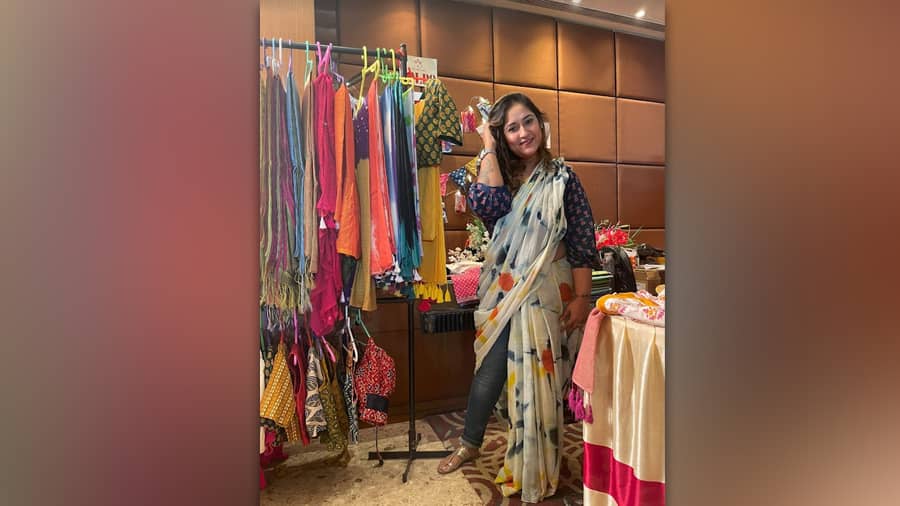 Instagram
Light and dreamy, mul cottons make for an elegant drape. Jaysmita Saha's GOLPO excels in the trendiest mul cottons since 2019 and provides you with ample varieties to choose from. She says, "We have more than 50 designs with more than 500 SKUs only in mul cottons. We have weaves, hand-painted saris, tie and dyes, ruffles — and these are our very special products. We also have a physical studio near Dumdum metro station. Another thing that we at GOLPO absolutely patronise are colors! You will find every color in mul cottons in various designs."
Style Tip from Jaysmita – If u have not worn a sari for the longest time or have never tried one yet, muls are your thing for sure. These are hassle-free and mostly weigh less than 250 grams. You can drape it just the way you want to. While picking your mul piece our only suggestion is, listen to what your heart says. Body size, skin color, height; these do not and should not define what one wants to wear. So, wear mul saris with a pair of jeans, a skirt, a sharara, a petticoat— whatever makes you comfortable.
Starting Price – Rs 900
Check out their Instagram page here.
Hakoba blouses from Rupkatha
Hakoba or exquisite eyelet embroidery is the in-thing this season. From kurtis to sari to blouses, a hakoba item is a must-add to your Puja wardrobe.
Rupkatha run by Tamanna Rathore and Sauptik Saha since 2022 offers a range of Hakoba blouses. Rathore says, ''At Rupkatha, we have launched our designer hakoba blouses, which have been adorned beautifully with patches of Ajrakh fabric, hand-embroidered specifically for saris.'' 
Style Tip by Tamanna- The soft ivory cotton fabric comes with the charm of quality and the luxury of comfort. Hakoba blouses can be styled with any kind of sari, skirt or tailored pants. This Durga Puja, let's go back to the old Bangla fashion. So, drape your sari in Bengali 'aatpoure' style, to flaunt the beautiful back designs of your blouses. Choose a laal paar sari with gold jewellery to complete the look. 
Starting Price – Rs 1,150. Special Puja offer includes flat 10% discount
Classic Menswear and Couple's Set from Jonakee
Why should women have all the fun? 
Jonakee, by Sumona Halder, presents classic menswear and couples' sets that will add glamour and ethnicity to your looks this season. Launched in 2016, they specialise in menswear including panjabi and dhuti along with couples' sets with the addition of co-ordinated saris. '' Men are quite conscious and choosy when it comes to their outfits during Puja. For menswear, we work with dhuti-panjabi and this attire has a heritage value in itself. We embroider themes to the attire so that it stands out. For couples' sets, the pair compliments each other in their attires,'' said Sumona. 
Talking about her Puja-special launch this year, she said, "For Puja we have made a Durga sari for women. It is a Khadi and silk blend with Ganga Jamuna border. The Durga Sloka is hand embroidered on the sari. The blouse is red and has the 'Dhaker Saaje Ma' design on the back. It is paired with a men's dhuti-panjabi set." 
Style Tip by Sumona – Comfort is the motto of our brand, no matter what one is wearing. So, our products are lightweight and easy to carry. You can wear your ethnicity and yet enjoy all through the day. 
Starting Price – Menswear from Rs 1,800 and Couple Sets from Rs 7,500
Hand-crafted jewellery from Butterfly Tree
Handmade jewellery never goes out of style. You can style them both with ethnic or Indo-Western outfits. 
Check out the carefully hand-crafted jewelry range from Butterfly Tree. Run by sisters Utsha Nandy and Trishita Nandi since 2019, the brand specialises in hand-painted miniature extinct art forms. Trishita comments, ''This year we have pieces featuring Pattachitra. We have consciously experimented by combining this traditional art of Pattachitra with wearable ethnic statement jewelry so that we can preserve and promote the exquisite nature of the art.''
Style Tip by Trishita: It is not necessary to wear ethnic jewelry with ethnic outfits but make sure the pieces you flaunt have a touch of your roots.
Starting Price: Rs 350 
Check out their Instagram page here.
Boing with Beads from Hooty Beads
Colorful beads can add a touch of funkiness to anything from saris to skirts. 
They come in easy-to-manage pieces and varied colours that go just right with any apparel and can be donned by anyone. Shrestha Sengupta and Sarbani Chakraborty have been specialising in beaded jewelry since 2021 through their brand Hooty Beads. ''We provide a large variety of beaded stuff starting from bracelets, necklaces, earrings and will launch anklets soon. We also provide 100% customisation according to the availability of raw materials,'' they assure.
Style Tip by Shrestha:  You can always uplift your denim outfit with a simple beaded choker and a bracelet to give a little Y2K touch to your outfit. Or you can layer your beaded necklaces with your turtle necks.
Starting Price: Rs 50
Charms and Brooches from Wanderer Nirvana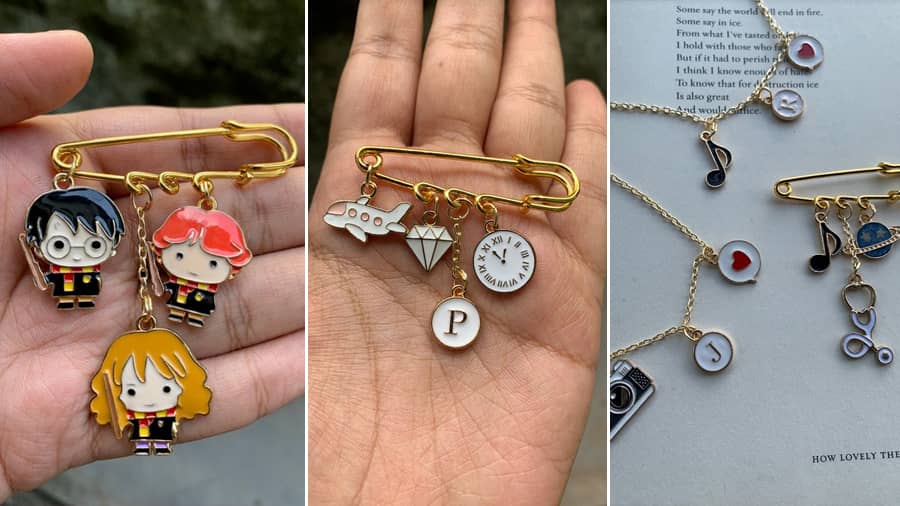 Instagram
Brooches, a preferred accessory among royals, are just perfect to hold your outfit together.
Wanderer Nirvana is run by Harshita Soni, Vishaka Soni and Palak Soni since 2020. With a wide variety of charms to choose from, Harshita comments, "We will be present at multiple pop-ups in Kolkata with the option of live customisation of charm accessories like brooches, neckpieces, keychains, bracelets and earrings. You could select the charms you want from a range of 250+ charm collections — that too live — and get it customised on spot.'' 
Style Tip by Harshita: A customised brooch can be attached to the outfit to provide a very stylish and elegant look with minimal effort. Also, this same brooch can be attached to the bag you are carrying and voila, you are good to go.
Starting Price Range: Rs 150 
Check out their Instagram page here.
Rustic Resin from Friends with Art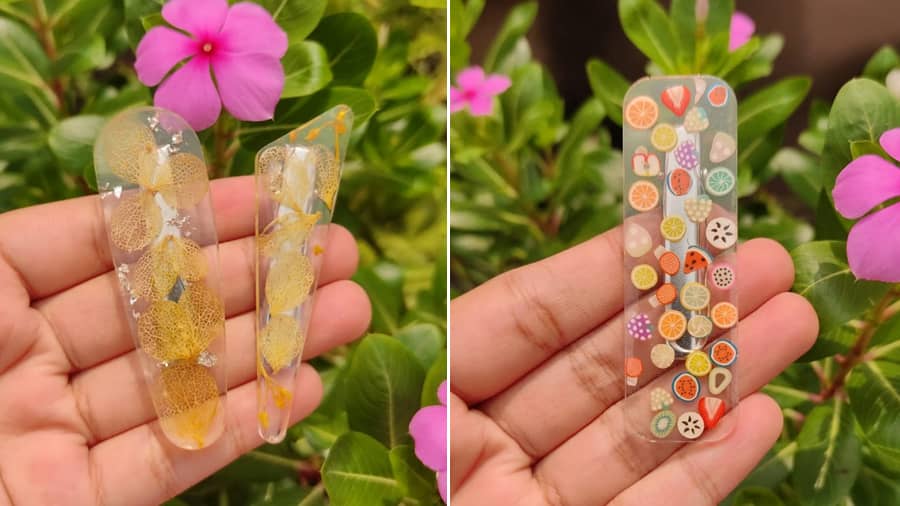 Instagram
Resin jewelry is a raging trend this season. Flora and fauna preservations made into wearables have generated keen interest in this form of art. Throw in some hair accessories and your look is complete. Friends Sarmistha Sarkar and Indira Talukder run Friends with Art since 2021. Sarmistha says, "This Puja, we have a wide range of floral antique pendants and minimal floral pendants, starting from sunflowers to bougainvillea's to daisies and more. We also have finger rings, ear-rings, hair clips and hair pins.'' 
Style tip by Sarmistha – Resin jewelry is something that goes with every outfit whether it's a laal-paar sari or a chic modern dress. Just an addition of a minimal resin floral pendant to your casual wear can brighten up your whole outfit. 
Starting Price – Rs 180
Check out their Instagram page here.
Shining Silver from Shoborys
Thought silver was out of your reach? Not anymore. Invest on some dainty pieces from Shoborys, which come in elegant designs and are pocket-friendly too. Launched by Shobori and Sohini Seal in 2020, the brand offers a wide range of pure silver jewelry, which are timeless and affordable. Sharing her Puja collections, Shobori comments, "Loaded with motifs picked up from tribal art and semi-precious stones, we bring to you a refreshing variety of jhumkis, kaan-balis, studs, and the list goes on. You will find a piece for every age-group with the brand."
Style tip from Shobori - Curate your style instinctively and watch yourself make a statement, effortlessly!
Starting Price - Rs 250
Quirky Bags from Aurora of May
Be it totes or short and long slings or even a clutch — you name it, you get it! Sweta Dhar handpaints each and every bag for you making it an exclusive piece under her brand, Aurora of May, which she has been running since 2020.  Sweta comments, '"We have handpainted tote bags, sling bags, fanny packs, and pouches. Everything can be customised into a piece of art of your own choice. We have also launched few Puja-themed slings and quirky totes that will make you stand out in the crowd.'' 
Style tip by Sweta – Aurora of May makes handpainted bags with lots of love and effort. We make sure you carry a quirky bag, which is unique and a limited edition one. You can customise your own bags.
Starting Price – Rs 450
Tip Tap Toes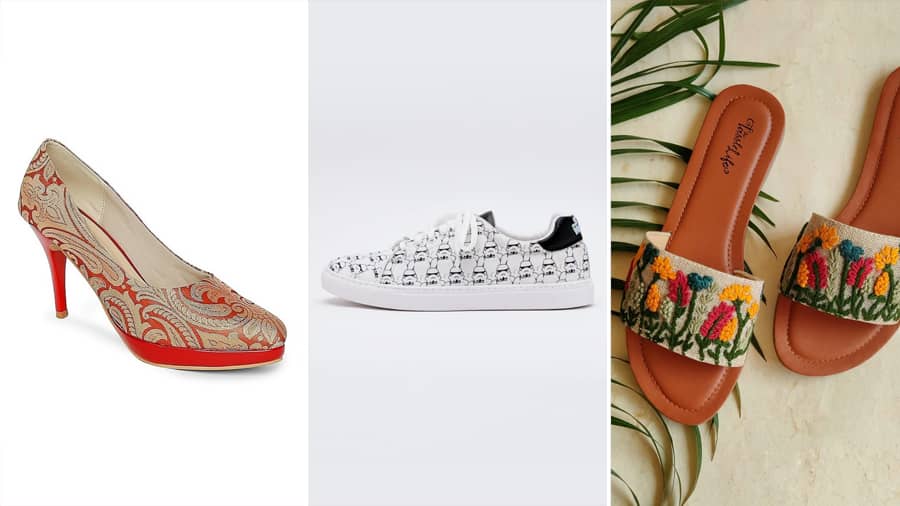 Instagram
This year, adorn your feet with beads or sequins in flats, heels, blocks and more. Get an embroidered flat to pair up with your Indian wear or a funky sneaker to complete your Western outfits. 
Brands to Check out – Kanvas, The Tassle Life, The Souled Store, Needledust 
Style tip from My Kolkata – Choose your shoes as per the outfit. If you are opting for Westernwear, comfortable flats and sneakers work well. For ethnic wear like kurti, sari or shararas, you can try heels. 
Starting Price Range – Rs 799 onwards 
Check out their Instagram page here.
If you are left with some last-minute shopping, catch these brands and more at the upcoming pop-ups in the city. 
Art & Autumn by Kham Kheyal at Gallery Gold on September 23-25
Mrs Wilson's Café Pop -up on September 24 
Safaraa at Kanoria Hall on September 24-25  
Kalakaar Project hosts The Puja Haat at Academy of Fine Arts Ground on September 27-30