The most common feedback that I have got is that it doesn't look like Samrat Prithviraj is my first film," Manushi Chhillar tells us. The former Miss World has earned praise for her poise and presence in her big-budget debut film, even though Samrat Prithviraj — with Akshay Kumar playing the titular character — hasn't made the killing at the box office that it was expected to. The Telegraph caught up with Manushi for a chat on her debut film, what went into being Sanyogita and the road ahead.
A historical made on such a big budget and with a central role like that of Sanyogita would seem like a tall ask from a debutant. Did it ever get overwhelming?
It really wasn't overwhelming in that sense. But the thing is that initially I didn't really know what I was getting into when I signed the film. One may call it silly overconfidence but I never had it in my head that I was part of such a big film. It was more of, 'How do I do a good job?' But yes, I had to keep in mind what was expected of me... whether it was a song, whether it was my performance.... The expectations were really high because the film is such, and there was a little bit of pressure on me to match that.
I started off doing scenes with Ashutosh Rana sir and Sakshi Tanwar ma'am (who played Sanyogita's parents) and that, I think, was a good kickoff for me because they are such good actors and I got to learn a lot from them.
But yes, there were days when I felt that it was really too much hard work! (Laughs) I was really pushing myself and I did question myself whether I should be pushing that hard. But in retrospect, I am glad that I did. As we kept shooting, I got more and more comfortable with the whole idea of acting.
This was definitely a very physically demanding role. And in the recent past, we have had actors who have done a phenomenal job in historical roles.
I was told that though Samrat Prithviraj is my first film, but because it's a period film, I would somewhere be compared to actresses who had already established themselves in this genre. Which is what has happened with some reviews, which have not seen this as my first film, but have compared me to Aishwarya (Rai Bachchan) in Jodhaa-Akbar and Deepika (Padukone) and Priyanka (Chopra Jonas) in Bajirao Mastani. And that's why I always knew that I can't come across looking like a newcomer in a film like this.
What was your knowledge of Sanyogita before you were offered the part?
The first time I got to know about her was from Amar Chitra Katha (smiles), which had a lot mentioned about her swayamvar. Then, of course, we heard stories about her growing up, most of which were different versions. There were different versions of Prithviraj and Sanyogita's love story. There is, of course, Prithviraj Raso, the poem by Chand Bardai, which was our primary reference. When I was being considered for the part, I did look up online and I realised that there is not much about her.
Though there are different versions of how Sanyogita was, the common thread is that she's described everywhere to be very, very beautiful. But then she had many other qualities which are justified by the fact that Prithviraj fell in love with her without even meeting her. But it's true that very little has been written about Sanyogita.
My reference point, as I said, was Prithviraj Raso, which has described every character very well. And then, of course, the director (Chandraprakash Dwivedi) has done a lot of research himself, and the film, as well as who Sanyogita is, is his interpretation.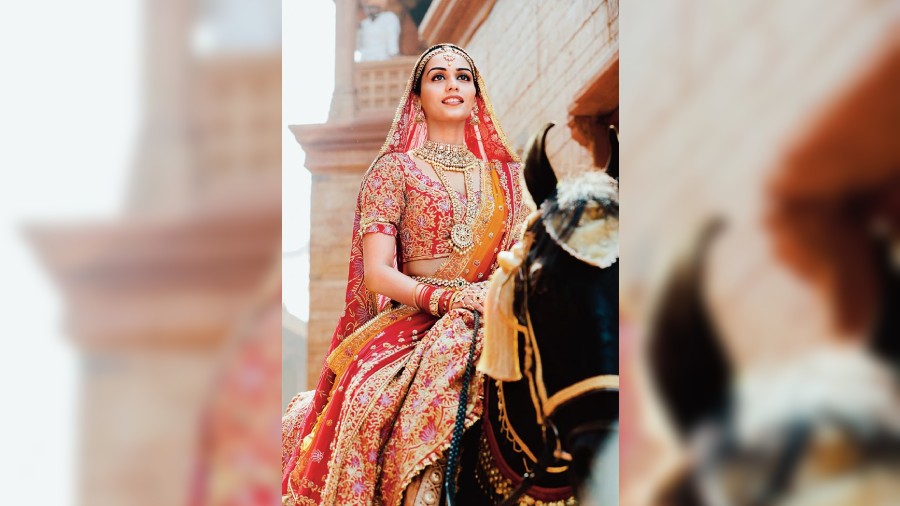 Manushi Chhillar as Sanyogita in Samrat Prithviraj, now playing in theatres
What were your biggest learnings from working with Akshay Kumar?
It is his professionalism and his efficiency at work which speaks a lot about how he's managed to become who he is today. That's very commendable about him. He finishes a project quickly, but that's also because he believes in prepping very well. He leaves no room for confusion... on his set, everyone needs to be clear about what scene is being shot, what costumes are being worn.... His time management is great.
You come from an academic background and you were also studying to be a doctor. Do you plan to go back and pursue that at any point?
Medical studies require single-minded focus and dedication, one really can't do it on the side... it's a full-time course. I started working immediately after I won Miss World and I haven't gone back to my medicine books.
Having said that, I did do a few courses during the lockdown. I did a course on literature and also studied a bit of art. Studying has always been a part of my life! (Laughs)
Growing up, were you drawn towards acting?
As you said, I come from an academic background and I never really saw acting as a profession, or at least something that I would pursue professionally. For 17 years, we didn't have a Miss World or a Miss Universe, and then I won Miss World. After that, I started discovering new things. I did think I would go back and finish medical school, but it didn't happen.
As a kid, I was very shy and my mother put me in a lot of classes to draw me out of my shyness. But I would paint and dance a lot. I learnt classical as a kid, and my mom always tried to ensure that I was expressive. But I never saw it as a career then.
Have you started work on your next? I know that you do have a three-film deal with Yash Raj Films...
Well, there definitely is a second film, but it hasn't been announced yet. Now I am just observing how I am being perceived in Samrat Prithviraj, how film-makers are seeing me, and what kind of work I can do going forward.
Is there a contemporary whose career graph you admire?
The other day I was with a few friends who are not from the industry and they were talking about how we have legends like Amitabh Bachchan and Shah Rukh Khan who have been working for decades and are still going strong and they kept wondering why this rule only applied to the men in our industry. But then I said there are a lot of women who have done well. Especially, Priyanka Chopra who has done phenomenally well. She has been a master at adapting and really thriving in different industries and different environments, and that' something I would love to learn from her.