BTS' latest release Proof is a magnanimous album and it is not just quantitatively. The 48-track album spanning three CDs is a celebration of the nine years of the band. For fans who have been there for a while, this is an emotional commemoration steeped in nostalgia and for new listeners, it is a one-stop destination to discover the great ambit that is and has been BTS' musicality. As they go on a break from group music, it is perhaps time to look back at all that has built up to BTS' legacy-holding artistry. Proof is a perfect starter to that.
Proof begins with Born Singer, a fan-favourite and BTS's version of J. Cole's Born Sinner. The song, which previously did not have a studio version, is a testament to the pop megastars as artistes who have always wanted to be on the stage and their determination and passion that got them there. It is an emotional hook to reel in the listener for a wholehearted documentation and a peek into what all went behind the nine years of the band.
A showcasing of BTS' strong roots in hip-hop, the disc then progresses to host some of their greatest hits chronologically, including the powerful debut track No More Dream, Blood, Sweat and Tears, which catapulted them to the global spotlight and the evergreen, politically charged and emotional Spring Day. As one listens through these tracks, it is evident how well their sound has evolved as a group, from charged and aggressive hip-hop to more pop-centric music, they have tried it all and how.
Most importantly, even with distinct rapping styles and various vocal colours, there is never a disharmonious moment. Rather, it has only worked better as the years have gone by. The reflection of the growth in their music is a key contributor to why it is easy to get drawn into BTS' discography at any point, as one listens to them, one can grow with them.
CD 1 ends with Yet To Come (The Most Beautiful Moment), a new addition to their discography and their lead single from Proof. The Most Beautiful Moment in the title is also an ode to their angsty album series from 2015, The Most Beautiful Moment in Life, Part 1&2. However, there is a visible maturity in the present track and a resolution with the past. With lyrics like Yeah the past was honestly the best / But my best is what comes next, the song encompasses the essence of the album as 'proof' of a glorious past and an invitation to a greater future.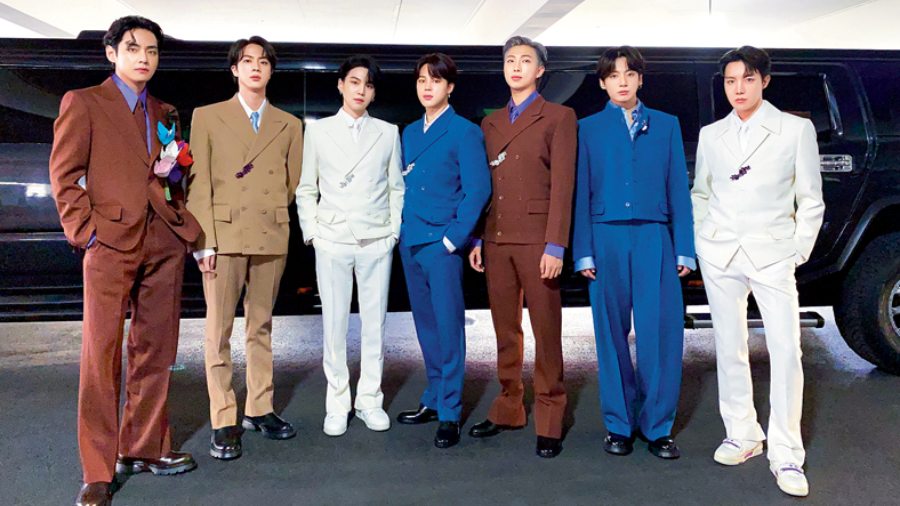 A letter to the fandom
Disc 2 starts with Run BTS, a powerful track that showcases the distinct rapping styles of the three rappers of BTS, SUGA, J-Hope and RM, backed by the melodious vocalists. It is a marked move away from the mellow and soulful Yet To Come which it follows. The compelling track maps the group's rise, their undeniable passion for more, and triumph despite hardships. This second CD from Proof also contains solo and unit songs highlighting the members' individuality in terms of lyrics, production and performance styles that is hard to miss even if they are predominantly presented as a group.
With them announcing that they will be focusing more on solo music and activities, this CD is great for an introductory listen. RM, SUGA and J-Hope have had mixtapes already with J-Hope planning for a new release soon ahead of his Lollapalooza performance this July, where he is headlining the main stage. In a recent video celebrating their anniversary, member Jin stated that he would like to take on acting as well.
The ending CD to the album brings in three new tracks, Ambiguous Relationship (It's Complicated), Quotation Marks (Young Love) and For Youth although only the last one is available for streaming with the rest of them being CD-only treats. CD 3 also contains demo versions of various hits including Tony Montana, which almost comes as an answer to fans' prayers who have been wanting its studio release for a while. Of all the discs, perhaps this is the most intimate one, aimed at a closer connection with fans, something BTS and their music have always concentrated on. For Youth begins with the booming chant of fans as well, from their concert at London's Wembley Stadium in 2019, when ARMYs decided to sing Forever Young to BTS. The soulful melody of For Youth has references to older songs as well and is a heartfelt, balladic letter to the fandom.
Comma, not period
When one listens to the album from the beginning till the end, it is certainly a journey, spanning many years and varied styles of music. BTS have always had incredible lyricism coupled with an eagerness to experiment, which has given way to the blend of so many different genres, and styles. As the pop megastars move into their 10th year, this is a grand gesture to their past.
During a recent video on their YouTube channel BANGTANTV, the translation of whose title is roughly "2022 Real Bangtan Dinner", BTS announced that they would be going on a temporary break from group music. To know when to take a break, in any form, is important for personal growth, well-being and replenishment of creative energy. In an age where public interest is arguably fickle, and harsh scrutiny is waiting at every corner, it is understandably and undoubtedly difficult to constantly meet expectations that are placed upon artistes. A break, therefore, can be seen as a formidable decision to take, even perpetuating guilt. The question must then be aimed to the system for making it so. After all, as a Twitter user rightly pointed out: "Because you need commas, not periods, to make long sentences." BTS' break, therefore, is optimistic in its own way.
There will inevitably be comparisons drawn with other artists who have spoken of a "hiatus" in the past, but as their label HYBE have already clarified in a recently released statement, "BTS are not taking a hiatus. Members will be focusing more on solo projects at this time." BTS members themselves have also clarified on various platforms that they are in no way disbanding and have requested that their words be taken "as they are". As artistes who have predominantly performed as a group for the past nine years, they have mentioned that they want to take this time to figure out their creative direction as a group as well as individually.
Even though this moment might seem like a conclusion, it is only a chapter. It simultaneously invokes a thrill for the new and what's next to come, without any dismissal of the past. This is, then, only a beginning.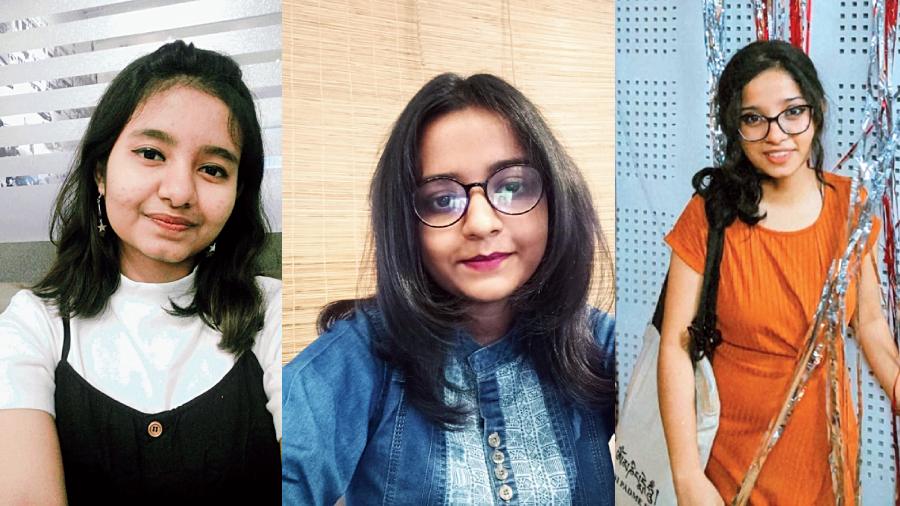 (Left to right) Sayeri Biswas, Farnos Mallik, Riddhi Khan
Fandom talk
I loved Proof because it encompasses BTS's diverse discography and because it is the perfect tribute to their last nine years of extensive career growth and life-changing experiences as individuals and as a team. Taking breaks is a very powerful move to make and I am happy that once again BTS have set healthy precedents for what it means to be artists and above all, humans. They themselves spoke about what they want, to prevent misunderstandings. They have been inspiring and continue to be so. Can't wait to see what they have in store for us in the future — Sayeri Biswas
Proof is a mapping of the massive success that BTS have achieved through their honest storytelling about life and its contemplations for the past nine years. I have seen few artistes like BTS who truly understand the equation that an artiste should have with their fans and they have truly been an iconic example of that representation. So the possibility for them to not be together for some time doesn't really affect the motives of us ARMY, because as the promise goes in their new song from Proof — For Youth: I'll be with you for the rest of my life — Riddhi Khan
Honestly, when I first heard the album Proof it did give off "goodbye for now" energy and now it makes sense. I feel bittersweet by the news but my heart also feels a sense of calmness knowing why they need this. It will surely take time to adjust to this change. Nonetheless, I'm happy they are taking this break for personal growth. Looking forward to their solo albums and other activities. Fly high, BTS — Farnos Mallik
Memorable moments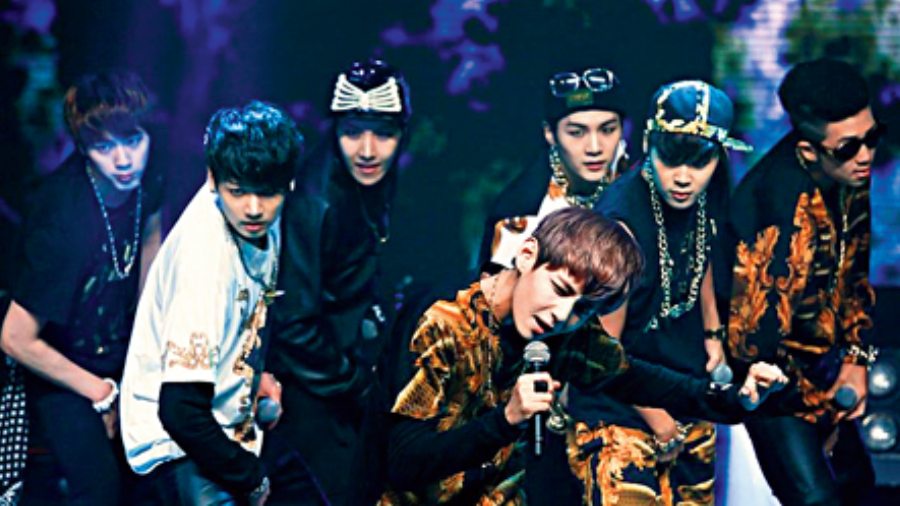 BTS performed No More Dream and We Are Bulletproof Pt.2 in 2013
June 13, 2013: BTS debuts with performance of No More Dream and We Are Bulletproof Pt.2
July 9, 2013: BTS announce their official fandom name, ARMY
January 16, 2014: BTS win Rookie Artist of the Year Award at the 28th Golden Disc Awards 2014
August 19, 2014: BTS release first full-length album Dark & Wild
October 9, 2016: BTS release music video for Blood, Sweat & Tears
October 23, 2016: BTS climb to number one on Billboard's Social 50 chart, making them the first ever K-Pop act to do so. Get top positions in two more Billboard charts — World Albums Chart, and World Digital Songs Chart
May 21, 2017: Wins Top Social Artiste at the 2017 Billboard Music Awards
July 4, 2017: BTS rebrand in English as Beyond the Scene
September 25, 2017: BTS become first K-pop group to enter Billboard Hot 100 at #85, and enter Billboard 200 at #7
November 19, 2017: BTS perform on US television for the first time at the American Music Awards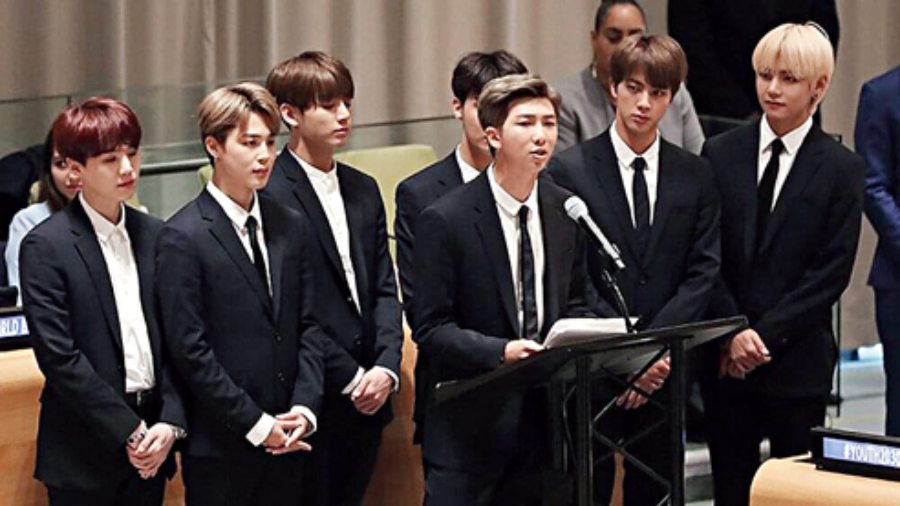 BTS addressed the United Nations in 2018
September 24, 2018: BTS address the United Nations at the launch of 'Generation Unlimited'
October 24, 2018: BTS Receives South Korea's Hwagwan Orders of Cultural Merit as its youngest recipients ever
February 10, 2019: BTS Presents at the 61st Grammy Awards
August 11, 2019: BTS go on their first official break
September, 2020: BTS becomes the first South Korean act to dominate top US singles chart, with Dynamite going to number one on the Billboard Hot 100. They do the same with Butter, Permission to Dance and Life Goes On.
November, 2021: BTS win their ninth AMA with Artiste of the Year
December, 2021: BTS go on their second official extended period of rest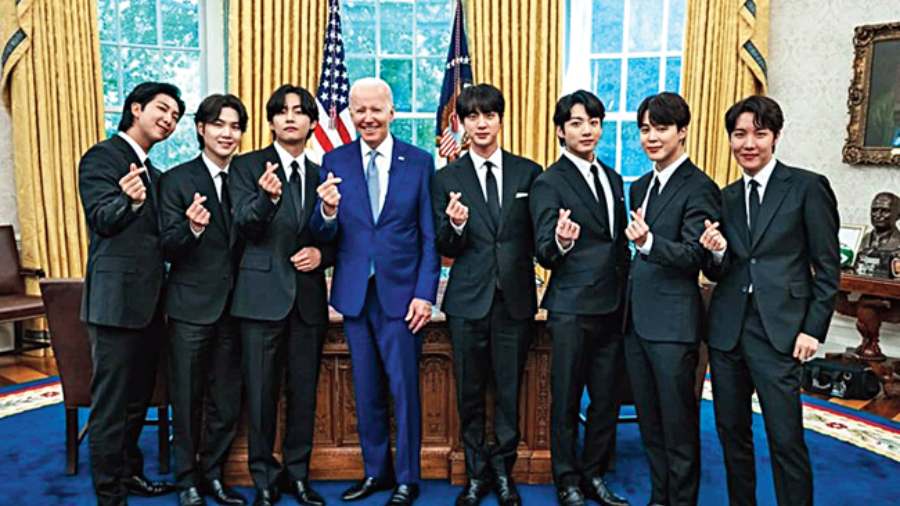 BTS with US President Joe Biden in May this year
May 31, 2022: BTS meet US President Joe Biden at the White House
June 14, 2022: BTS announce they will take a temporary break from group music to focus more on solo activities