Be it Nobin Chandra Das holding up the first ever rosogolla he makes in the eponymous 2018 film, or a chef's quest to make that perfect fish curry for his ailing mother in Maacher Jhol, Bengali movies have always had a special place for authentic Bengali cuisine.
My Kolkata takes stock of some of these memorable food scenes in Bengali movies over the years. And while you may or may not have liked the movie, we promise that you'll love these iconic food-laden moments anyway.
Galpo Holeo Satti
This 1966 film by Tapan Sinha stars Rabi Ghosh in role of Dhanonjoy – a cook and household help – who is hired to work in a joint family. On his first morning, when he is being quizzed about his cooking abilities, he rattles off the names of popular Bengali dishes he can make (think dalna, kalia, muger dal narkel diye and much more!).
Watch the scene here:
The cooking sequence that follows soon after shows Rabi Ghosh humming in the kitchen as he deftly cuts up the vegetables, blends the spices and makes a whole meal for the family. And one can only imagine how delicious the meal must be when chotokhoka (played by Bhanu Bandopadhyay) mistakes the kachkolar kofta to be mangshor kofta. 
Now that's the kind of mistake we all want to make!
Goopy Gyne Bagha Byne
Satyaji Ray's 1969 film starring Tapen Chatterjee and Rabi Ghosh, holds a place of its own in Bengal's repertoire of unforgettable films, and continues to draw critical acclaim even today — more than 50 years after its release. A social satire dressed in the garb of a fantasy musical for children, the film chronicles the adventures of Goopy and Bagha, a singer and a dhol-player respectively – who are banished from their village and sent into the woods, owing to their poor musical abilities. But their flawed notes and out-of-tune melody appeals to the King of Ghosts i.e. the Bhooter Raja, who grants them three wishes. Goopy and Bagha ask for unlimited food, clothing and the ability to travel to any place in the world. 
When the time comes to test their boons, the two wish for a range of delicacies – Korma, kalia, pulao, jaldi lao, jaldi lao – and voila! A full meal appears before them.

If only someone were to grant us wishes like those, all our midnight hunger pangs could have a simple solution!
Watch the scene here (2:00 onwards):
Charmurti
This comedy film follows the shenanigans of a young man by the name of Tenida and his group of friends when they go to Ramgarh for a vacation. Apart from the usual rib-tickling moments, the movie also stands out for an iconic scene where Tenida (played by Chinmoy Roy) eats a big fish-head! 
After polishing off two platefuls of luchi along with its numerous accompaniments, Tenida then proceeds to devour an entire fish head – macher matha – all by himself, while the others watch him in astonishment. 
And while not all of us may have Tenida's appetite, we are still a sucker for some of that good ol' macher matha all the same! 
Watch the scene here:
Agantuk
Another one of Ray's masterpieces, Agantuk (The Stranger, 1991), in one of its scenes brings to life the quintessential charm of a Bengali household – the sit-down meal. While meeting her uncle Manmohan Mitra (Utpal Dutt), who left home 35 years ago, his niece Anila (Mamata Shankar) serves a traditional delectable Bengali spread. Starting with palong shaker ghonto and goyna bori, the meal moves on to the quintessential maacher jhol and pathar mangsho.
Manmohan picks dal before fish, and eventually opts for mangsho over maach, which leads to two observations:
You cannot take Bangaliyana out of a Bangali, ever, even if he/she is has been abroad for 35 years
A Bangali's love for pathar mangsho is eternal
Watch the trailer here:
Utsab
A gem by director Rituparno Ghosh, Utsab brings forth the layered nuances of human relationships. Released in 2000 with a stellar cast comprising Prosenjit Chatterjee, Rituparna Sengupta, Dipankar Dey and Mamata Shankar, the movie has quite a few important scenes crafted around the dining table. 
The grand family reunion of a bonedi Bangali bari for the barir Durga Pujo, the essential luchi breakfast, the unmistakable mishtir hnari, and serious conversation around cha-jolkhabar. All come together to paint an all too relatable picture that leaves the heart yearning for those addas — especially during these times of pandemic-induced alienation.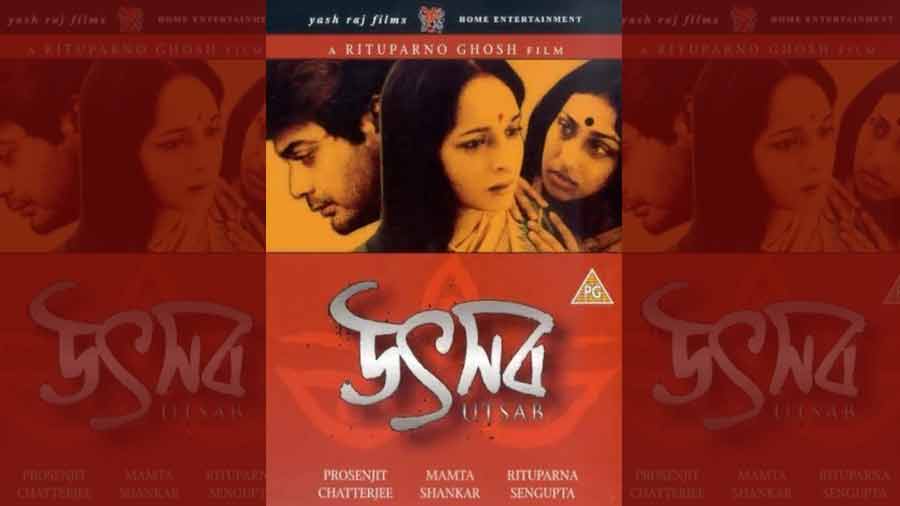 Maach, Mishti & More
The Mainak Bhaumik-directed Maach, Mishti, and More from 2013 harps on another aspect of a Bengali household – the family adda at the dinner table. From the specifically assigned chair for the eldest member of the family (Soumitra Chatterjee) to serving food for each other while discussing the day, makes for some warm, comforting scenes of family bonding.
The two dinner scenes in the movie are significant for different reasons. In the first, it is the catching up of the family with the eldest NRI son and his wife played by Shauvik Kundagrami and Swastika Mukherjee, and Shauvik dropping the news to the family of their sudden return to the country. The second depicts the family adjusting to their return as they assimilate in the joint family set-up, and the youngest, played by Anubrata Basu, on a house-hunting spree to move out, that is now a matter of open discussion on the dinner table.
Watch the trailer here:
Maacher Jhol
A lunch staple across most Bengali households, such is our love for a comforting bowl of fish curry that we even named a movie after it! This Ritwick Chakraborty-starrer is about a famous chef by the name of Dev D, who returns from Paris to Kolkata to visit his ailing mother, and upon her insistence, sets out to re-create her perfect, wholesome bowl of maacher jhol. 
And while that may sound like a cakewalk for a chef with Michelin Star restaurants to his name, Dev D soon realises that the recipe for nailing this simple fish curry is easier said than done. Which is that one secret ingredient that finally does the trick in this Pratim D. Gupta film? 
When you find out, don't forget to add it to your family's quintessential maacher jhol recipe! 
Watch the trailer here: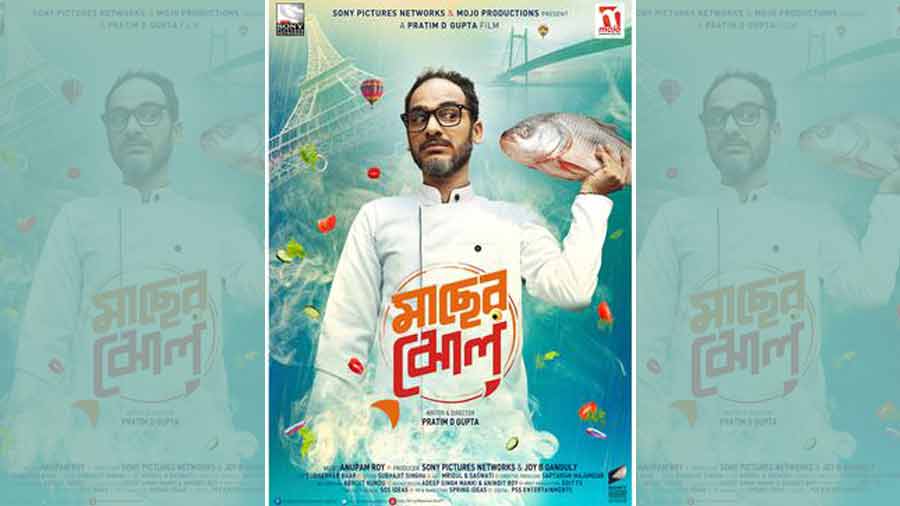 Bibaho Diaries
The 2017 Mainak Bhaumik romcom, starring Ritwick Chakraboty and Sohini Sarkar, not only leaves the audience in splits but also induces a feeling of love and affection, especially when it brings alive the jamai ador in a Bengali household (but with a twist).
The fun family get-together over ilish (with the jamai wolfing down four pieces), the embarrassed wife of a petuk (glutton) husband, the palpable tension between the in-laws and the 'misfit' son-in-law promises to makes you laugh out loud as you look up ilish dishes you can order online, and maybe even inspire you to bring back some ilish from the Sunday market.
Check out the movie on Disney Hotstar VIP and HoiChoi TV.
Watch the trailer here:
Rosogolla
Bengal's most beloved sweet has earned a name for itself all the world over. Therefore, it is only fitting that this sweet gets a movie of its own. Tracing the unique history of this Bengali dessert, Pavel's 2018 film chronicles the tale of Nobin Chandra Das, who is credited with making the first ever rosogolla. 
And as is the rule with all new things, people were hesitant to try it initially. That is, until a travelling merchant from Rajasthan sampled the soft, fluffy sweet and was enamored by it! The rest, as they say, is history. 
The delicious looking close-ups of the rosogolla are so tempting, that it was all we could do to not reach into the screen, grab hold of one (when will technology allow us to do THAT?), and wolf it down! 
Watch the scene here:
Durgeshgorer Guptodhon
The 2019 adventure thriller by Dhrubo Banerjee starring Abir Chatterjee, Arjun Chakrabarty and Ishaa Saha have quite a few scenes that aptly portray Bengalis bonding over and discussing matters of grave importance, but all in the presence of delectable platters.
The trio's visit to Durgeshgor to experience a bonedi barir Durga Puja that turns into a quest and then into a case, kickstarts with some socialising between the guests and the hosts – all over a plateful of piping hot luchis. Served in the conventional knashar thala, the luchi is accompanied by aloor torkari, suji halwa and mishti, which sums up the perfect Durga Puja breakfast.
P.S.
Don't miss out on the dinner scene which comes with a plate full of basanti pulao and the homemade Doodh Puli (a winter must, still, and perfect to try this winter!)
Check out the movie on Disney Hotstar VIP, Amazon Prime Videos, and HoiChoi TV.
Watch the trailer here: