The pandemic is not over. Meanwhile, the air is heavy with the news of the spread of monkeypox virus. And England experienced its hottest temperature ever, exceeding 40 degrees Celsius. Are we ready to deal with bigger crises? Going by the current pace, probably not. New Orleans wasn't ready when Hurricane Katrina left the city choking in August 2005. And we are not ready in 2022 to tackle global warming.
A wake-up call comes in the form of the miniseries Five Days at Memorial, which is based on the award-winning book by the same name, authored by Sheri Fink. The limited miniseries will make its debut on Apple TV+ on August 12, reminding us to wake up to reality. Written and directed by none other than John Ridley and Carlton Cuse, the show has a stellar cast — Vera Farmiga as Dr Anna Pou, Adepero Oduye as Karen Wynn, Cornelius Smith Jr as Dr Bryant King, Julie Ann Emery as Diane Robichaux and Robert Pine as Dr Horace Baltz, besides others. It's nothing short of a devastating story but it certainly needs a viewing.
Compromised system
New Orleans is not new to hurricanes, the patients and visitors at Memorial Medical Centre are told; many, in fact, turn up at the hospital during such a situation to take shelter. A floor in the Memorial hospital is run by a private entity called LifeCare. When hurricane Katrina hit the Louisiana city, at first everyone thinks it's like any other year. Things worsen after offering the city a glimmer of hope, which lives for a few hours. The administration of the hospital thinks the worst is over. But the hurricane wasn't done with the city. The doctors at Memorial and the corporate entity have to decide what needs to be done, whom to rescue and whom to leave behind.
"I have healthcare workers in my family who I've just watched go through Covid. And that has taken a major toll on them, physically and psychologically. That I think helped me better understand what they were going through. Also, my character runs a long-term care facility called LifeCare. We rent a floor at Memorial. I don't think I realised that hospitals rented out a floor like that and I don't think I realised the kind of corporate method (that's pursued). The show illuminates the shortcomings of corporate medicine in a pretty big way. I think it's something we are beginning to talk about and I hope the show furthers the conversation," Julie Ann Emery (plays Diane) tells us over a video call.
Sheri Fink's book (on which the show is based) has been nothing less than a revelation. The book is an expansion of Fink's journalism reports for which she won a Pulitzer. She captured a compromised system that was in place and also instances of heroism.
"The book is an incredible piece of journalism. It's so well researched, and so detailed; it is a great piece of source material. John and I also found a point of departure and tried to tell a fictional story that is emotionally true to the book. I think there is a high degree of factual accuracy, but it is dramatisation. It was important to convey the emotional truth of the conditions at the hospital," says director Carlton Cuse.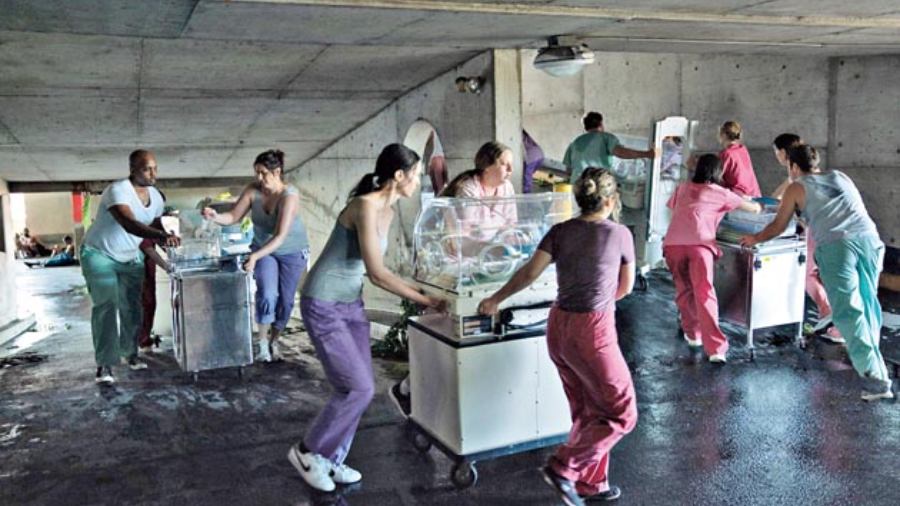 A scene from Five Days at Memorial
'Showing all sides'
Fink's story is perhaps a tragedy that captures the same hospital emergency issues America saw post-9/11, though the latter had to deal with terror and not a natural disaster. Yet, after all these years, we still haven't learnt enough about hospital preparedness.
"As my creative partner, John has said, when we started this project, history was remembered. We've all come through the pandemic, and we've seen the costs and consequences of medical shortages of medical professionals having to decide who gets what resources, and those are some of the same issues that took place during Katrina. There are going to be all sorts of other disasters… I mean climate change is something big, heat waves and so on. I just don't think we've learned enough; I hope that we start prioritising and planning a little bit more. And global warming is here but we have our heads in the sand," says Carlton.
The miniseries captures the frantic pace those five days brought to Memorial. As the water level rose, the generator and pumps gave in and then hospital and food supplies were exhausted. Rescue choppers arrived from time to time but it wasn't easy taking one patient at a time to the helipad, especially because these were patients who were severely ill.
"Sheri Fink has done a massive amount of research. And she also made herself available. If there was something that didn't quite make it into the book, but it affected our character, she was happy to share that information. We had conversations with her and I found out everything I could. Our show is a dramatisation and what I am playing is a dramatisation of Diane during those five days. So I did my best to build the character's life up to that (devastating) moment, so I can put them in whatever circumstance and react to that. I think we've done a good job humanising and showing all sides," says Julie.
Among all the chaos, the only voice of sanity and calmness remains that of Robert Pine as Dr Horace Baltz. The senior member of the hospital tries to help junior doctors achieve a level of calmness before taking tough decisions.
"Life is made up of choices that we make. And we, we don't always make the right choice but we hope we do. I think every person can say that in their lifetime that if they had to do a certain choice all over again, it would be a different one. And so this is a show about choices and what choices people make. It's not up to me or any of the cast members to decide that for you, the audience. What we hope is at the end of this, you will, if you're watching it with somebody, you would say what you would do in a similar situation," Baltz tells us.
For the show, the directors primarily depended on the book. Yet, they also interacted with a lot of people in New Orleans. "We really just used the book, but when in New Orleans I started asking every single person I met who was from there, what was their experience during Hurricane Katrina, and it just led to some incredible conversations," says Carlton.
At the end — and this doesn't come as a spoiler — a lot of patients had to be left behind at Memorial. These were people who couldn't be transferred easily and they were terminal. A difficult decision had to be made.
"I don't think we've learned enough lessons. But my great hope is that the show will begin a conversation around what do we want to be. I mean, the show really raises the question — when disaster strikes and nobody comes to your rescue, who do you become and what do you do? These people were just abandoned. I'd like us to start a much bigger conversation in the country (the US) about how we respond to these moments of collective crises. We're seeing more and more natural disasters and that includes pandemics. I'd like to see us do better (in way of tackling crisis)," says Julie, who has "devoured the book". "I expected the book to be dry but it has turned out to be exhaustive and narrative. I recommend it to everyone. It really does a beautiful job of storytelling."
Made on a big budget, everything on the show is larger than life. But we warn you, eyes will be moist by the time you have seen the entire series. "I think the biggest challenge is that I really wanted the disaster parts of the story to feel authentic and I also wanted to show the audience things that they had never seen," says Carlton before waving goodbye.
Five Days at Memorial will premiere on Apple TV+ on August 12