Mental well-being is just as important as physical well-being. Bangalore-based entrepreneurs, Anshul Kamath and Rohan Arora, are spreading awareness about the importance of mental health with their application — Evolve. Evolve is a health-tech startup aiming to create a virtual safe space for individuals to tackle mental health issues. Its proprietary interface helps users improve their mental well-being through interactive content based on Cognitive Behavioural Therapy (CBT). Recently, Evolve has shifted its focus to the LGBTQ+ community.
"One of the biggest trends we noticed was the need for mental health support in the LGBTQ+ community. During Pride Month last year, we ran a few experiments on the Google Play Console testing out a more inclusive logo and branding. We noticed a big surge in our conversion rates and this trend continued even post Pride Month, helping us realise that the members of the community were naturally gravitating towards the app. It was important for us to find focus as an organisation and the more we spoke to members of the community, we realised how different and underserved their needs are," says Kamath.
In June 2022, Evolve launched a host of fresh content that is specific to the needs of the queer community. The content comprises guided introspection sessions that assists individuals with coming out to loved ones, dealing with homophobia and anxiety or panic attacks at heteronormative social gatherings. "We're able to structure the sessions, ask them the right questions," explains Kamath.
When it comes to the queer community, there is a need for more customized solutions and Evolve is attempting to bridge this gap. "There is a big gap between the mental health needs of members of the community and the availability of solutions. The number of queer-affirmative therapists where people can feel completely safe and open up is extremely low. When it comes to digital mental health platforms and apps — most solutions are heteronormative and not catered to the subtler needs of members of the community," reveals Kamath.
"I came across Evolve on Google Play and was intrigued by the description so I downloaded it. I attended several sessions and really liked them. My favourite sessions were 'How to find your love language' and 'How to understand your sexuality' because these sessions taught me something new. It made me curious and allowed me to self-introspect," says Swarnaa Chakraborty, a 22-year-old user of the app from Kolkata.
The application is built on a freemium business model — part of the content available is free and parts of it are paid. "Since our biggest focus is on ensuring that we are solving the mental health needs of the LGBTQ+ community — all the features and content for the community are free," reveals Kamath.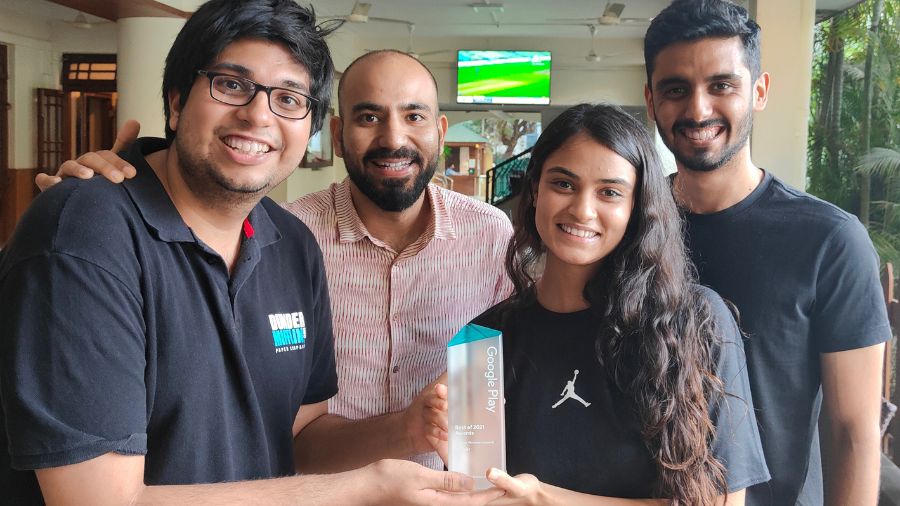 The Evolve team with the 'Google Play's Best Of 2021' in India award
Evolve has been recognised as part of 'Google Play's Best Of 2021' in India, and has over 2,00,000 users from across the world. It is currently a part of a cohort of 100 startups that are being trained as part of Appscale Academy, an initiative by the Ministry of Electronics and Information Technology (MeitY) Startup hub and Google.
"Over the next year, we're going to be focused on two key themes — building virtual safe spaces and communities to help users openly share their feelings with others going through similar issues, apart from allowing our users to track and measure their mental health," says Kamath.