The evil eye is everywhere! Though the demand for feel-good jewellery is on the rise, it doesn't explain how this ancient totem found itself on every A-lister's radar. From Gigi Hadid to Katrina Kaif, almost every relevant name on your feed is obsessing over evil eye baubles. It obviously boasts a certain mystical element and works great as holiday bling.
But luxury powerhouses like Givenchy, Alexander McQueen and Chanel see the merits of this trend too. The hashtag #evileye has more than 1.5 million posts on Instagram, popular e-commerce platform Nykaa came up with an entire evil eye edit, while almost every artisanal brand and Instagram store is hustling to cater to the theme. 
Antique, ritualist jewellery and protective charms from old Egyptian and Greek cultures have often been modernised in the luxury circuit, but they haven't experienced this sort of visibility. "I think it has got to do with how people feel when they wear it," says Aakriti Tapuriah, whose label STAC Fine Jewellery offers a diverse line of minimal evil eye numbers. It's easy to see why Gen-Z, with its love for astrology charms, manifestation tutorials and 'witch-toks', would find this old-world symbol so intriguing. 
"When we started the label around 2018, we did some extensive research to understand the market. And we realised people are consistently looking for evil eye pieces, they're looking for good luck jewellery and love the aesthetic of positivity that the evil eye represents. And I think that's what makes it so popular as daily-wear jewellery," Tapuriah points out.
STAC Fine Jewellery relies on a classic silhouette that uses an 18k gold base, mother of pearl, black onyx and turquoise so the pieces are easy to style. And many buyers have actually shared how the evil eye jewellery helps them feel better. "I'm sure there are psychological aspects to this, but this is our biggest seller," she adds. 
The evil eye originated in classical Greek antiquity around the 6th century B.C. (it has even been referenced by Plato, Hesiod and Plutarch). But the recent resurgence of the trend has something to do with the rise in talismanic collectables or good energy bling, which may just be linked to the unpredictable times we're living in.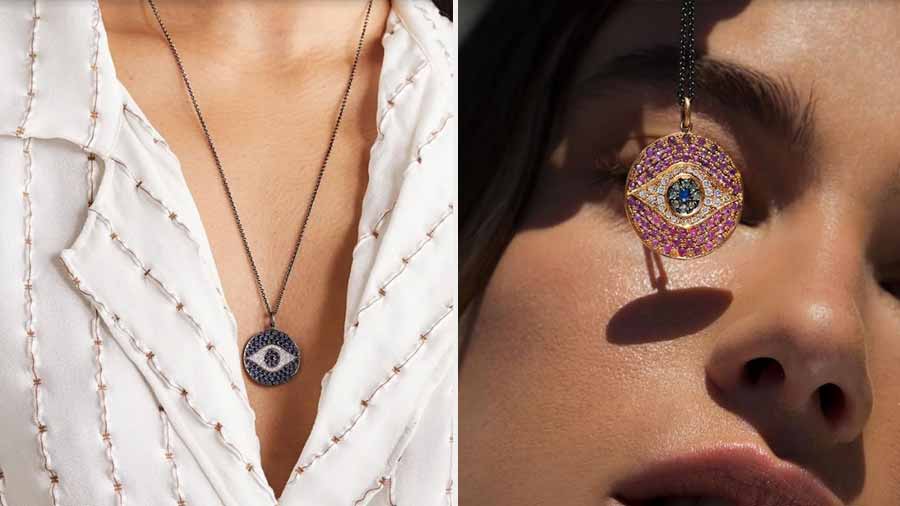 The #evileye collection from Ileana Makri, the Greek designer who is credited for revamping this motif for the modern luxury market. The designer updated this popular island jewellery into a line of gemstone-encrusted party numbers and it took New York's Fifth Avenue by storm.
@ileanamakri/Instagram
The motif itself bears an avante-garde potential and for the new wave of designers, that's gold. Kolkata designer Sreyashi Mitra who owns the label Sajjaa, sees the evil eye as a particularly artsy subject. "I've been a huge fan of this concept because something this abstract can be constantly re-invented and it's easy to imbibe it with newness. There are so many colours I can experiment with and this is also what works for the buyers since it never really gets old," says Mitra, whose evil eye danglers were recently spotted on Sunny Leone.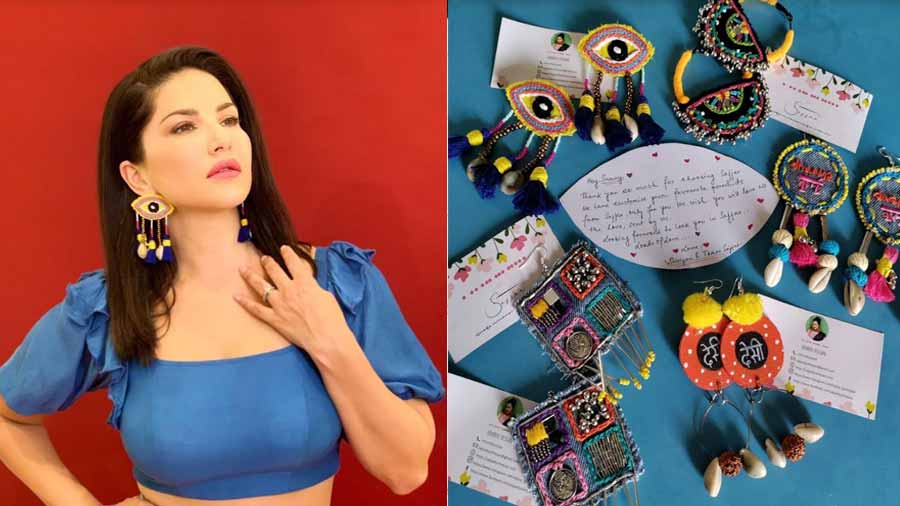 Sunny Leone in evil eye danglers from Sajjaa, run by Kolkata designer Sreyashi Mitra
@sajjaa_byshreyasi/ Instagram
The last spring/summer fashion week saw luxury powerhouses like Rick Owens, Stella McCartney and Coperni play with totem-inspired baubles and stylised amulets as a cheeky do-over of the past.
Homegrown labels like Outhouse, Carat Lane, Mia by Tanishq are utilising the evil eye's aura of goodwill to introduce daily-wear-friendly trinkets, something you can wear to a work zoom, like Meghan Markle often does (the Duchess owns almost every variant, from Hamsa evil eyes to ethically-made gold pieces).
"For Gen-Z buyers, it's something that's trendy and yet relevant and personal. It checks many boxes and it's the 'It' thing to own at the moment, so even watch charms and dainty bracelets are doing well," says Tapuriah.