Apple recently launched the iPhone 14 series of phones and the iPhone 14 Pro has a replacement for the Notch. There is a pill-shaped cut-out called Dynamic Island and it unifies hardware and software seamlessly, besides taking care of the dead space that has there on previous generation Pro devices.
The Dynamic Island — behind which the FaceID camera sits — is an interactive area that allows users monitor important app activities. For example, estimated time of pizza delivery, sports scores, music play back and so on. There is even the option to hold two apps active in Dynamic Island. At the heart of it is animation, which makes the Island appear in a range of different shapes with fluid animation but more important is how it presents glanceable data.
The implications
When the Notch debuted with iPhone X, reactions were harsh from many people but Apple stood by the design for years and it became a part of the design philosophy. With the Dynamic Island, rival companies (read Android phones) now need to rethink how glanceable data can be presented.
In way of hardware, it's one pill-shaped cutout and one hole punch-shaped cutout with some gap between them. However, Apple has managed to cleverly hide the gap between the two with black pixels as the OLED screen on the iPhone 14 Pro allows it to turn off certain pixels.
The Island can be used for system alerts and notifications, which include incoming call, AirPods connected, Face ID, Apple Pay, CarKey, AirDrop, Watch unlock, low battery, charging, silent switch on/off, NFC interactions, AirPlay, Focus changes, shortcuts, airplane mode/no data alert, SIM card alerts, accessories connect and Find My.
The next supported category is Live Activities — ongoing call, SharePlay, music/now playing apps, timer, maps directions, voice memos, screen recording, personal hotspot, microphone indicator and camera indicator.
Then comes Now Playing options — Spotify, Stitcher, Audible, Amazon Music, NPR One, Overcast, Pandora, YouTube Music and SoundCloud. CallKit category includes WhatsApp, Google Voice, Instagram and Skype.
An interesting set of implementations is coming with Live Activities, which Apple announced at its Worldwide Developer Conference (WWDC). These are widgets that track activity in real time, like the score of a sports match and flight/transit times. The Live Activities API is coming later this year to iOS 16 and XCode for developers, meaning wider third-party adoption of the Island.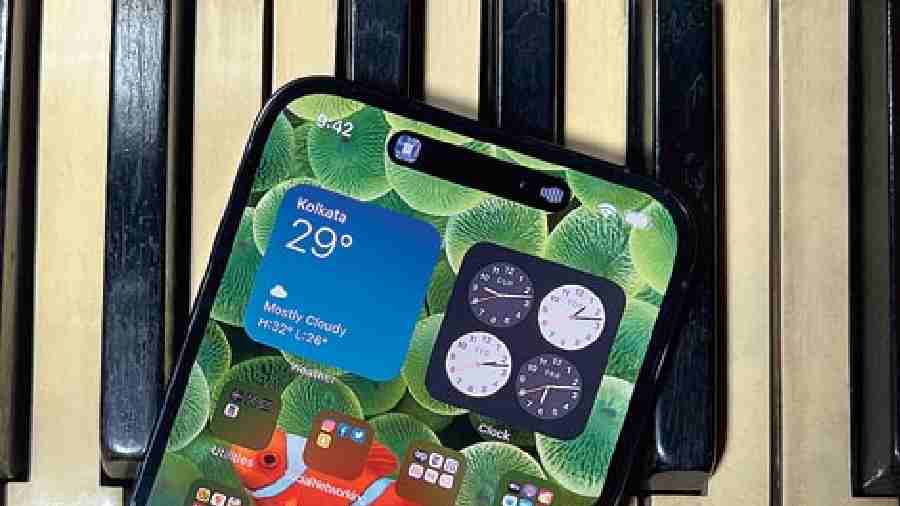 The Dynamic Island in full glory
Better screen engagement
Before the Island arrived, to check delivery timing of, say, pizza, we had to switch between apps. Now, you can track the delivery timing on the Island while, say, browsing through your Twitter feed. What Apple has succeed doing is allow casual engagement available anywhere on the device. To expand Dynamic Island, you can touch the sides of the cutout (the cutout areas are not touch sensitive but touch heuristics are used to generate a touch based on parts of your finger landing on the outside areas). A single touch will directly open the app instead of expanding the pill around the cutouts into a widget but to open the widget, you will have to long press on the pill.
Further, the Island is available with the always-on screen, meaning you can keep the phone on your desk during a meeting and still get a chance to keep up with, say, sports scores.
Once Live Activities arrive, there will be even more options. One needs to remember that Live Activities are not apps in themselves: They work in a sandbox, so the information it presents is provided from within the relevant app.
In case you are wondering if marketing messages can be presented in this space, the short answer is 'no'. Apple will keep this an interactive space for active information that users want.
What's the future?
The iPhone 14 has been out for a few days but that's not stopping rumours about the next series. Supply chain analyst Ross Young says on Twitter that he expects Apple to include the Dynamic Island on all iPhone 15 models, not just the Pro variations. In case that happens, the Notch, which was introduced in 2017, will completely disappear. The analyst also noted that the base iPhone 15 won't come with an 120Hz LTPO display that enables the iPhone 14 Pro's always-on display because the "supply chain can't support it".