Unique sari drapes for the new-age woman this Puja. That was our brief to celebrity drape artist Dolly Jain who has got many of her passport pages stamped off flying to exotic locations for a host of celebrity weddings. She came up with four different styles — sari teamed with a veil, a short skirt, a voluminous skirt and another sari. Swastika Dutta with her classic good looks was our muse for the day, a millennial and how. Abhijith Chanda was our make-up pro of the day who came up with looks that matched the mood board to a T.
1. Dolly combined red and white for the classic Puja look. She draped two saris on Swastika and styled it with a belt. "This will ensure that there is drama in the drape. Take an heirloom piece and club it together with something of your own," said Dolly. To match the subtle bling on the saris, we kept the look neat that made it a great balance of the traditional and contemporary. #ModernAndHow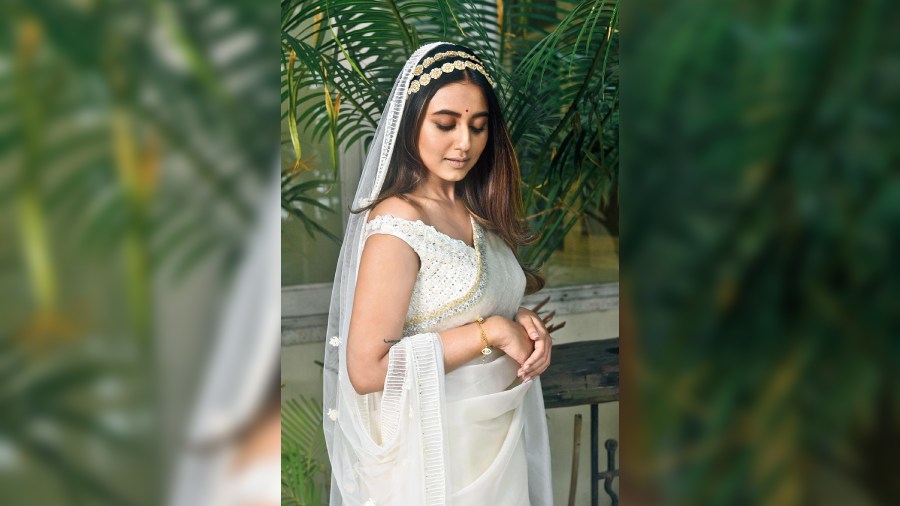 2. Recreating the Alia Bhatt wedding vibe was the mood of this look. Dolly picked up an ivory organza sari and paired it with an ivory veil. A mathapatti and the dot of red on the forehead added just the right amount of colour to the all-white serenity, great for your autumn wedding too. "This was one of my favourites because it involved an organza sari, the concept of a bride wearing a sari and a head veil. I think when you buy a sari, you can wear it in so many ways, whereas when you buy a lehnga, you restrict yourself to one style. After Alia got married in a sari, a lot of girls are wanting her sari + veil look," said Dolly who was on board to get the Gangubai Kathiawadi star ready for her April wedding to Ranbir Kapoor. Abhijith kept the make-up subtle.
I loved all the looks and I wore so many saris. My friends say I carry various drapes beautifully and I feel comfortable in them. I can carry saris the entire day. Pujas mean at least three-four saris. Personally I love cotton saris. I have never tried these styles before. Glamour and comfort came together in one drape, which was the short skirt and sari combination. I do want to try this style
Swastika Dutta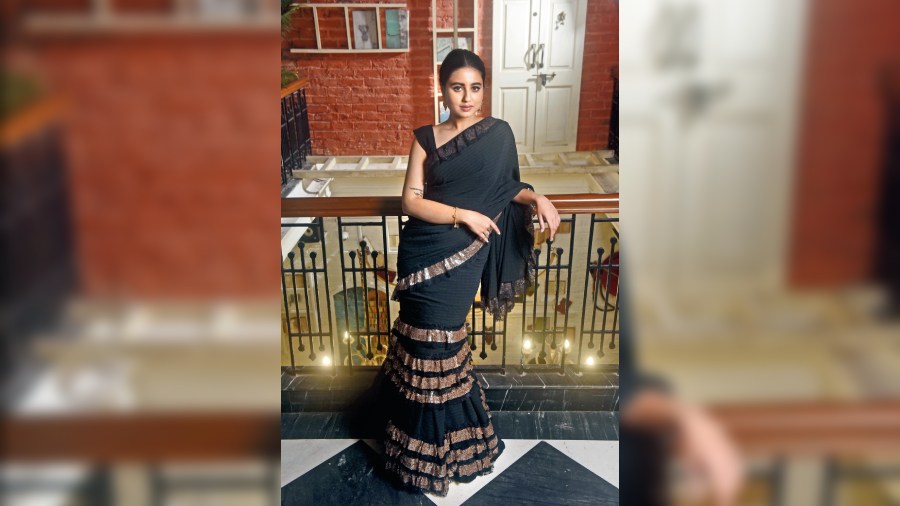 3. Swastika was ready for a Puja party in this ruffled sari draped over a voluminous skirt. This look was a melange of retro and modern. While the ruffled sari was #ThrowbackAajkalTereMerePyaarKeCharche, the hair and make-up was radiantly simple. Smokey eyes and glossy lips upped the oomph factor.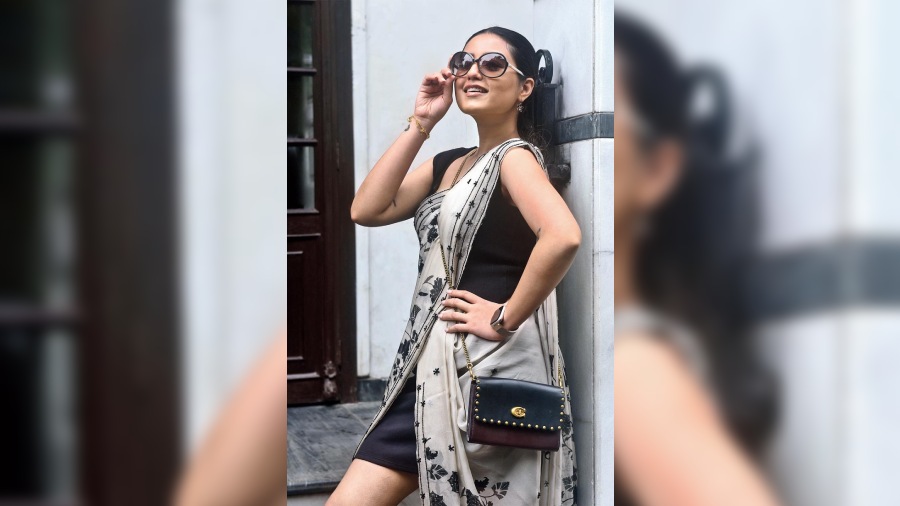 4. Swastika was all diva in this style that had the sari draped with a short skirt, a first time for Dolly too. "Make your shoulder pleats, then make your lower pleats. Then collect the entire fabric behind and make box pleats and tuck it in behind. This sari drape makes you look slimmer," said Dolly about this easy-breezy look. The big glasses, sleek hair, the chunky watch, the bag and The Corner Courtyard's monochrome look perfectly complemented the mood. The song on our mind: Ami Miss Calcutta!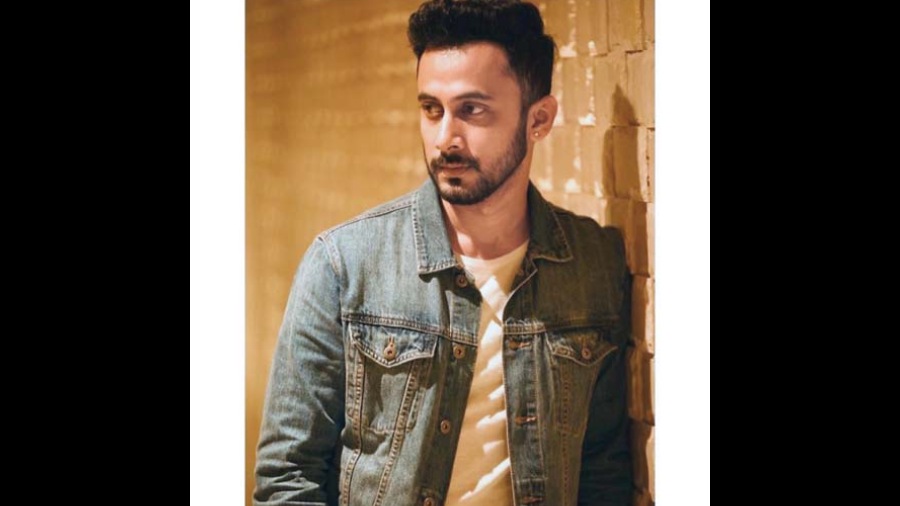 The mood at the beginning was 'I woke up like this!' Swastika has beautiful skin. So, I didn't have to use that much concealer. I moisturised her skin and contoured it a bit. There was eye shadow and we worked on the eyebrows. Peach blush and moisture lipstick were for added freshness and we blow-dried the hair. We also gave her a sleek pony and glossy lips and a DIY tie-up, smokey eyes and a coral stain
Abhijith Chanda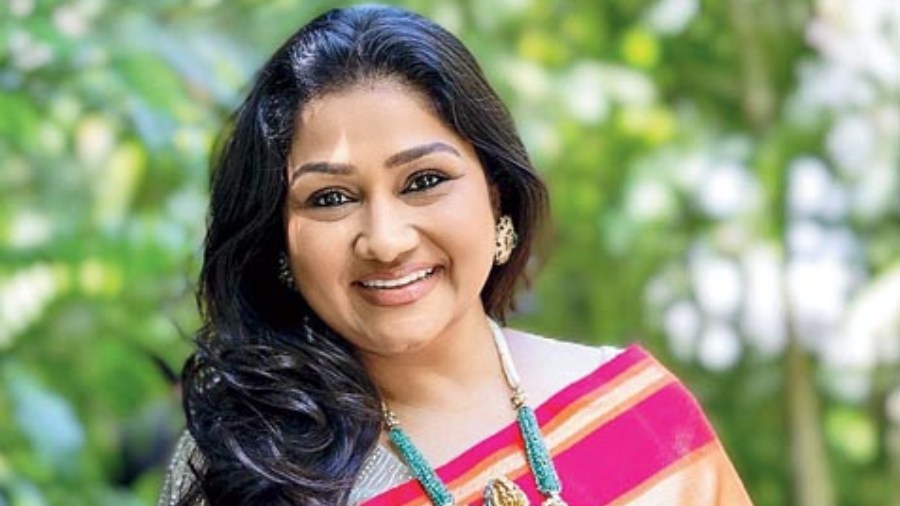 Saris have made a huge comeback and everyone wants to experiment and wear something different. This Durga Puja, I wanted to give something different to the younger generation so that they can pick up saris from their mother's wardrobes and try new drapes. My entire focus has been how we can bring the younger generation back to saris. We tried fusion blends, which I think girls will love
Dolly Jain