The term 'passion project' acquires a level-next meaning when it comes to Ayan Mukerji and Brahmastra. The man behind films like Wake Up Sid and Yeh Jawaani Hai Deewani has lived and breathed the fantasy film — which he and his team describe as 'modern mythology' — for more than a decade.
With Brahmastra Part One: Shiva — the first film in the trilogy, starring Amitabh Bachchan, Ranbir Kapoor, Alia Bhatt, Nagarjuna Akkineni and Mouni Roy — finally set for a September 9 release, The Telegraph engaged in a freewheeling conversation with Ayan at Trident, Bandra Kurla in Mumbai on the occasion of the motion poster release of the film. We chatted extensively on the intent and vision of Brahmastra, why it has been so long in the making and what makes Ayan and Ranbir an indelible tour de force.
You have lived with Brahmastra for a very long time now. What are the emotions like, given that you are now putting out bits and pieces of the film and eyeing a September 9 release?
It's like what a mother would feel after a pregnancy... a pregnancy that hasn't lasted nine months, but nine years! (Laughs) It feels very important and very sacred to me. We have really made the film with our soul, our blood and our heart. When you have put in that kind of tapasya — as I would like to think of it as — in a film, then putting out every asset and unit is a very big moment in our lives and in the life of the film. My mom actually came and tied a dhaaga on my wrist today... it's that important for me. 
I am very excited about what we are doing. I am keen to know what people think of the film. But I also feel confident about it. With Brahmastra, we are doing something unique... something that I have seen happening with big films in the West, where they start to build it (a film) from a long time before release. We have started our promotional campaign for Brahmastra nine months before release. It's because we believe that we have a lot of things to put out about Brahmastra... that we can speak to you for nine months, and gradually bring the audience in.
In this film, we have a story that we believe can sustain. We feel that it will allow us to permeate deeper than the normal film-going audience in this country. Films are watched widely in our country. That's true, but I feel we have to go deeper in our reach  with Brahmastra. Much deeper than the average Indian film goes.
I like the kind of communication about the film that we are putting out at this point. I love the image of Ranbir (Kapoor), who plays Shiva, with the fire trishul.
The world of Brahmastra seems very different from what the average Hindi film audience has seen before....
Absolutely! I definitely want people to come into the world of Brahmastra. We have a population of about 1.3 billion in this country. My film Yeh Jawaani Hai Deewani wasn't a Dangal for sure, but it was a very successful film. You know how many people went and saw it? Just two crore people... out of 130 crore! So while there is a community that we speak to, a community that's constantly talking about films and they know about the bunch of films releasing at any point, in this country, there is actually a huge audience that doesn't go to the cinema. They just don't go. They are so caught up with their lives that they can't make it to the movies.
I want to reach that audience... I want to invite them into the world of this film. Why? Because I think we have created a product that's so remarkable, something so extraordinary that I want to bring them in.
I also want Brahmastra to be an example going forward of continuing to make films like this in this country. At the budget that we have made it, we need the support of this country. We can't continue to make (the subsequent parts) of Brahmastra and other film-makers in this country can't make their Brahmastras if all we get is that limited pool of an audience. So we need to go wider, and therefore I need people to get invested in this journey, so that our box office can be as vibrant as, you know, China's box office. I believe Brahmastra is the kind of film that the country would feel really proud of. It touches on our roots, it takes us forward with our technology.... We should just be a powerhouse of film-making on our own. And for that, we need the country behind us.
It's taken a lot to make this film. We need to touch newer audiences in order to keep our cinema vital and alive. We need to make our films on the same scale at which Hollywood is making its films.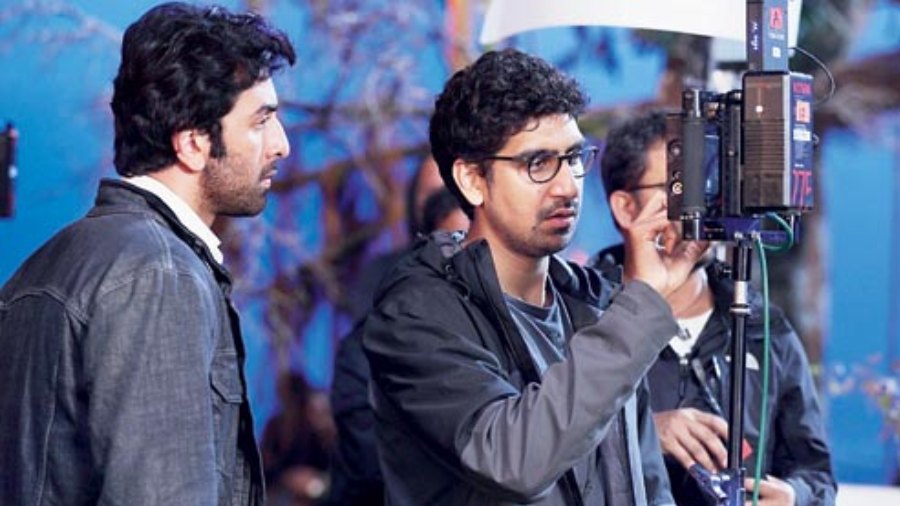 Ayan Mukerji with Ranbir Kapoor
How practical is that in a post-pandemic world where the theatre-going audience has shrunk even further and we have lost many cinema screens?
Even pre-pandemic, this was a challenge for us. Just to assess the strength of our audience and to reach the true India. Of course, there will be a slowdown for a few months because of the pandemic, but I have always believed that water finds its level. And even with all the restrictions, there is a way to go safely to cinemas. The business is there for the taking when people are excited to go and watch a piece of content.
We all need to get together and reinvigorate our cinema-going culture. We need to keep our storytelling alive and vital. We need to articulate our vision for our films more so that people support our own content and go out there to watch it.
The idea for Brahmastra came to you in 2011 when you were spending time alone in the mountains. Was there a moment of epiphany that brought this story to you?
It was definitely an epiphany. I visit the mountains a lot. I always feel that the Himalayas are the best thing I have seen on this planet. It's my spot, actually... I go trekking a lot. The kind of feeling that some people would get, say, in a sacred temple, I get that in the mountains.
So the idea of Brahmastra fell into place for me there and it arrived, as a lot of ideas do, like a bolt of lightning. I was like, 'Wow! This is the genre I want to work with'. I knew that I wanted to do something that was epic, blockbuster, fantasy — because I love fantasy — but which is inspired by Indian spirituality. At that point, that's all I knew I wanted to do.
The idea struck me like lightning but I had been preparing for it for many years. I was a huge reader of Western fantasy fiction. I have read many titles multiple times. In school, I was obsessed with Harry Potter, The Lord of the Rings.... You can't even imagine how many times I have watched The Lord of the Rings on the big screen. I was travelling in New York  and instead of wanting to go and explore the city, I would go to the cinemas again and again to watch The Lord of the Rings. That was my 'trip'.
And then, deeper than that, I was always drawn to Indian Gods and Goddesses. As a kid, I had a lot of faith, which permeated into a subconscious level while I was growing up. I am very involved with my family's Durga Puja festivities, but before Brahmastra, I wasn't using my faith in my work.
But then when this idea hit me, I was like, 'Listen, I have to take this inspiration.' Since I have made quite a few films, I wanted to leverage that experience and also what I was seeing the West doing in terms of creating cinematic spectacle. I am a young film-maker who has that energy that perhaps my seniors don't have right now. I felt I can do this, I can become a student of cinema again and do what Steven Spielberg was doing when he was a young guy in the West... or what George Lucas did as a young man when he envisioned Star Wars. When the idea came to me, I was in my late 20s, I was at the right age and I told myself, 'Let me do this because somebody has got to do it.'
So the idea came to me as an epiphany in the mountains, but I guess my whole life, in a way, was setting me up to do this. Wake Up Sid and Yeh Jawaani Hai Deewani — not to take away anything from them — were part of the tradition of films that I loved watching growing up. Wake Up Sid was my version of Dil Chahta Hai. Yeh Jawaani Hai Deewani was my version of Dilwale Dulhania Le Jayenge. Both were told in my own way. With Brahmastra, when the idea came to me, I felt that this could be truly mine. This is truly my voice... it's a new film, a new genre. I was like, 'Main isko karta hoon.'
Given the scale of the film and the fact that it's taken so long to make, the experience must have been overwhelming....
It is an overwhelming project. Completely! If I knew how long it would take to make this film and the lengths we all would have had to go to, I don't know what my journey with this film would have been. Sometimes, you have to take that leap of faith, as I have done with Brahmastra. I just jumped in and then started to figure my way through it. You can only climb Mount Everest if you take one step at a time, one day at a time.
Brahmastra has been a long journey. And from the outside, I can understand people going, 'Oh my God! It's taking so long... there is no release date... it just keeps getting postponed... this is not how films are made....' I have spent so many years listening to this. I still do, even from people who are close to me. Like once in a while, Karan Johar (the film's co-producer and Ayan's mentor) tells me, 'Man, you got to be careful. There is a little bit of negativity surrounding the film.'
But that aspect really didn't bother me too much. That's because I always knew what I was making. I have had a lot of faith in that. I have always felt that what we are doing in this film is remarkable and incredible. When people watch the film, it will all make sense to them because they haven't seen anything like Brahmastra before. I am sure they will appreciate it and I know that all these years of what I have put into this film will work to my advantage. They will say, 'It's good you took this much time to get this right.' I feel that our film-makers sometimes rush with their films. In order to raise our bar of film-making in certain aspects, I feel we need to take ample time.
  Also, whenever people have watched anything related to the film so far, I have felt their excitement and their energy, and that, in turn, gave me a lot of energy. So, honestly, I have always felt people having a certain anticipation about the project. That aspect and my own vision of what I was doing never made me feel overwhelmed when it came to the larger picture of the film. Even now if I am told that we need six months more on the film and that we shouldn't release it in September, I will be like, 'Great, great! Let's keep working on the film' (laughs).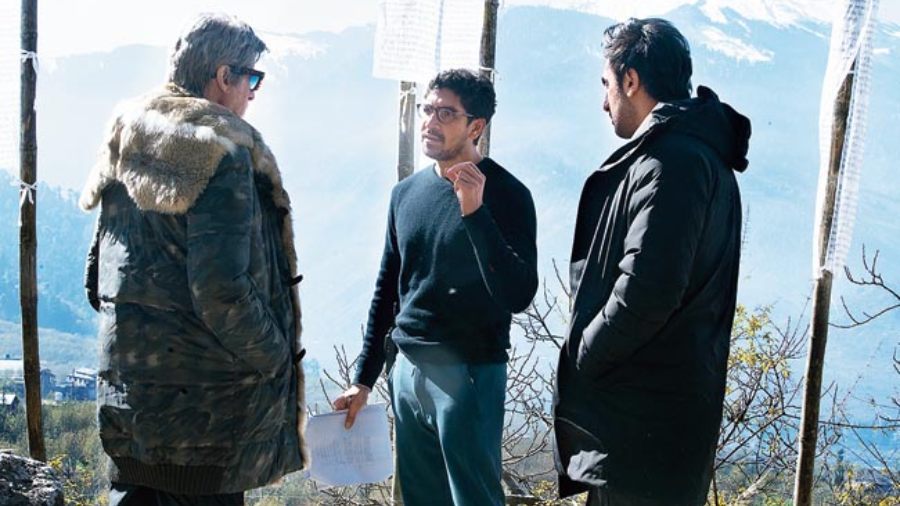 Ayan with Amitabh Bachchan on the sets of Brahmastra
But you also have to be cognisant of the fact that the Indian audience today is exposed to Western film-making like never before. For them, larger-than-life spectacle means the Marvel Cinematic Universe. Brahmastra is made on a huge budget, but it's nothing compared to the budgets that Hollywood films of the same genre have at their disposal. Does that worry you?
Honestly, I believe our VFX in Brahmastra is of a very high standard. I don't want to compare it to that of an Avatar. The truth is that we have to work very, very hard to get to that level. But I know Brahmastra is not something that we have seen in our films before. I know how much time we have taken on each shot in this film. We have stared at every shot more than a 100 times in order to perfect it. It's taken 10 years of my life. The visual appeal of the film is such that people are going to love it.
The Marvel Universe, as amazing as it is, is not our own. Second, it's based on comic book lore that's been created for 50 years! They already have a foundation. Brahmastra is definitely a lot of inspiration, but what my team and I have had to create is  something completely new and original. And I feel very proud of it.  Even films I look up to, like Harry Potter and The Lord of the Rings, are based on existing literature. We are based on nothing. We have our own story. It's Indian, it's original, the VFX is going to look amazing....
Mr Bachchan has termed the genre of the film as 'modern mythology'....
Well, it's our term (smiles). Brahmastra has a lot of motifs from Indian mythology and from ancient India, but it's set in the modern world. Like Harry Potter is set in modern times but it plays with witches and wizards, which are gleaned from ancient writing. I won't say that it's not been done before, but with Brahmastra, I feel that we have done it in a very fresh way.
Whatever you have put out of the film so far has quite a bit of religious iconography. Given the times of knee-jerk outrage we live in, is that something that could potentially be a problem?
I have been very careful about the fact that we have only taken inspiration from Indian history and from Indian Gods and Goddesses. Whatever there is in the film has been done in a very celebratory way. We haven't used any direct concept. Hum yeh nahin keh rahe ki jo brahmastra hum film mein dikha rahe hain wohi brahmastra bhagwan Ram ke paas aaya tha. We have named Ranbir's character Shiva because I have a friend called Shiva and also because I wanted the spirit of Lord Shiva in my film. But I am not saying at all that he is a reincarnation of Shiva. It's a fantasy film using a lot of Indian mythology and imagery, and I think we have used it in a way where I feel there is no scope for people to get upset.
You are, of course, best buddies. What is it that works for the professional relationship that you and Ranbir Kapoor share? I am asking this especially in the context of Brahmastra where he needed to be completely invested in your vision and your process....
He's a great talent, he's a great actor. It's very fortunate that we have built this solid relationship where he trusts me enough to work with me blindly. He's one of the best that we have. He's a very natural muse for me. We are a very natural fit together.
Our friendship, the understanding we have, the working relationship that we have built has definitely been one of the greatest things that helped me with Brahmastra. He has been a pillar to me in this film, but in a very silent way. He's been there, done all the work and not taken up that kind of energy that sometimes working with big stars can do. And that's, therefore, allowed us to just concentrate on the film-making aspect of Brahmastra. He's been like a soldier on this film. Both he and Alia (Bhatt) have had a warrior-like spirit in the making of Brahmastra. That's been more of a gift than I realise sometimes.