While whether art imitates life is still up for debate, art imitating the artist's mind is a fact well-established. And what is couture if not art on a wearable canvas? Now, add a dash of millennial practicality to couture that comes through the lens of a well-heeled designer duo whose seasoned luxury resort-wear label knows what a global audience would want and that is where Shivan & Narresh's take on couture aims to fit in.
Launched last week through an experiential film on Instagram that was inspired by Narresh Kukreja's personal Sunday art ritual with friends, Couture Series 1: Artists at Work, in Narresh's words, was "minimal and stands for a lot more global values today regarding stereotypes of what you are expected to wear on your wedding day, irrespective of your gender".
Minimal, inclusive, diverse and embodying an element of careless abandon of straitjacket notions, the designs are glamorous yet functional. Indulgent drapes of silk jerseys, the finesse of silk organzas, layers of crisp silk gazar and handcrafted silk yarns in delicate knits, surface embroideries, abstract motifs and the brand's signature Skein work come together in Shivan & Narresh's first couture presentation. Their recent foray into couture, interestingly, comes at a time when designers of all statures are making a beeline for the ready-to-wear segment. So how was this collection conceived for the millennial audience who shops on Instagram and would want their wedding day to be fun for them too? This and more in a t2 chat with Shivan Bhatiya and Narresh. Excerpts: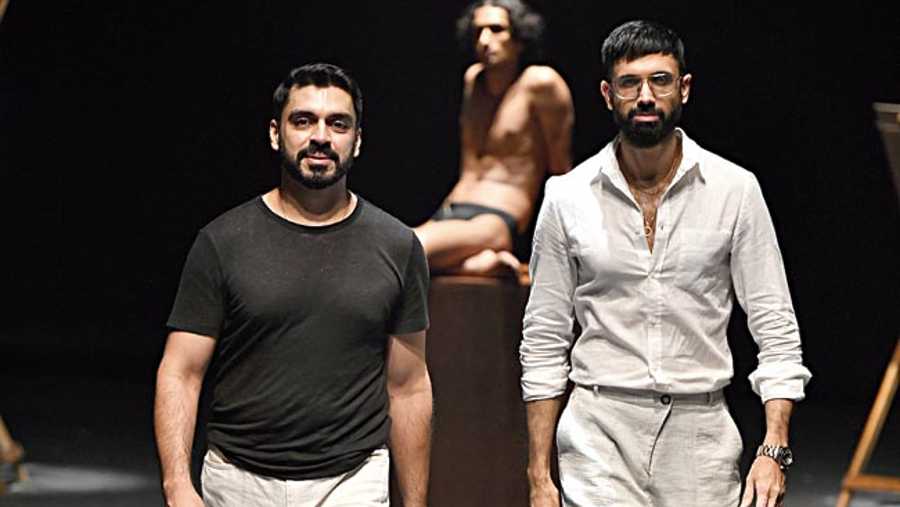 Designers Shivan & Narresh
Sourced by the correspondent
Times have changed and we seem to be existing in this hybrid world of physical and virtual. So did the conceptualisation of Couture Series 1: Artists At Work take this virtual world that you'll have to present in, into consideration?
Narresh Kukreja: Yes that was the intention, to begin with. Last year, with the hugely successful debut of our 10th-year anniversary show that was done digitally, just the response we got by exploring this "d2c" (direct-to-customer) platform, where the brand can have a direct conversation with the end consumer is something that we were extremely excited about. We saw great results, not only editorially putting out the show, having all the creative liberty and rights as artists but also in terms of the business of reaching out directly to the customers and seeing this translate into sales. So this was definitely a format we wanted to follow for this reason. Couture tends to be a category that is all about experience and so we always knew this at the beginning of conceptualising this that even if we cannot pull people into a physical experience then our digital experience has to be dramatic enough that it needs to mean "couture" to them. It needs to put you on the edge of your seat to watch the show and that really was the intention of the way the show was made.
Talking about dramatisation, Artists at Work and the video conceptualised around it has oodles of it. How did you arrive at that?
Narresh: It started in a very organic way, weeks before. Just for my personal interest, I tend to do art on weekends with a few friends and we sketch each other. We used to do these sessions every Sunday and interestingly, a few weeks back we decided to try human anatomy. We were taking turns and sketching each other and while I was on the pedestal, posing for my friends to sketch me, the idea of exploring it as a concept for the show came to me. I was the artist and then I was also being the model and being in both shoes, you really start to feel that the purest form of art is nothing but when you start accepting who you are. And then when you are posing as a model, no matter which type of body, colour or gender you have does not matter — you have been put on a pedestal and that itself makes you the perfect creation you already are. And then as an artist to see what is in front of you, to accept it and then to document it as a piece of art and this relationship between the object and the artist really ended up becoming the starting point for the concept of the show.
Taking this very personal experience forward, we thought of incorporating this into our couture presentation and then everything else that followed was just organic. This collection is titled Series 1 because it is a very good way of documenting our own work in couture, year after year. We will be producing one couture collection every year and it will always be titled in sequence so that we will be documenting our own form of art during our own lifetime and in our own space.
The label Shivan & Narresh is known for its own sense of aesthetics. How do you see that transcending into couture?
Shivan Bhatiya: For us, the idea started with the change that was brought about by the millennial couple. They are earning for themselves, paying for their own weddings and they want to have a great time at their own wedding that they have curated with each other. We did not want to give them loads of fabric or heavier pieces that drown them. The idea was to give them pieces that let them really celebrate the way they have planned the wedding. Our couture had to be one of the easiest pieces they have worn but also had to make them feel the restrained glamour that we wanted to add to it.
Narresh: We wanted to also have this conversation of taking the next step in globalising Indian couture. We have just become so boxed in as we see it only through the bridal lens and I think that makes us stop the world from seeing the craft and our industry in a global light. We wanted to have this conversation of packaging couture in a global manner and seeing it through the lenses of art and culture, which is why there is a very dressed-down feel to this couture line.
You see couture lehngas but you also see them dressed with silk knits, you will see a sharara but you will also see a silk net jumper. And this is what we wanted to talk about that millennial and Gen Zs are now all about functionality, even if they consume couture. In a lot of ways for us, this is the next renaissance of Indian couture to take it to the next step.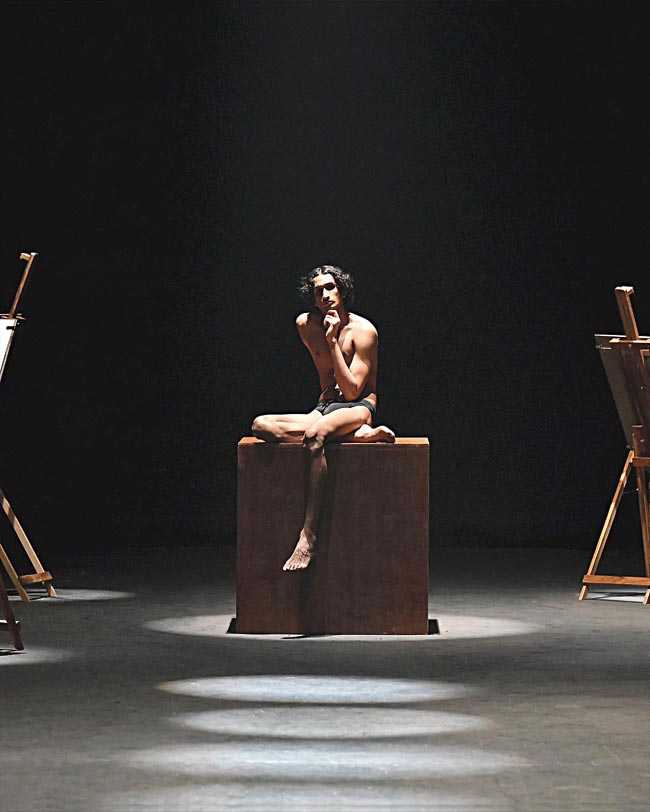 A still from the couture showcase on Instagram
Sourced by the correspondent
Considering how the landscape of fashion is changing, including how we consume it, how did you design this collection?
Shivan: When the collection started, we were imagining the pieces to be full-look pieces — all the lehngas were designed with their matching blouses and the dupattas were also kept in mind. But along the way, we were also exploring hand-knitting as a big form of textile because in India today, hand-knitting is really being looked over as everything moves to mechanised knitting. So we were doing a very separate kind of exploration with fabric. In a very sustainable way, we were procuring our own silk yarns from Bangalore and were trying to explore different hand-knitted weaves to make our own fabrics, tops and jumpers. And as we got close to the show, we wondered — why not marry the two? Why does the lehnga have to be worn with a choli and dupatta because if I was a woman getting married today and putting my own wedding together, I would not want to get bogged down by a 20kg lehnga and stand on a stage like a trophy bride. I think this is very inherent for millennials and Gen Zs — for them, product is not as important as experience is, whether it's a holiday or a wedding or even a dinner.
That's when we decided that the styling of the show had to be done in a millennial manner and dress it down. Of course when a bride walks into the store, she is more than welcome to dress the white lehnga with a white dupatta but just to give her the option of wearing it with a silk jumper is opening doors for Indian couture. It opens the doors for new brides that will come out of India in the next five years — that they can have relaxed, chill, 50-people or even 10-people weddings at home. These are the kind of new conversations we should be having when it comes to Indian couture. Be ready for change and mark this change and that is what we felt this collection would do.
The trend seems to be that even the biggest designers are moving to pret. And here you are, starting a new couture chapter. Were you ever worried about perception or practicalities?
Narresh: I think for us, in comparison to all the other Indian designers in the industry, our story is completely upside down. With all Indian designers, they started their careers with couture and bridal-wear and it is only now with the pandemic that they have understood the importance of the financials of ready-to-wear and its importance for their future. We started our journey with resort-wear, which is a ready-to-wear category for not only India but in the world. For us to go to couture, it gave us a safety net because I know that my business today does not depend on my couture collection. So I can risk and take this experimentation of trying to put out something new. Even if it takes my customers one or two seasons to evolve and understand that, my business does not depend on that. We were fortunate in this regard and since this was our first couture presentation, we felt light because we did not have a precedence to stick. Of course there were expectations about what we would do but that was a path that we are going to chalk out from Series 1 to 2 and 3 and that will be its own journey as we evolve.
Pictures courtesy: Shivan & Narresh