The true legacy of any brand is testified by its association with its products and therefore, when a brand becomes synonymous with the product they are selling, it is a sure-fire way of ensuring a strong customer base. And for iconic brands such as Starbucks and Sabyasachi Calcutta, their "customer base" is more akin to a "community" that they have nurtured painstakingly over the years. So when these two brands decided to collaborate, it had to be for something larger than their individual identities. In this case, it was the cause of 'Educate Girls' that acted as the alchemist. The result is the Sabyasachi + Starbucks collection of drinkware that includes ceramic mugs and steel tumblers, featuring the designer's signature work with motifs inspired by Bengal, fused with his distinctive interpretation of the Toile de Jouy vocabulary of design. In a chat with The Telegraph, designer Sabyasachi Mukherjee and Sushant Dash, CEO, Tata Starbucks, decodes the Sabyasachi + Starbucks collaboration:
Sabyasachi Mukherjee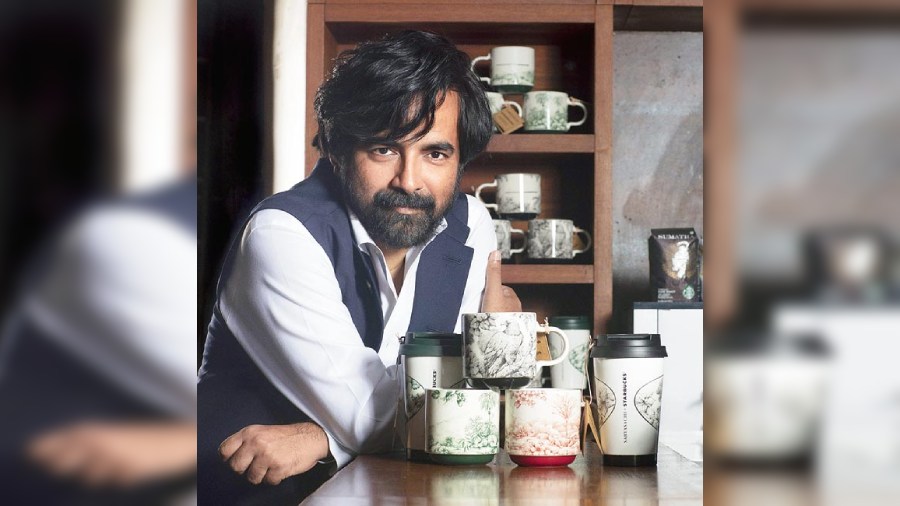 Personally, I'm a big fan of Starbucks. We go back a long way even if they don't know it! Back in the day as a young designer figuring my way and brand out in New York, my day would begin at Starbucks — Sabyasachi
What made you say yes to Starbucks for this collaboration?
The most important thing is that we like to collaborate with like-minded brands where both philosophy and values align. And what can be more beloved or iconic than Starbucks.
Personally, I'm a big fan of Starbucks. We go back a long way even if they don't know it! Back in the day as a young designer figuring my way and brand out in New York, my day would begin at Starbucks. But what I love most about this particular collaboration is that it goes beyond the merchandise. We have come together to support and amplify Educate Girls, and the incredible work they do. And educating the girl child is a cause very close to my heart.
What was your focus while designing this line? What are some of the things you have to keep in mind while translating your designs into the products of this line?
Their coffee mugs and tumblers are probably the most iconic merchandise because they are linked so directly to coffee culture. And for me, I wanted to celebrate the iconic. The Sabyasachi Art Foundation has always played a significant role in our collaborations, and I wanted to pay homage to Bengal through the Sundarbans, and its natural flora and fauna. I'm very proud of my Bengal roots and I thought that it would be nice to be able to showcase the skills of the Art Foundation and render it on the most iconic merchandise of Starbucks. I think when two strong, distinctive forces come together, we should come together to celebrate our very best. So we paired their mugs and tumblers with our signature interpretation of Toile de Jouy and I created something that already has a strong visual connection to celebrate the heart of both our brands.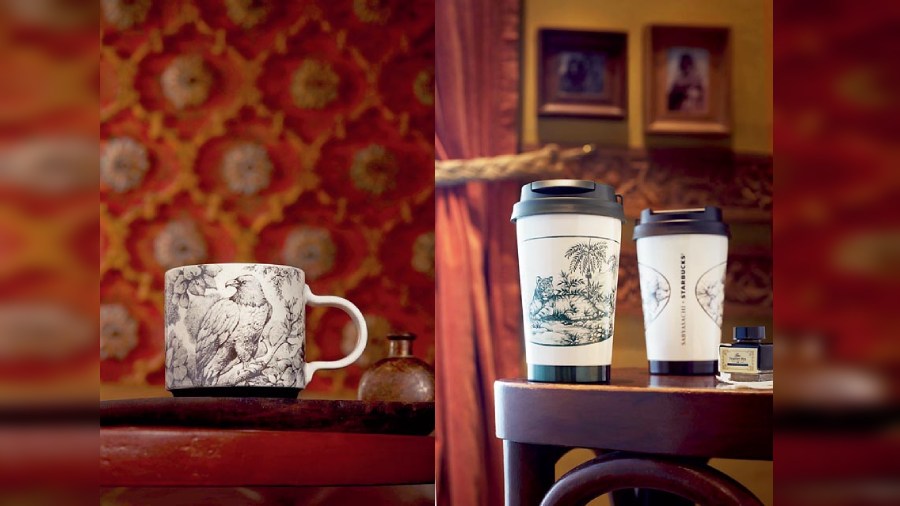 What is your earliest memory of having a Starbucks drink?
I don't think I remember the first time because it feels like it was just always there! But my New York days as a young designer cemented the relationship for me!
Collaborations between designers/artists and brands seem to be the way forward. How do you look at it?
I've been collaborating with brands and people for many years now. I don't look at it as a trend, I look at it more as a very energising and dynamic cultural exchange. We are thoughtful about our collaborations and come together with partners to either increase accessibility or to create visibility for Indian crafts and luxury, or to help further India's presence in sectors where we are under-represented or to create an impact for causes that are very dear to our heart.
Sushant Dash, CEO, Tata Starbucks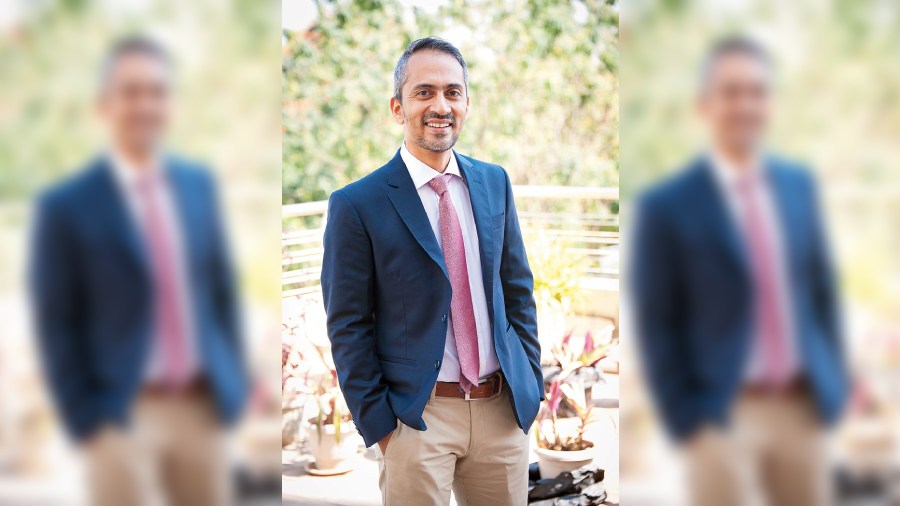 What prompted this collaboration? Why did you think Sabyasachi Mukherjee would be a good fit for it?
At Tata Starbucks, we are always scouting for partners and opportunities, which catalyse our humane connections with our consumers. As a global brand, we believe it is our prerogative to be a beacon of hope and change for our consumers and in ways, be able to give back to the community we serve.
Sabyasachi was a natural fit for this collaboration as we both resonate with a sense of purpose, are loved by our consumers, and stand for the hallmark of quality in our respective fields. Not only was this an opportunity to design some beautiful merchandise for the two iconic brands but also to partner to be a force for good.
What are the areas of focus with this collaboration?
Starbucks, as a neighbourhood store, is committed to being a catalyst for change by bringing together its partners, customers, and communities to take positive action around the world.
Both Starbucks and Sabyasachi being archetypal brands, encompass a loyal customer base and are an emblem of world-class quality. Each brings a strong sense of purpose, sparks some hope, and gives an opportunity for the combined customer base to actively participate and support our bigger mission for change.
What are some exciting plans and offerings from Starbucks that we can look forward to?
Tata Starbucks is more than a regular coffee shop. Our purpose at Starbucks is to provide a "third place" for our community where they feel welcomed and connected, and most importantly, be themselves. We will continue to be the neighbourhood store as we thoughtfully expand to new markets. Our strong connection with our customers and coffee leadership will be at the forefront of all that we do. Brand partnerships and collaborations have been another important pillar in our marketing strategy, and you will see some exciting news on that front as well.
Pictures: Courtesy of Starbucks