A dimly lit frame. The muse on the chair, giggling, her hands resting on the shoulders of a man sitting next to her, laughing aloud, a blush brush in one hand. "You just need a bit of blush," he tells her. "I trust you," she tells him, with a little squeeze of the hand. And, the camera rolls. This frame sums up the mood of this shoot. The bond between a make-up artist and his muse. The squeeze of trust that Project & Stories tries to bring alive through its first project 'Beauty & Stories', that celebrates the magical fingers of the make-up artists. The mood board travels from "classical western" to hardcore Bengali to "Bangla modern". The set-up is Calcutta, but the soul global. t2 was on the sets.
Sauraseni Maitra X Abhijit Paul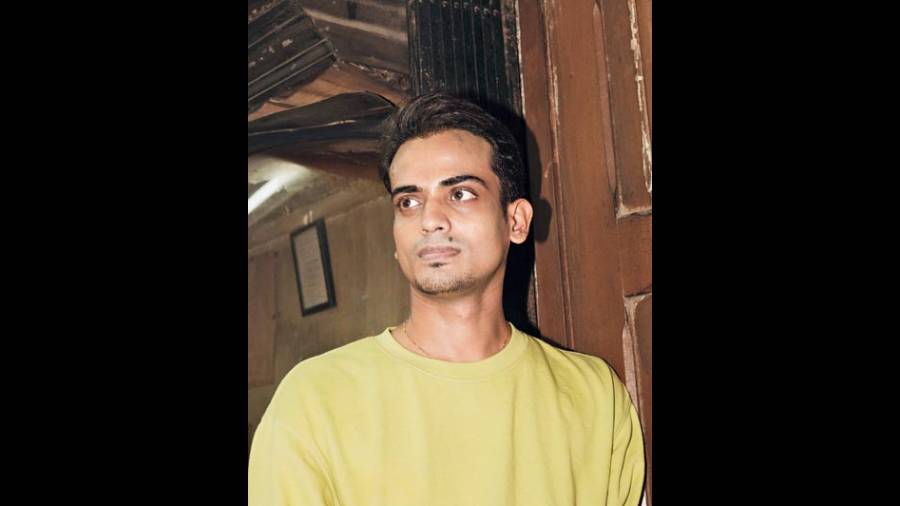 Abhijit on Sauraseni: I have known Sauraseni for almost 10-12 years. Though I met her through work, she is from my neighbourhood in north Calcutta. We have a great bond and o aamar ekdum kachher manush. Whatever I try on her, she can carry it well. Her features allow me to experiment. May she prosper in her career.
Sauraseni on Abhijit: He has literally seen me grow up. What I really like about him is that he is very comfortable to work with and he has this patient and calm vibe about him. I keep talking and tackling me is not easy and he is a pro when it comes to that! I adore his aesthetics. He believes in less is more, just the way I like it. And, he always tries something new.
I love both the looks. The eyes are distinct. I love the liner so much that I think I'll try this liner all the time. This will be my signature liner.
The bond has been strong as ever. He treats me like a sister. He knows how to make his muse feel comfortable. Every time we have shot, he has tried to get me out of my comfort zone, but still made me comfortable. I have never really tried my liner this way, but who knew it is going to look so amazing.
I would just tell him that keep on being this pure soul and that reflects in his work. I wish him all the best and will tell him to keep on calling me for his house parties!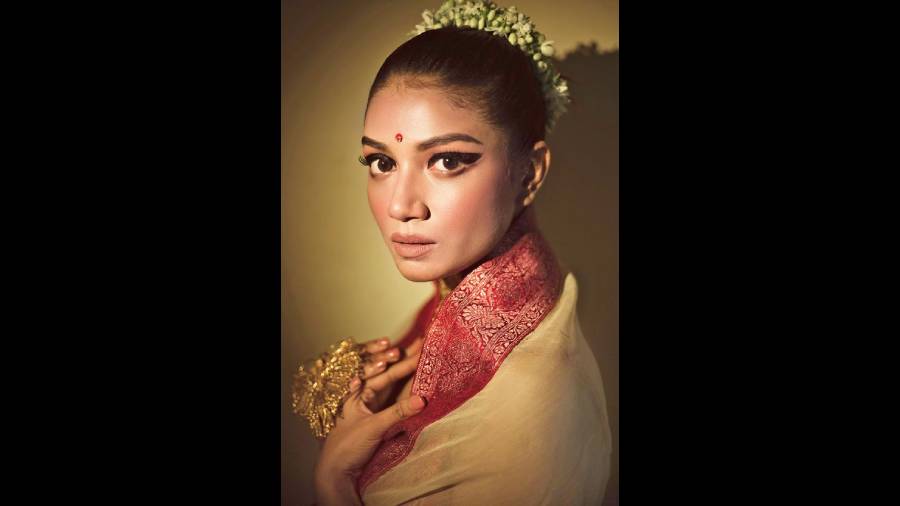 Abhijit Paul has given Sauraseni Maitra bold winged eyes, gelled-back hair and a high bun decked with flowers. Charming, so Zen and steeped in Bangaliana. "This one is inspired by a Raja Ravi Varma painting," says Gourab Ganguli, the creative director of the project. Sauraseni is in a Parama sari, a handcrafted sandalwood organza with karwa sindoor Benarasi border, from Project & Stories.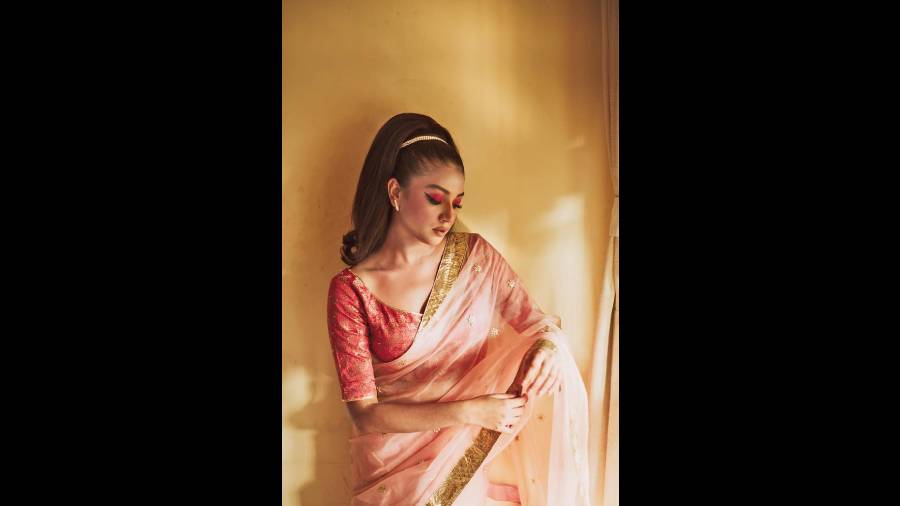 Sauraseni drapes 'The Met Sari' by Project & Stories — an organza sari with hand-embroidered couching flower booties and gota patti border and teams it with a karwa brocade kantha blouse. This is an ode to the "vintage Hollywood feel". Fuchsia pink eyeshadow + winged liner + pearl + retro hair. Striking in all its minimalism. "With Sauraseni, the idea is to do an Indian Barbie. That's why that bouffant and that vintage Hollywood feel, very (Jacqueline) Kennedy. We want to play with the idea of delicate. Indian classical vs western classical," says Gourab.
Parno Mittra x Mainak Das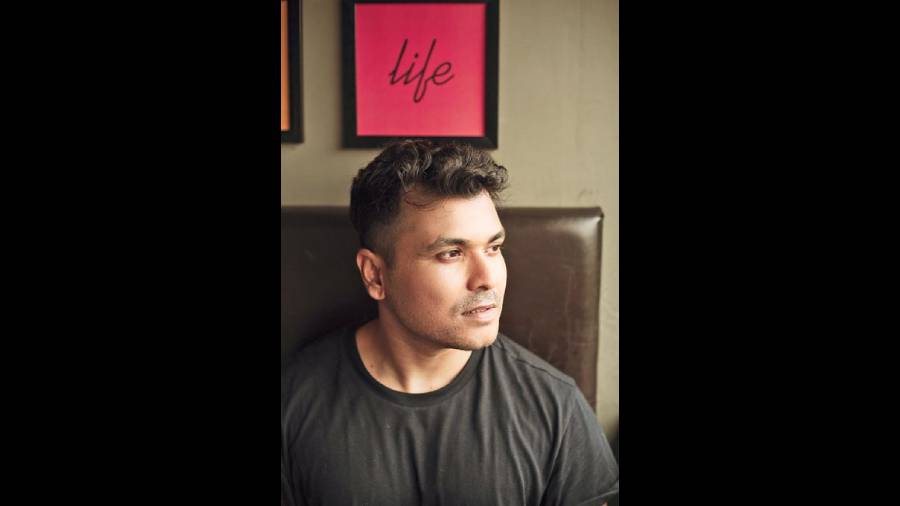 This glamorous frame is dipped in drama and enchantment. "We thought of doing something with her eyes. So, we have given her lots of golden and silver sparkles. We have moved away from Indianised eyes. Parno has a bold image. So, I have given her bold eyes. The lips are a Fenty shade and we have given it a coating of a M.A.C gloss," says Mainak. Parno drapes the Rubina sari, a red organza with antique karwa brocade border, from Project & Stories. You can almost visualise her swaying to the beats of a DJ in a nightclub in Manhattan or dancing the night away at a friend's wedding. So chic with an international allure. For Gourab, the look has "Mayabono biharini horini from Bedroom, kind of vibe". "Parno is a bit of a rockstar. So, we want to give her an edgy look, kind of rock glam meets Bangla modern. She has coloured her hair red. She is the Bengali cool girl," says Gourab. 
Mainak on Parno: I have known her for almost seven years. She is experimental and I love that about her. She gives suggestions and gives you a free hand. She trusts you and with her, there is no pressure to backcomb, which is so 1970s! Parno'r kachhe thakle mone hoi make-up artist o celebrity. Eta aami karur moddhe sherom bhabe pai na. I would tell her to remain the way she is.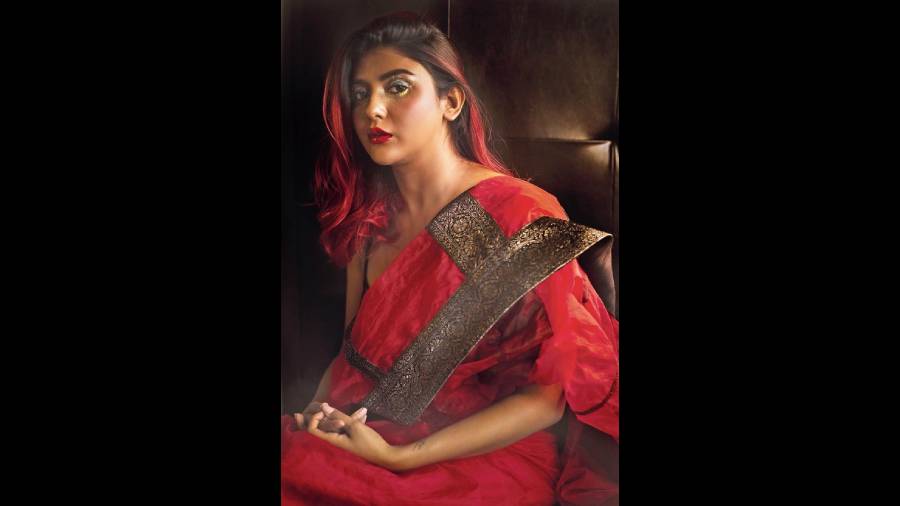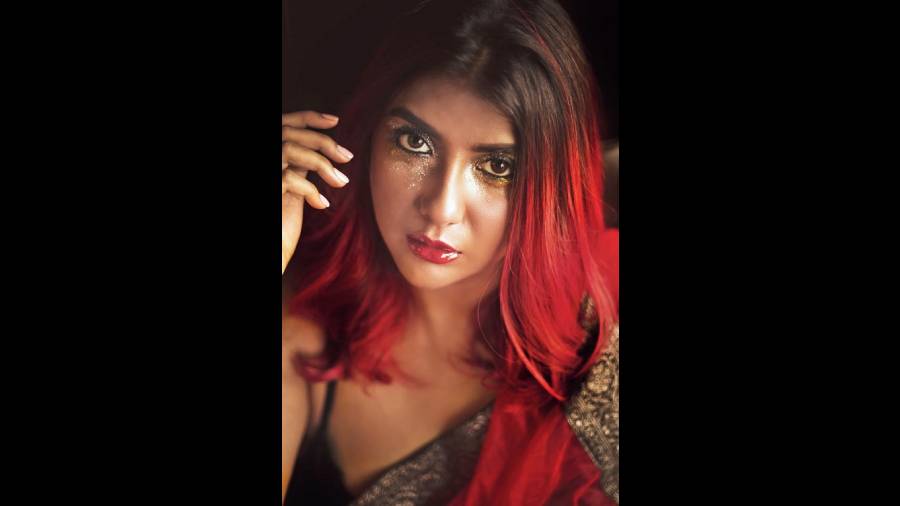 Parno on Mainak: He is like family to me. At times I don't let him experiment, but he is one of the most talented people I have come across. For me, he knows it all. He has come a long way and I trust him blindly. I love him and he is like my brother and even if he stops doing make-up, he'll always be in my life. But, I hope he never stops doing make-up!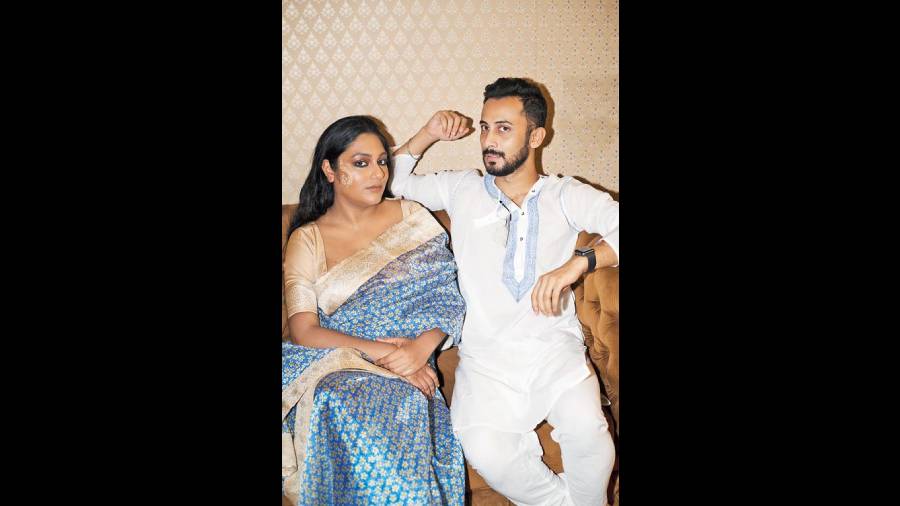 Project & Stories founder Suddhasree Ghosh is the muse for Abhijit Chanda, who relives his love for chandan work through the shoot. What tumbles out are beautiful memories. "I would draw as a kid and my mother was very good at alpona and chandan art. She was not trained though. And her style was sleek. Ma ke niye jeto biyer kone shajate and I would sometimes accompany her. I would find it fascinating as a kid. As I grew up, I started drawing alponas in my school and drawing school. I developed a knack for chandan in the process. That translated into a passion for make-up later," Abhijit tells us. He gives Suddhasree, who wears a Project & Stories Sugandha sari — a hand-painted jasmine jaal on organza — with a satin brocade blouse, a traditional design and kohl eyes. Complementing the mood is his own addi'r panjabi. This picture takes us back to the vintage wedding albums, just like the one from our parents' times. "Abhijit Chanda's make-up has the Bengali stamp. If anything Calcutta owns in terms of make-up, it is chandan. The alpona school hails from Santiniketan. Rabindranath Tagore wanted his geetinatya stars, especially the female leads, to wear chandan in the alpona pattern. The high society of Calcutta got inspired from that and they started following it in weddings," says Gourab.