Whose preferred brand of cigarette is Charminar? Which detective likes to be referred to as satyaneshi? Which genius professor has a pet cat called Newton? If the answers to these questions roll off your tongue, then these quirky merchandise inspired by Bengali literature and fictional characters are meant for you.
From T-shirts to fridge magnets and coasters to cups, you can bring home your favourite characters in many avatars. My Kolkata brings you a few options…
Byomkesh Bakshi
Created by Saradindu Bandyopadhyay, Byomkesh Bakshi is one of the most-loved goyendas, or detectives, in Bengali literature. Be it his wit or crime-solving skills, we can't disagree that his cases always have a twist at the end. With the constant support from his sidekick Ajit and insight from his wife Satyabati, this character is a classic. Add a bit of Byomkesh's swag with a graphic T-shirt and carry around your love for this character effortlessly. 
Professor Shonku
Scientist and inventor, Professor Trilokeshwar Shonku, a creation of Satyajit Ray, has taken us on many adventures with him. Apart from having his cat Newton and his right-hand-man Pralhad with him, Professor Shonku is a certified genius and polyglot, knowing 69 languages. Wear your love for this fictional character as a graphic tee, and we're sure your outfit will be much appreciated by fellow fans and science fiction lovers. 
Apu and Durga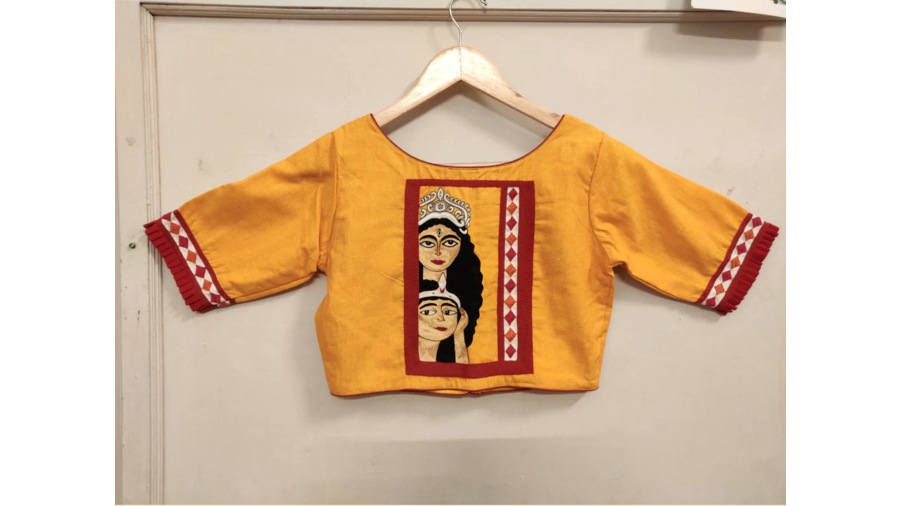 paramacalcutta.com
Written by Bibhutibhushan Bandyopadhyay, Satyajit Ray's Pather Panchali is one of the most loved films in Bengali cinema. The sibling duo, Apu and Durga, have been taken as inspiration to create this unique blouse that shows the scene where they both are wearing a mukut. The colours are bright, with yellow and red being up and centre. Don't miss out on this. 
Rabindranath Tagore
Want an example of Tagore's spellbinding genius? Chitto Jetha Bhay Shunyo, or, Where the Mind is Without Fear, remains a classic that will give you goosebumps. So why not wear a tee with a line from this classic poem? 
Sonar Kella
Think Sonar Kella and Rajasthan, and you think of unt or camels — that played a pivotal role in the film. Here's a line of saris that pays pop tribute to Satyajit Ray's classic book and film and one of the most-loved Feluda adventures with camel and sand dune motifs. The sari is available in three colours. If you are a Ray or Feluda fan, this is a must-have.
Feluda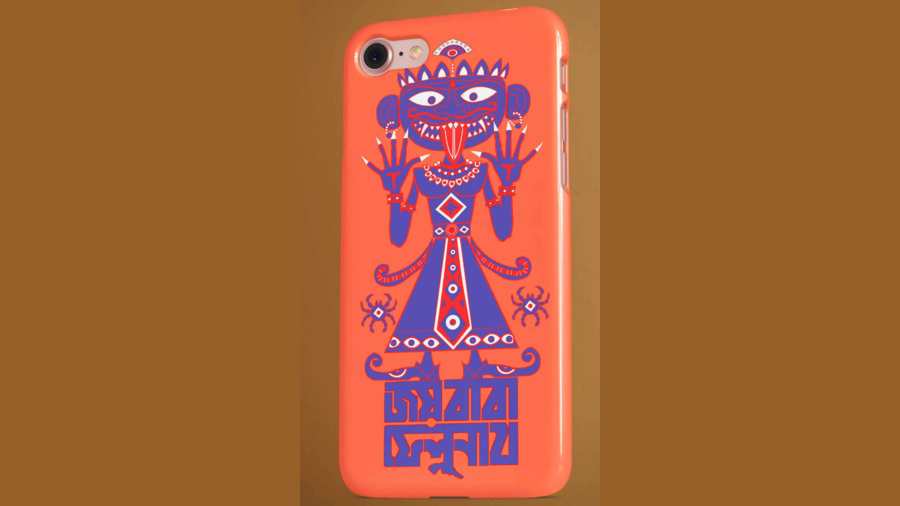 bohurupi.in
Prodosh Chandra Mitter, or Feluda, has a number of great adventures and Joy Baba Felunath is among the best. This phone cover is quirky and has the motif of this tale. The orange and purple colours make it bright and fun, while the tiny gun motif under the name reminds us all of the other Feluda films! 
Kakababu
Raja Roy Chowdhury, also known as Kakababu, is another creation of Sunil Gangopadhyay. This character is fierce, brave and a great mentor to his nephew and sidekick Santu. Get your hands on these coasters that highlight the character and his adventures. 
Abol Tabol
This anthology of Bengali children's poems and rhymes composed by Sukumar Ray has to be every Bengali kid's favourite. These fun poems and limericks stay with us for all our years. And now, you can celebrate your love for this whimsical world with these hand-painted coasters. They're vibrant and will add something extra to your home.