When speaking of the history of cartoons in India, it is impossible to not mention Rebati Bhushan Ghosh's name. The painter, illustrator, calligraphy artist and poet mesmerised readers with his cartoons and limericks. The artist from Bali, Hooghly, spent the prime of his career in Delhi as a cartoonist for various prominent publications. He returned to his home in Bengal later in life and continued to create art from there.
To commemorate the 100th birth centenary of this extraordinary personality, which was in September 5 this year, the cartoonists' collective Cartoon Dol has organised a month-long exhibition in the city. Called Cartoon Mela, this is the first edition of the fair and also the first of its kind in the city. Cartoon Mela started on December 5 and will continue until January 5.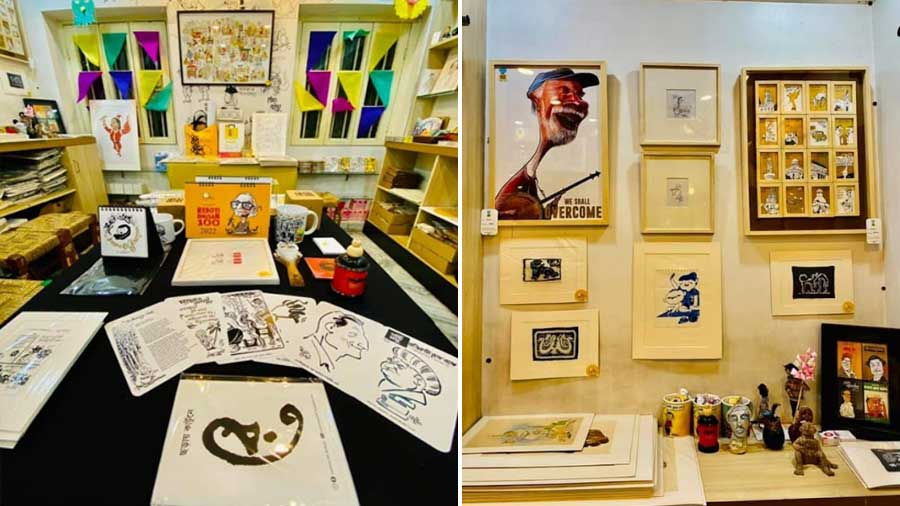 From illustrated calendars and postcards to memorabilia and collectibles, there's a lot on offer at Cartoon Mela
Courtesy: Cartoon Dol Kolkata
A cartoonists' collective
In 2014, Subhendu Dasgupta, former professor of economics at Calcutta University and an enthusiastic collector, reader and researcher of cartoons, attempted to bring together Kolkata's dwindling tribe of cartoonists. His efforts translated to what is today Cartoon Dol, an association of the practitioners of the art of visual humour in Bengal. The members come from different parts of Kolkata and have different jobs — but they are all united in their passion for cartoons.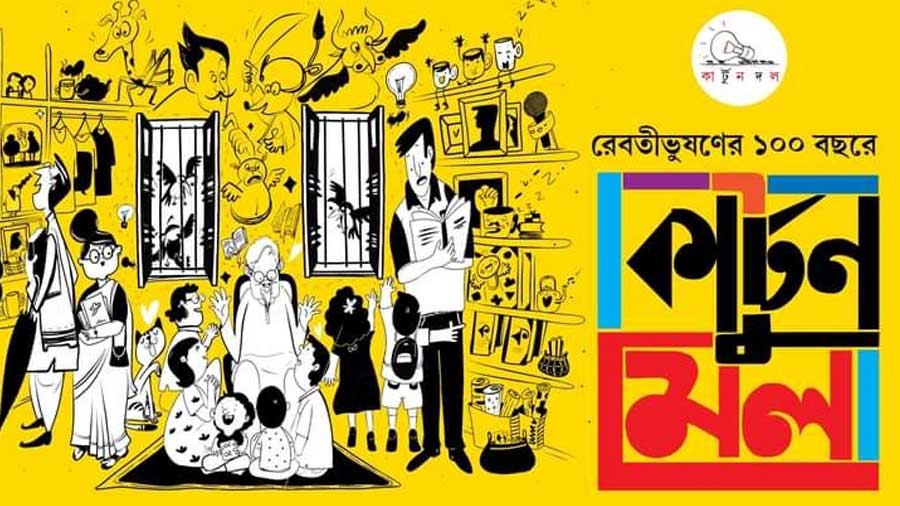 The month-long event is organised to pay tribute to cartoonist Rebati Bhushan Ghosh and celebrate the art of cartoons
Courtesy Cartoon Dol Kolkata
Beginning with Amal Chakraborty, Chandi Lahiri, Anup Ray, Debasish Deb, Upal Sengupta, Uday Deb and Rituparno Basu, Cartoon Dol now has 17 members. This first edition of Cartoon Mela features the works of veterans such as Amal Chakraborty, Anup Ray, Debasish Deb and Uday Deb, along with many younger, budding artists from Bengal.
The art and the artists
One of the promising new artists to be featured at Cartoon Mela is Avisek Chowdhury. A software professional, Chowdhury found the avenue to nurture his passion for cartooning through Cartoon Dol and has been associated with the group since 2015. His artwork features postcards with caricatures of various artists and illustrated calendars, among other things.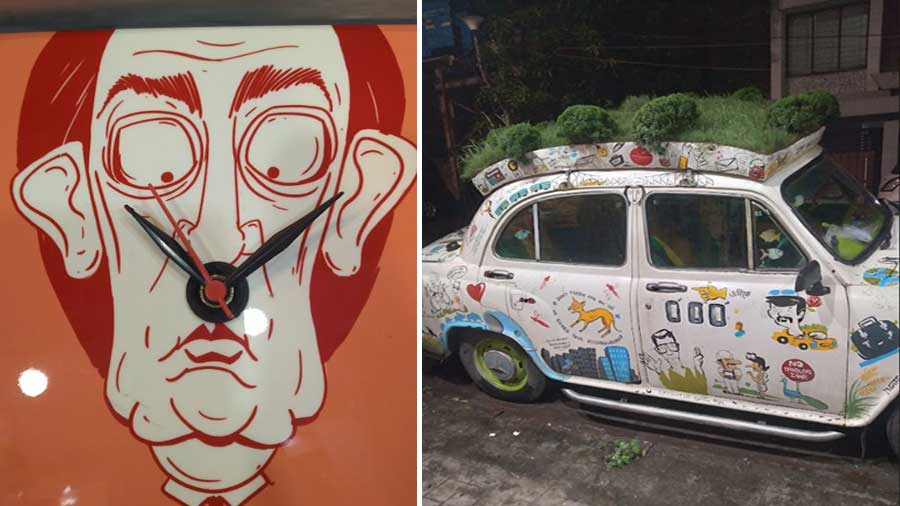 (Left) a Dali clock by Joydip Niyogi and (right) Dhananjay Chakraborty, aka Bapi da's colourful green taxi.
Barnini Maitra Chakraborty
Dhananjay Chakraborty, aka Bapi da, who is famous for his green taxi, has also created ceramic art that is on display along with his colourful cab parked at the entrance.
An attractive ensemble is Dyutiman Bhattacharya's work on paper cups. The IPS officer was interested in cartoons since his school days, making caricatures of teachers. Despite his hectic work schedule, he relishes his association with Cartoon Dol. "I made the paper cups during leisure hours while I was in a police training camp," he says.
Accessible prices
Another eye-catching object in the fair is a Dali-face wall clock made by another promising artist, Joydip Niyogi. There are also original illustrated postcards made by Debasish Deb, Anup Roy, Rituparno Basu and Avisek Chowdhury, priced at just Rs. 50.
One of Cartoon Dol's first members, cartoonist Uday Deb said that they wanted to keep the prices affordable so the original drawings are accessible for everyone. "You can only get two postcards. The price range in the fair is between Rs. 50 and Rs. 5,000, because we don't want the artworks to go into the hands of only a select few."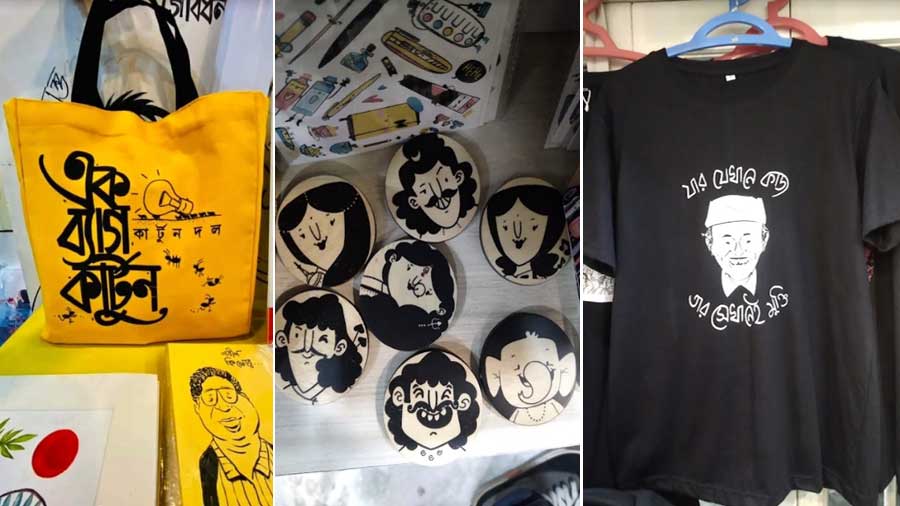 Quirky collectibles like tote bags, fridge magnets and t-shirts are for sale
Barnini Maitra Chakraborty
There are many things that will catch the fancy of kids as well, such as the animal masks made by Satabisha. Made from paper shaped into various animal faces, they are an adorable addition to the exhibit. 
Cartoons for all
"There are people who want to collect illustrated t-shirts and coffee mugs, and enjoy seeing cartoons on different merchandise. There are also those who enjoy the old-world charm of cartoons. Cartoon Mela caters to the tastes of both groups," says Rituparno Basu, one of the founding members of Cartoon Dol.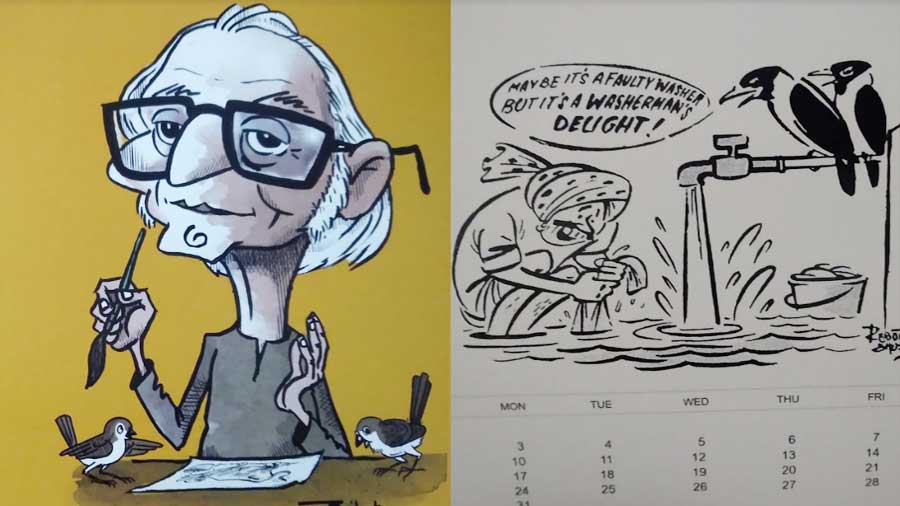 Since the fair is dedicated to Rebati Bhushan Ghosh, there are collectibles and memorabilia dedicated to him, including calendars with his drawings
Barnini Maitra Chakraborty
At the fair, not only can you buy original artwork and Cartoon Dol merchandise, you also get a chance to meet the cartoonists behind the work. There are collectibles and memorabilia dedicated to Rebati Bhushan Ghosh, such as postcards with his drawings and poems, calendars and postage stamps. If you are looking for quirky collectibles, there are fridge magnets, posters and wooden dolls and almost anything else cartoon-esque you can think of. 
Next year, the group has decided to organise the fair in Burdwan. They want to alternate between organising it in Kolkata one year and in cities of other districts the next, according to Uday Deb. 
Cartoon Mela details
Venue: Read Bengali Books, 42, Sardar Shankar Road (near Lake Mall)
Dates: December 5, 2021 to January 5, 2022  
Timings: 11am to 8pm